A nice Aliso Viejo walk takes you along the Aliso Creek bike/hiking trail paralleling Alicia Parkway from Foxborough Park to Hillview Park.
These two parks weren't on my radar because there are no playgrounds at either (and when I first discovered them there were no restrooms). Foxborough Park now has a restroom installed!
However, they are perfect for a brisk walk outdoors with kids in a jogging stroller.
Directions to Foxborough Park to start your walk: Foxborough Park is off Deerhurst near Pacific Park. Hillview Park is reachable by walking behind Aliso Niguel High School. MAP TO FOXBOROUGH PARK IN ALISO VIEJO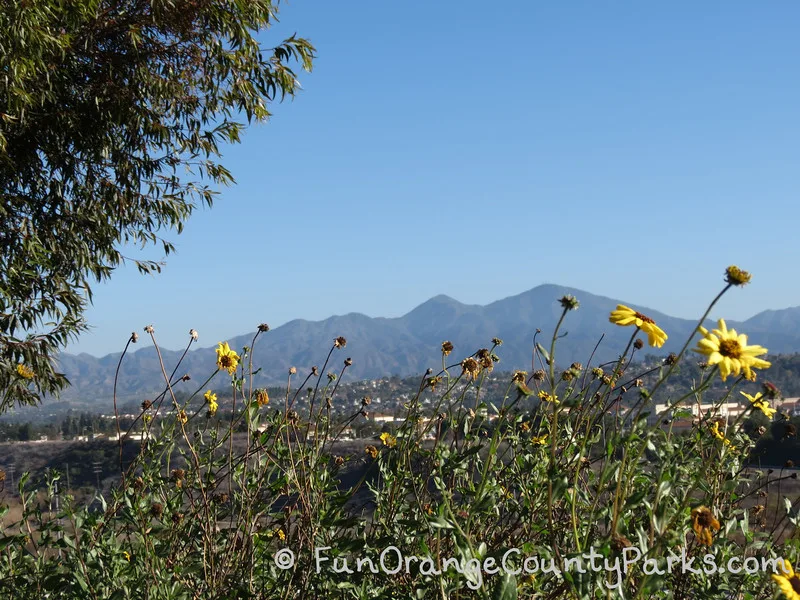 Walking Route from Foxborough Park to Hillview Park
You will park at Foxborough Park near Journey School and join the Aliso Creek Trail bike path from the sidewalk past the restroom.
Head to your right and walk along the bike path towards the high school until you pass Aliso Niguel High School.
Right past the school, you can talk the sidewalk into a grassy area where there are a few picnic tables and a Hillview Park sign.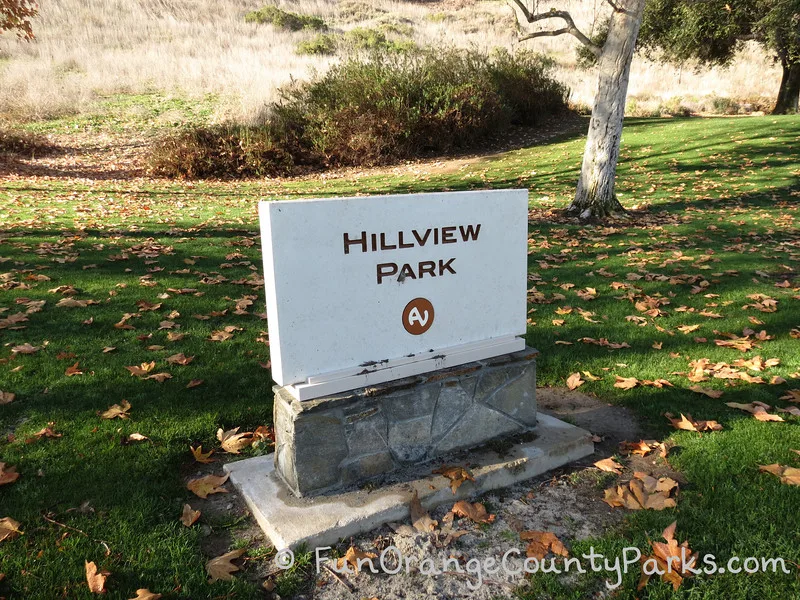 You can turn around at this point if you are not up for going up the hill.
Otherwise, you can connect to the packed dirt trail that goes uphill from here.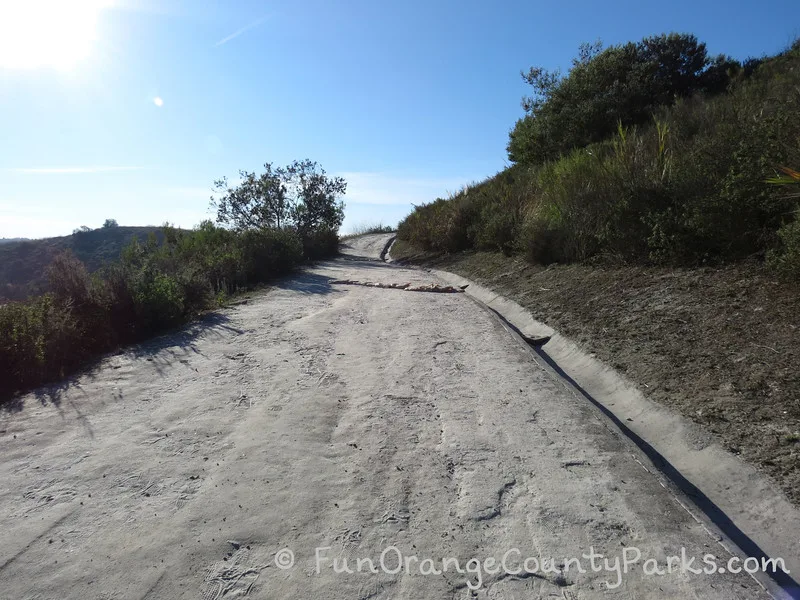 It looks daunting, but you can take breaks and enjoy the views.
Very soon, you will meet up with a sidewalk and a choice between which way to go. Going straight takes you into the neighborhood at the top of the hill.
Instead, you will want to turn right and follow the sidewalk along the wooden railing.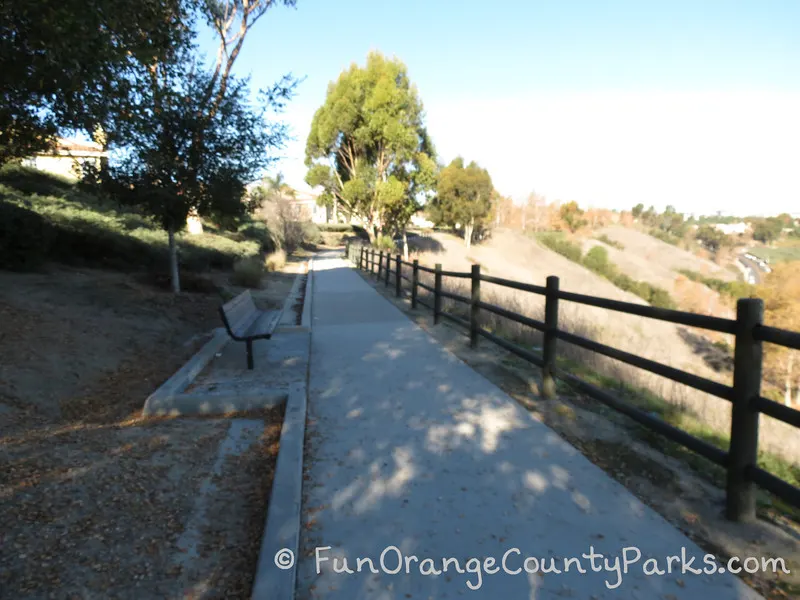 The views are amazing from up here.
There are big oaks and sycamore trees and grassy areas. You'll just keep walking along the sidewalk and the wooden fence through the twists and turns until you reach the big oak picnic area at the end. Then you'll loop back to your car and where you started.
I think this takes a little over an hour – maybe 40 minutes there and 40 minutes back. More if you let your little one out to walk!
So you might only want to do part of it, but I loved doing it with my little one in the jogger stroller.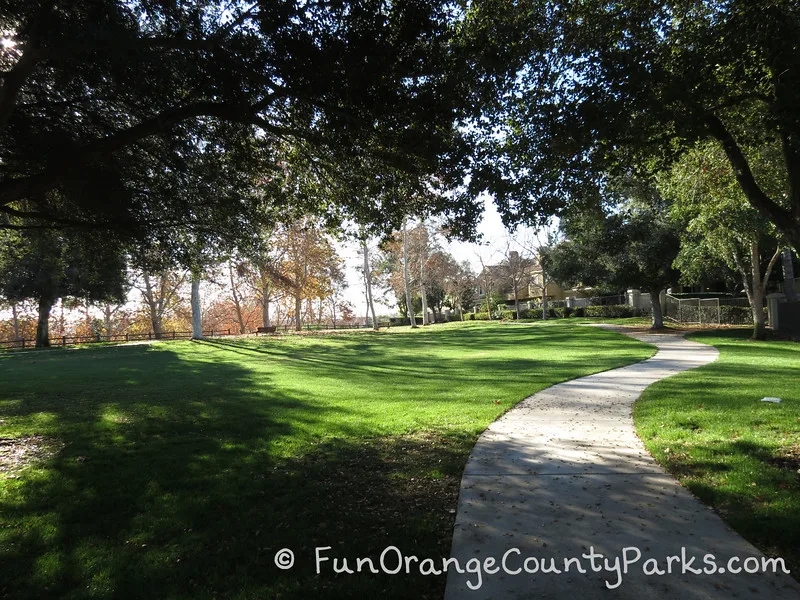 Highlights:
Tons of bird watching to do along the creek (check my post with tips for wildlife spotting). I've seen hawks, Black phoebes, and mockingbirds up here among others!
Beautiful views from Hillview Park
Great to exercise outdoors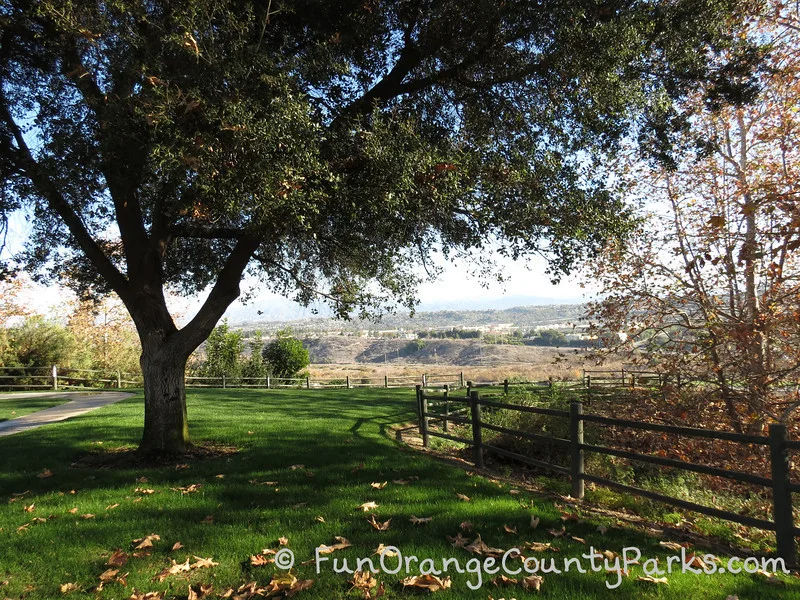 Tips:
Strollers will be fine on the bike trail; the hill up to Hillview is bumpy dirt (which could be muddy after a rain); then there's sidewalk and a loop at the top.
There is no exit from Hillview other than the way you came!
If you are walking, it can take anywhere from an hour to two hours to do the round-trip back to Foxborough Park — depending on if you let the kids walk.
You could ride your bikes along the Aliso Creek Trail and lock them up near the high school to walk up the hill for the views
Warnings for rattlesnakes on the dirt hill
Restrooms only at Foxborough Park (added in 2012) – so plan ahead (or use the route for a "mommy walk" or "daddy walk" or "date walk" instead of bringing the kids)
Also, never hike alone. Parts of the trail can feel very isolated and there have been incidents involving women walking alone.
Finally, both ends are near schools so if you can time it during school hours – that's the best time to go. You will get stuck in heavy traffic at school start and end times.
See a low resolution video of the walk — complete with a mockingbird serenade.
Originally published in 2012.