Canyon View Park in Aliso Viejo offers 12 acres of fantastic play space at one of the entrances to Wood Canyon Trail.
Between climbing on the playground equipment, biking around the path, and running around the huge grassy area, my family always leaves this place happy and exhausted.
Photographers, Noel and Mali, took us to play here for our photo session with them. This playground got an update in September 2018.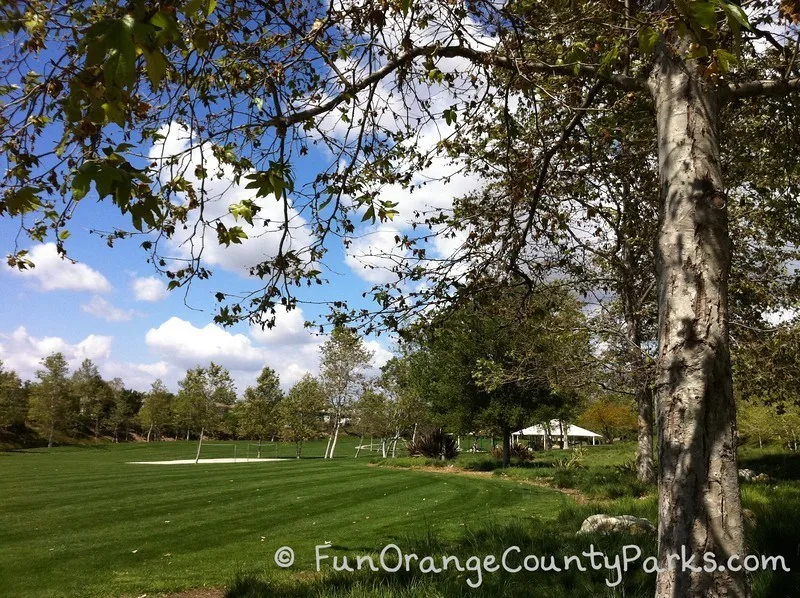 How to Get to Canyon View Park: If you are coming from I-5, it's a bit of a drive to get to Canyon View. Exit at Oso Parkway and turn toward Aliso Viejo. Oso turns into Pacific Park as you cross La Paz. It's probably a 10 minute drive up Oso/Pacific Park until you make a left onto Canyon Vistas (past Wood Canyon). The park is located at the bottom of Canyon Vistas on the left hand side. Parking is available on the street. If you are coming from afar, the 73 Tollroad is a more convenient option. You'd just take the Pacific Park exit and turn right onto Canyon Vistas. MAP TO CANYON VIEW PARK IN ALISO VIEJO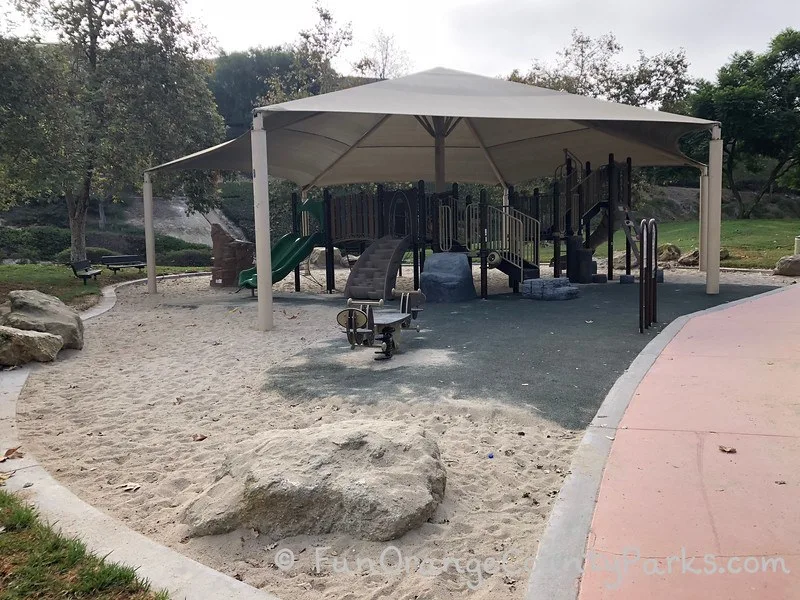 Recommended by: Noel and Mali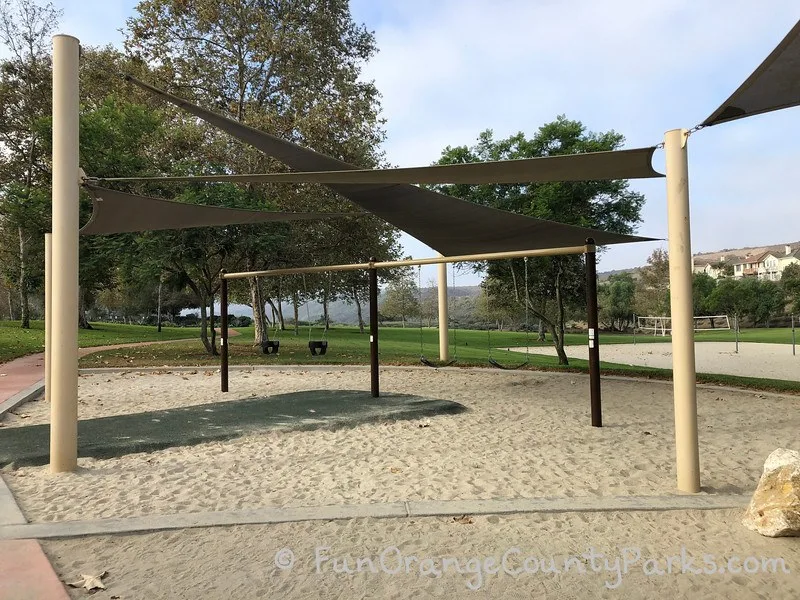 Highlights:
Whether your children are on the playground or running around the grassy area, you can see them while sitting at the shaded picnic tables.
Canvas overhangs provide great shade over play equipment.
2 baby swings and 2 big kid swings.
There is a new rock and rope climber bridge, plus a stand-up spinner.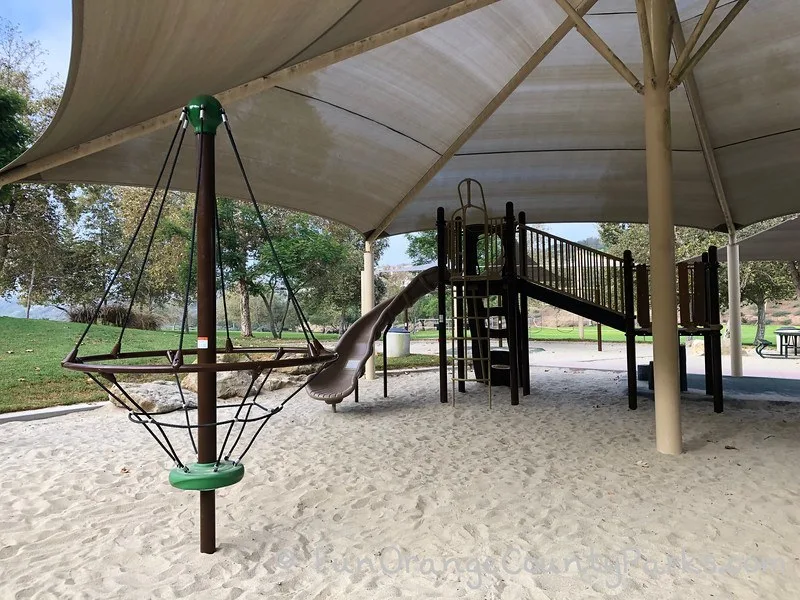 The climbing equipment feels like a treehouse.
The playground sits far back from the street which allows children to roam without getting close to the street.
There is a path that goes all around the perimeter which makes for a fantastic bike ride or hike with the kids.
Michele and Noel took their 4 year olds for an afternoon hike down the trail which made for a great nature experience. Just remember to bring water and that it's uphill on the way back.
On another occasion, Michele took a wildflower hike with her husband here. Read the post about the wildflower hike in Aliso and Wood Canyons.
We had the pleasure of attending a birthday party here. The large grassy area has enough trees and rocks which made a pirate scavenger hunt tons of fun!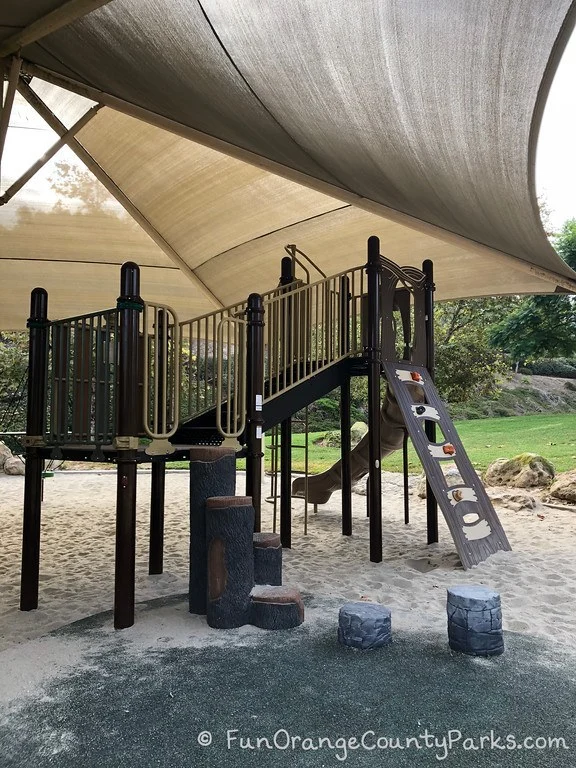 Be Aware:
Be careful if you park facing downward on Canyon Vistas. You will need to cross the street to the playground and cars drive fast down the hill.
Mountain bikers use this as entry into the Aliso and Wood Canyons Wilderness trail. You may need to park on a side street during the early evening hours or the weekend.

We visited in March 2022 and I've never seen so many cars parked on the street! It's definitely become a more popular spot as the years go by.

Report from a mom who hiked the trail in 2022: "You did warn about the friendly bikers, which they were definitely friendly. But my 3 year old kept wandering to the middle of the trail! We're not doing another biker/hike trail until he's 30."
Dogs are required to be on a leash and we hear Animal Control is pretty serious about enforcement.
There used to be a drinking fountain by the playground, but it's not there anymore.
Some of the big beautiful sycamores in this park have been replaced by newly planted pepper trees (2022) which makes the park look a little less lush than some of my photos.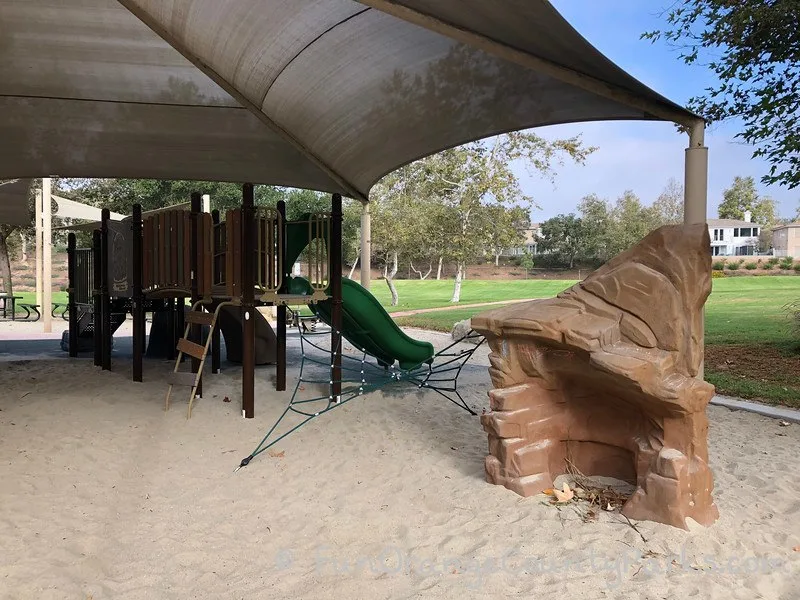 Checklist:
Sand and recycled rubber play surface
Portable toilet near the street and one at the entrance to the dirt portion of the hiking trail
Shaded picnic tables
Sand volleyball court with 2 nets
Fitness equipment added in 2014
Playground equipment updated in 2018
Aliso Viejo Community Association (AVCA) owns the parks and takes reservations for AVCA members on this reservation form
Nearby public library: Aliso Viejo Public Library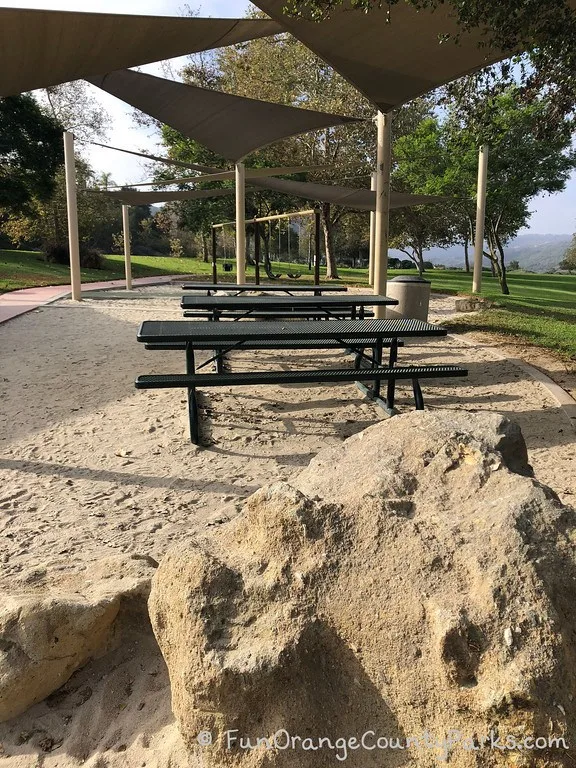 Parks Near Canyon View Park in Aliso Viejo: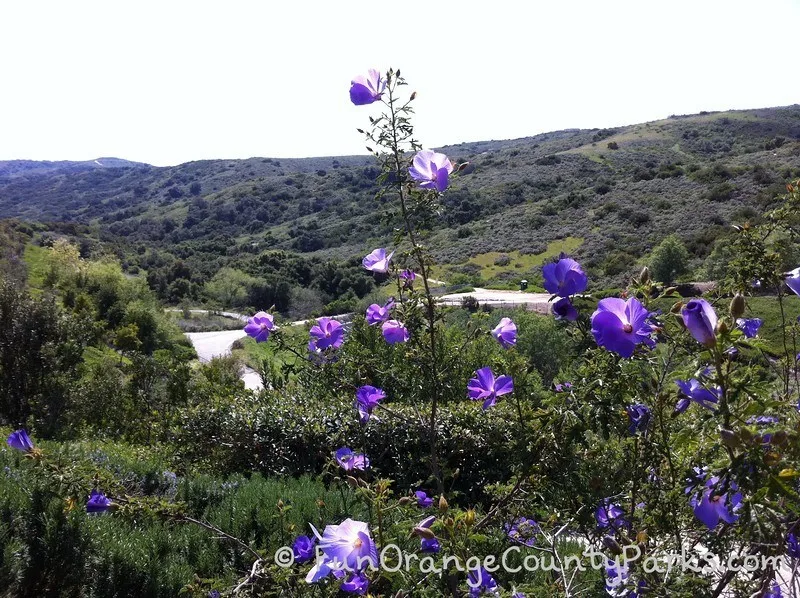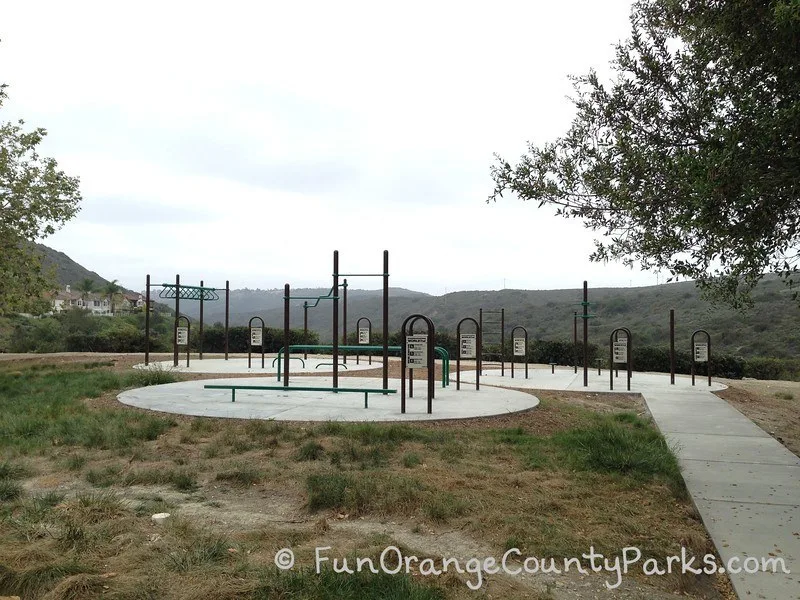 Originally posted in November 2009.