Serrano Creek Park in Lake Forest is a great park tucked away behind the Heritage Hills Shopping Center at the corner of Lake Forest Drive and Trabuco Road.
The park runs all the way to Bake Parkway with eucalyptus and willow lining the creek.
Directions to Serrano Creek Park in Lake Forest: Near the corner of Lake Forest and Trabuco on Serrano Road. From the 5 freeway, take the Lake Forest exit. Follow it toward Saddleback Mountain and turn left onto Serrano Road. [Park Address: 25101 Serrano Road, Lake Forest] MAP to Serrano Creek Park in Lake Forest
Recommended by: Eva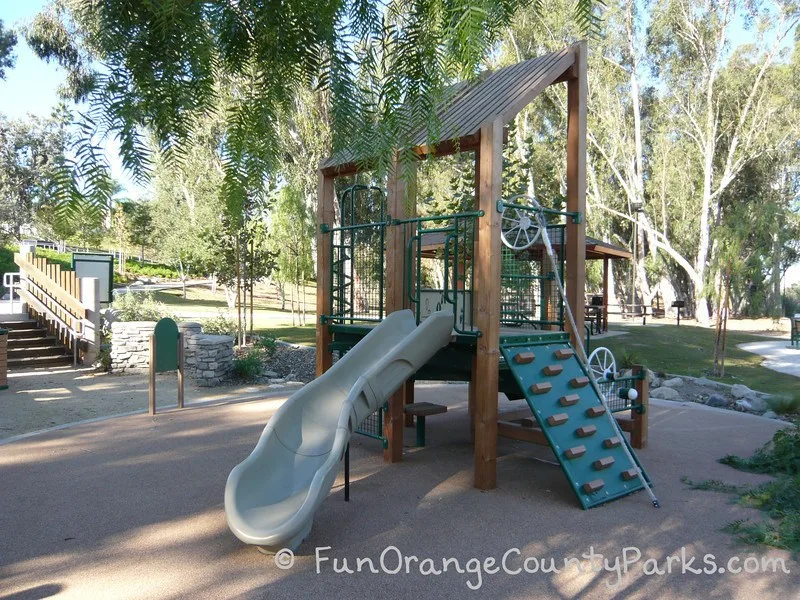 Highlights:
Rustic western setting near horse stables and amidst a eucalyptus grove
Simulated sandstone rocks provide for adventurous climbing (without the man-made hand holds)
Pretend car is a favorite with kids
There is a walking trail which runs the length of the creek to Bake Parkway
The play equipment is a little different than most you'll see around with a bit of a western flair that blends in with the surroundings
Fun to see horses walk by on the trail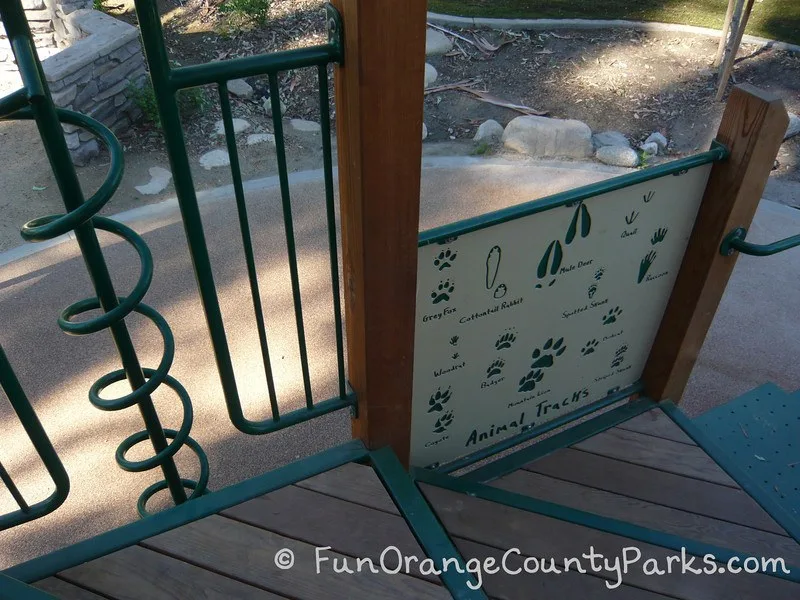 Serrano Creek Sidewalk Hike and Nature Walk:
This is the perfect spot for a walk after the rain because the entire trail is sidewalk.
I also like that you can criss-cross through and loop around different routes.
One of the highlights of the trail is the grove of eucalyptus.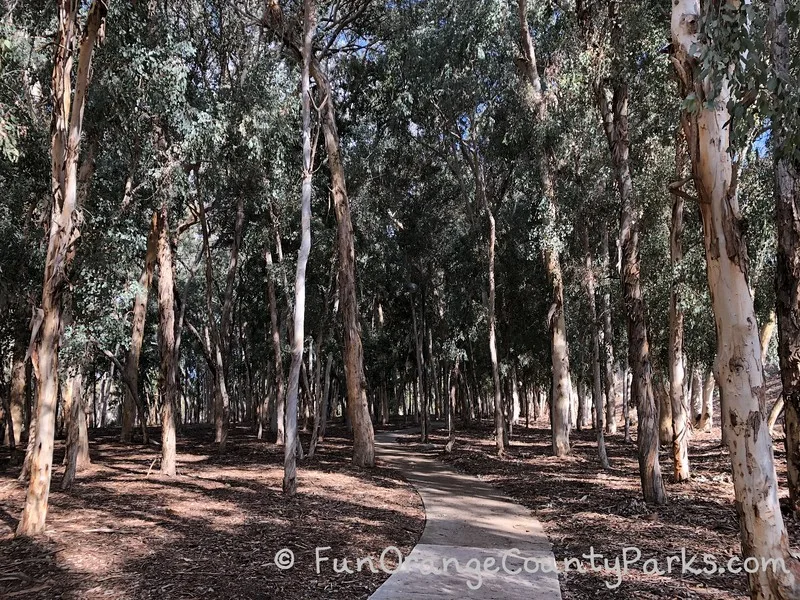 As you are walking from Serrano Creek Park away from the horse stable and towards Bake Parkway, you'll notice the creek on your right.
We saw plenty of birds on our walk: crows, black phoebe, hummingbirds, and woodpeckers.
I love, love, loved this old oak. I'm sure there are many natural wonders to spot.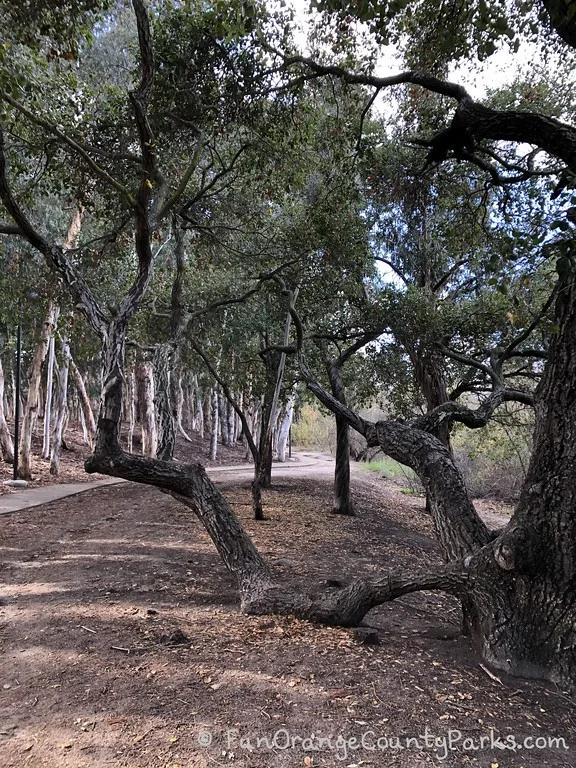 Even though parts of the walk are covered with trees, it's also possible to spot blue sky.
There's not much to say about "how" to approach the walk other than to hit the trail from the sidewalk or park a little further up Serrano where there is sidewalk access.
Start walking and exploring. Turn around when you hit the apartment/condos and the sidewalk ends (or anytime before!). You can keep going along the dirt path which will let you out at Bake Parkway.
We wandered slowly and the whole thing only took about 1/2 hour. Perfect family outing which you can combine with trips to Heritage Hill or the playground.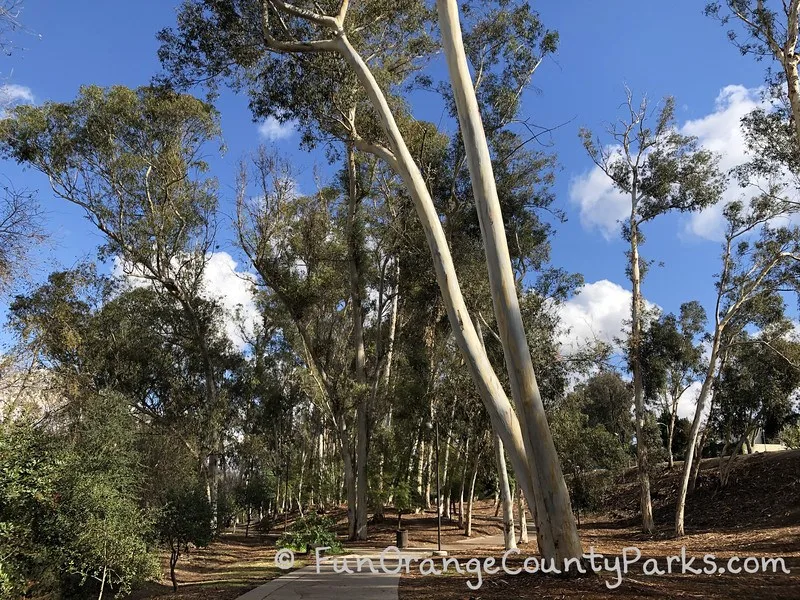 Be Aware:
Sometimes, if there is a breeze, you can smell the stable
Extremely windy days could be hazardous with falling debris or branches from eucalyptus trees
Since the park and walking trail is sunken from the road, be very aware of your surroundings and try to use the buddy system to not be in the park alone
If you walk along the trail, look out for bicyclists and horseback riders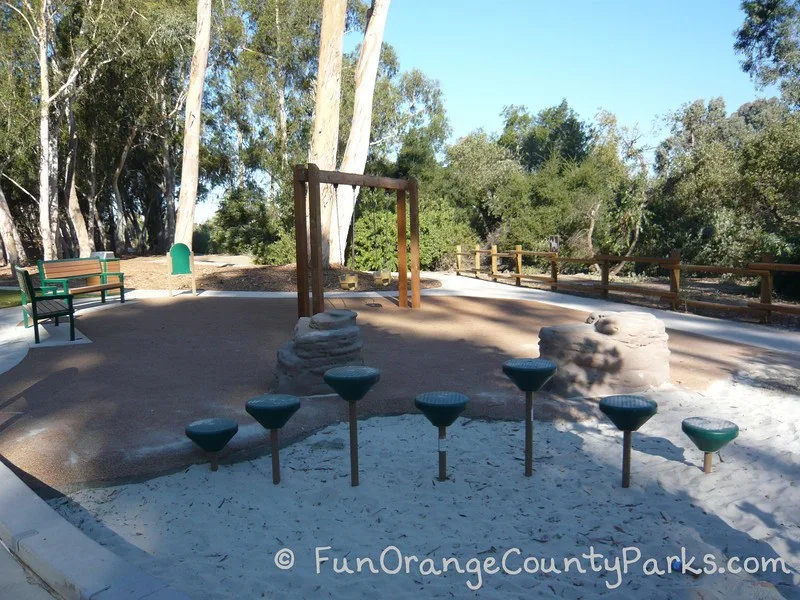 Checklist:
There is only street parking and you have to walk down a small hill to get to the play area.
Bark, recycled rubber and sand play surfaces
1 men/1 women restroom halfway between the play area and the road
Shade under shelter near lots of trees
Easy to view the children from all areas
Right next door to Heritage Hill Historical Park
Outstanding picnic areas with grills (Click for reservations through the city)
Nearest public library branch: El Toro Library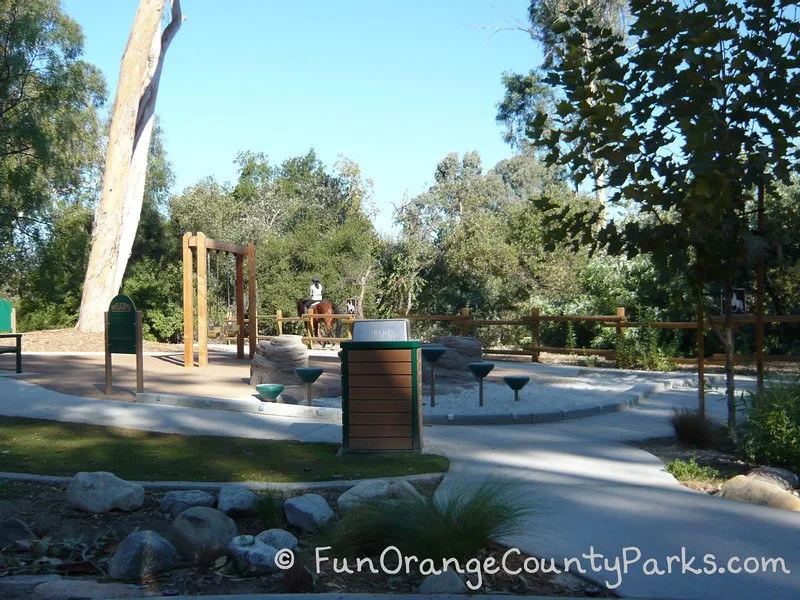 Nearby parks in Lake Forest: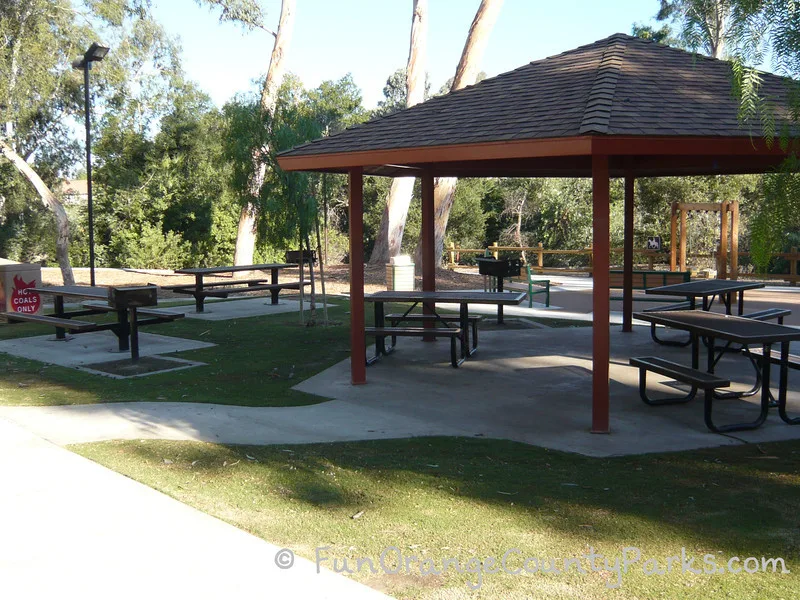 Originally posted in October 2008.