Cherry Park in Lake Forest got a huge re-do opening in early 2021 as a universally accessible playground.
It used to be a sunken playground which with play equipment that was very high off the ground. Now it has ramps for people of all ages and capabilities.
The city already has Pittsford Park which I have listed on my Accessible Playgrounds in Orange County post because of some of the accessible elements, but this one is much grander than Pittsford in size alone, but also in being completely accessible.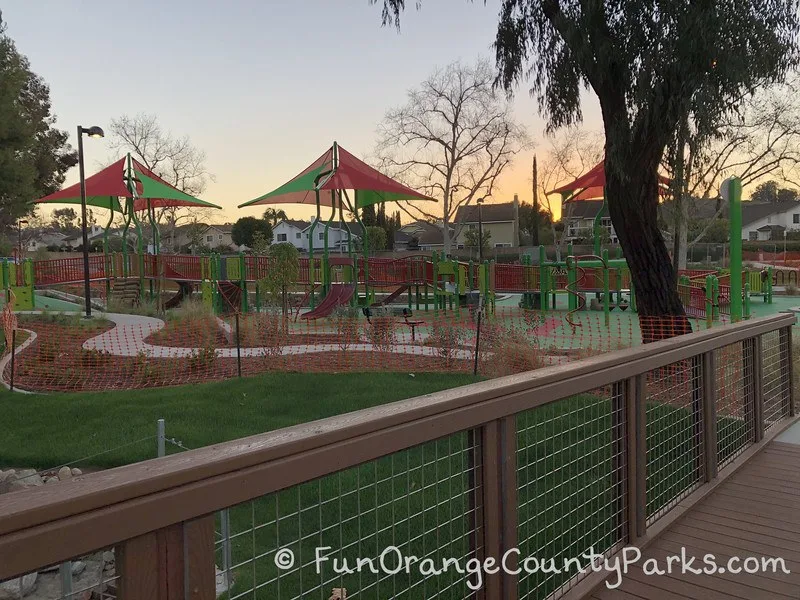 Directions to Cherry Park in Lake Forest
From I-5 South exit El Toro Road. Make a left onto Avenida De La Carlota and a left onto El Toro Road. Turn right on Jeronimo Rd. and a left onto Cherry Avenue. The park is on your left hand side with parking on the street.
There are multiple ways to get to the park because of how it jigsaws into the neighborhoods of Bennett Ranch. Sometimes I get there from Jeronimo and sometimes I get there from Trabuco (both connect with Cherry).
Address is 22651 Cherry Avenue, Mission Viejo MAP TO CHERRY PARK IN LAKE FOREST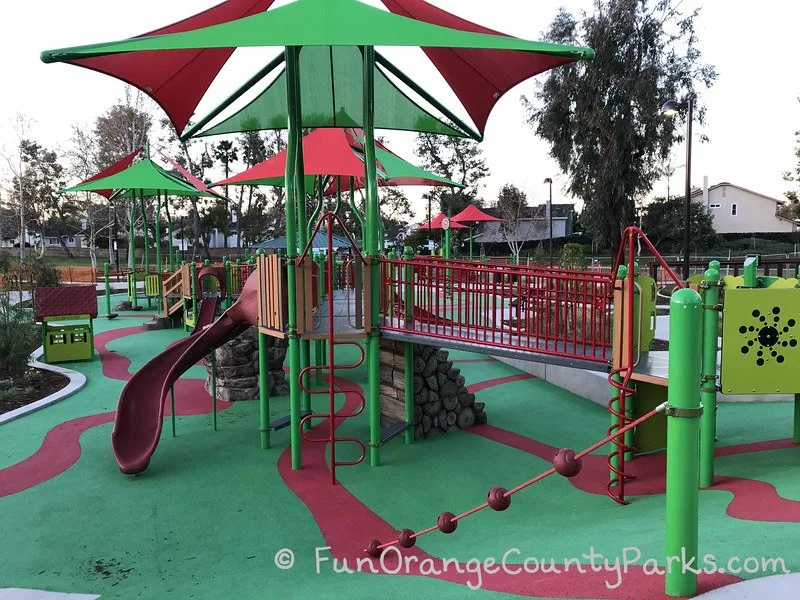 Highlights:
First of all, this a huge neighborhood playground with lots of play opportunities: play structure for 5-12 year olds, play structure for 2-5 year olds, huge covered picnic shelter, picnic tables and barbecues throughout the park, a sidewalk all around the park, multiple entrances from multiple neighborhoods, and a nearby bike path.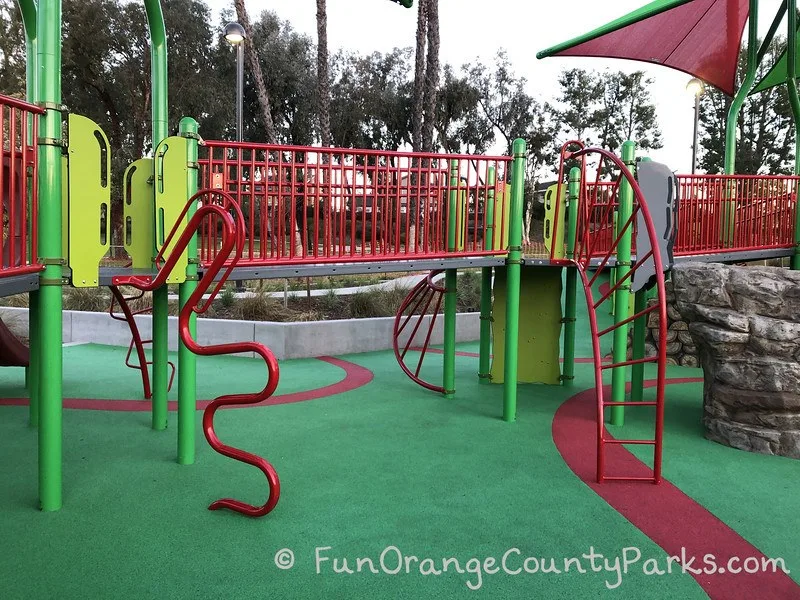 Play structure for 5-12 year olds. This part of the playground has a really long ramp system which allows for wheelchairs to get up onto the equipment.
Each turn of the ramp brings kids to what I like to call a "hub" which has multiple play opportunities. So many hubs on this big structure!
There is a double slide and a twisty slide.
Lots of different ladder apparatus.
Balancing challenges.
Netted rope bridge.
Climbing wall.
Zip track.
Big (fake) boulders and (fake) log steps.
A horizontal ladder.
Lots of interpretive panels.
A hill with a rope that has bubbles on it to grab and climb.
If the drops from the high spots on this equipment look too high for your toddler, it's because this is the 5-12 year old side of the playground. (Yes – I know it's hard to manage the little ones who still want to play there!)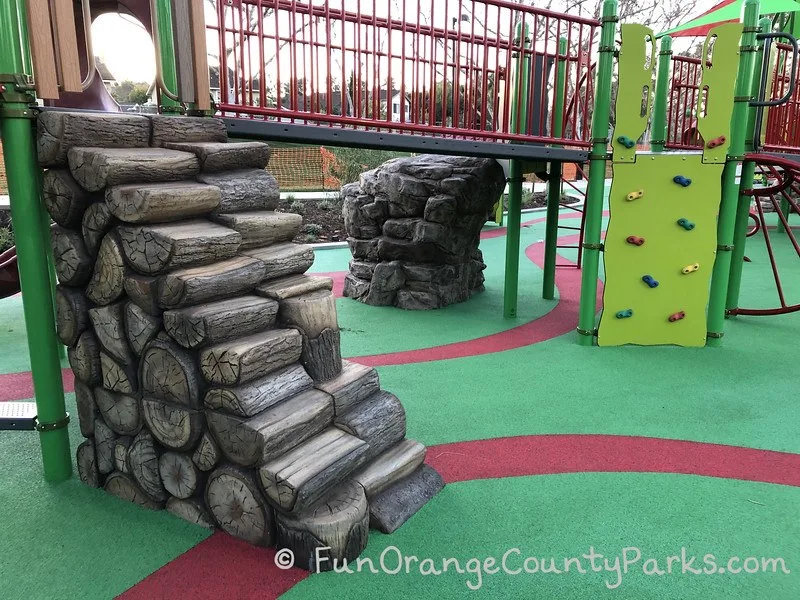 There is just so much at this playground! I literally spent an hour exploring it myself at 6:30am on a 46 degrees out Saturday morning.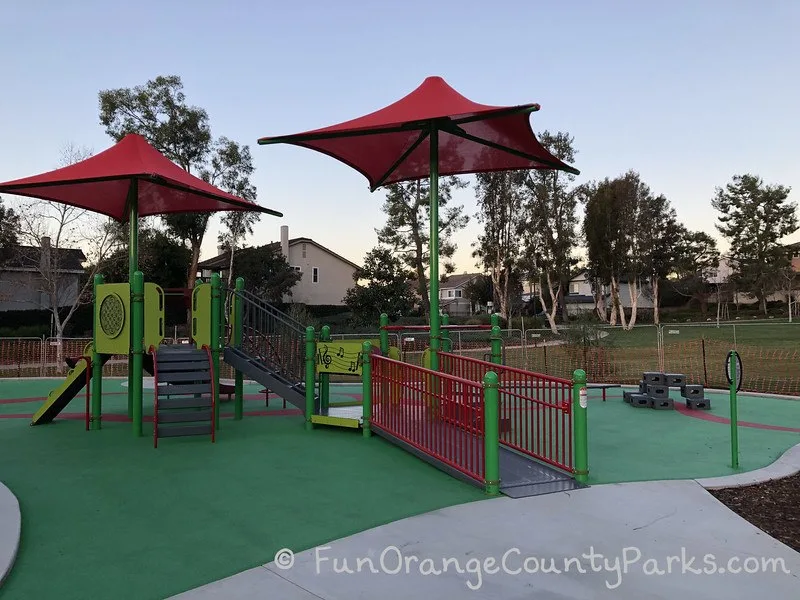 Play structure for 2-5 year olds. This is also accessible, but instead of multiple "hubs," there's just one. Unfortunately, it doesn't lead to the slide, but it does lead to a balance beam and monkey bars.
Climbing arch.
Cube stacks.
ABC climber.
Small slide.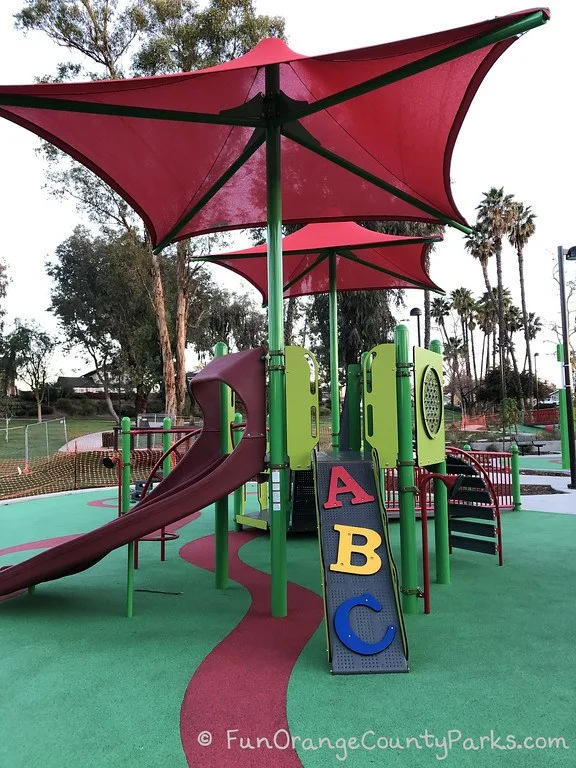 More Playground Features
Those who knew this park before will be happy to know that the bridge is still there, although improved. Same goes for the very large picnic shelter.
I have a feeling there are some kids who gravitate towards the rocky streambed that runs through the park. It used to be just dirt, but now there are rocks.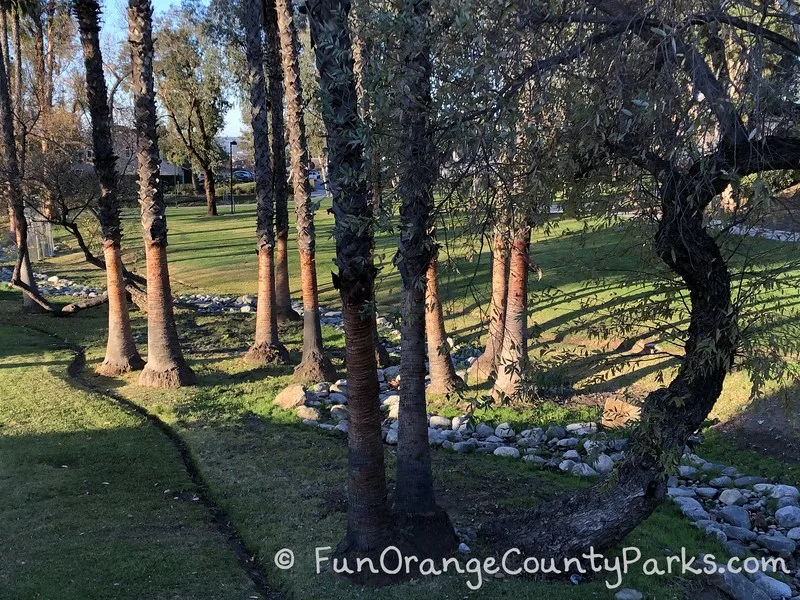 Near the 2-5 year old structure and the picnic shelter, you'll find a newer type of merry-go-round and some musical panels.
There's just so much! You'll also discover those speak/listen microphone/speakers connected around the preschool structure.
All the play equipment has small shades over the structures, but they are not big to cover the whole playground. Just small sails over parts.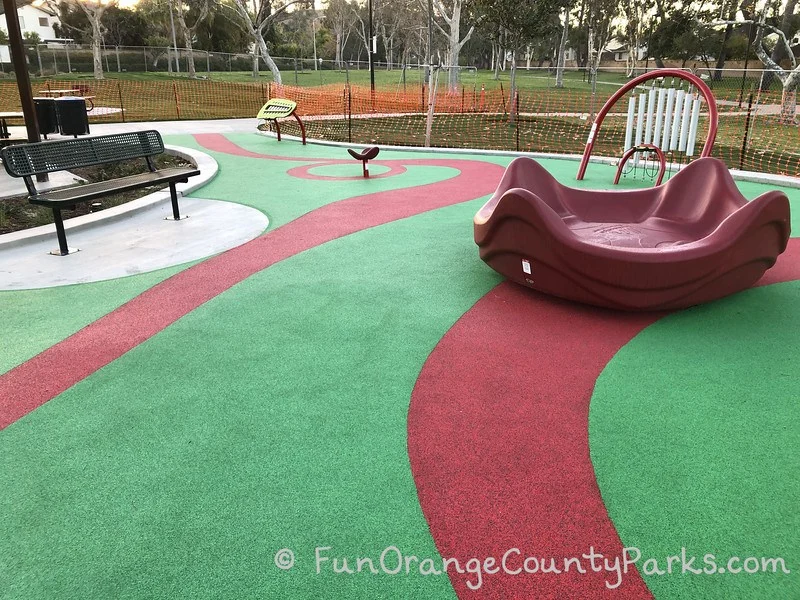 Be Aware:
As of February 2021, there is fencing and netting around the landscaping. Please let that fill in and stay out of the areas that are roped off.
This isn't a sit down and watch the kids park, this is definitely one where you will be actively following your littlest ones. However, it will keep older kids entertained.
The street is not busy, but it does run along one side of the park so you will just want to keep your eyes on the kids.
There is a bridge on one of the paths next to the park. Under the bridge there is a big grated storm drain. I have a feeling that during rainstorms this area becomes more like a running stream. Definitely keep a close eye on your little ones as you explore that area.
No swings now. (This park used to have 2 bench swings and 2 baby swings.)
NO restrooms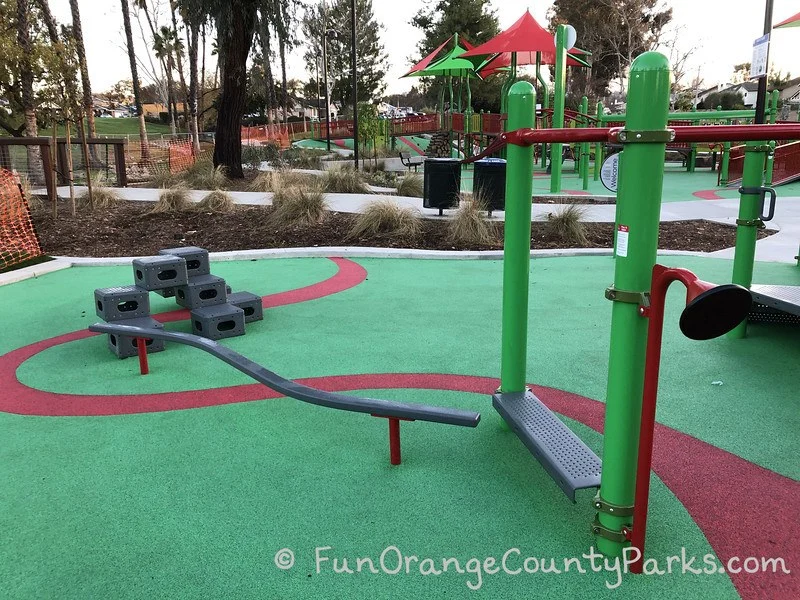 Checklist:
Recycled rubber play surface
Parking on street (one accessible space for a van)
NO restrooms
Drinking fountain
Multiple picnic tables and benches are scattered throughout the park.
Basketball half-court
Nearest public library branch: El Toro Library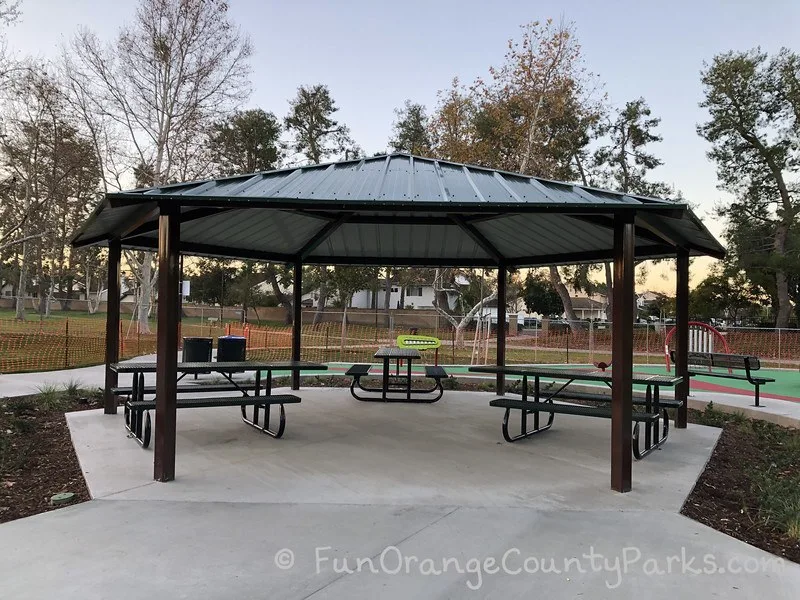 Nearby parks in Lake Forest: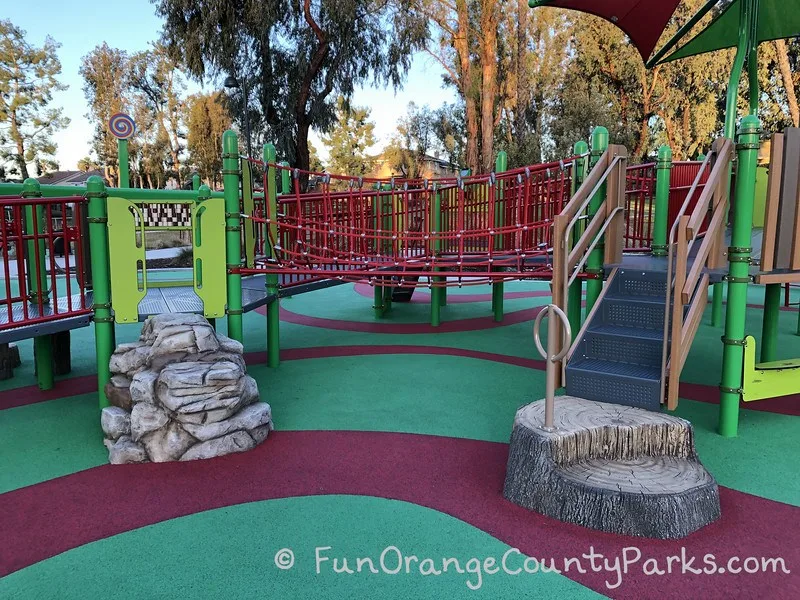 Originally posted in October 2010.