Nature Park in Lake Forest is in the most unlikely spot: in the middle of industrial park. Many of you families in South County will know where it is — because it's less than a block away from Pump It Up on Dimension. A little pocket of nature right in the middle of everything.
Directions to Nature Park in Lake Forest: Exit Interstate 405 at Lake Forest Drive and take it all the way to a left on Dimension Drive. Stay on Dimension. You will pass Pump It Up on your left and then prepare to park on the right side of the road after you cross the bridge. You will see the Nature Park sign. If you hit CommerceCentre Drive then you went too far. (Address: 26215 Dimension Drive, Lake Forest) MAP TO NATURE PARK IN LAKE FOREST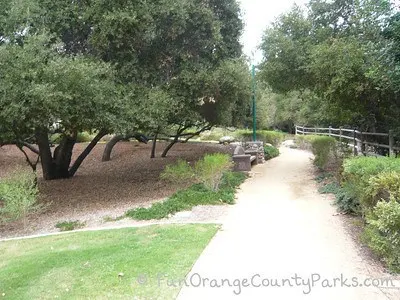 Highlights:
Features nature with oak trees and other native plants
Hooks up to the Serrano Creek Trail which connects uphill to Whiting Ranch and downhill to Serrano Creek Park
It was nice and quiet on the weekend
Bird watching and wildlife spotting
Kids can find a "sit spot" to watch the birds and see if they can spot bunnies
Awesome spot for picnics with a covered gazebo near oak trees
Interpretive elements printed on the concrete
Take the short nature trail towards the back of the park. Kids should stay on trail.
There are interpretive signs on the nature trail to help you identify plants. We definitely saw evidence of snacking on the prickly pear.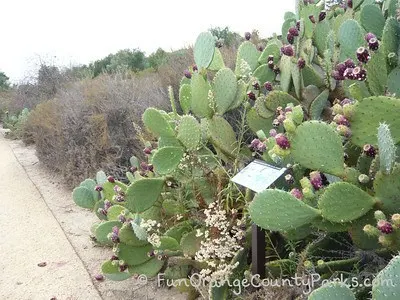 Be Aware:
NO playground
Parking on Dimension was fine on the weekend, but could be dicey during the week
Could feel isolated if you go alone
Watch for wildlife on the nature trail. There is poison oak (see photo below) and prickly pear off the trail. So if you stay on the wide trail you are good.
NO restrooms
If you ride or walk on the trail, watch for fast riders coming down the hill behind you
Checklist: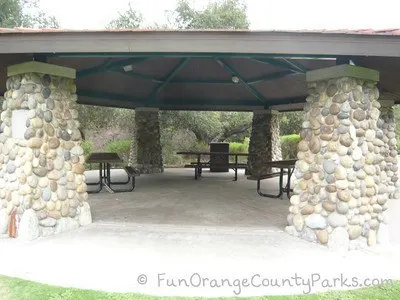 Nearby parks: