Steve Ambriz Memorial Park in Orange features a large area dedicated to play with a little something for everyone.
With two standard play structures and a large, abstract climb-on structure in the center, this place keeps my kids happily running from place to place for a very long time.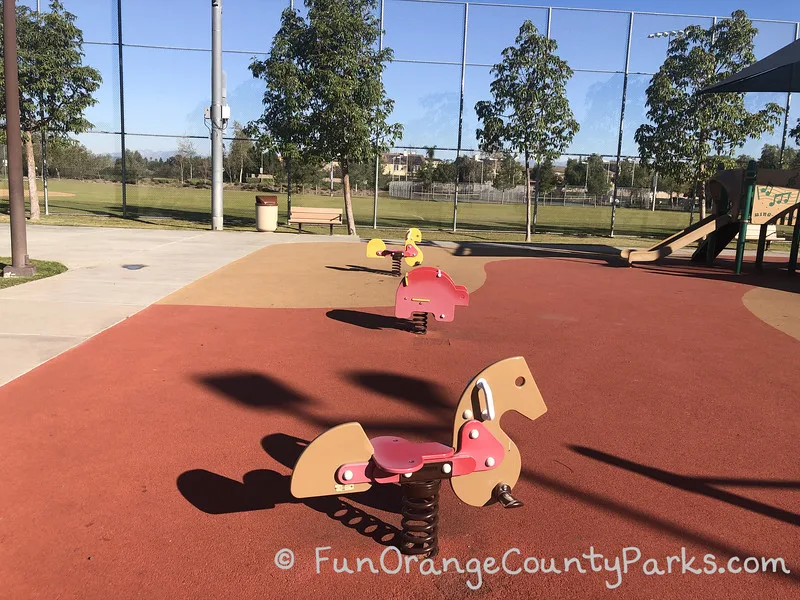 There are ride-ons and plenty of swings to boot!
How to Get to Steve Ambriz Memorial Park: Located at 611 Riverbend Parkway in Orange. From the 91 freeway, exit at Glassell and head south. Turn right at Riverbend Parkway and follow the street as it curves through the residential area. As you follow the street you will see the park come up on your right side. The parking lot is on the right just after you pass the playground. (Address: 611 Riverbend Pkwy, Orange) MAP TO STEVE AMBRIZ MEMORIAL PARK
Thank you to Lisa (2013) and Erika (2022) for helping to keep this park updated for everyone who visits this blog! The photo credit and tips are all theirs!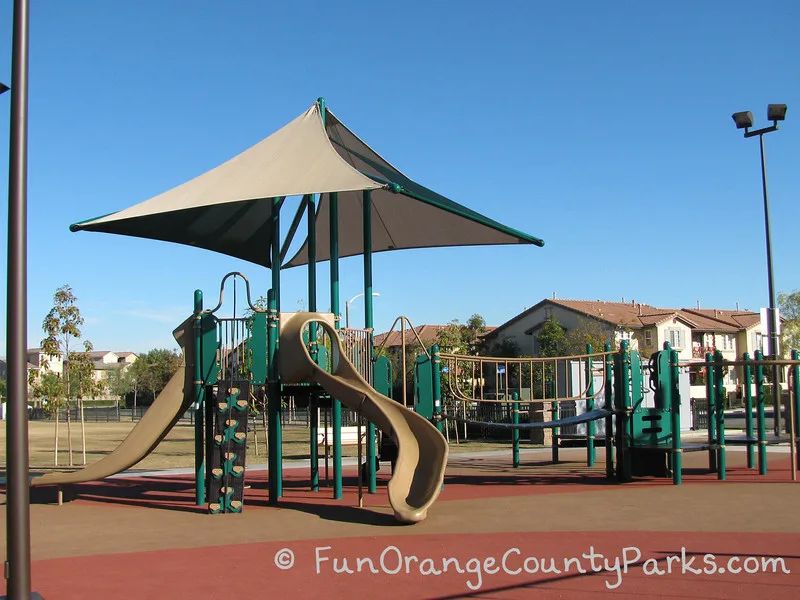 Highlights:
Fun structure in the center of the park that people of all ages can enjoy climbing on. My two-year-old loves to go through the circle hoops (with assistance on the higher ones) and my five-year-old just tries to climb up and over everything. Plenty of parents get in on the action too – myself included. Did I mention this particular structure is completely shaded?!
So many swings! Chances are you won't have to wait around to have a turn. Multiple bench swings can be common, but I rarely see four baby swings in one place! Four bench and four baby swings.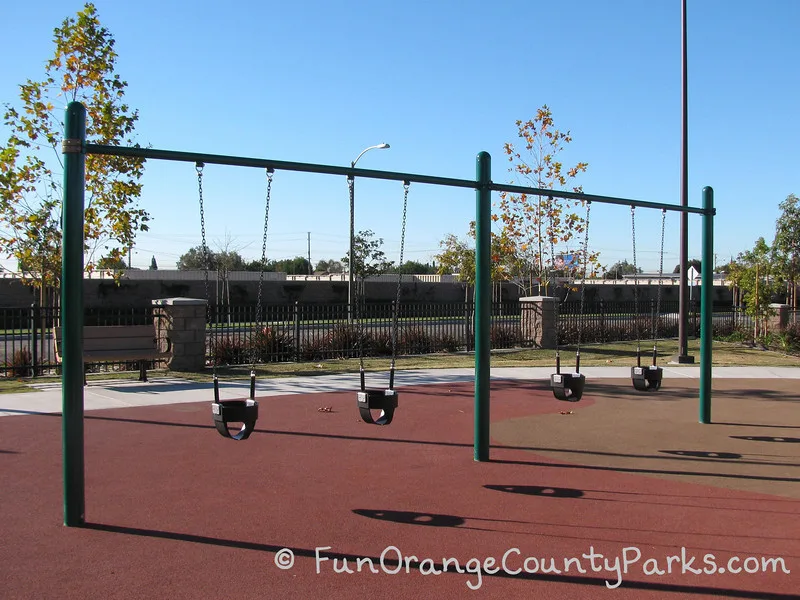 So much space to play! A concrete sidewalk runs around and through the play areas providing a fun place for scooters, trikes and bikes.
Large shades built into the standard structures provide some real relief on warmer days. They don't cover everything to the point that I would consider this to be a shaded park, but they definitely make a huge difference.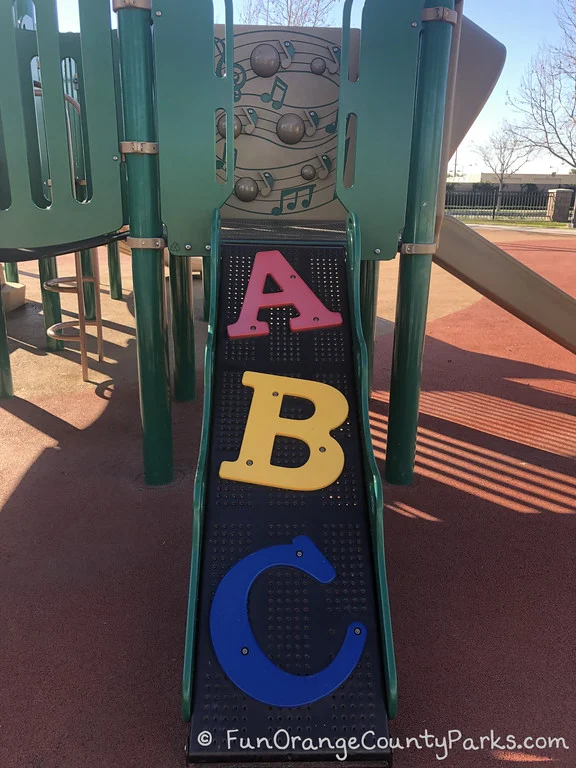 The smaller structure features a "ring-a-bell" play panel which is a personal favorite of mine.
Playground built in 2012.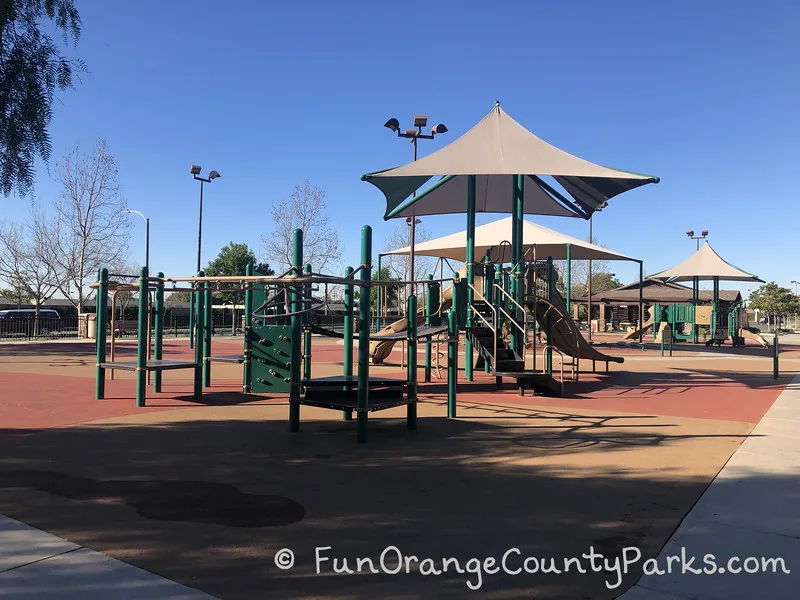 Be Aware:
This playground is part of a sports complex and may be busy at times.
While there is a fence that runs most of the length between the street and the playground, take extra care if you have kids that love to run off.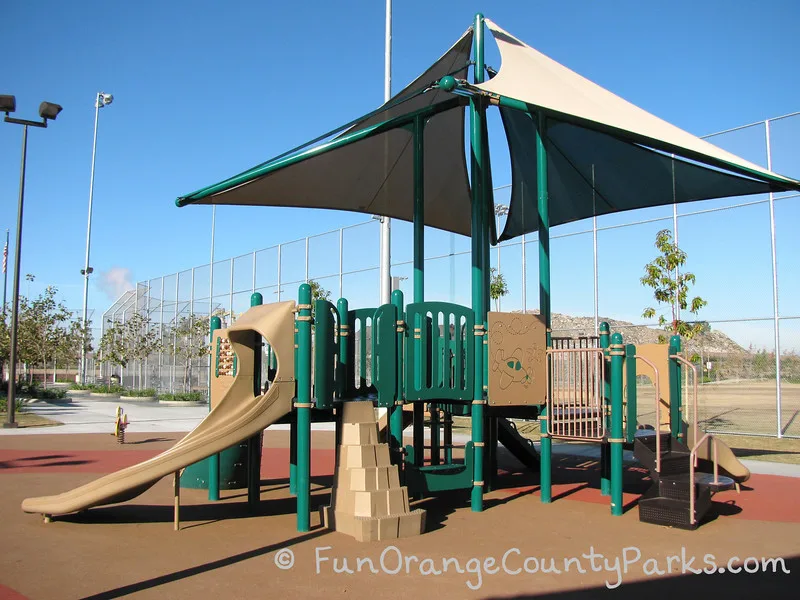 Checklist:
Restroom
Drinking fountain
Dedicated parking lot
Some shade directly over play structures
Access to the Santa Ana River Trail via a path that runs between the softball fields
Recycled rubber surface
Picnic benches sprinkled throughout the sports areas
Picnic pavilion available for reservation through the City of Orange
Sporting area includes two softball fields, one full-sized basketball court and two tennis courts
Nearest Public Library: The Sunkist Branch of the Anaheim Public Libraries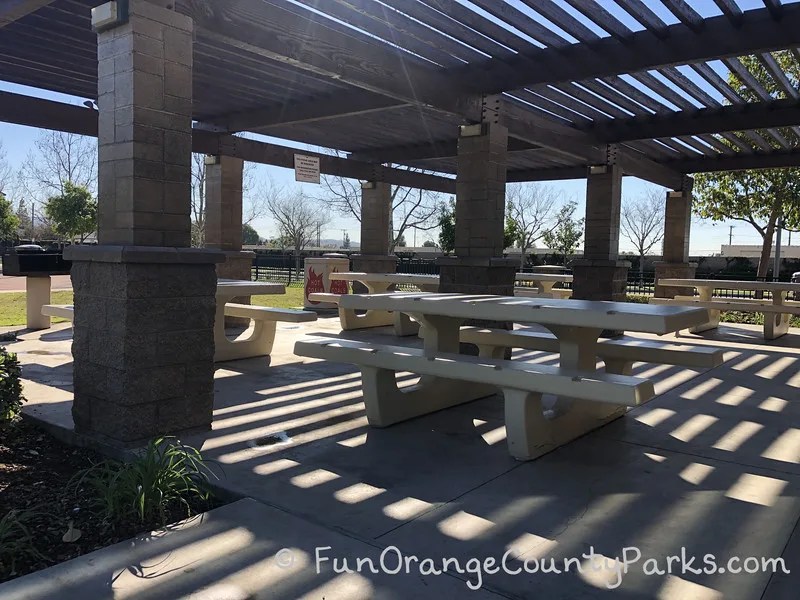 Nearby Parks: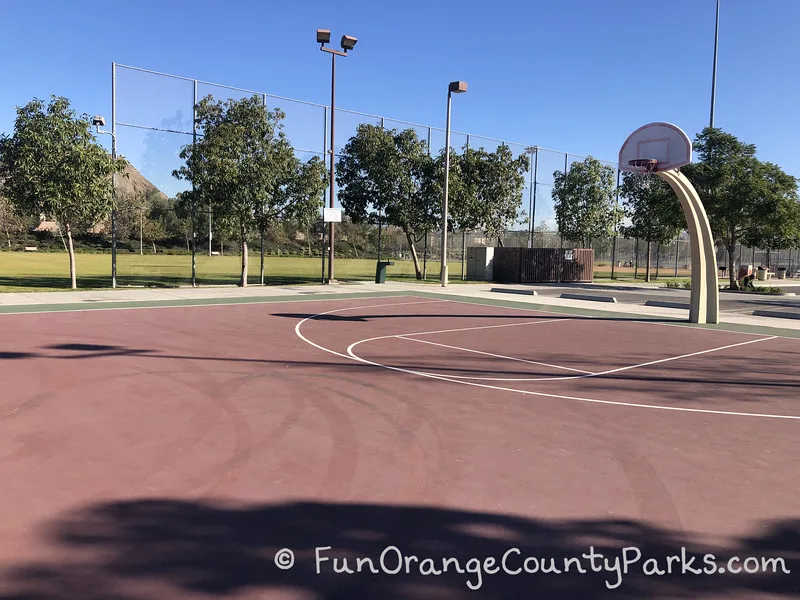 Originally posted February 2013.