Pioneer Park in Anaheim was yet another map find. From the satellite imagery I could see some details from both structures that made it look very promising, and it didn't disappoint at all. From the moment we started walking towards the play structures, I knew we'd found something really special. My three-year-old agreed, and he's asked to go back every morning since – no kidding!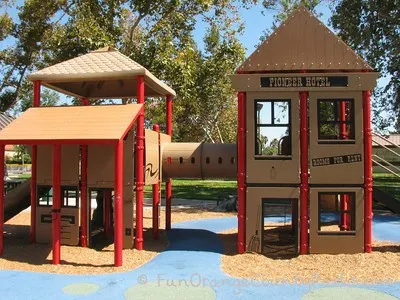 Directions to Pioneer Park in Anaheim: It is located just south of Sunkist Elementary School in East Anaheim. From the 57 freeway, exit at Lincoln and head west. Turn right on Sunkist, and make another right onto E. Underhill Avenue. The park will be on your left. Plentiful parking spots line the street and face the park. (Address: 2565 E. Underhill Avenue) MAP TO PIONEER PARK IN ANAHEIM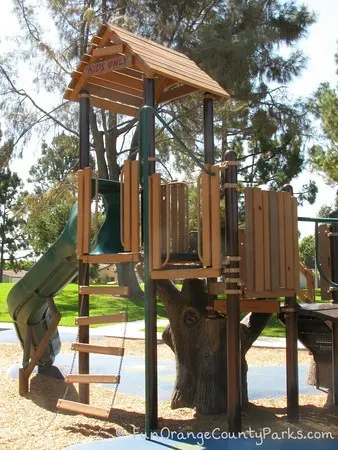 Highlights:
Two amazing play structures separated by a large grouping of rocks to scamper all over.
The play structure for the smaller kids is an old west hotel – complete with getaway horses.
I've found a new favorite play panel here – the side of the hotel has bells that are struck with music note mallets. Plenty of fun to be had with sounds.
The larger kids get an amazing tree house play structure – complete with a zip line exit and a large rock bridging two sections of the structure.
Look for the raccoon and squirrel hiding under the tree house.
Aside from the amazing play areas, there is an abundance of open grassy space for free play.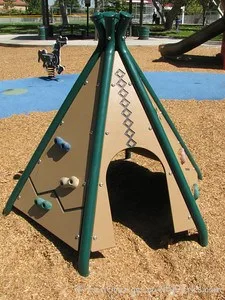 Be Aware:
Steer clear of the tree house structure if you have very small kids with you – it definitely requires a good amount of coordination to scamper across the rock bridge.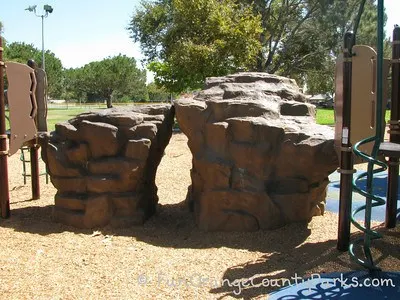 Checklist:
Dedicated parking spots along E. Underhill
Restrooms
Swings near the hotel structure
Play surface: bark and rubber combo
Picnic benches scattered throughout the park
Small gazebo with four picnic benches available for reservation through the City of Anaheim
Nearest Public Library: Anaheim Public Library (Sunkist Branch)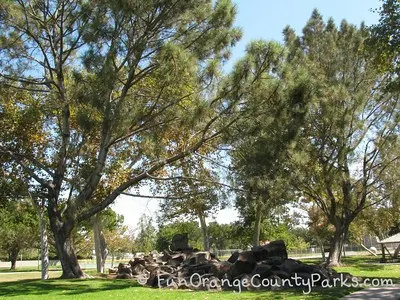 Nearby parks:
Photo credit: Lisa Lasater is responsible for all these gorgeous photos – and for all the writing in this post. She's my extremely valued North County Parks Reporter (volunteer)! All you North County families should leave her a comment with your gratitude for all she does to scout out the best in play for you!