Peralta Canyon Park in Anaheim sits off Santa Ana Canyon Road near the 91 Freeway. It's another great find by reader, Lisa. In fact, since Lisa is so great at finding North County parks and sharing such detailed info with us — we asked her to be our official North County Parks Reporter. That's not to say you should stop submitting North County parks! Lisa just holds the distinction of submitting the MOST so far and we thought she should be honored for her efforts.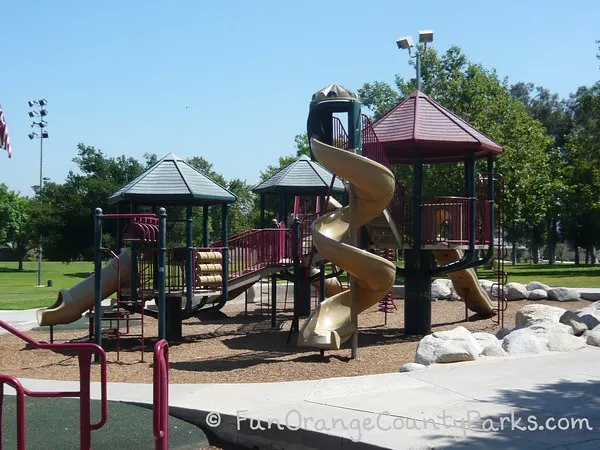 Location: Exit the freeway at Lakeview Avenue. You will immediately hit a T-intersection with the only choices are left or right. Turn left and stay on that road as it turns into Santa Ana Canyon Road. Turn left on Pinney Drive and make your first right onto Gerda. Follow Gerda around where you'll see the parking lot by the picnic shelters. (Address: 115 N. Pinney Drive, Anaheim) MAP TO PERALTA CANYON PARK IN ANAHEIM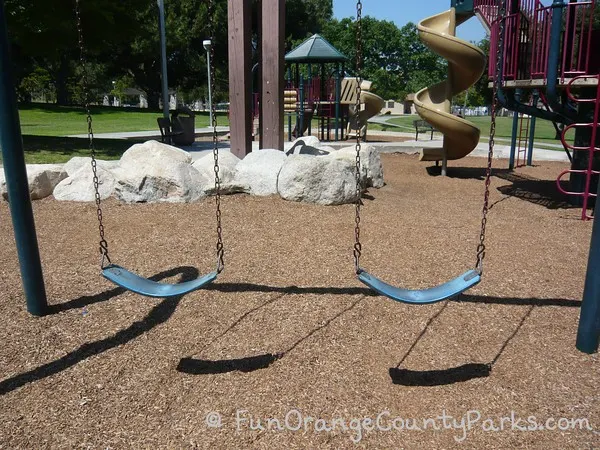 Highlights:
Fun toddler play structure, and huge play structure for the slightly bigger kids (which my toddler prefers, but isn't that always how it is?).
Rarely crowded except for on holidays. Typically I only see one or two other families while we're playing.
Keep your eyes and ears open for the flock of green parrots that hangs out here! I usually hear them before I see them, and then they hang around for a while. Very cool, and exciting for the kids.
A good amount of picnic benches with grills are sprinkled throughout the park, plus there's a lot of shady grassy areas to spread a blanket out on.
2 bench swings, NO baby swings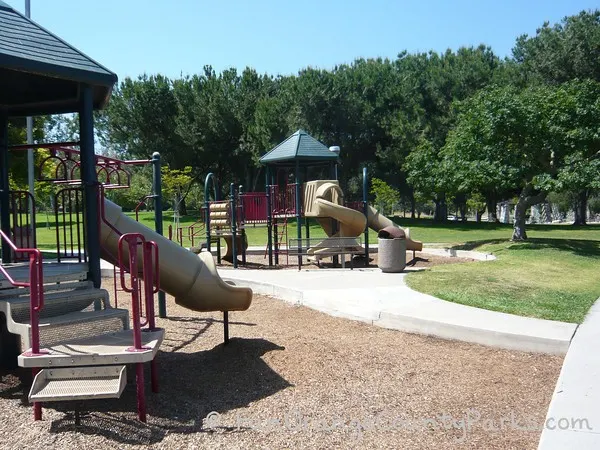 Be Aware:
The play structure is a little dirty and could use some love and pressure washing, but it certainly doesn't bother my toddler.
No shade right around the play area – but there are plenty of big shady trees right around there to cool off under.
The bark level is a little low and it's been piled up under the slides so the drop isn't so great when the kids come flying out.
A bit of a roar from the 91 Freeway, but still feels peaceful among the tall trees and quiet neighborhood.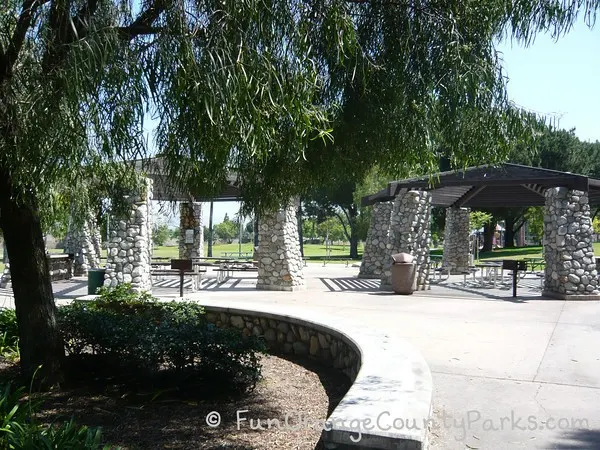 Checklist:
Large dedicated parking lot. The one time we experienced a crowd of people there (Easter – so it was to be expected), we were still able to find a parking spot.
Bark play surface with a recycled rubber accessibility ramp in one spot
I'd describe it as a sunken play area where parents can sit on benches or along the edges of the playground to watch the kids. There are also 3 picnic tables adjacent to the swings.
There are picnic shelters for a larger group (with grills, counters, and sinks) available for reservation through the Community Services Department (714-765-5233).
Drinking fountain is near the picnic shelters.
Bathrooms by the basketball court.
Baseball field, basketball court, volleyball court