Fullerton Sports Complex Playground is another one of Lisa's great finds! I'm never disappointed when I arrive at our play destination to take photos of her recommendation. 
I love the warm feeling of a wood playground and the shade cover is such a bonus for hot summer days.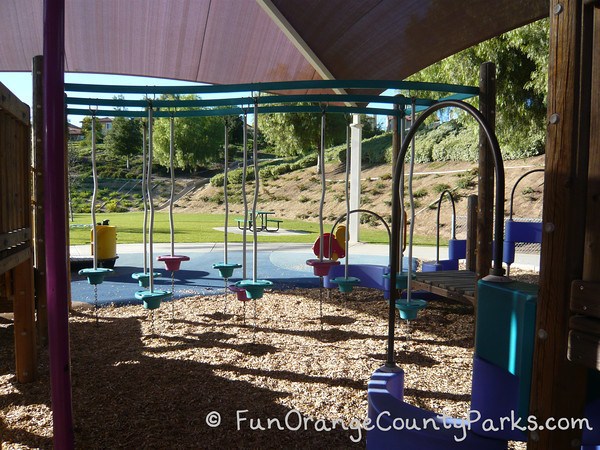 How to Get to the Fullerton Sports Complex Playground
Bastanchury is one of the main roads through Fullerton.  We traveled by way of the 57 Freeway.
Exit at Yorba Linda Boulevard and turn towards Cal State Fullerton.
Get in the right lane so you are prepared to turn right on State College Blvd.
After turning right onto State College Blvd, get into the left lane for the left turn onto Bastanchury. 
You'll travel down a hill with a beautiful view (all the way to LA on the day we drove it!).
Stay to the left for your next turn. You CANNOT see this playground from the street.
You will turn left onto Silver Pine Street which jogs in front of a gated housing development across from Fairway Isles Drive.
The big parking lot is obvious in front of you. Drive towards the bottom of the hill for the playground.  MAP TO FULLERTON SPORTS COMPLEX PLAYGROUND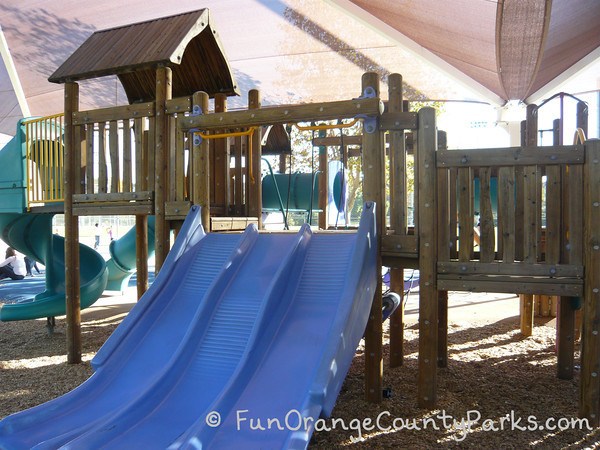 Highlights:
SHADE, glorious SHADE! The Fullerton Sports Complex playground is completely covered and always shady! It really makes a difference on a sunny summer day.
Fun wood/plastic structure combination with plenty of things to climb on.
Cute little boat to play on next to the structure with a turtle nearby to sit and bounce on.
Fun piece of equipment to sit/stand on and spin in a circle.
There's a section with three slides next to each other and each one has a "bumpy" section that makes a funny sound as you slide down over it. My toddler thought it was so hilarious that he was laughing hysterically and couldn't stand up straight after going on it multiple times.
I've seen many moms spread out picnic blankets on the recycled rubber surface to have a place to hang out in the shade near the play structure.
One regular swing and one toddler swing – the toddler swing doesn't have a front to it, so it's more like a swing with a backrest.  Both swings are VERY close to the ground which makes them perfect for little ones.
Trails lead off from the base of this park if you follow the sidewalk down through the ball fields. You can hike to see the dam or to see the creek.
The trails go up to Brea Dam and to tunnels under Bastanchury leading to the Fullerton Golf Course. Just use the buddy system and be aware of fast-moving mountain bikers on the dirt path.
Also, be aware that the horse ranch you'll pass is private property and best viewed from afar.
Be Aware:
Some areas of the structure would be daunting for very small kids, so stay nearby in case they get into trouble.
Because this playground is at a sports complex, I imagine it could be very busy on the weekends when kid sports are in full swing. It was surprisingly busy, but manageable when Michele visited.
If you park in the first lot you'll have a bit of a walk to get to the playground. Beyond the first lot you can follow a street down to the lower area of the complex, which is where the play area is.
There is a massive sign with rules of all the things you CAN'T do at this park. One of them happens to be climbing on the slope. However, that appeared to be the #1 activity for the kids playing.  There's lots of room for exploring and nature walks around the playing fields when games are not in session.
No sandbox.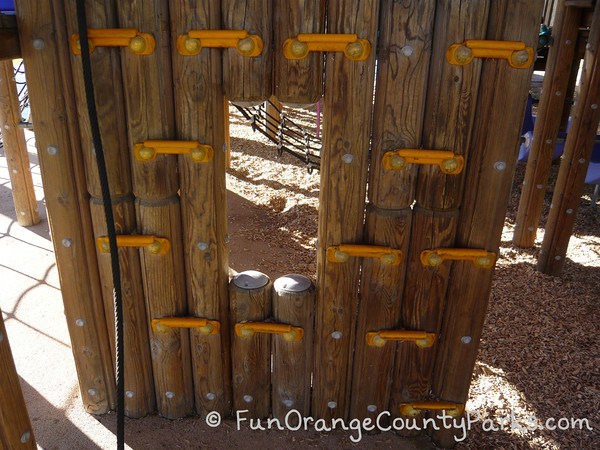 Checklist: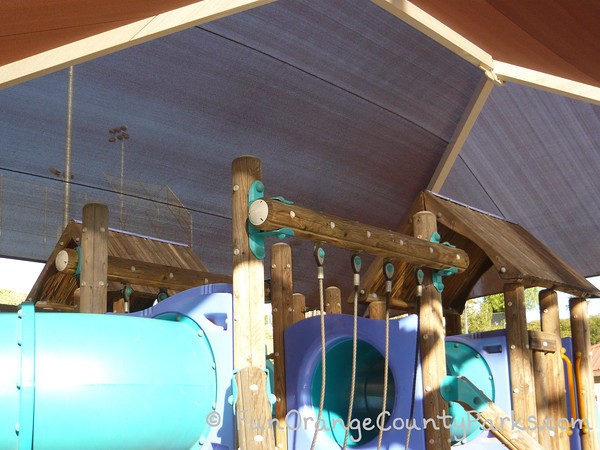 Parks Nearby Fullerton Sports Complex Playground:
Originally published in December 2010.