Rolling Hills Park in Fullerton definitely lives up to its name – there are plenty of hills to roll down and run all around.
There are park benches and picnic benches scattered throughout the hills which makes it a great place to spend a relaxing morning or afternoon.
It closed for renovations in August 2018 and opened with new playground equipment and a fitness course in April 2021.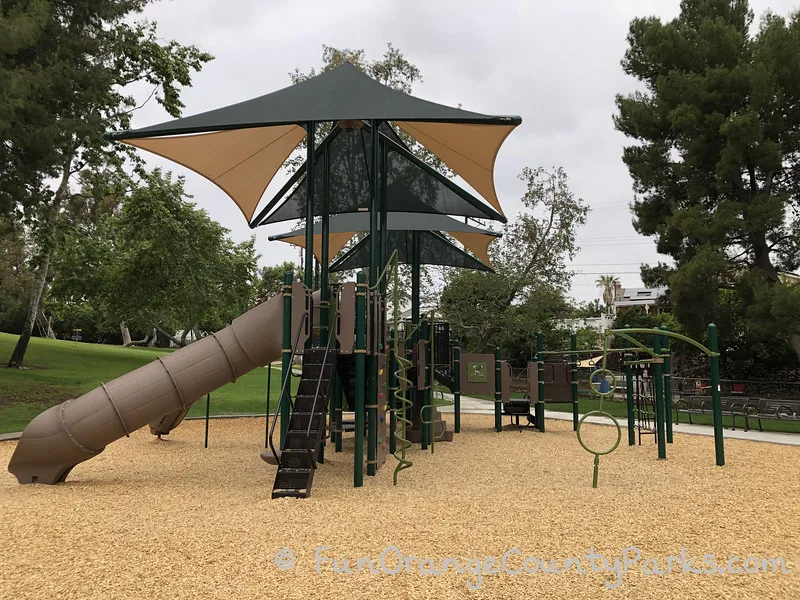 How to Get to Rolling Hills Park in Fullerton: We traveled by way of the 57 Freeway. Exit at Yorba Linda Boulevard and turn towards Cal State Fullerton. Get in the right lane so you are prepared to turn right on Associated Road. After turning right onto Associated, get into the left lane for the left turn onto Bastanchury. Get into the right lane and prepare to enter the parking lot off Bastanchury. Address: 1515 E. Bastanchury Road, Fullerton. MAP TO ROLLING HILLS PARK IN FULLERTON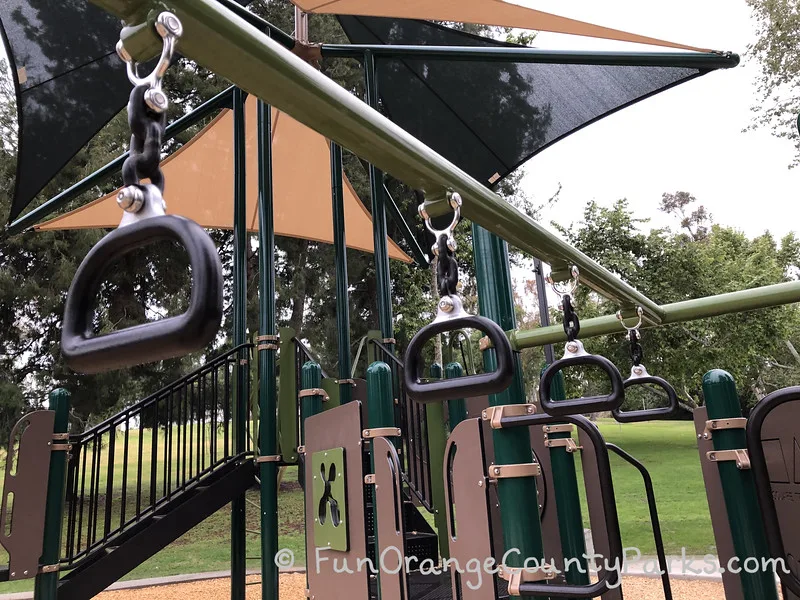 Highlights:
Lots of trees in the surrounding park which make it really easy to find shade on a hot day. I loved taking the sidewalk around the park along the fitness course loop.
Main play structure for 5-12 year olds that encourages climbing and exploring. A long tunnel slide and another bendy slide are on the hill side of the play structure with lots of climbing elements on the other side.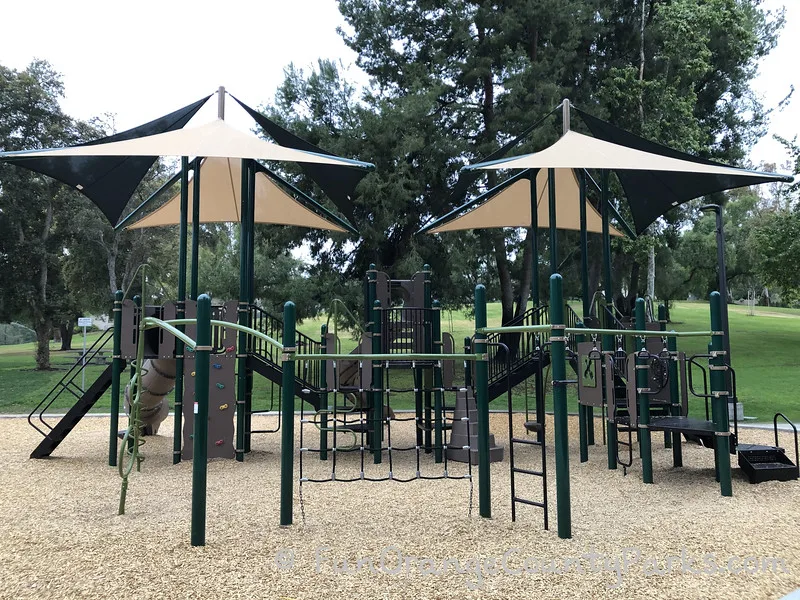 The playground does not have direct shade from trees, but the new shade sails offer a little relief.
There are some adorable and eclectic backyards viewable through chain link fence from the path that goes up past the playground – more fun for parents to see but definitely worth checking out.
Even though this is on a main street, there's a temporary chain link fence to prevent the kids from getting mixed up in traffic, but now that there is a parking lot where kids should be cautious.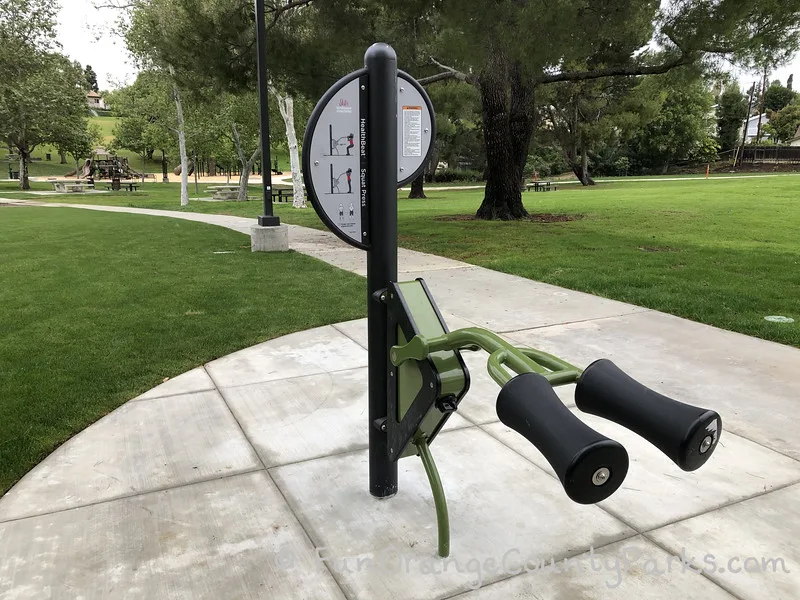 They've added a fitness course with some pretty nice equipment.
2 bench swings, 2 baby swings.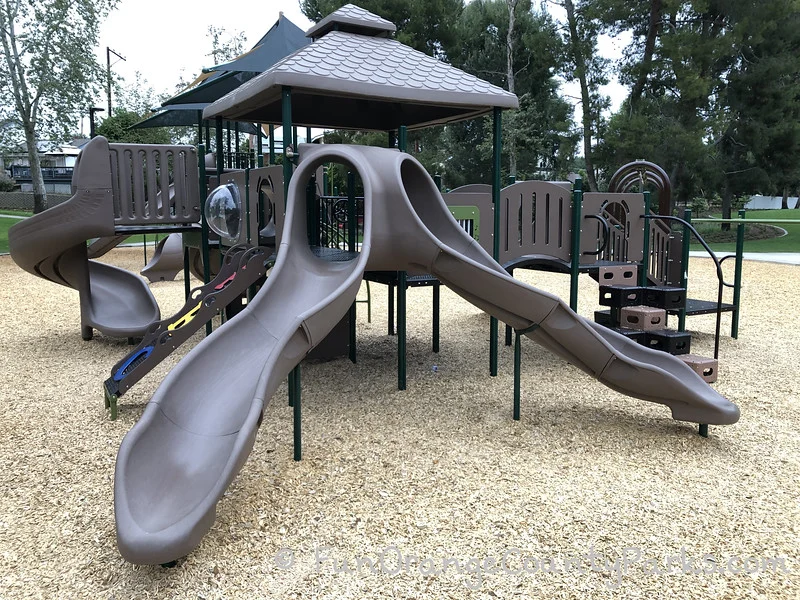 There used to be a cute little red clubhouse at this park and they've preserved the spirit of that in the 2-5 year old play structure.
I love this structure because it's closest to the benches and really preschool friendly with tons of slides and tunnels.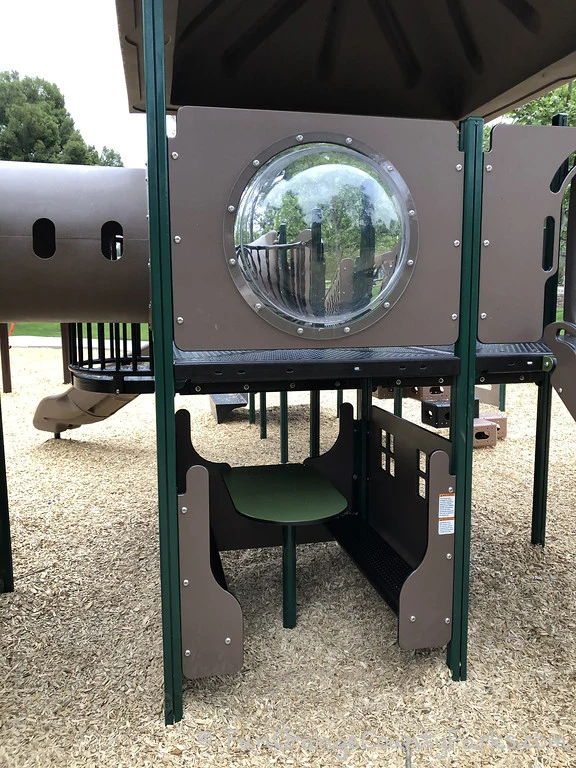 Be Aware:
The parking lot is off a busy street and it's unclear what the permanent fencing will be.
I scouted this out early in the morning and it was quite wet from sprinklers, so you might want to bring a towel to wipe down slides if you go early.
Some will miss the charm of the old wooden play structure, but it's still a great park overall.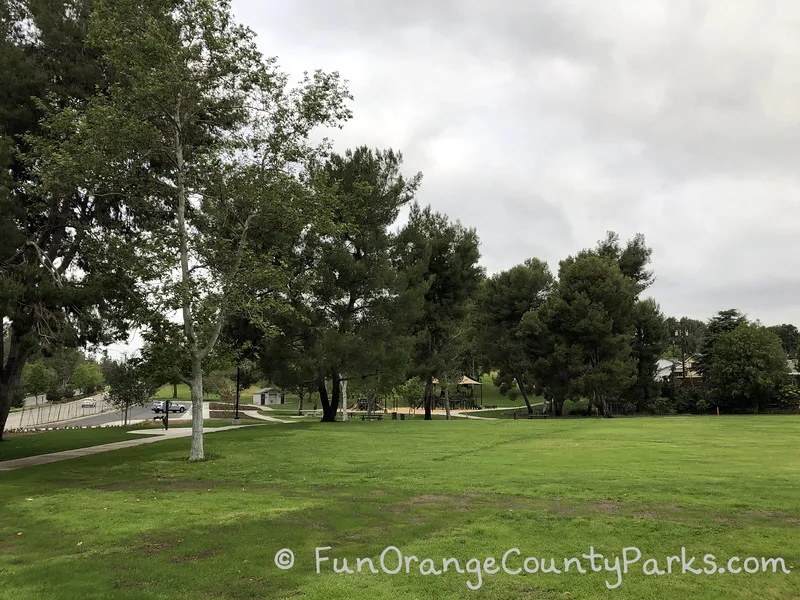 Checklist:
New restroom building and even a water bottle refill station
Parking in a dedicated lot right off Bastanchury which now has 16 spaces and 2 accessible spaces
Bark play surface
Plenty of park benches and picnic tables
Shade from trees for picnics
Fitness course with a few stations off the sidewalk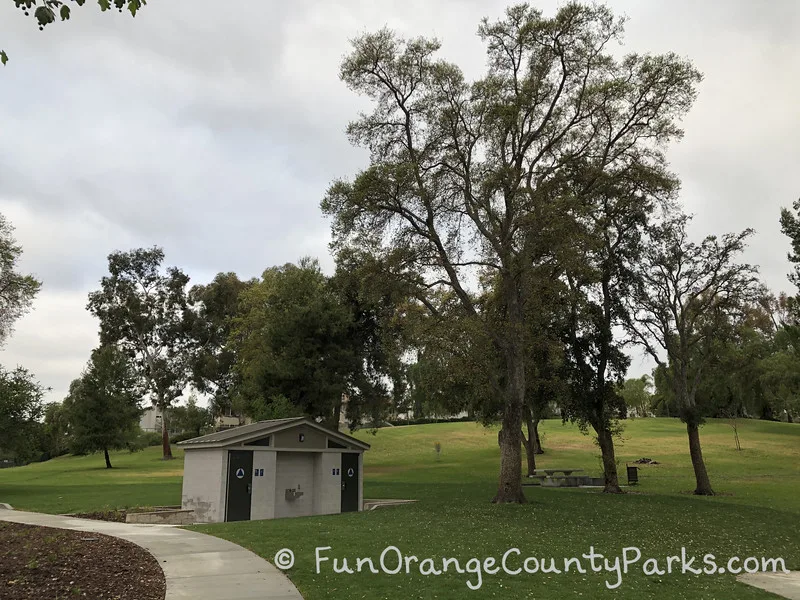 Parks nearby Rolling Hills Park in Fullerton:
Old photos of Rolling Hills Park in Fullerton before it was renovated between 2018 and 2021:
Photo credit: Lisa Lasater, North County Volunteer Park Reporter
Originally posted in March 2011.