Woodbury Community Park in Irvine is just what you'd imagine: a beautiful oasis centering a planned community. The park is at the center, spreading to apartments and housing, then big block retail on the outskirts. If you enter from Sand Canyon you'll start with the retail. I prefer driving in from Jeffrey where you skirt along the Open Space Trail and pass the small farm stand on the corner.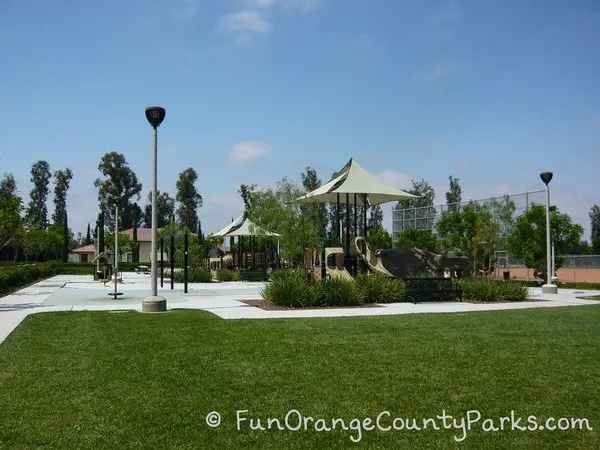 Location: Exit Interstate 5 at Jeffrey Road and head east towards the foothills. Turn right at Bryan Avenue and drive until it dead ends into the parking lot. MAP to Woodbury Community Park in Irvine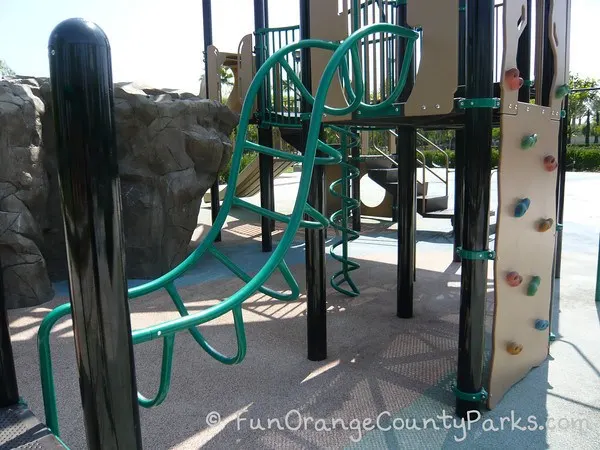 Highlights:
It's a beautifully-maintained park with fine sand and recycled rubber play surfaces
Separate big kid and little kid areas, but still able to see your big kids and little kids from the same vantage point
The 5-12 year old structure has a cool rock climbing archway and a red net climber. The kids liked the slides on this structure.
The 2-5 year old area has what I call hamster tunnels for the kids to explore, plus lots of interactive play boards.
Sports fields and lawns abound here. Lots of sidewalk and wide expanses for running. Most moms hung out in the shade near the slides.
TONS of swings (4 bench swings and 4 baby swings) plus diggers and spinners
Bring a basketball for the courts, or let the kids run the bases, play soccer on the fields, or visit the playground at the nearby elementary school??? The possibilities seem endless here.
If you're looking for something different . . . my kids loved the small playground / maze garden around the corner.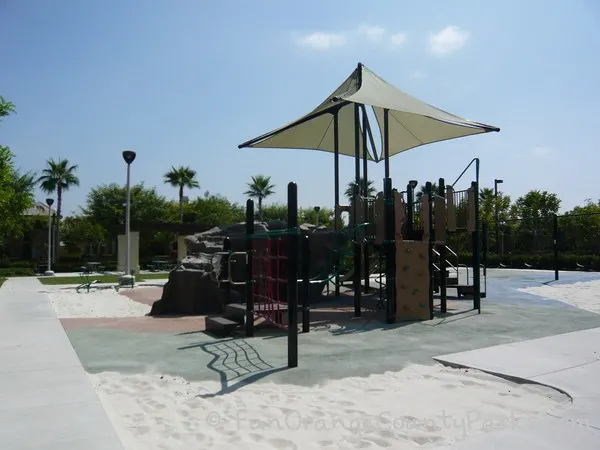 Be Aware:
When I quizzed a mom on our visit she just warned about the heat. It's an extremely hot location for summer, even though there are shade covers over the playground. The trees haven't matured around the park.
Could possibly become busy with Parks and Rec groups or on days with sporting events and practices
Checklist:
Sand and recycled rubber play surfaces
Dedicated parking lot
Drinking fountain near the baseball diamond
Very nice bathrooms in the building by the parking lot
Vending machines with water and snacks
Basketball courts, baseball diamonds, soccer field, walking paths
Nice partially-covered picnic area across the lawn from the big kid structure with a massive barbecue grill
Multiple metal picnic tables (no shade) near the small kid play area
Nearest public library branch: Heritage Park in Irvine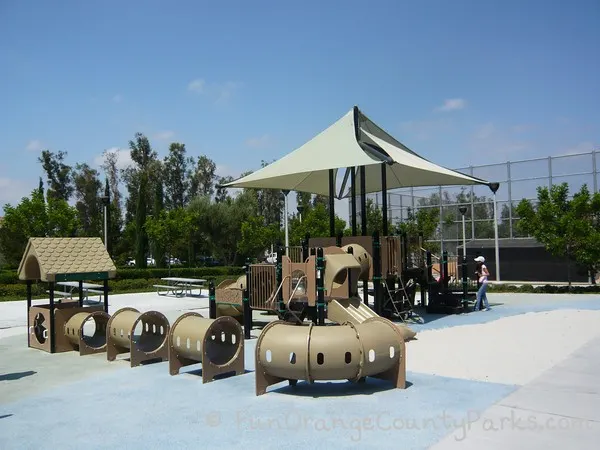 Nearby Parks: