Springdale Park in Aliso Viejo is known by two other names: Spiderman Park or Spiderweb Park. Upon driving into the cul-de-sac that features the park, you can immediately tell why.
I've seen parks with one climbing apparatus, but this is two webs weaved together in brilliant red rope.
During Summer 2018, the park was transformed to truly live up to its name with a playground improvement centered on 4 "webs" leading up to the slides.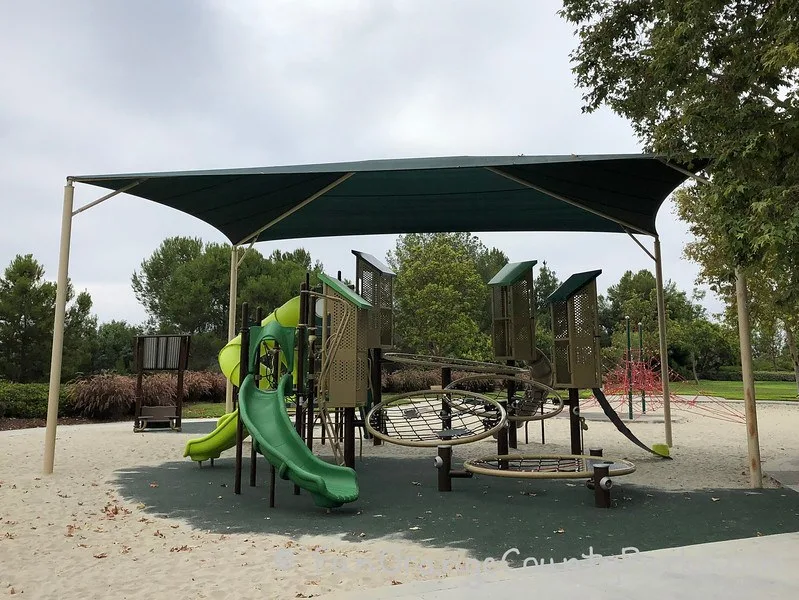 Directions to Springdale Park in Aliso Viejo: It's right across from Aliso Town Center off Summerfield (which crosses Aliso Creek Road and turns into Enterprise further up the hill). Exit the center right at Macaroni Grill to cross Aliso Creek Road and drive into the neighborhood. Turn left onto Springdale at the bottom of the hill – into the small cul-de-sac where the park is located. At dead end of Springdale. MAP TO SPRINGDALE PARK IN ALISO VIEJO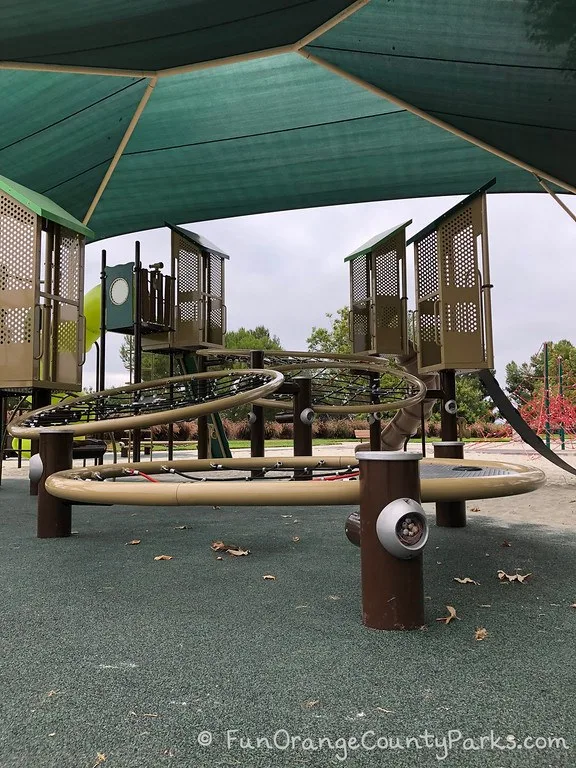 Highlights:
The climb ropes are definitely the highlight! The playground is rated for ages 5 to 12 – and, in this case, it definitely fits the design.
4 pedestals/booths with a climbing element and/or slide attached to each one.
4 large spiderwebs link to each other to enable kids to climb to the pedestals from the inside of the playground.
There's still a "clubhouse" set apart from the rest of the equipment which we used to play "drive-thru restaurant"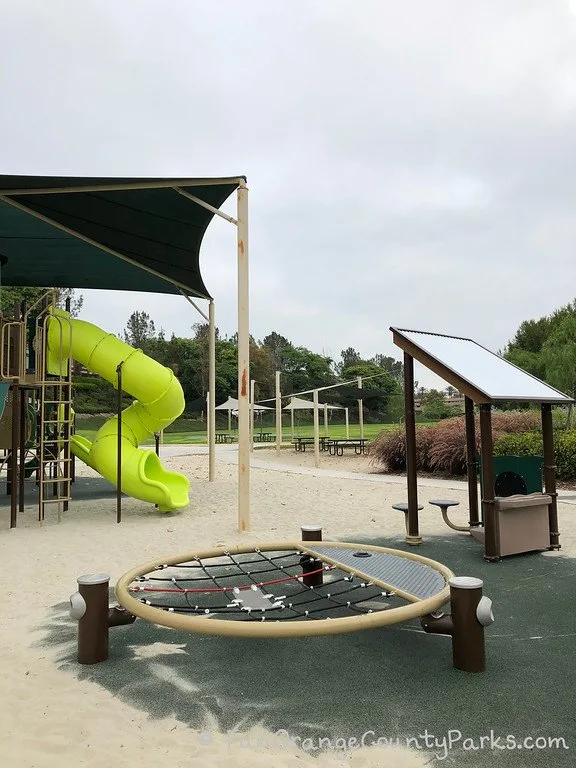 Nice view of Aliso Viejo and Laguna Hills below
Shade covers!! This park has them on big equipment, over the swings, and small ones over the picnic tables
2 baby swings, 2 bench swings
Bring your sand toys
Basketball court (adults were playing there on our visit)
Benches around the playground areas, but I spend most of my time up and hanging out with the kids.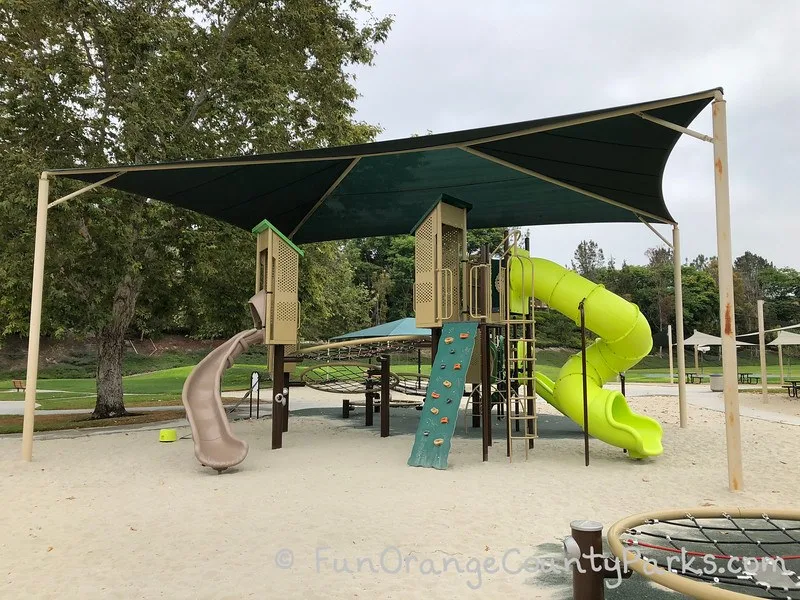 Be Aware:
The big kid equipment is definitely for bigger kids. Just watch the drops.
All the equipment requires navigating rope bridges, spiderwebs, or climbing ladders. Not always easy for moms to quickly climb up to chaperone or rescue younger kids who are stuck.
NO real restroom – just a portable toilet.
It can be busy because of its convenient location. I've turned around when it's crowded and found quieter parks.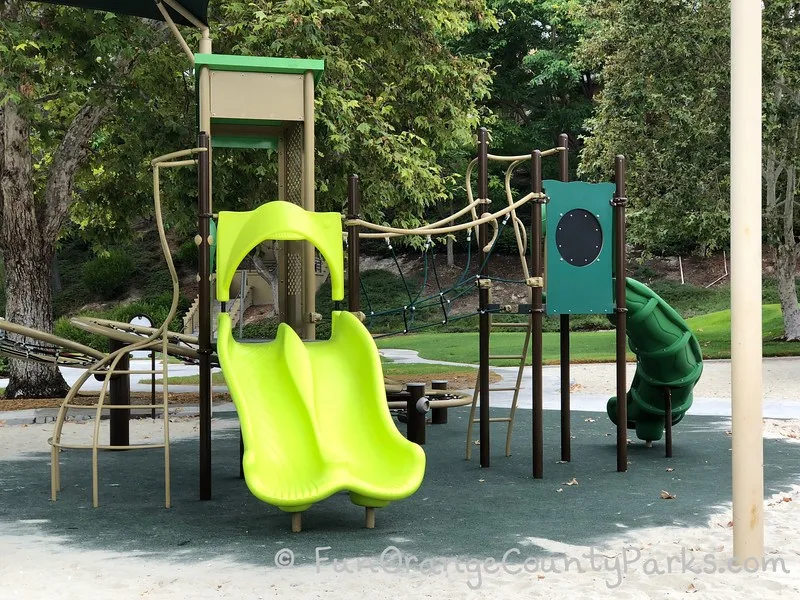 Checklist: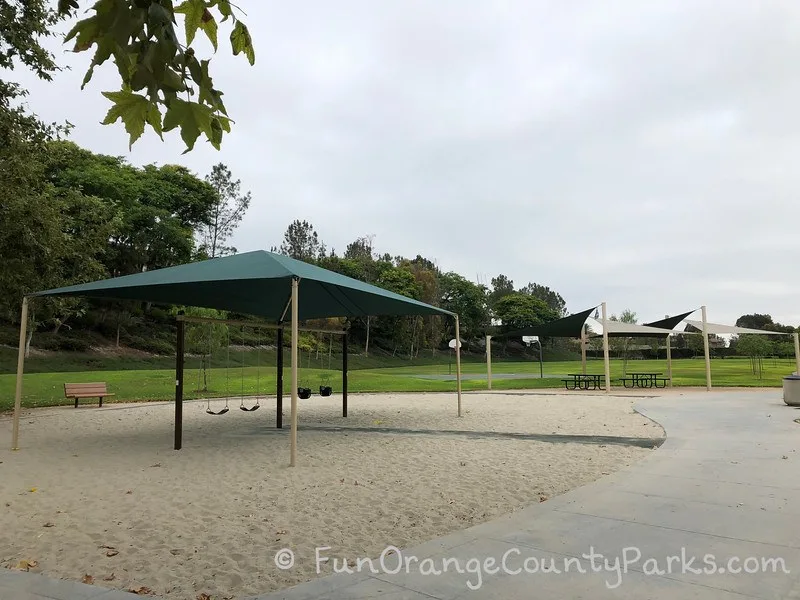 Parks Near Springdale Park in Aliso Viejo:
Originally published in 2011.

Don't forget to PIN Spiderweb/Springdale Park!