Los Olivos Community Park near Irvine Spectrum opened in March 2019. It's near the site of the old Irvine Meadows Amphitheater off of Irvine Center Drive.
This land was once home to Wild Rivers, Camp James, a Christmas tree lot and a huge parking lot to support those big entertainment venues. Now it's a massive apartment housing complex by Irvine Company with security guards patrolling and lots of parks marked PRIVATE PARK.
Los Olivos Community Park is the exception and it's open to the public.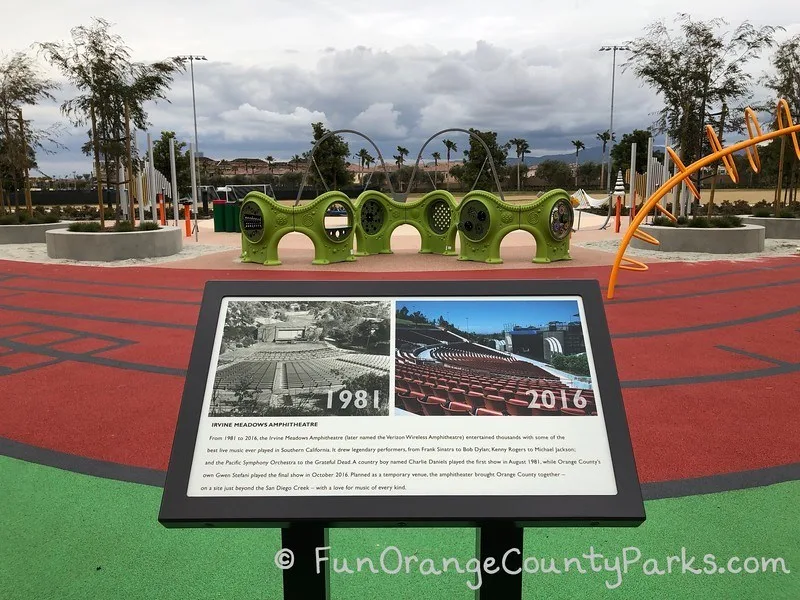 Here's an old aerial view of the map at the corner of Lake Forest Drive and Bake Parkway with the amphitheater still in the frame and the small green marker marking the location of this new park. Source: Google Maps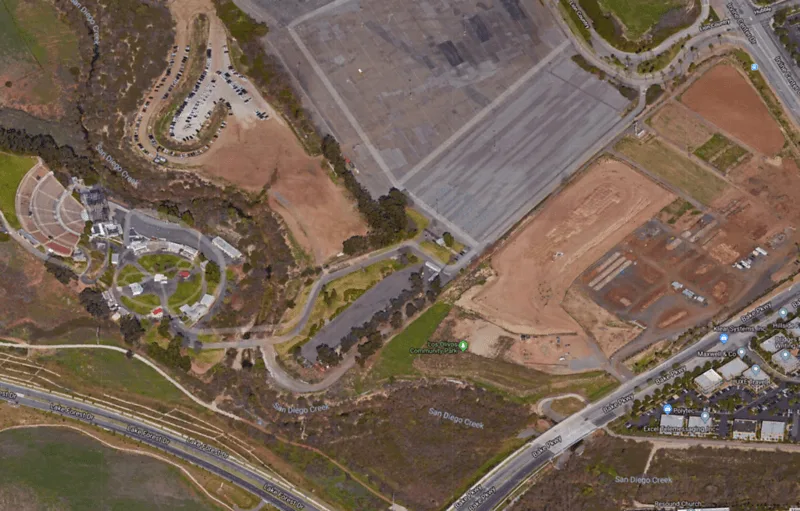 How to Get to Los Olivos Community Park and Community Center in Irvine: Exit Interstate 5 at Irvine Center Drive and turn towards the opposite side of the interstate than Irvine Spectrum shopping area. You will see big signs for Los Olivos on your right and a Whole Foods shopping center with restaurants on your left.
It's a little tricky, because the community is not fully built out and the roads aren't even on the map yet. I passed the first light at Antivo and turned right at the next light which is Encanto – the road dead-ended into a T-intersection and I turned left onto Dana to wind around the back of the construction area which eventually led me to a left on Alfonso and a left into the park.
An easier way might be to exit I-5 at Bake Parkway and enter the park off of Bake Parkway. You will drive towards Laguna Canyon on Bake Pkwy and cross over Irvine Center Drive. The next light is Gitano — but go PAST Gitano and turn right onto Alfonso – although the street is not marked. If you hit Lake Forest Drive, you've gone too far. (Address: 101 Alfonso, Irvine) MAP TO LOS OLIVOS COMMUNITY PARK NEAR IRVINE SPECTRUM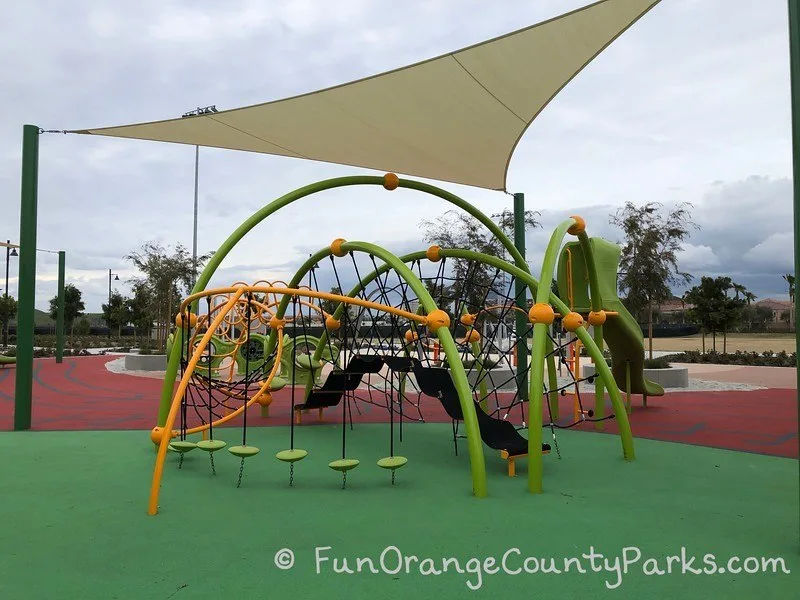 Highlights:
In tribute to the old amphitheater, it's music themed for your little musician (in fact, I predict kids will start calling it "music park")
The recycled rubber play surface is decorated with music notes
There are rope climbers and a funky and bumpy soft black bridge to navigate on the big kid equipment
2 big disc swings that are reminiscent of tire swings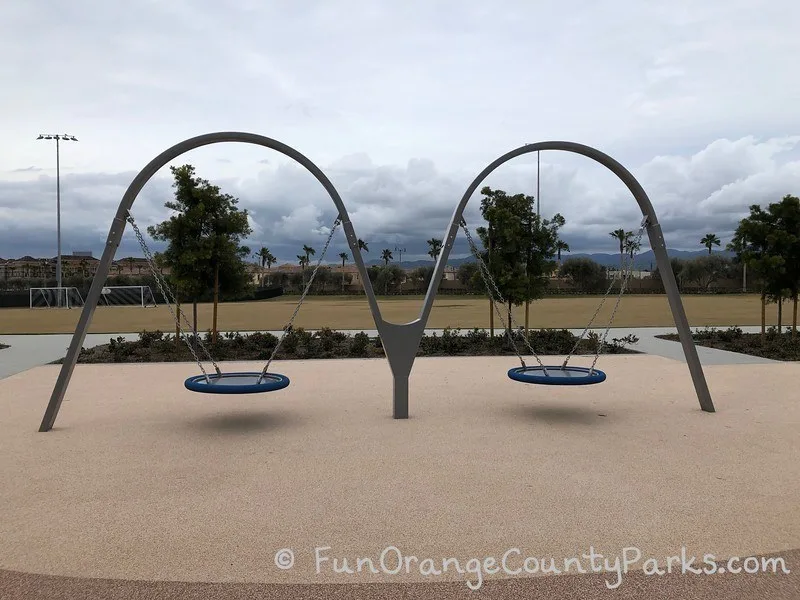 Two "band" areas with lots of fun percussion instruments that can handle the outdoors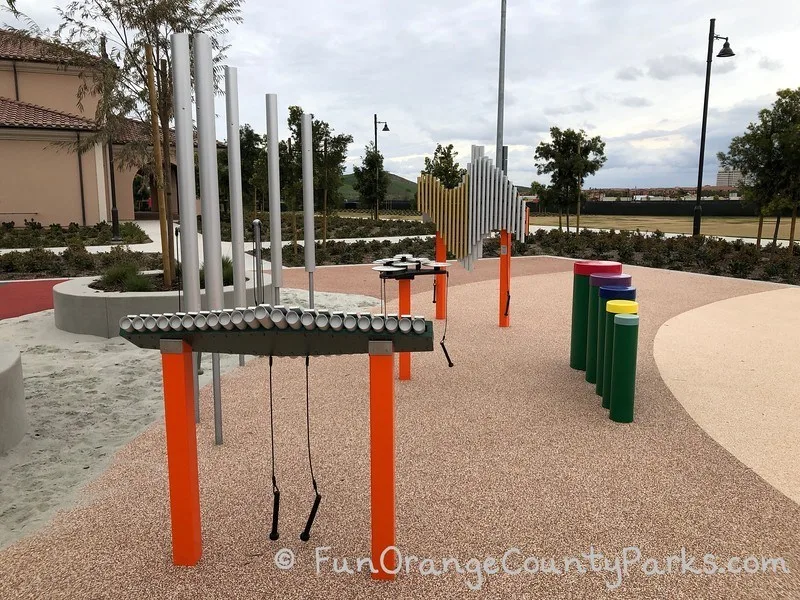 For younger children (2-5 year olds), the music areas are interesting and the center interactive panel is reachable from their height – plus there's also a small playground with a little bridge and little slides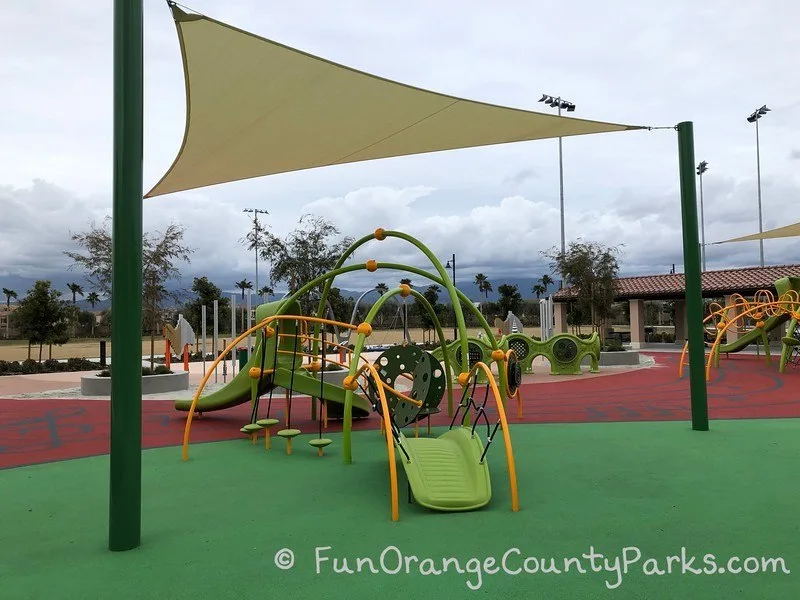 The play equipment is definitely set up for older kids (5-12 year olds) who can navigate the ladders and complicated climbers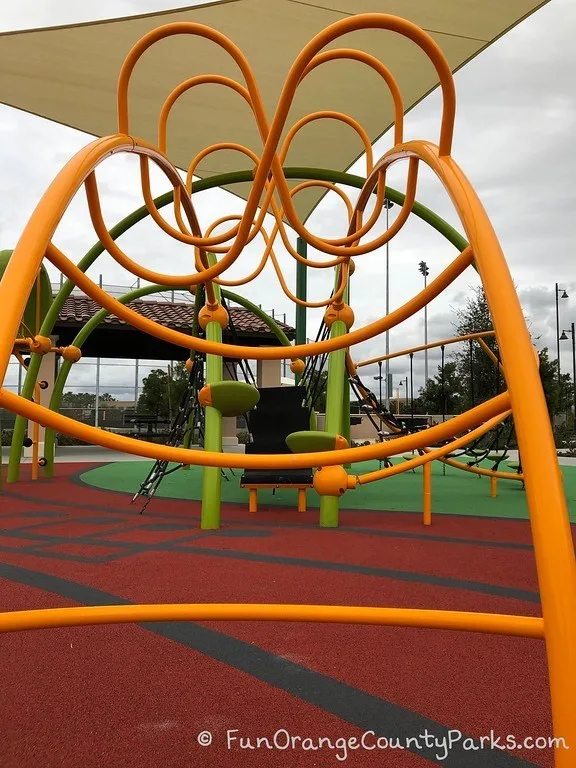 It's definitely sports heavy with lighted baseball and soccer fields, as well as lighted basketball courts and 4 tennis courts
No traditional swings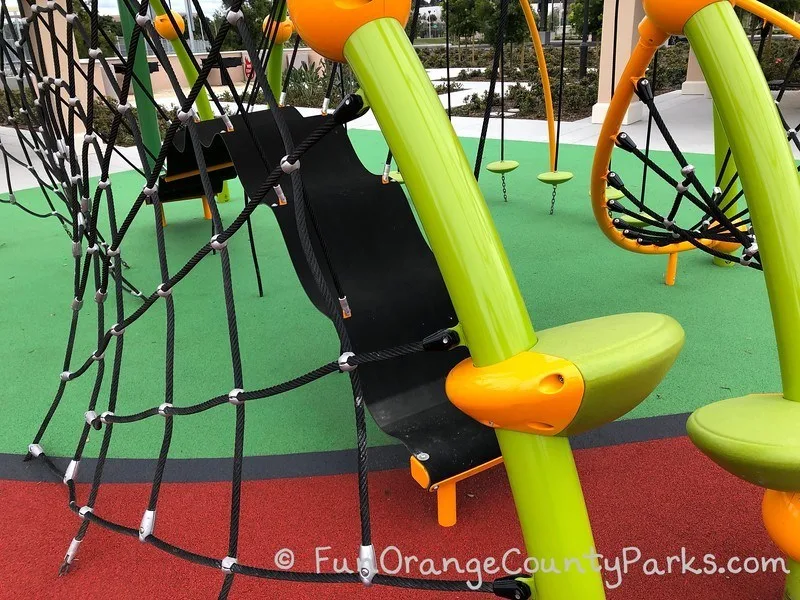 Be Aware:
Not much shade yet for summertime play
The sand/recycled rubber combo can be slippery sometimes
Parents of little ones might need to supervise attempts at the bigger ladders and monkey bars
Make sure you check the hours of the community center to know if it will be open on your visit (generally 9am-9pm – or 10pm, or Noon-6 on Sundays)
Once the community is fully built out and the fields are in regular use, you will want to be aware of busy game days.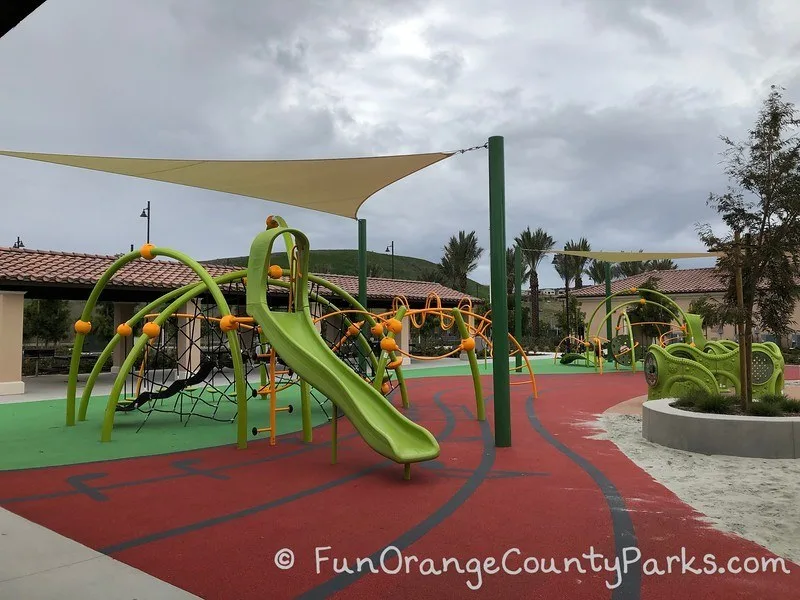 Checklist:
Free parking in a dedicated lot
Recycled rubber play surface with a few small sandboxes
Restrooms inside the community center
Drinking fountains
2 large covered picnic areas with tables and big outdoor grills
Soccer field and baseball fields right next to the playground
Basketball courts and 4 tennis courts
There are all sorts of restaurants in the Whole Foods shopping area and along Lake Forest Drive near the freeway.
Nearest public library: Orange County Public Library – El Toro Public Library branch in Lake Forest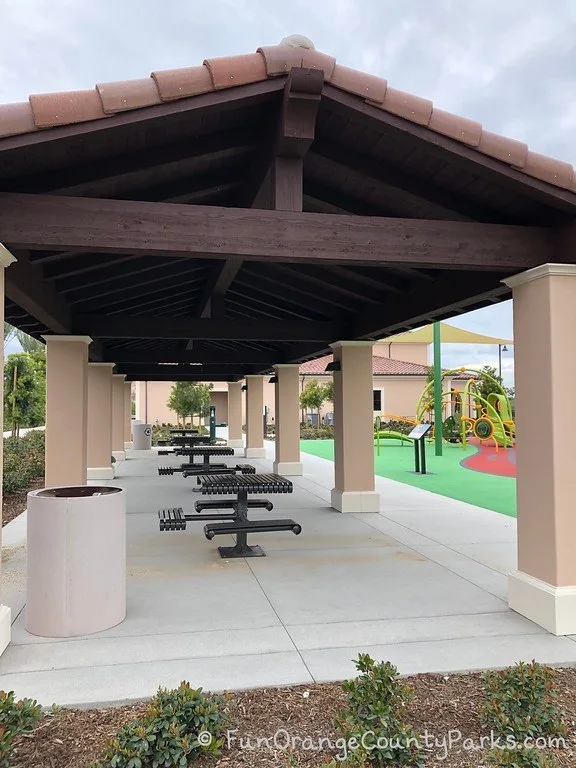 Parks and play opportunities nearby Los Olivos Community Park:
There are a lot of PRIVATE parks in this development that are meant only for residents, but Los Olivos Community Park and the following locations are open to the public:
Irvine Spectrum water play and play area
Originally published in March 2019.