Dinosaur Park in Laguna Hills is the most common name I've heard for this amazing fossil-themed park behind the Laguna Hills Community Center at the corner of Alicia and Paseo De Valencia.
I've also heard it called: Dino Park and Prehistoric Park. It's a great run-around park with 2 different levels and all sorts of play equipment.
Check out my one minute "park teaser" video a little further down in the post for a quick overview.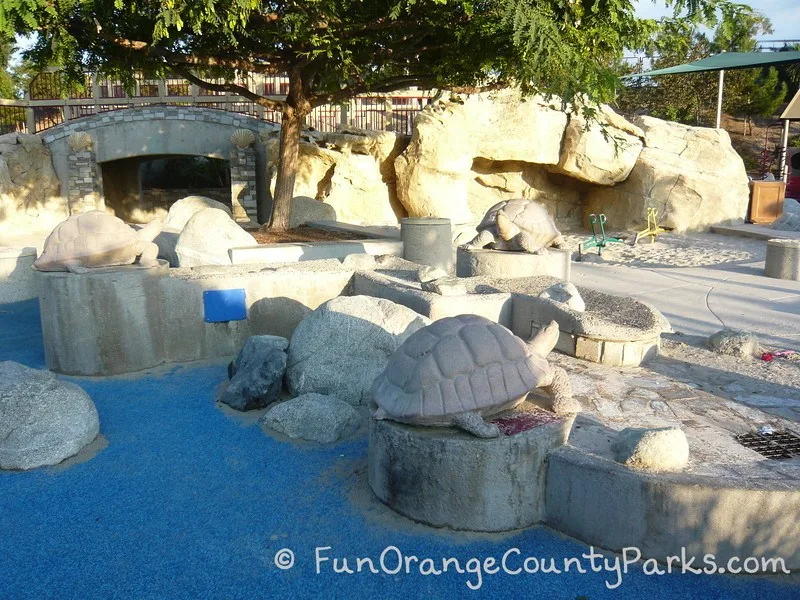 Directions to Dinosaur Park in Laguna Hills: Exit Interstate 5 at Alicia Parkway and head towards Laguna Hills (away from Mission Viejo). Dinosaur Park is ahead on your right at the corner of Alicia Parkway and Paseo De Valencia – behind the Laguna Hills Community Center. [Address: 25555 Alicia Parkway, Laguna Hills). MAP TO DINOSAUR PARK NEAR LAGUNA HILLS COMMUNITY CENTER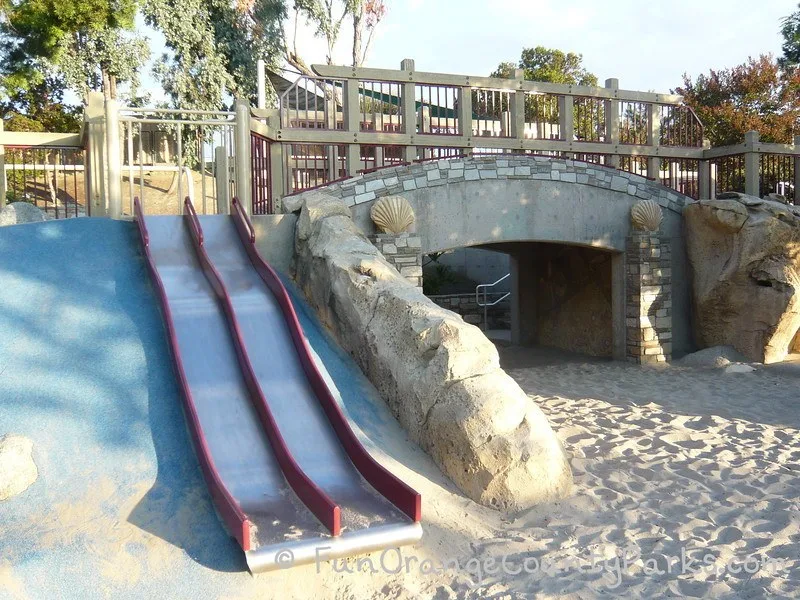 Highlights:
Different areas appropriate for different ages
Concrete turtle sculptures
Very clean indoor bathrooms at the Community Center
Close to soccer fields so plenty of room to run
Beautiful rose garden and flowering trees
Fun discovering fossils in the rock walls and playing on "whale bones"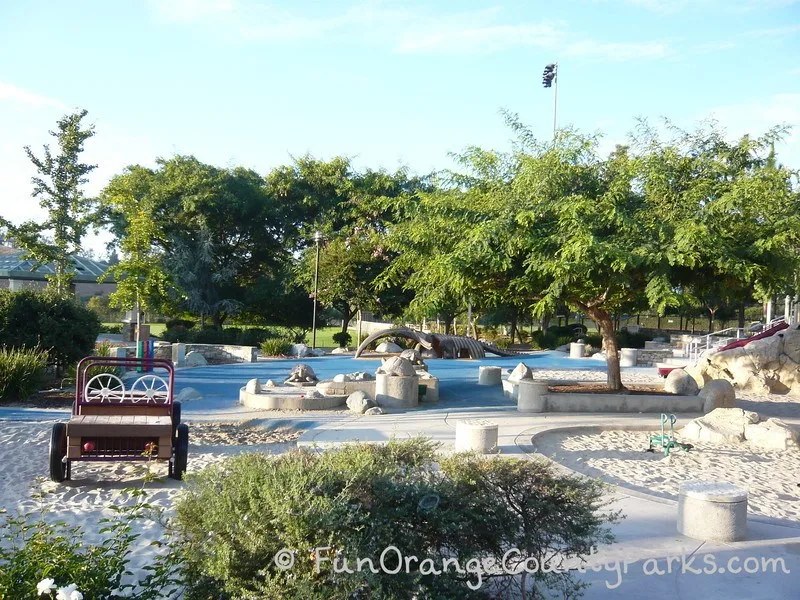 Tunnels, bridges, and stairs for exploring
2 bench swings and one baby swing (on upper level)
Great for birthdays and big gatherings
Visit the inside of the beautiful Laguna Hills Community Center for learning more fossil history and visiting the small public library
Renovation in 2011 resulted in: replacing a lot of the sand with recycled rubber surfacing — and automating the turtle fountains with sensors. They go off for 3 minutes at a time. (The city knows they are popular — and are trying to keep them functioning ALL year. Wanna know how you can help? Remind kids not to jam sticks or sand into where the water comes out. Thanks!)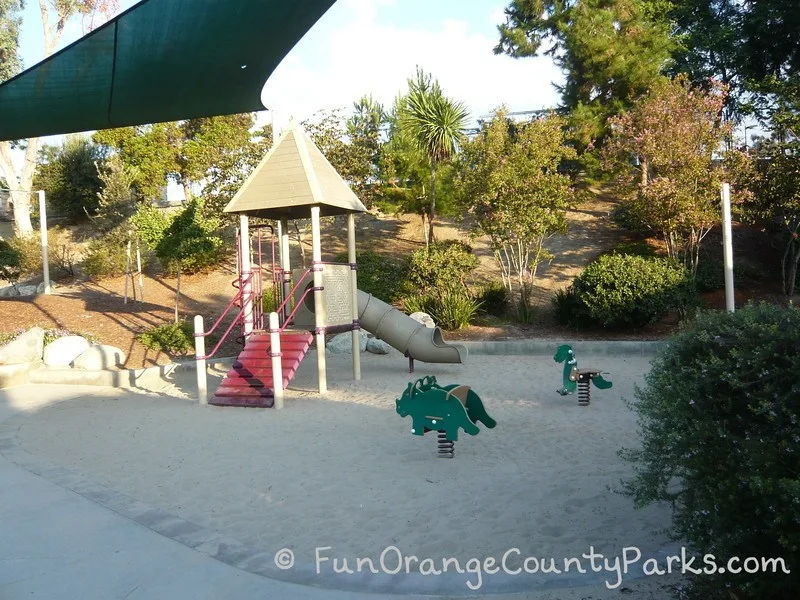 Be Aware:
Access to tall tunnel slide on upper play area is precarious for toddlers
The metal slides connecting upper to lower play areas can get really hot
Some parents don't like this park because their younger child will want to play on the lower level — and the older child will want to play on the upper level. So the parent runs around to be able to keep an eye on everybody.
It backs up to Laguna Hills High School, so there are sometimes high school students there (outside of school hours during the school year)
May compete for space with Community Center programs, city events, and soccer games at certain times of year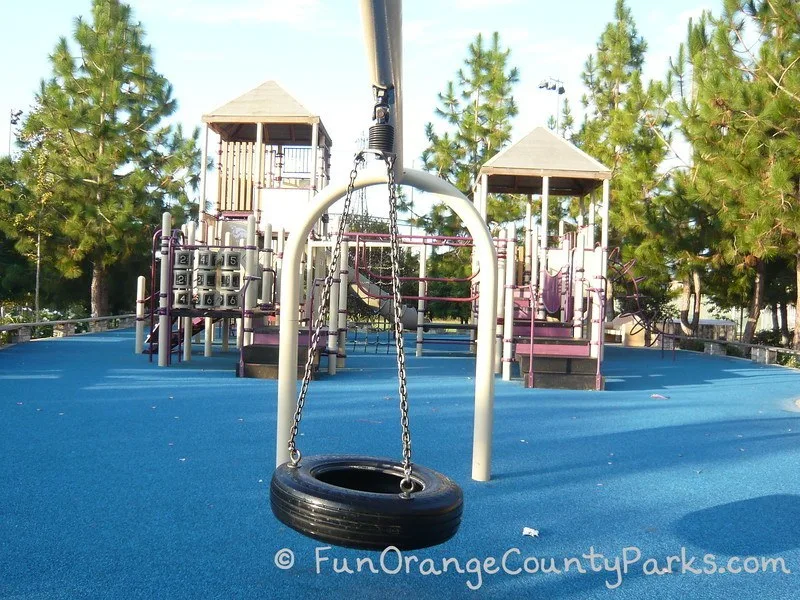 Checklist:
Plentiful parking near Community Center
Play surface: Recycled rubber and sand
Bathroom building near to playground
Numerous drinking fountains
Subway and The Pizza Store are across the street in Ralphs shopping center
Shade covers, trees, and patio cover over picnic area
Large picnic area with shade near snack bar, as well as two accessible picnic tables on upper level near swings
Most impressive picnic area with COVERED barbecue grills
If the snack bar happens to be open, a portion of proceeds benefit the Laguna High School marching band and color guard
Visit the City of Laguna Hills website for making reservations (it's under "Community Center & Sports Complex)
Nearby public library: The Laguna Hills Technology branch of the Orange County Public Library system (it's small, but it does have a selection of childrens' books available for check-out)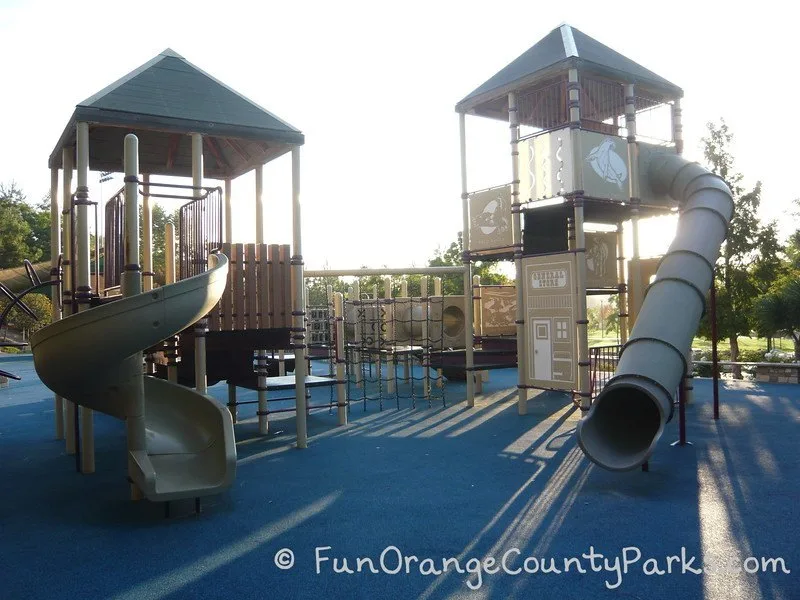 Nearby parks: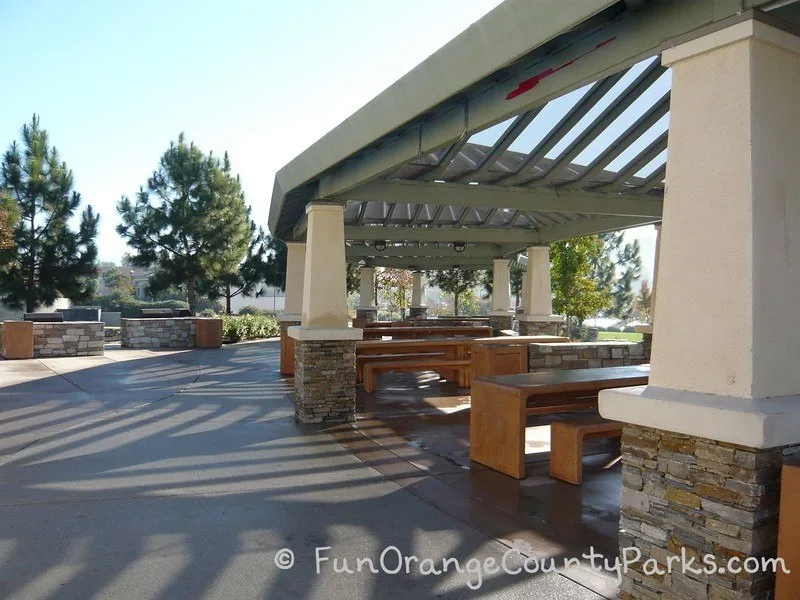 Originally published in October 2008.