Mandeville Park's playground is a true oasis surrounded by palm trees. The cool blues, greens, and tans of this neighborhood playground give it a very calming and relaxing feel. I wanted to laze around all day enjoying the view when we visited today.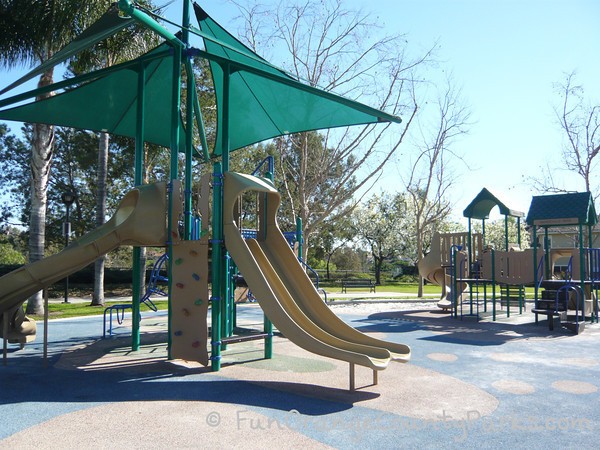 Location: Hidden in the heart of Laguna Hills in the triangle between Moulton, La Paz and Alicia (not to be confused with nearby Mendocino Park). Mandeville Park is easily reached by turning on Mandeville from Moulton and following it up the hill to the dead end. Or you'll find more parking by approaching from Alicia Pkwy to Aliso Hills, turn onto La Cienega and it winds up the hill until turning into Rio Grande Avenue. MAP to Mandeville Park in Laguna Hills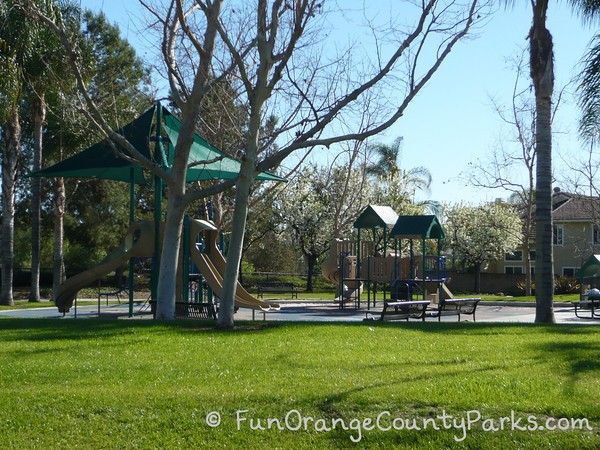 Recommended by: Dara
Highlights:
Amazing view on clear days across the Saddleback Valley, all the way to the snow-capped San Gabriels
A great sidewalk loop perfect for bikes or strollers (even equipped with fit trail stations for sit-ups and core workouts)
Mostly recycled rubber play surface – even under the swings – but also a small sand area for sand toys
Dara says, "The park is in a fantastic neighborhood and I love that both my 6 and 2 year old are entertained."
4 bench swings and 2 baby swings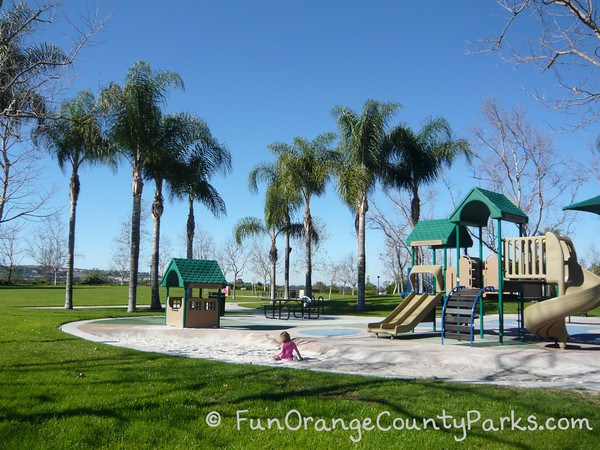 Be Aware:
NO bathrooms
The fire pole on the large play set was too high for me to help my little one. Just watch the openings on the bigger structure.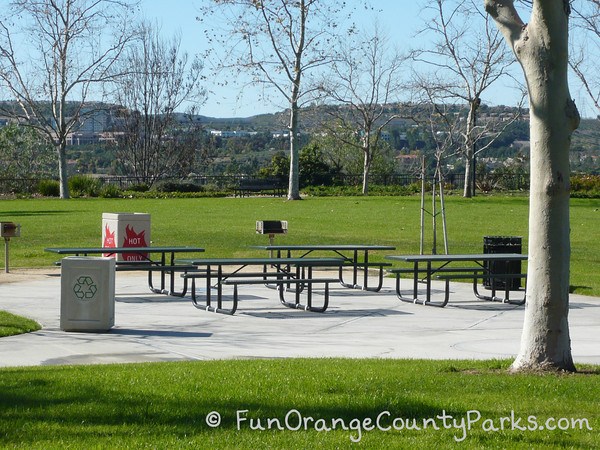 Checklist:
Street parking in a quiet neighborhood
Recycled rubber and sand play surface with plenty of lawn for running and games
NO restrooms
Lots of shade around the perimeter of the park. Nice breeze on the day I was there.
Easy to sit and view kids from the variety of benches and picnic tables
Picnic area with four tables and two grills, plus more tables and benches scattered around park
Fit trail is a nice addition
2 separate drinking fountains (and even one for dogs)