Westridge Park in Aliso Viejo is one of those parks where I could hang out all day.
Unfortunately, the lack of restrooms makes that an impossibility — but you know what I mean. The kids seem happy to dig in the sand and explore the corners of this hidden park.
Directions to Westridge Park: From I-5, exit at Oso Parkway which turns into Pacific Park as it crosses La Paz. Keep driving up the hill past Alicia Parkway and into Aliso Viejo. Turn left onto Wood Canyon and make an immediate right onto Westridge. The park is directly ahead at the T-intersection. You will need to turn left and park on the street. (Check out how the park is at the edge of Aliso & Wood Canyons. It's striking on the map!) Park Address: 75 Oak View Dr, Aliso Viejo. MAP TO WESTRIDGE PARK IN ALISO VIEJO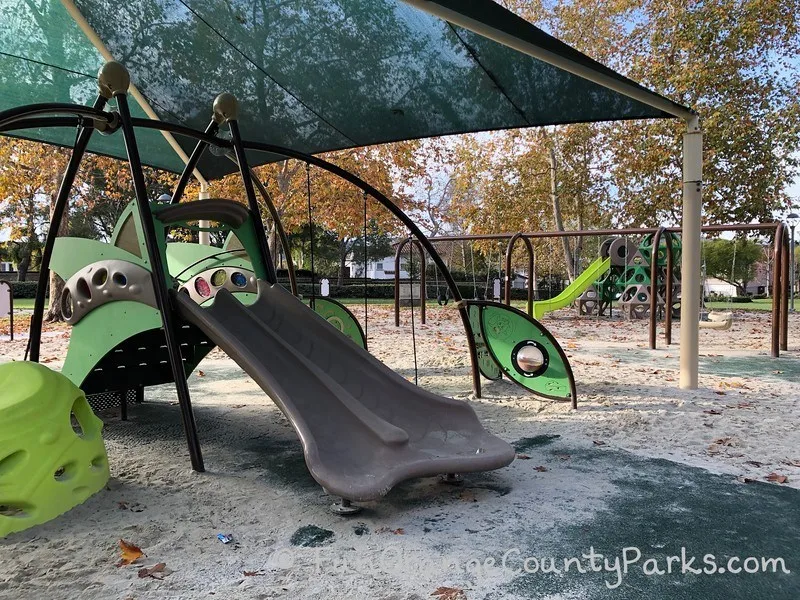 Highlights:
The park is at the edge of Aliso & Wood Canyon (no access) which makes the views from the fence intriguing.
SHADE! Yay for shade covers and big sycamores which make most of the playground shady all afternoon.
There's also a really nice gazebo shade cover over 3 large picnic tables.
Benches all around the playground and a stone wall that's just the right height for sitting.
Nice grassy area where moms were laying out blankets and playing with their kids.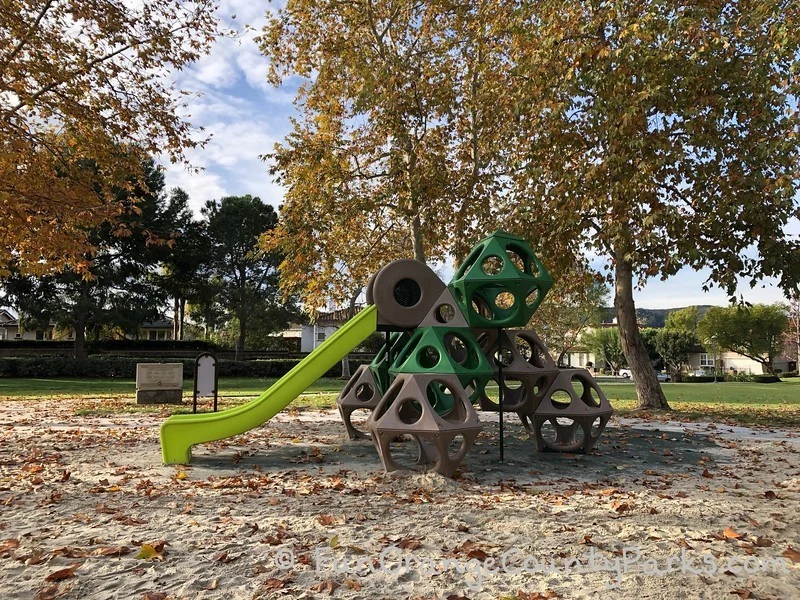 There are two play areas, one for 2-5 and one for 5-12 — with swings in the middle.
The 2-5 play area has stairs to a double slide, some low climbing features, and lots of interactive panels (music makers, games, etc).
The pod seat thing that usually spins (a la Oak Park and Clipper Cove Park) is immobile here.
There's a large wobbly saucer spring toy for playing.
The 5-12 play area is a bunch of interlocking decahedrons with holes for climbing up to, through, and on top of them. One has a slide attached.
There's a sidewalk encircling the playground equipment that kids were using as a trike track to make loops back to mom.
Two bench swings, two baby swings, and one 2-person swing. Visit my list of more parks with Mommy and Me baby swings, many with different versions than the ones here at Westridge Park.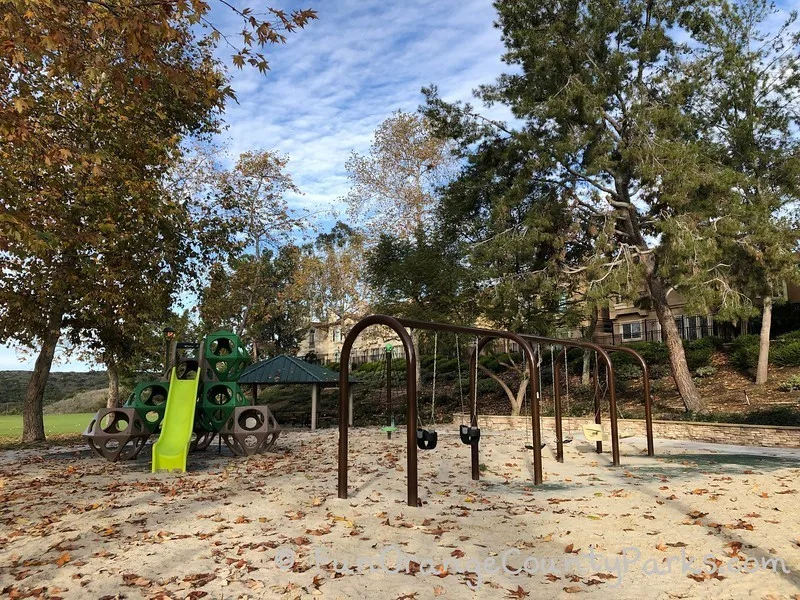 Be Aware:
One complaint I heard from other parents is that some of the interactive panels seem to be over-tightened so kids can't make the spin-y things spin.
On the interlocking decahedron play equipment, aside from the floor panels, none of the holes are closed off. So some of the holes are angled toward the ground from a fairly high point (over 6 feet) with nothing below. I saw one kid, about 6 years old, take a pretty rough fall on our visit from this structure.
Because of the tall and grassy landscaping, it's hard to see the kids on the playground when you are sitting under the picnic cover.
Kids will naturally gravitate away from Oak View Drive, but traffic is somewhat busy. Make sure they wander into – and not out of – the park.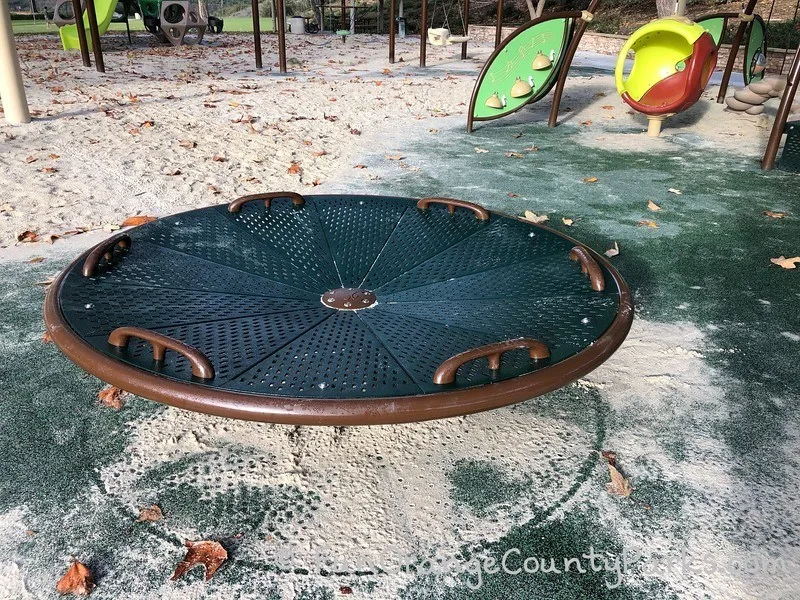 Checklist:
Special thanks to Tara for visiting the park and reporting details back to me so I could update this post.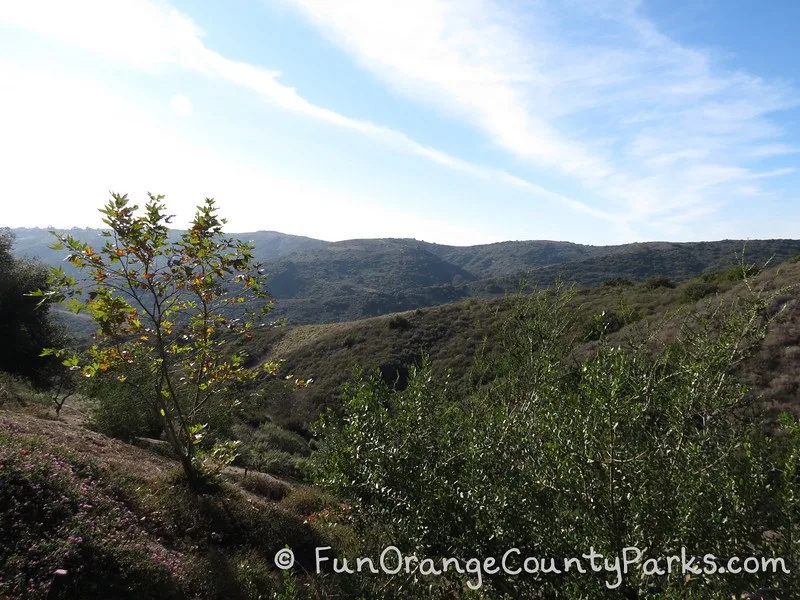 Playgrounds Nearby Westridge Park in Aliso Viejo: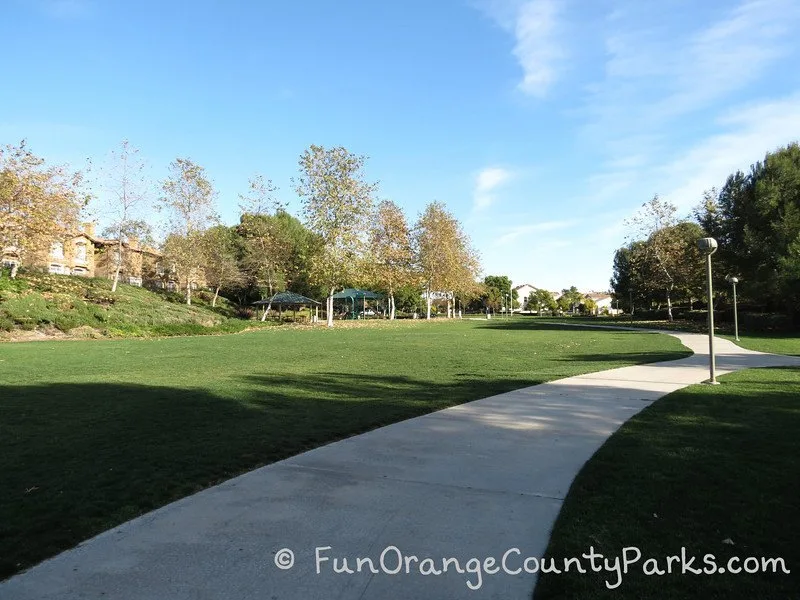 Originally published in January 2012.