Lexington Park in Cypress is at the corner of Lexington and Cerritos Avenue. Los Alamitos Race Course is right next door and donated nine acres of land to make this park possible.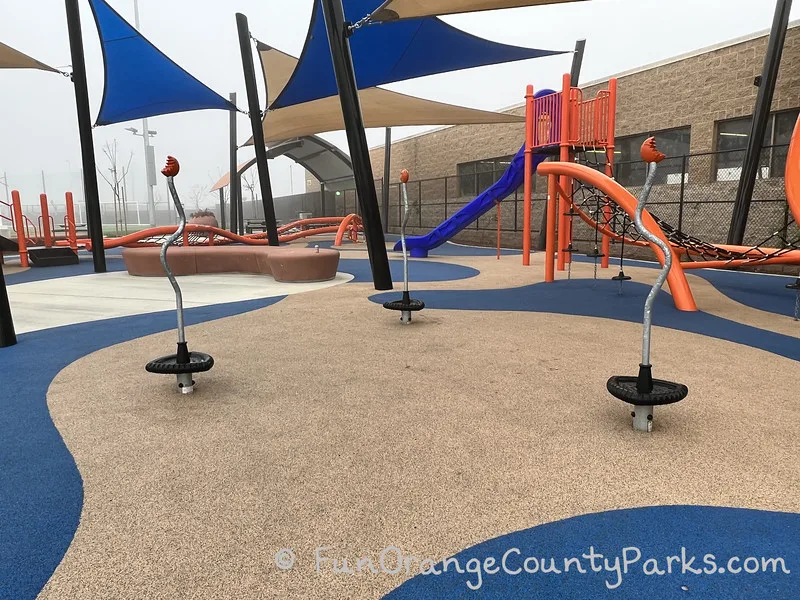 How to Get to Lexington Park in Cypress: My navigation had a hard time locating this park because it is so new. Like I said, it's at the corner of Lexington Drive and Cerritos Avenue. You can enter the parking area if you are heading towards Cerritos Ave on Lexington. If you miss the turn into the lot, you can still turn right and enter off Cerritos to circle back towards the playground which is tucked in near a wall closest to Lexington Ave.(Official address listed by the City of Cypress: 4600 West Cerritos Avenue, Cypress — but my nav system sent me to a completely different place with this address. You could try 4499 W Cerritos Ave which will take you to John's Burgers & Grill which is also at the corner of Lexington/Cerritos.) MAP TO LEXINGTON PARK IN CYPRESS
Highlights
The playground is a dream for older kids! Lots of funky climbing and spinning opportunities. Two tweens were there when I visited early on a foggy Saturday and they were excited about it!
There's a huge lateral climber under the shade cover nearest the wall. Kids can climb from the front of the park all the way back with a big blue slide as a reward.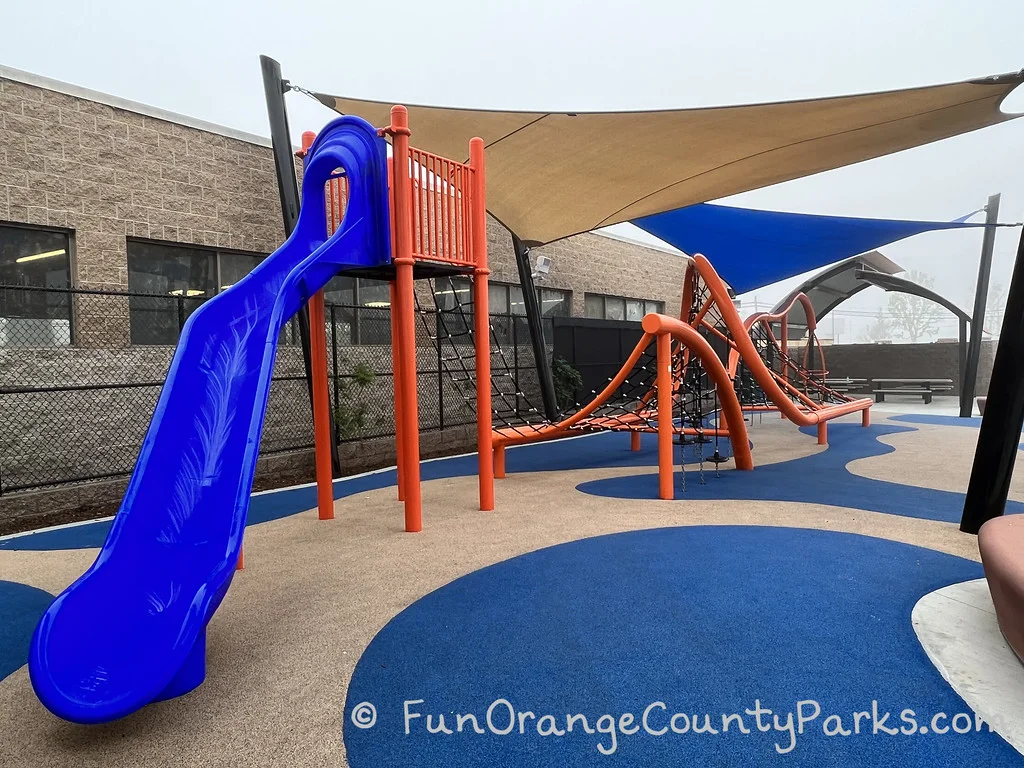 The cool thing is that there's a little kid version of this same setup. Climb along, then slide down a slide. I don't know if it will keep the littles off the bigs play structure, but at least they tried to make it even.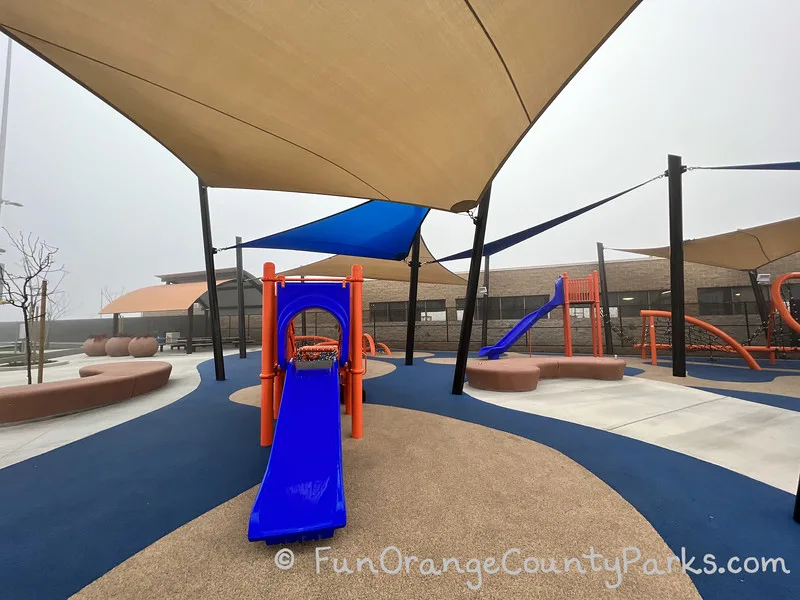 There are also 3 stand-up spinners so you can play with friends.
There's a cone spinner with rope netting that reminds me of a Christmas tree.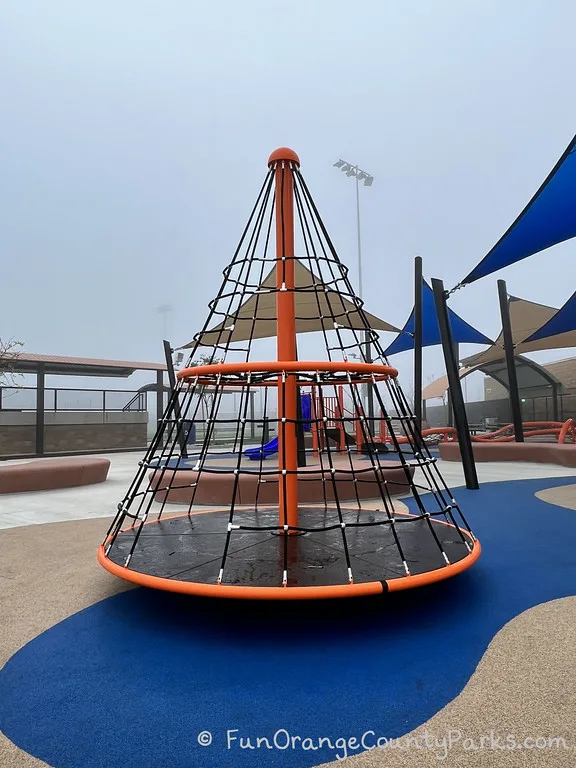 The central features of the park are two impressive sports fields – one natural turf and the other synthetic.
There is also a multi-use court marked for pickleball, basketball, and volleyball.
You can get some exercise walks in on a wide 1/3 mile loop off-street walking path!
Saucer swing is fun for younger kids.
Lots of spaces for adults to sit. Not traditional benches, but I can imagine kids having fun with the concrete shapes and the adults will like being able to rest.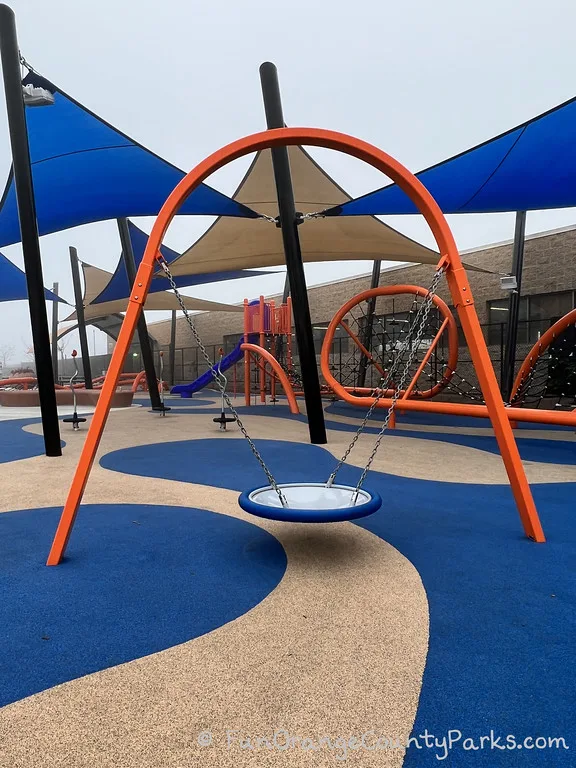 Be Aware
Best for older kids, but climbers will love this one.
Potential to get really busy during community events and sports games.
It can be foggy and cool or sunny and hot here. There are shade sails and covered picnic areas so you can at least find some relief.
No traditional bench or baby swings. Instead there's a saucer swing.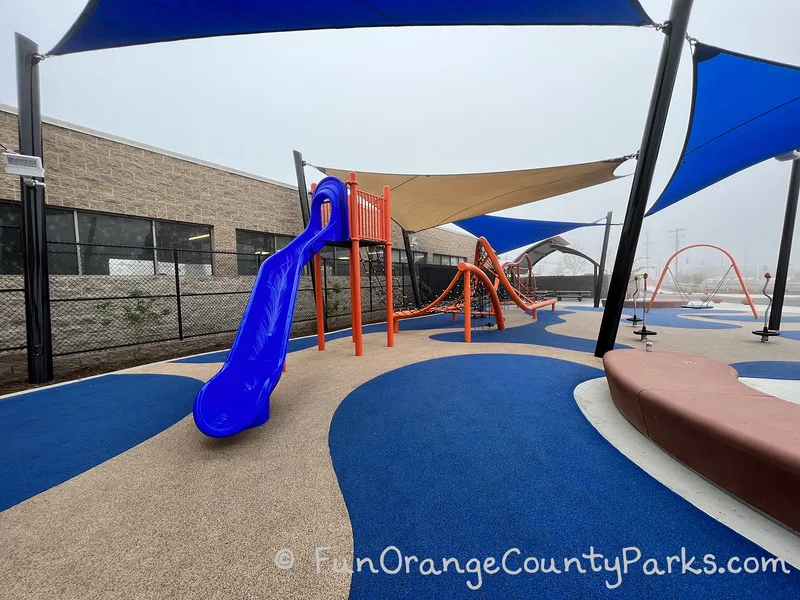 Checklist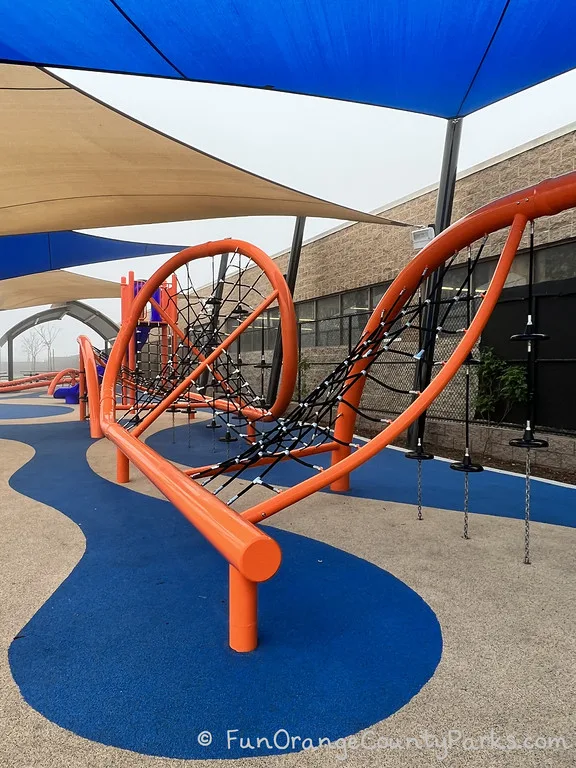 Parks Nearby Lexington Park