Tustin Sports Park is home to tennis courts, baseball diamonds, basketball courts, a picnic area, and a SHADE-covered playground.
Its bright red color makes it feel festive and happy.
A number of families were there on a hot weekend morning when we visited. Thanks to the family who took the time to recommend this park (I marked their comments in quotes).
How to Get to Tustin Sports Park: This park is very easy to find right off Interstate 5. Drive towards the foothills past the huge Tustin Marketplace shops. The park is a left turn onto Robinson plus a very obvious left turn into the parking lot. [Address: 12850 Robinson Drive, Tustin] MAP to Tustin Sports Park in Tustin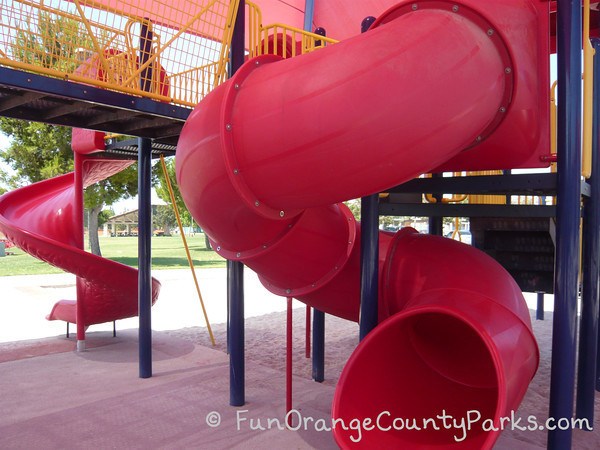 Recommended by: A Fun OC Parks Visitor
Highlights:
The "big play area with canopy" is definitely its biggest perk. No battling hot slides or overly sweaty kids.
It's a "full sports park"
"Nice seating area with grills for picnics"
"Full walking/running path with distance markers"
My family loved the slides – steep, twisty, spiral, tunnel. All the fun ones!
2 bench swings and 2 baby swings (not under the shade cover)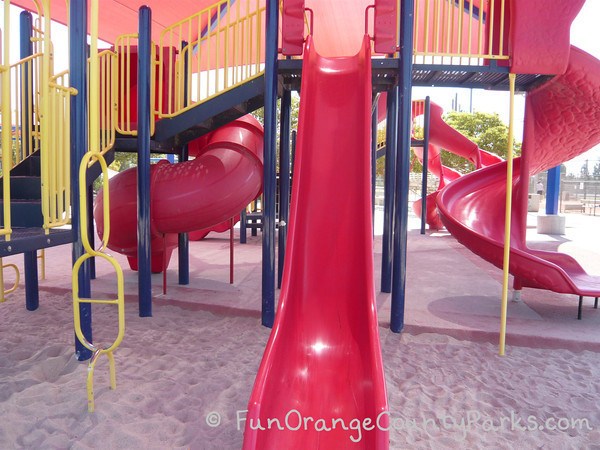 Be Aware:
Some slippery spots from the sand on concrete and sand on recycled rubber
During large sports events/weekends, I can see this place would be packed with people.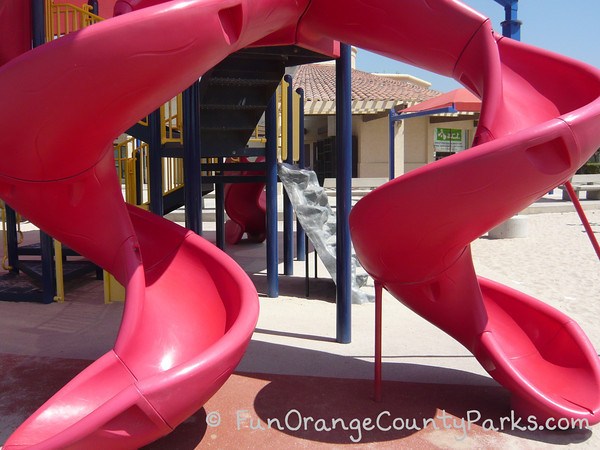 Checklist:
Parking in a dedicated lot – no fee
Sand and recycled rubber play surface
Picnic area is set away from the playground
Very nice restrooms in the big building near the Express Sports Cafe
Drinking fountains near the restrooms and on the other side near the baseball diamond
Shade under the playground cover and over viewing benches
Easy to view kids from almost every angle
The Express Sports Cafe hours are M-F 5pm-8pm and Sat 10am-4pm.
Lighted tennis courts, lighted basketball courts, and lighted baseball diamonds.
Nearest Public Library Branch: Irvine Katie Wheeler Public Library
Nearby "no TV" restaurants: Chik-Fil-A and In-n-Out are both nearby on Jamboree, but we often grab a sandwich from Sprouts Farmer's Market deli and picnic at the park. Oh! And I love Miguel's Jr for drive-thru!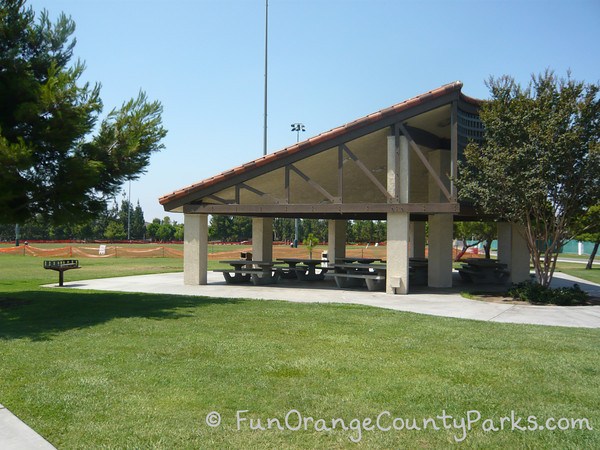 More parks:
Originally published in August 2009.