Tustin Sports Park near Tustin Marketplace is home to tennis courts, baseball diamonds, basketball courts, a picnic area, and a SHADE-covered playground.
The playground got a renovation in Summer 2022 which replaced the brilliant red shade cover and primary colored play equipment. It was a BIG play structure and I will miss that little kids could pretty safely navigate the upper levels. (See the photo archive at the bottom of this post!)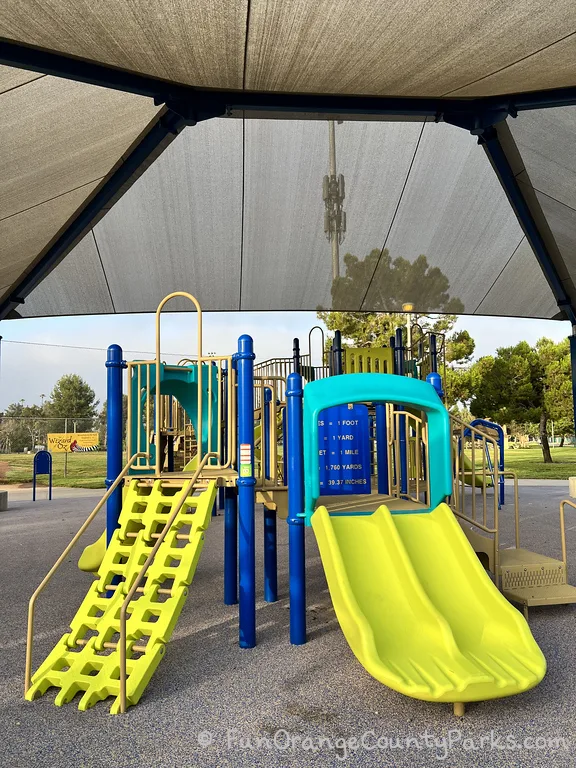 The colors are a cooler beige shade cover with neon green and blue. Most of the sand is gone now and it's partially accessible with no curbs to navigate and a recycled rubber play surface, although the play equipment on the main structure is definitely NOT accessible.
Directions to Tustin Sports Park: This park is very easy to find right off Interstate 5. Drive towards the foothills past the huge Tustin Marketplace shops. The park is a left turn onto Robinson plus a very obvious left turn into the parking lot. [Address: 12850 Robinson Drive, Tustin] MAP to Tustin Sports Park in Tustin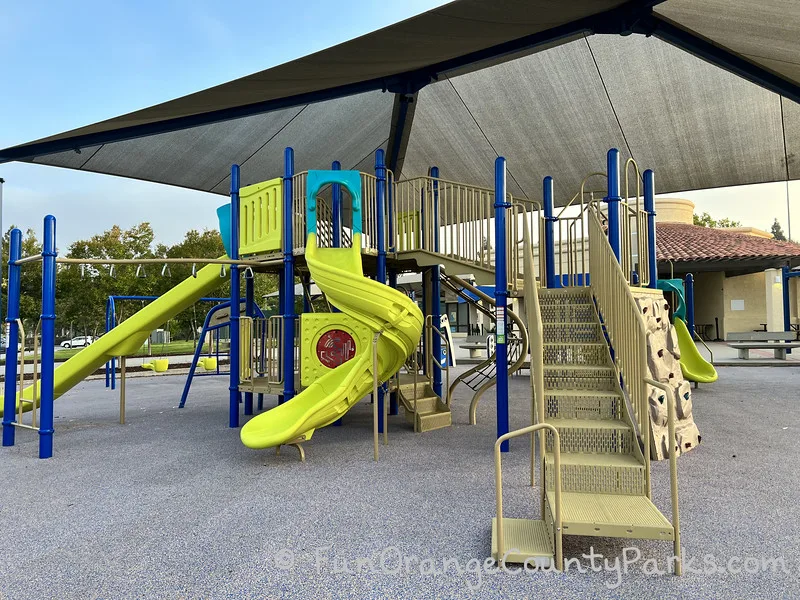 Highlights
The shade cover is definitely its biggest perk. No battling hot slides or overly sweaty kids.
It is a full sports park with lots of space and it's rarely empty.
I liked that beyond the main large shade cover, there are also separate shade covers over some of the benches and the sandbox.
Bageled is the new concession that opened on site in June 2022! They serve, you guessed it, bagels with spreads and all sorts of other drinks and sandwiches.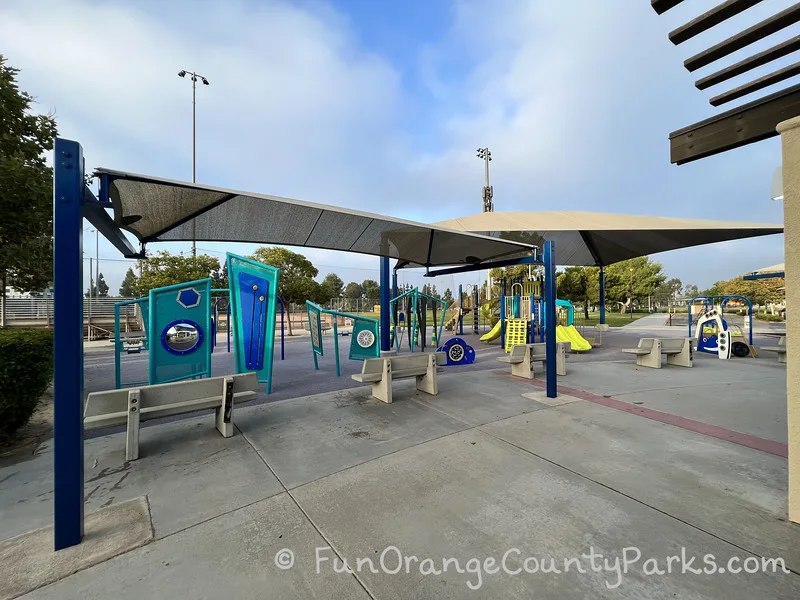 2 swing-with-me swings on one side of the playground near the sandbox and what I call the Christmas tree rope spinner.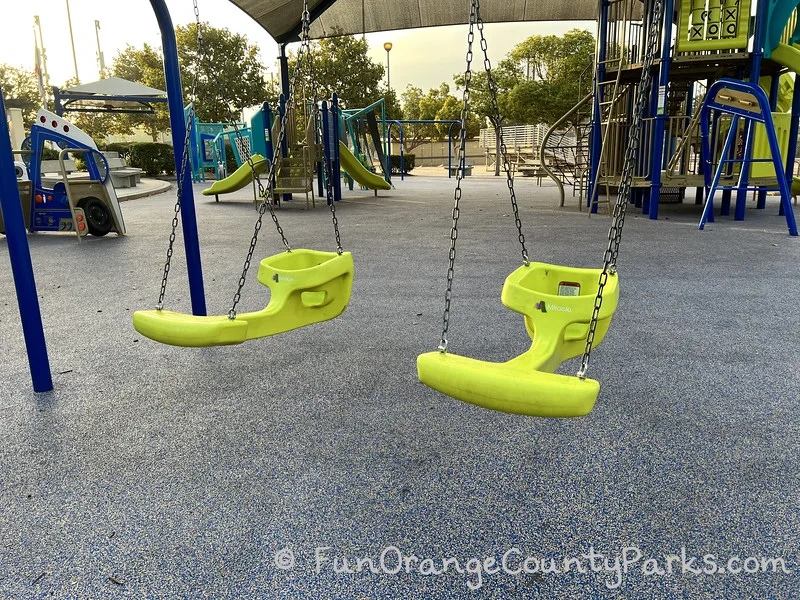 The in-the-ground merry-go-round is maybe the coolest feature of this park! We couldn't get it going too fast, but it's definitely more reminiscent of those old time merry-go-rounds that we loved as kids, plus it's accessible.
And there are 3 bench swings and 1 accessible swing on this side of the playground near the accessible merry-go-round and some of the play stands.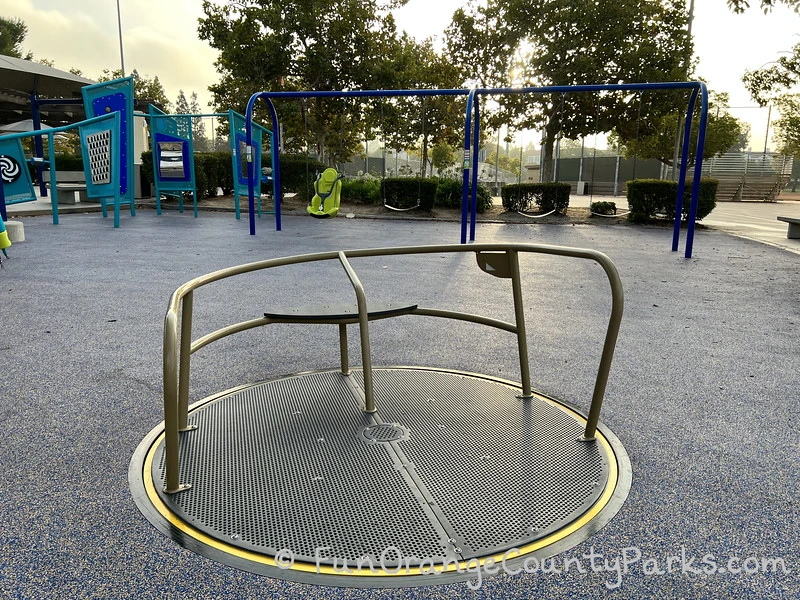 Full walking/running path with distance markers at the perimeter of the park and also the opportunity to walk to other parks in the area:
Large covered picnic area away from the playground for big parties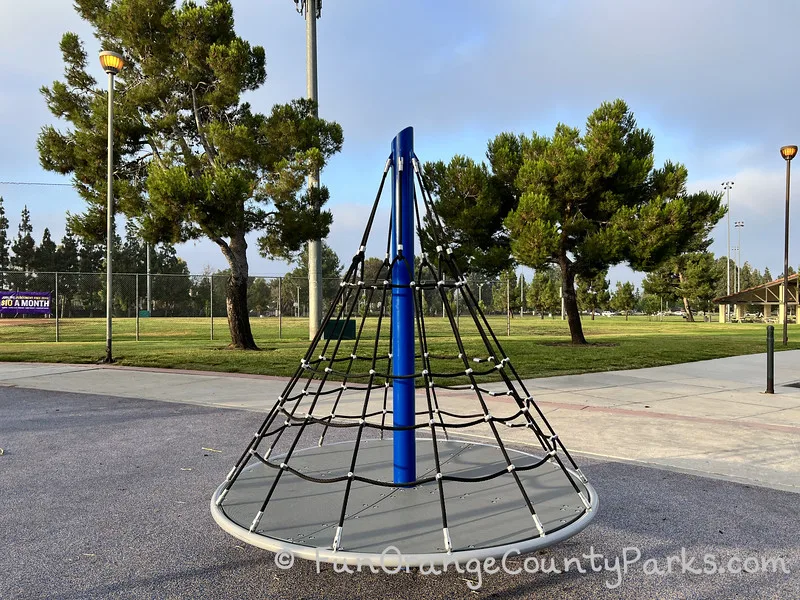 Be Aware:
Some slippery spots from the sand on concrete and sand on recycled rubber
During large sports events/weekends, I can see this place would be packed with people.
None of the swings are under the shade cover.
Although this park has some accessible elements, the main play structure is not wheelchair friendly and it has some steep drops for younger children. Luckily, the ladder on the structure has some bars to prevent most falls.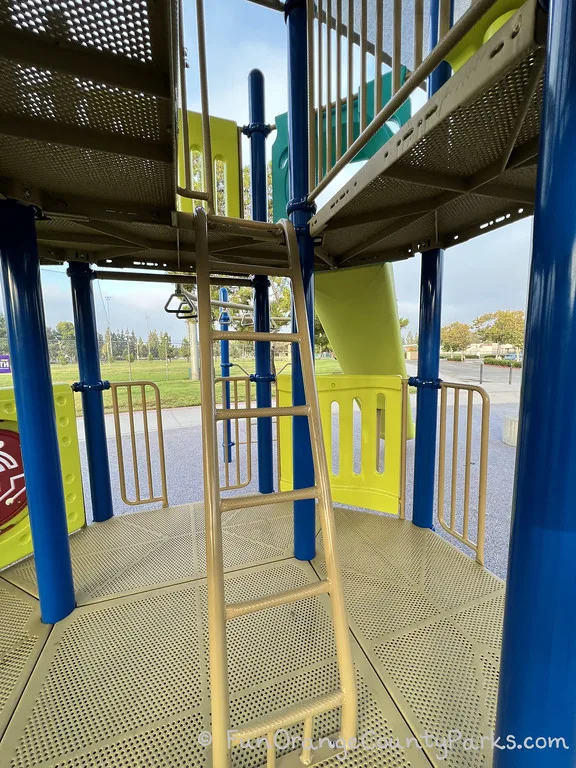 Checklist:
Parking in a dedicated lot – no fee
Sand and recycled rubber play surface
Picnic area is set away from the playground
Very nice restrooms in the big building near Bageled
Drinking fountains near the restrooms and on the other side near the baseball diamond
Shade under the playground cover and over viewing benches
Easy to view kids from almost every angle
The Bageled restaurant hours in summer are: M-F 10am-6pm, Sat 8am-2pm, Sun 8am-1pm.
There is also a Gatorade and water bottle vending machine here.
Lighted tennis courts, lighted basketball courts, and lighted baseball diamonds.
Nearest Public Library Branch: Irvine Katie Wheeler Public Library
Nearby "no TV" restaurants: Chik-Fil-A and In-n-Out are both nearby on Jamboree, but we often grab a sandwich from Sprouts Farmer's Market deli and picnic at the park. Oh! And I love Miguel's Jr for drive-thru!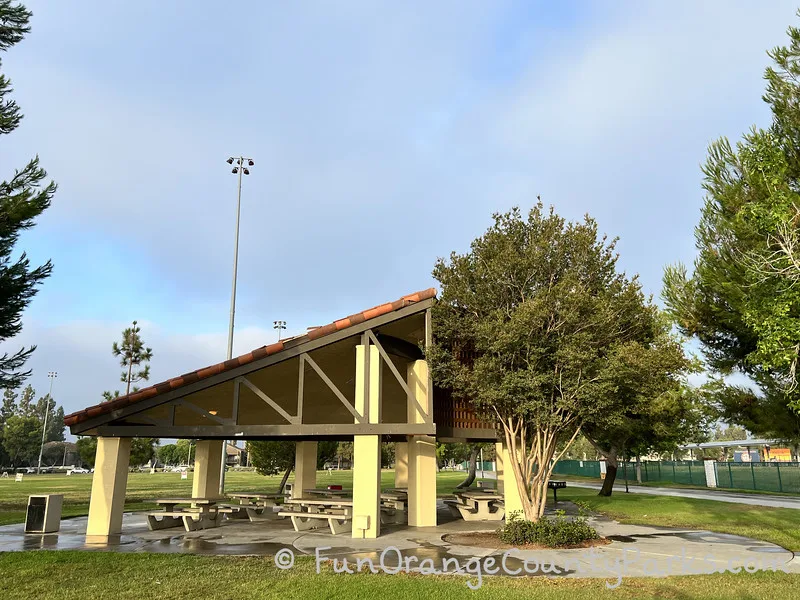 More parks:
Originally published in August 2009.

Photo Archive of OLD Tustin Sports Park before Summer 2022 Renovation