Valencia Park in Irvine is perfect for a picnic or some run-around time. I first visited this park back when my oldest was a toddler and loved that it was a bit sunken and contained him from wandering too far. The play surface has been improved in recent years from it's former wear & tear. So for those of you who like NO sand — this is a great choice.
I visited again for a picnic after grabbing lunch from the nearby Sprouts Market.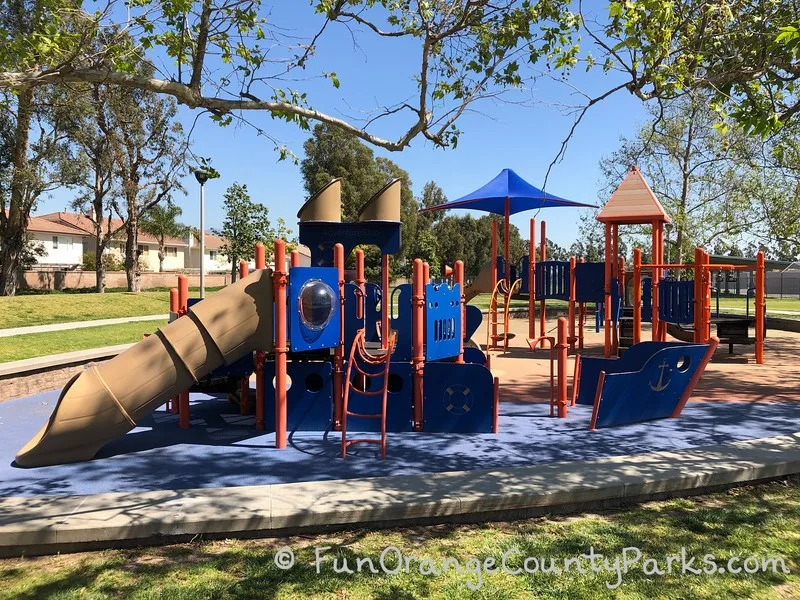 Directions to Valencia Park in Irvine: You've probably driven by it a million times and never noticed it. It's right off Jamboree between Irvine Blvd and Portola Parkway near the Tustin Marketplace. In fact, I thought the park was in Tustin — not Irvine. So just take I-5 and exit at Jamboree – turning towards the shopping area. Drive past the shopping and restaurants (unless you want to pick up lunch) and head past Irvine Blvd. Turn right onto Trevino Drive and left into the parking lot the park shares with an elementary school. (Address: 3081 Trevino Road, Irvine) MAP TO VALENCIA PARK IN IRVINE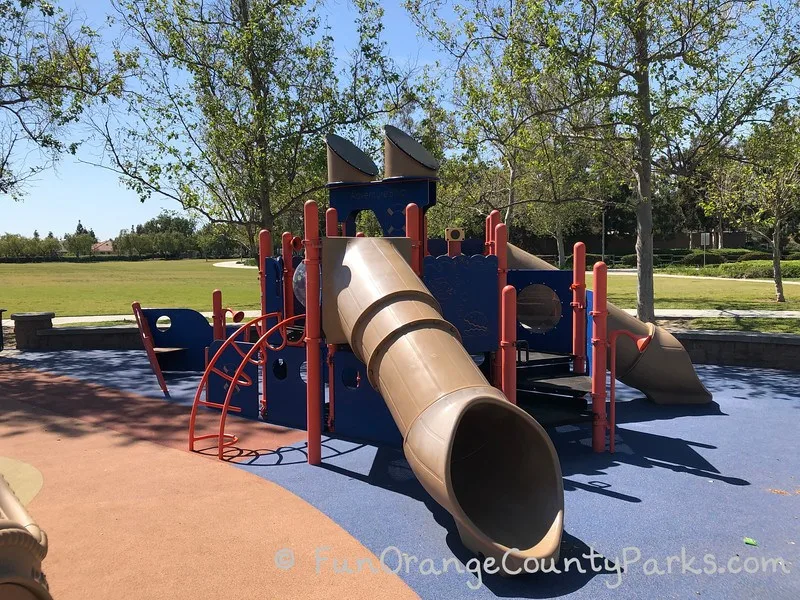 Highlights:
The location is close to everything
The pirate ship equipment is fun for pretend play
There are swings right on the playground (2 bench, 2 baby)
There's a huge field for running around and ball games
I saw a family visiting the park on their scooters and bikes who loved to ride up and down the mini hill/path that runs UNDER Jamboree
It doesn't feel too remote if you visit on a weekday
There are restrooms!
The picnic area is covered for a little bit of shade, but it's away from the playground. We ate and then played.
I like that the playground is sunken with lots of spots for sitting and watching the kids, including two benches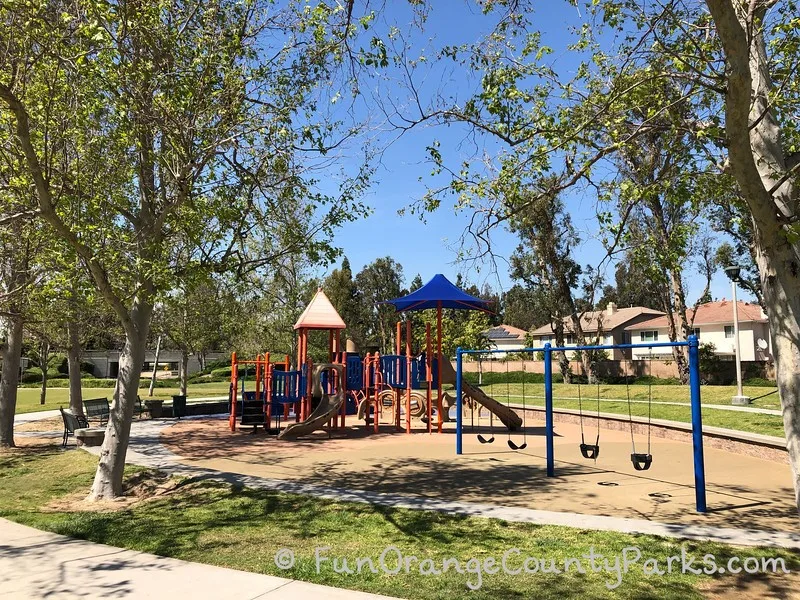 Be Aware:
It's just a bit noisy from the heavy traffic on Jamboree.
It's a bit of a walk from the parking lot to the playground (about the length of the soccer field). The picnic tables are halfway.
It shares a parking lot with an elementary school, so I'd avoid it at school drop-off and pick-up times.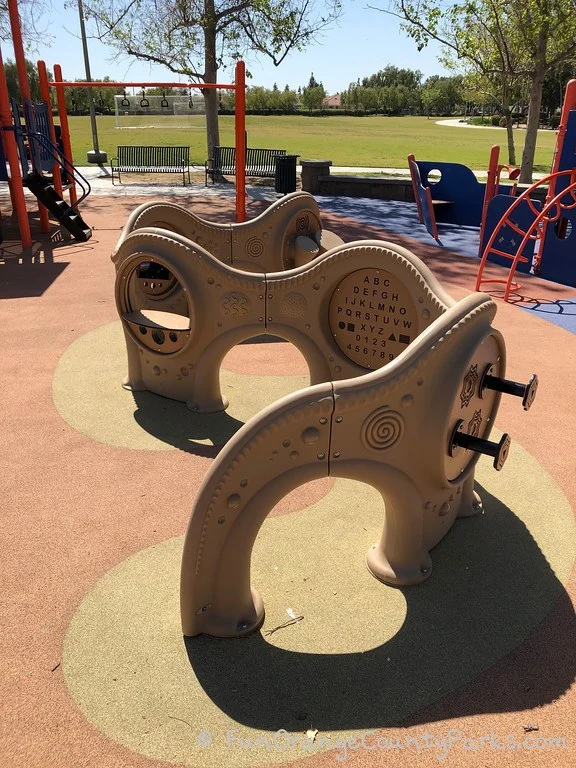 Checklist:
Dedicated parking lot (shared with a school)
Restrooms near the parking lot
Play surface: recycled rubber
Drinking fountains
Covered picnic area
Soccer field
Bike path / walking path access
Official Irvine neighborhood park page
Nearest public library: The beautiful Irvine – Katie Wheeler Library (OCPL.org) is very near this park!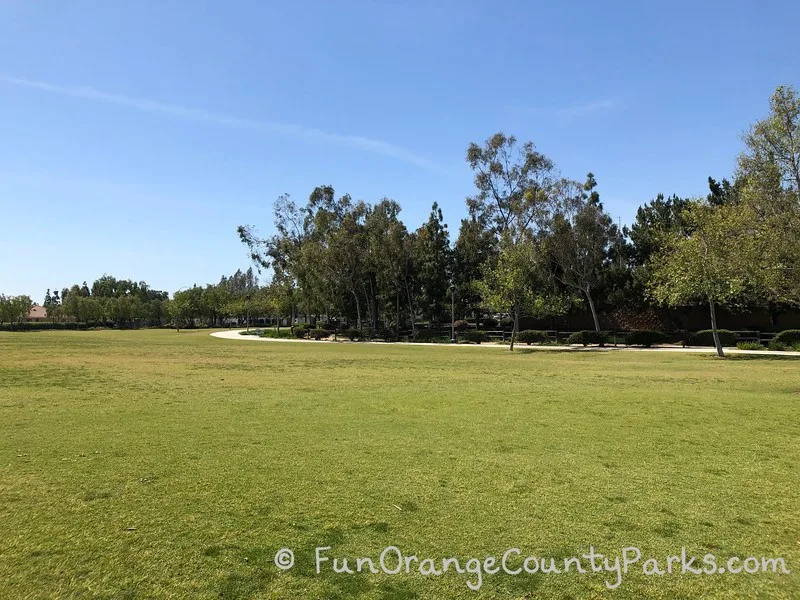 Nearby parks: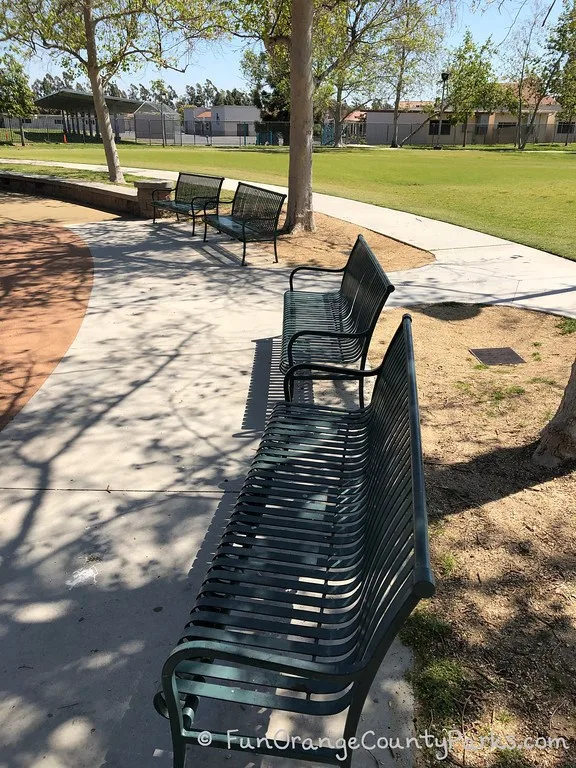 Originally published in October 2011.