Citrus Ranch Park in Tustin was probably the most recommended park back in 2010.
It's opening in February 2010 was eagerly awaited by many, since the playground was finished and visible long before the park opened.
The playground photos are mostly from 2010 and the playground remains the same – however, the trees and landscaping have filled in to make it feel more lush and provide shade.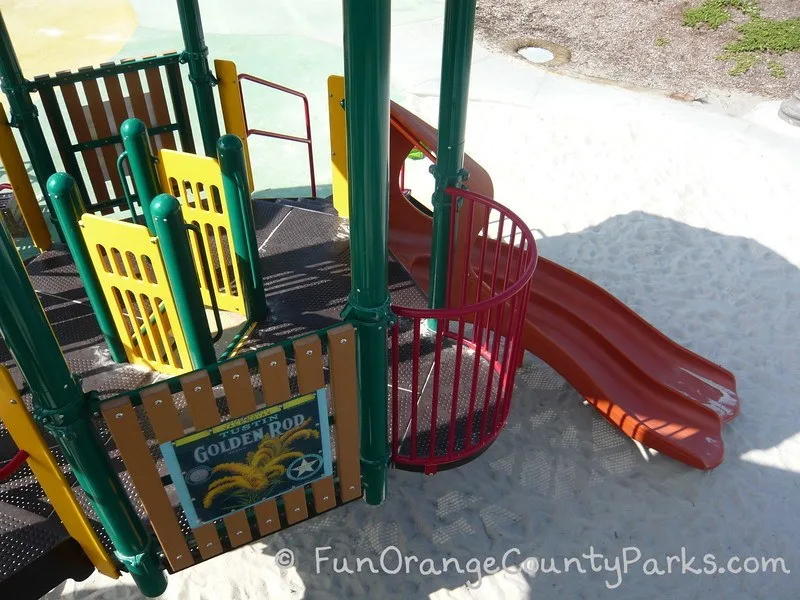 Directions to Citrus Ranch Park in Tustin: Exit Interstate 5 at Jamboree (Tustin Marketplace – the mega shopping area with mega purple signage. Head east toward the hills. Drive a few miles past the retail area and keep your eyes out for Portola Parkway. You'll see the playground on the corner of Portola and Jamboree. Then make a LEFT on Portola and another immediate left into the parking lot. Once in the parking lot – the playground is on your LEFT – more picnic area to your RIGHT. (Address: 2910 Portola Parkway, Tustin, CA) MAP TO CITRUS RANCH PARK IN TUSTIN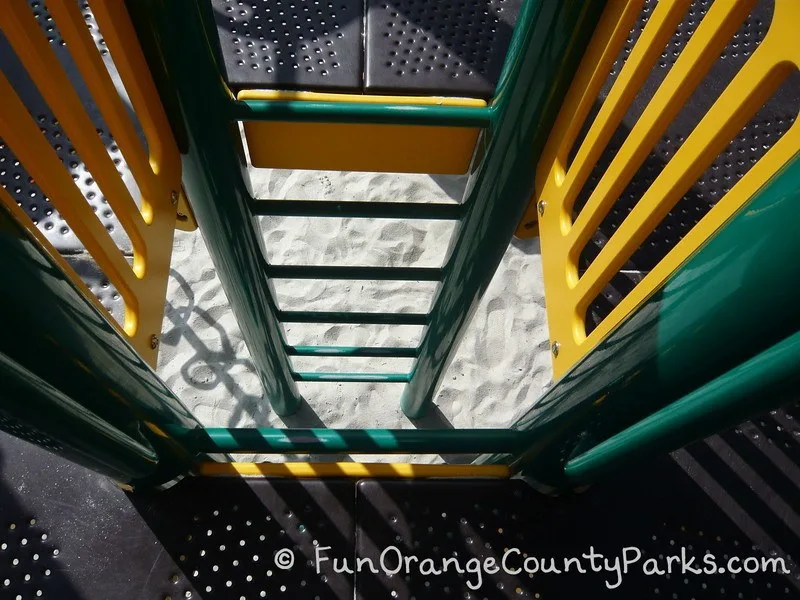 Highlights:
I'm a sucker for the old orange crate label theme. It's SO California! Everywhere you look there are lemons. In fact, it's the first time I've ever seen a ride-on lemon.
The vista point is another "high point." (Get it? High point?) Walk up a trail from the parking lot to the gazebo at the top. There are views in all directions. In the spring, wildflowers bloom near the top. The groves are full of lemon trees – but signs clearly state: "No picking or collecting lemons."
The playground is unique. You enter from a lemon-lined bridge . . . so you are already at the highest point of the playground when you start. From there, you'll find a number of slides, monkey bars, and ladders to explore.
Once you have your feet on the ground, there are benches for viewing the kids and sand for play.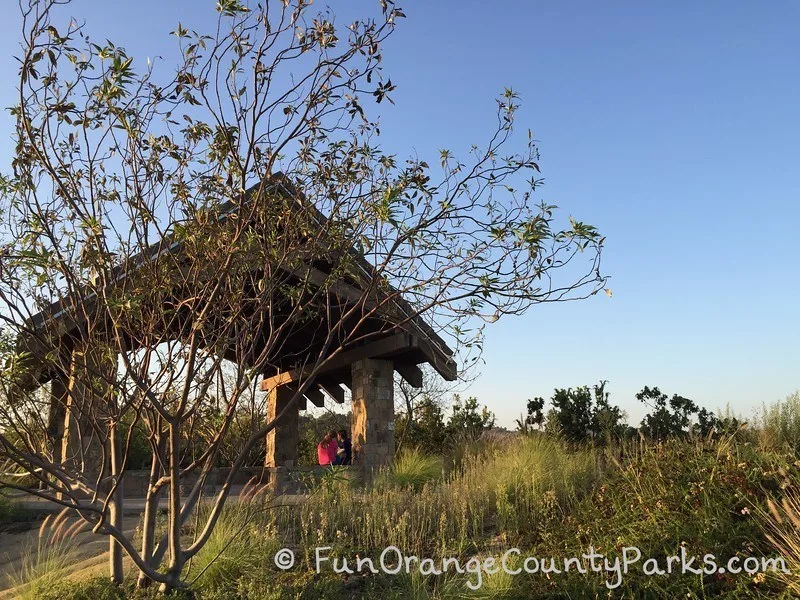 2 bench swings. 2 baby swings.
Take a couple steps down into the little kid playground where you'll find that ride-on lemon, a little clubhouse and smaller play equipment.
Picnic tables with grills line the sidewalk and lower area of the park. Large covered shelters have a bigger grill and are available for reservation for groups of 20 or more through the city (714-573-3326).
There is a meadow area and more picnic tables grouped together on the opposite side of the entrance which is really far from the playground.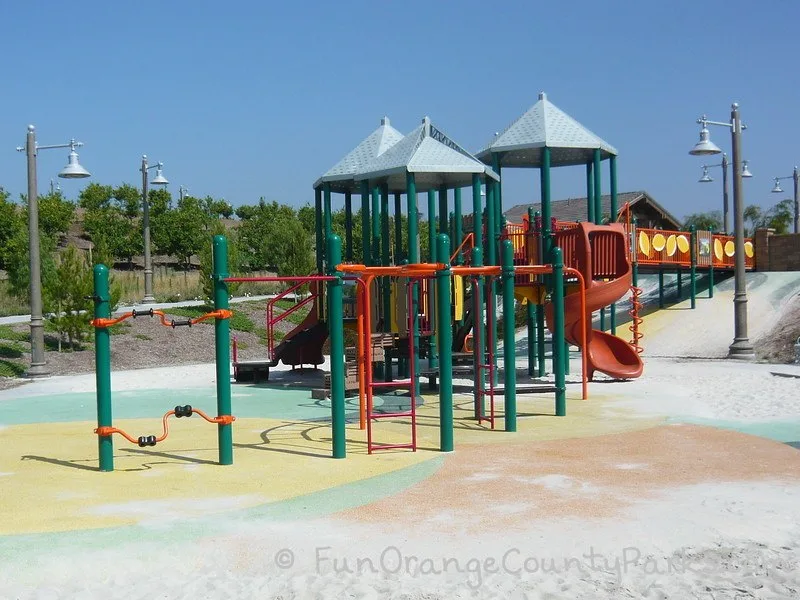 Be Aware:
I came after school one day and the park was mobbed with middle schoolers! Yikes! Apparently it's an easy place for parents to pick up kids from nearby schools. We also had to compete with kids riding scooters ON the play equipment which didn't make for a safe mix. (My next visit in the morning was much more pleasant and uncrowded).
Every person who recommended the park to me, without exception, also mentioned how their kid or other kids found it hard to resist the temptation to chuck the lemons at other kids or into the grove. So just keep your eyes out for flying lemons. (We did NOT encounter this problem). Please do not pick the lemons.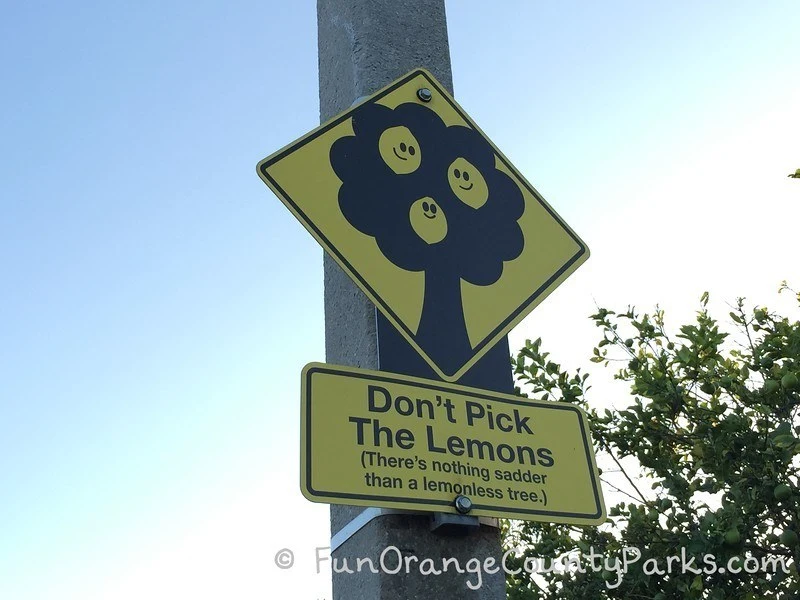 A fitness class was meeting under the picnic shelter on another day we visited which slightly impacted parking.
There is a fence separating the kids from Jamboree – but if you're nervous about them darting off the playground and crawling under/over the fence then just keep a close eye. Both Jamboree and Portola are rather busy!
Not much shade on the play area, although the trees are growing bigger.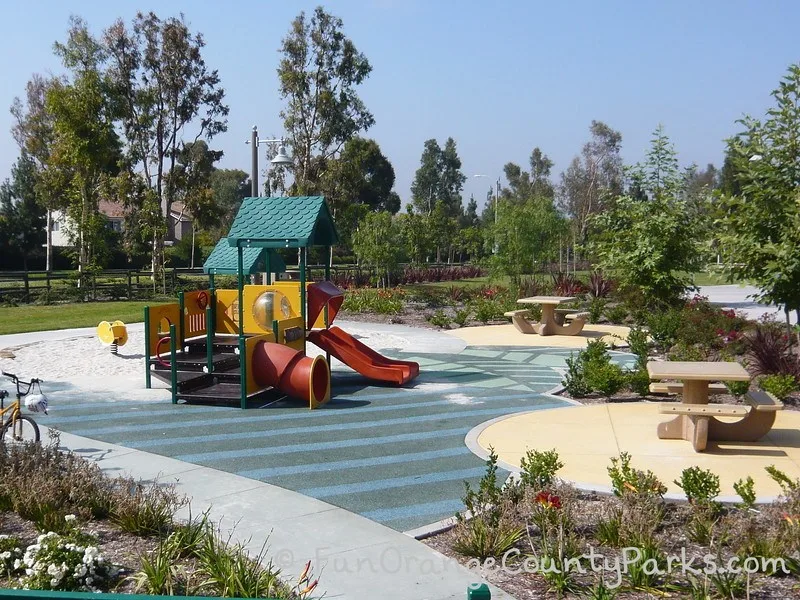 Checklist:
Dedicated parking lot
Recycled rubber and sand play surfaces
Drinking fountain on playground and by the bathroom
Very nice restrooms
There are also 8 picnic tables with barbecues if you want to have a picnic dinner at the park
Large picnic shelter reservations available through the City of Tustin (click here for info)
Nearest public library: Irvine Katie Wheeler Library (OCPL branch)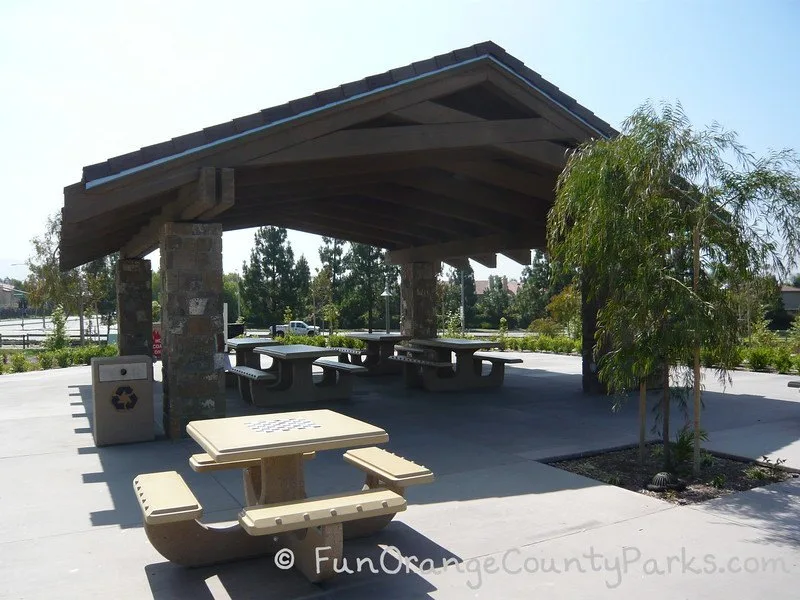 Parks nearby Citrus Ranch Park in Tustin:
Opportunity for a nice walk. You can push a stroller up and down the hill or around the block in the neighborhood. In fact, you can easily walk between this park and Cedar Grove Park — and even head up the hill to Pioneer Road Park if you are feeling ambitious. Or you can head west on Jamboree instead towards Tustin Sports Park. And Settler's Park is a good walk on Portola. (All of these walks are stroller-friendly, but have major street crossings.)
Originally published in July 2010.