ssshhhh . . . Settler's Park in Irvine is a secret! Back in 2009, Kelly from an old blog called Just Spotted recommended this park at great risk of personal sacrifice (she might have to share her little piece of paradise).
We played at Settlers Park in Irvine at sunset enjoying every minute. It's a quiet setting among the citrus orchards and pepper trees. We saw turkey vultures and even spotted a baby tarantula.
Love it when we catch wildlife in action. Oh, and we met two very nice families playing at the park tonight. "Hi!" (that's me waving).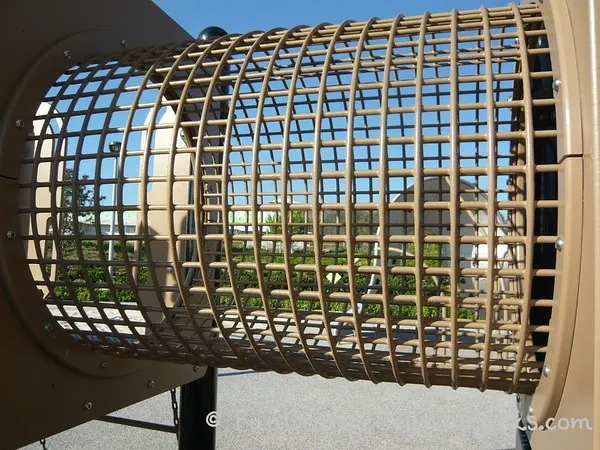 Recommended by: Kelly from Just Spotted
Directions to Settlers Park in Irvine: From Interstate 5, exit at Culver and drive east toward the foothills. Cross Portola Parkway and turn left at the second light where the signs point to Settler's Park. The parking lot is on your right. [Address: 35 Settler's Way, Irvine] MAP to Settlers Park in Irvine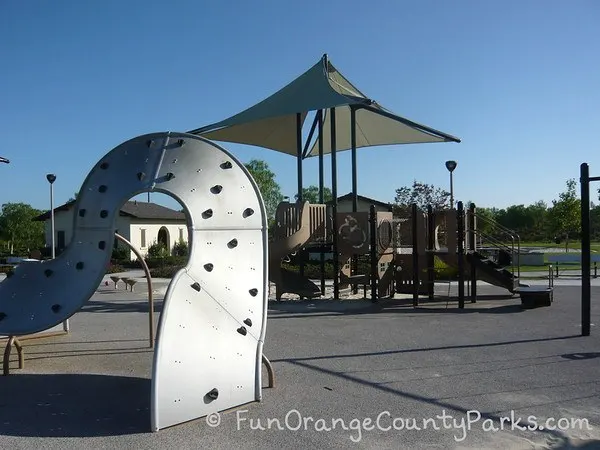 Highlights:
Shaded play area with lots of fun interactive gym equipment: regular climbing walls – plus wavy metal climbing apparatus, hand/foot pedal gizmo, spinning "shower head," rope climbers and the most amazing ladder which twists from horizontal rungs to vertical!
An amazing mini-trike track around the play area, complete with traffic signs and a cute little parking lot.
Covered picnic area with grills
Huge grassy area
Kelly says "I LOVE that I can see the entire play area without having to move if my kids move."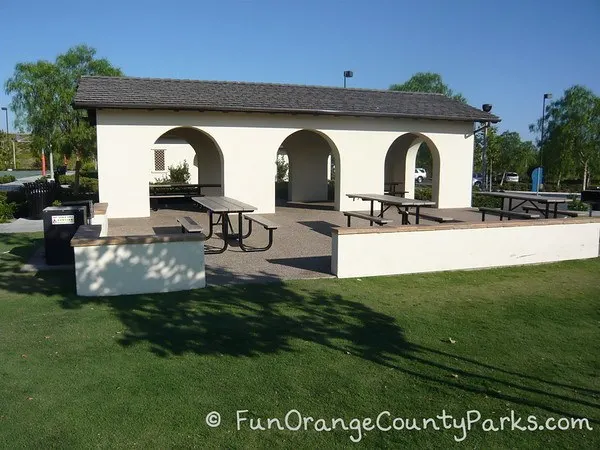 Be Aware:
Some prickly rose bushes surrounding the play area
We arrived when a soccer practice was breaking up – don't know if that would make it busy. It's busy when there are events or sports practices.
Not a lot of shade.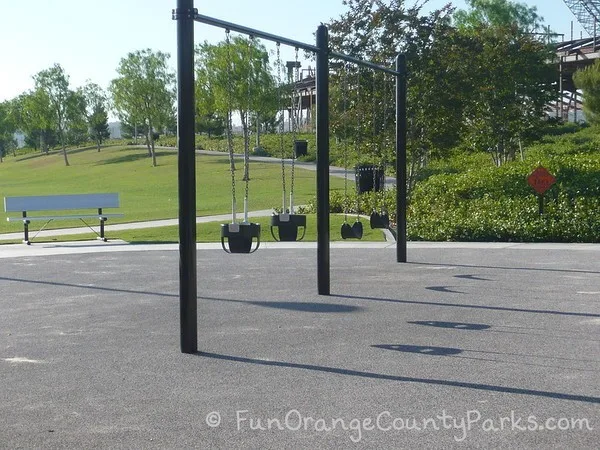 Checklist:
Dedicated parking lot
Sand and recycled rubber play surface
VERY nice restrooms – as park restrooms go
Not much shade
2 covered picnic tables, 3 uncovered tables, and 2 grills with hot coal receptacles
Easy to view kids
2 full lighted basketball courts
Soccer field
Round sand volleyball court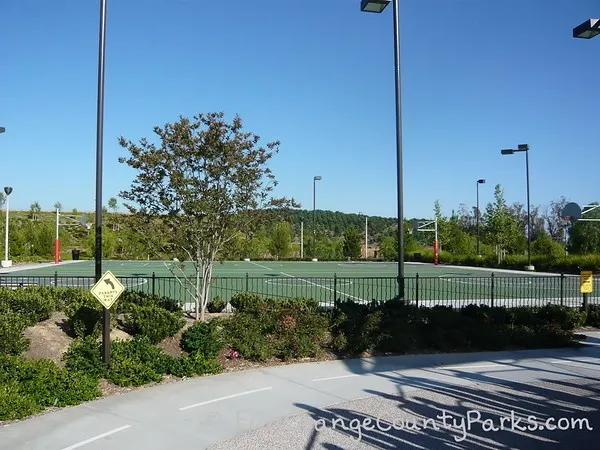 Parks nearby Settlers Park in Irvine:
Originally published in July 2009.