Aliso Viejo Community Park is centrally located along the border of Aliso Viejo/Laguna Hills next to Aliso Viejo Middle School. However, it's at the end of a dead end street so it can feel quite isolated and quiet.
This is one of the few playgrounds I can think of with a fenced-in toddler area.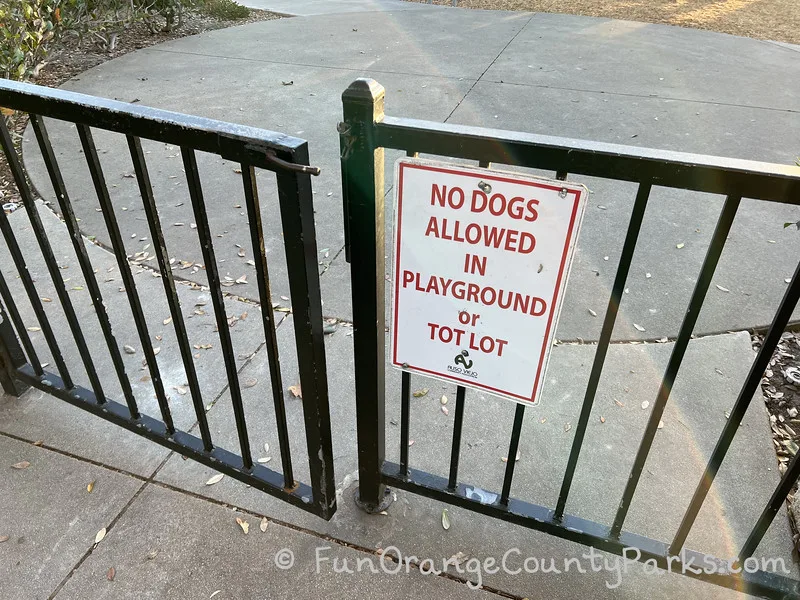 Directions to Aliso Viejo Community Park: Laguna Hills Drive turns into Aliso Viejo Parkway when it crosses Moulton. Head up the hill on Aliso Viejo Parkway after crossing Moulton and turn left onto Cedarbrook. Follow Cedarbrook down the hill into the parking lot before you hit the elementary school at the bottom of the hill. Alicia Parkway is probably the closest freeway exit. MAP to Aliso Viejo Community Park in Aliso Viejo
Highlights:
First, let's talk about the park, in general.
There are lots a places to wander: baseball diamonds, walking trail, 2 separate playgrounds, the school yard where I've seen families fly kites on weekends or cross country teams practice.
The shaded playground and shaded picnic areas make it an especially attractive spot during summer.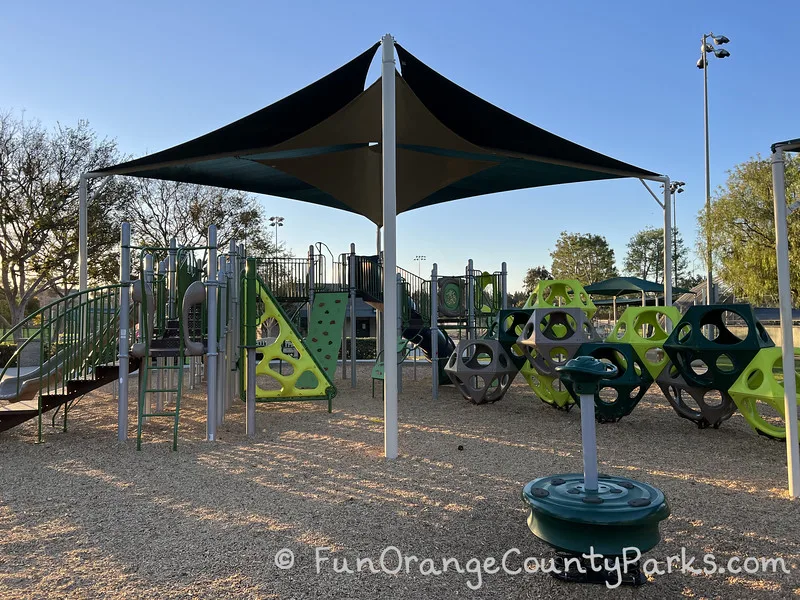 There is access to the bike trail along Aliso Creek. You can park here and ride. If you are standing facing the bike trail with the park behind you:
go to the right and ride off street all the way past Journey School, Aliso Niguel High School and into Aliso & Wood Canyons. Pretty flat all the way if you choose this route.
or you can ride to the left which will take you across a bridge — go up the hill to your left at the fork and you will end up at Sheep Hills Park or choose to go past the apartments to your right and you will end up at the Laguna Hills Community Center and Dinosaur Park.
It's next door to Aliso Ranch which is running community classes and serves as a gathering place for Aliso Viejo residents. You'll also find the Moulton Museum on that property.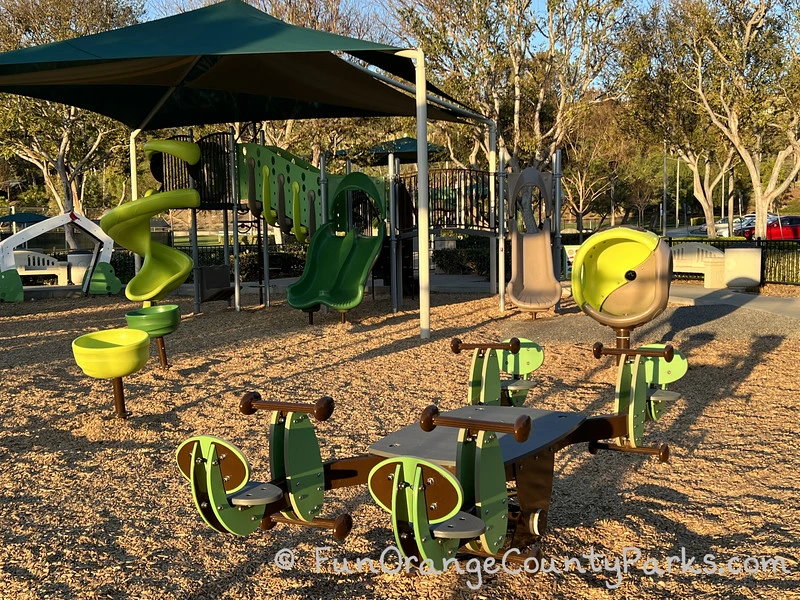 Now for the fenced 2-5 year old playground:
I think this is a really big improvement over what was there before, but there used to be 4 baby swings and now there is 1 baby swing and two bench swings.
It is literally a fenced-in toddler area! The gate is low and latches, but there is only one way in and out. Let the kids run free!
There used to be only a few ride on spring toy motorcycles and a clubhouse plus climbing tunnel. Now there is much more variety with the 4-person teeter-totter and spinning toys.
The equipment is arranged so there can be horizontal movement across the structures. Think "hot lava" games. Kids can travel across without even touching the bark.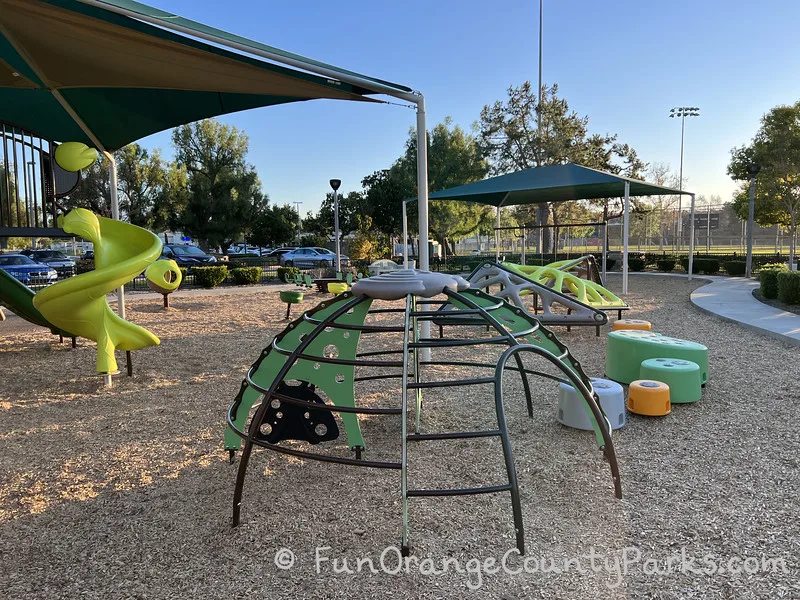 Finally, the open air 5-12 year old playground:
You can find some relief from the sun here although the shade sails don't fully cover the playground.
There are also lots more play opportunities with ladders, interpretive panels, geometric climbing structure, and a fun spinner/bouncer combo toy.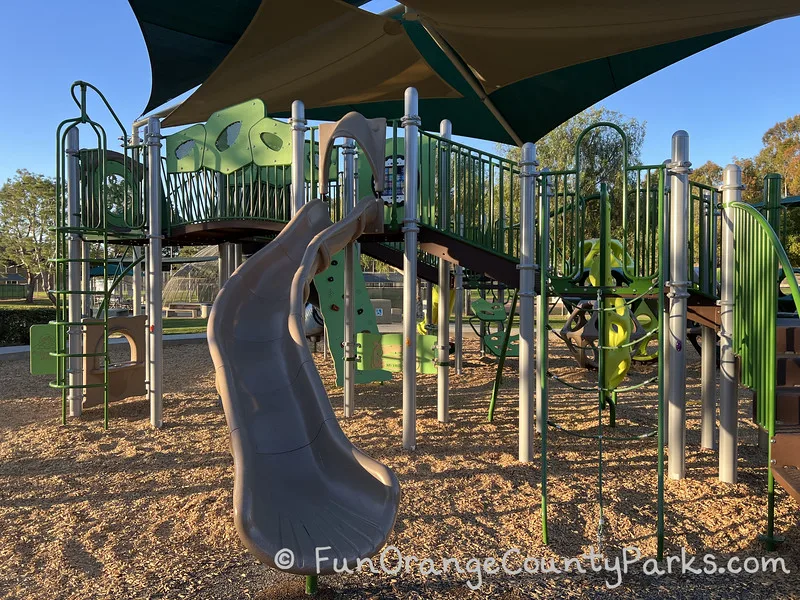 The big kid equipment is quite tall and challenging with tons of options for climbing and different slides (tunnel, straight, twisty).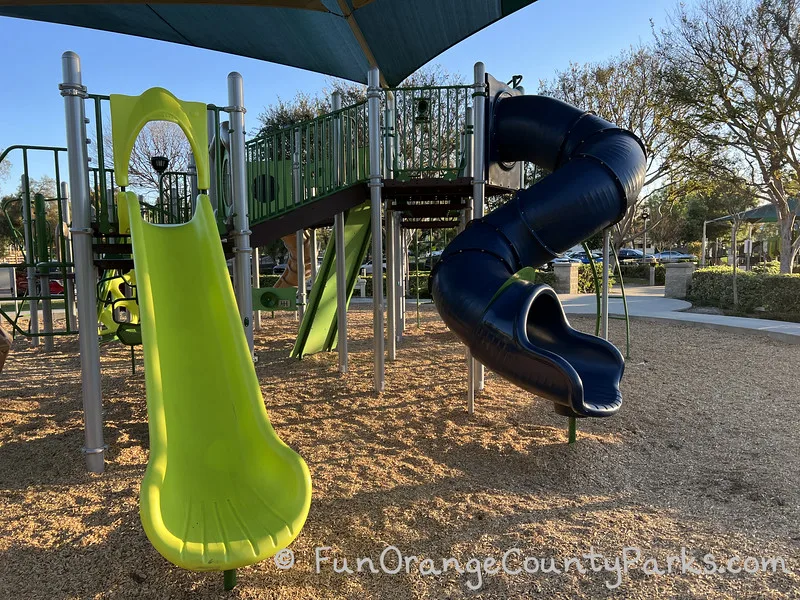 There used to be a bank of 6 bench swings at the 5-12 year old area; now there are 4 bench swings and it has some recycled rubber play surface under it now so the bark can get scooped out to make the swings feel too high off the ground.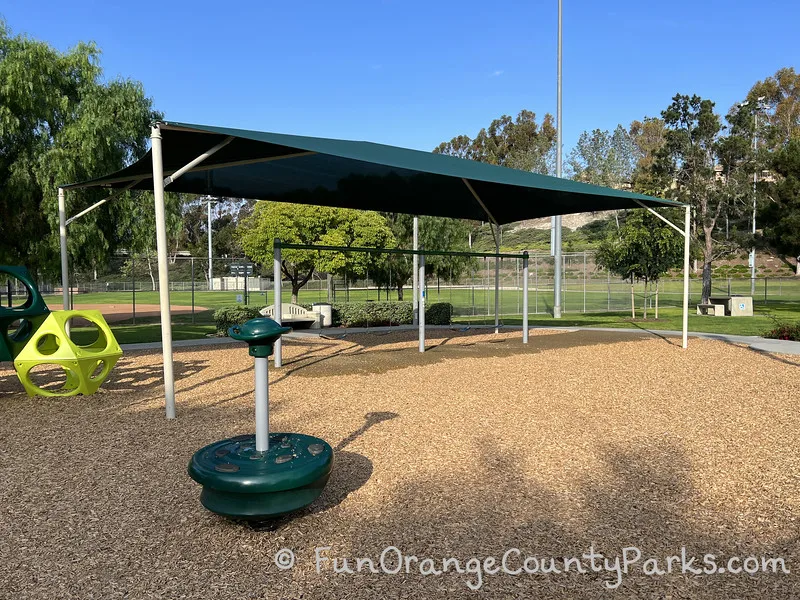 Be Aware:
On my first trip to this park back in 2009, I went to photograph it at around 3pm on a weekday and it was MOBBED by teenagers waiting for after-school pick-up. I tried to turn around once I realized my mistake and it took me 1/2 hour to get out of there!
I would imagine it can get busy with sports during baseball season with 3 diamonds.
There are signs warning of rattlesnakes – just keep your eyes out during the summer.
Of course, if you bring your 2-5 year old over to the play equipment rated for older kids there are going to be drop zones and worries about falls.
I would use the buddy system on the trails around here. Safer to travel with friends and there actually have been some documented kidnapping/assault incidents on women jogging or walking alone as recently as 2020. Not meant to scare you at all! Just be aware and don't be out there by yourself.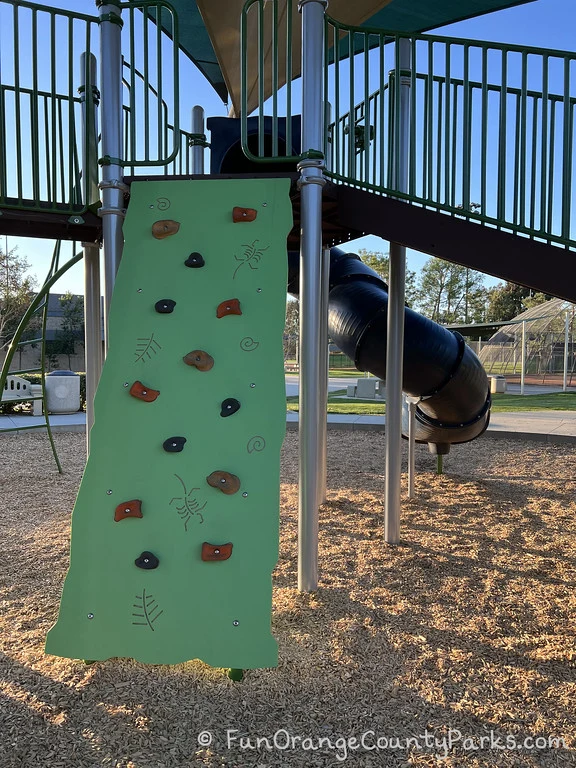 Nature Connections:
Great stop on a family bike ride!
Access the trails along Aliso Creek and go exploring on foot.
The nearby school has a large field clear of obstructions for kite flying.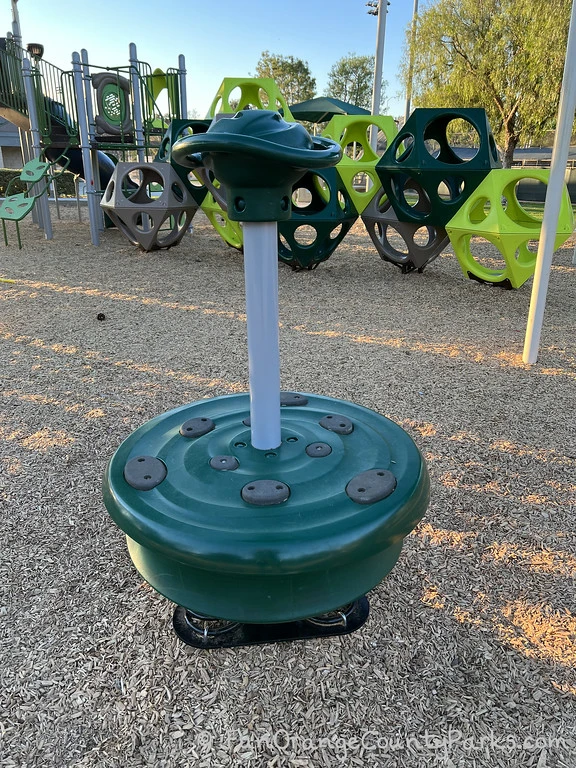 Checklist: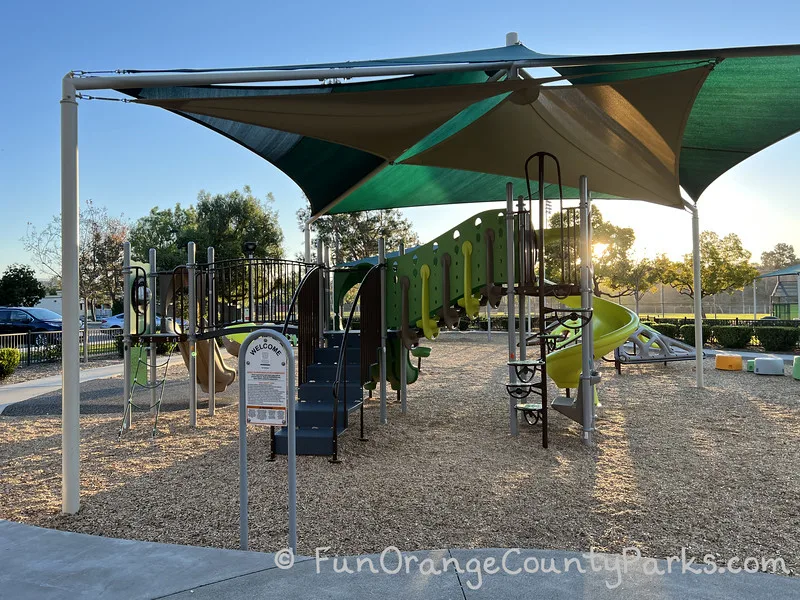 Nearby Parks: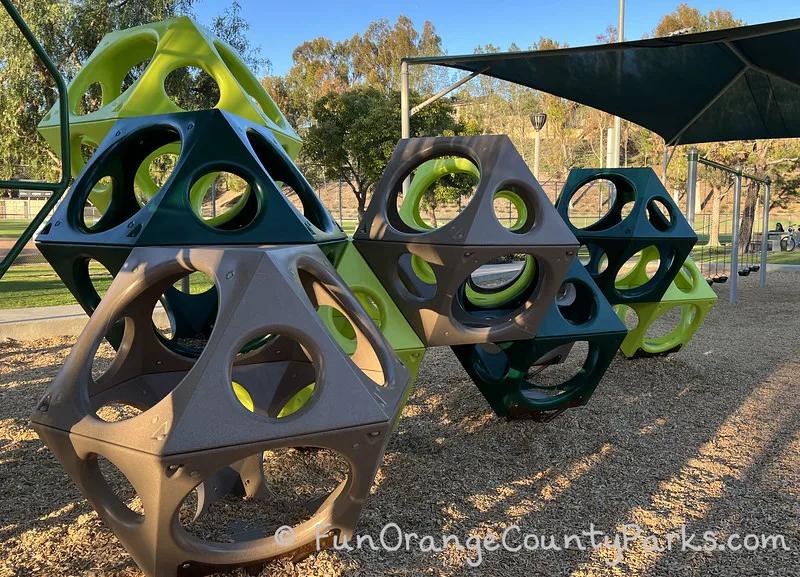 Originally published in December 2009.