Plaza Park in Irvine is bound to become known as "Tractor Park" or "Asparagus Park." I can't wait to hear what names your kids make up.
Did YOU realize there is an asparagus stalk in the City of Irvine logo? Yeah, neither did I!
How to Get to Plaza Neighborhood Park: This part was really hard for Apple Maps. I tried to visit this park on two occasions and the navigator took me in the wrong direction. The easiest directions are to take Culver Drive (from I-5 or I-405) and turn on Warner. The park is at the corner of Warner and Paseo Westpark. The parking lot is only reachable from the Paseo Westpark side. (Park Address: 610 Paseo Westpark, Irvine, CA) MAP TO PLAZA NEIGHBORHOOD PARK IN IRVINE
Highlights:
I love that the park is sunken below street level. It just makes it feel more cozy and intimate. It's almost a better boundary than fencing for some kids.
The official name is Plaza Neighborhood Park (even though the sign says Plaza Park) and it pays tribute to Irvine's agricultural history. You'll see how when you get there!
Do you see the oranges and white orange blossoms designed into the recycled rubber surfacing? I love that touch!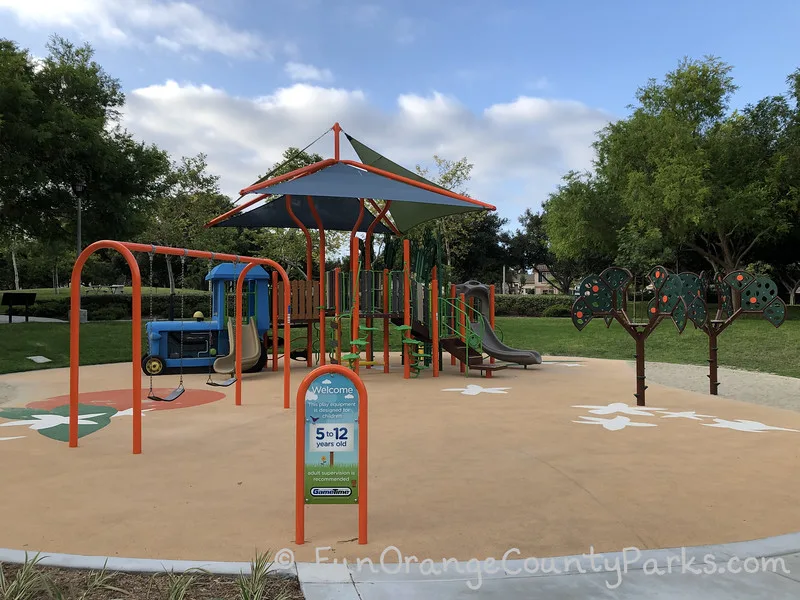 The big kid playground (5-12 year olds) has lots of climbers and the tractor along with a swingset with two bench swings.
I predict the big blue tractor with a slide coming out of it will be the first to catch your child's interest.
There are asparagus climbers and orange tree climbers that I've never seen at ANY other park, of course. Soooooo cool!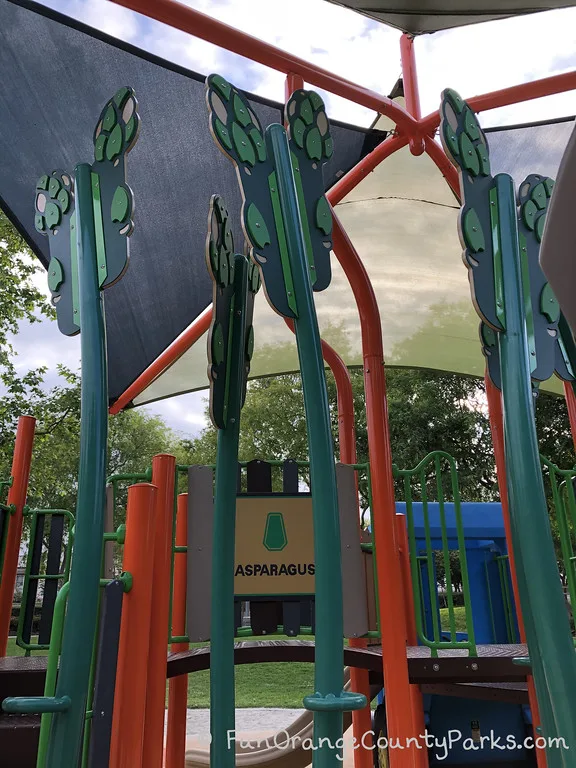 The little kid playground (2-5 year olds) is right there in the center of things, too.
2 diggers/excavators in separate sand areas on either side of the structure.
At some parks, you really don't want your 2-5 year old to even attempt the 5-12 year old structure (or your 6 year old might find the younger kid structure less interesting). I imagine kids of all ages will move between these naturally.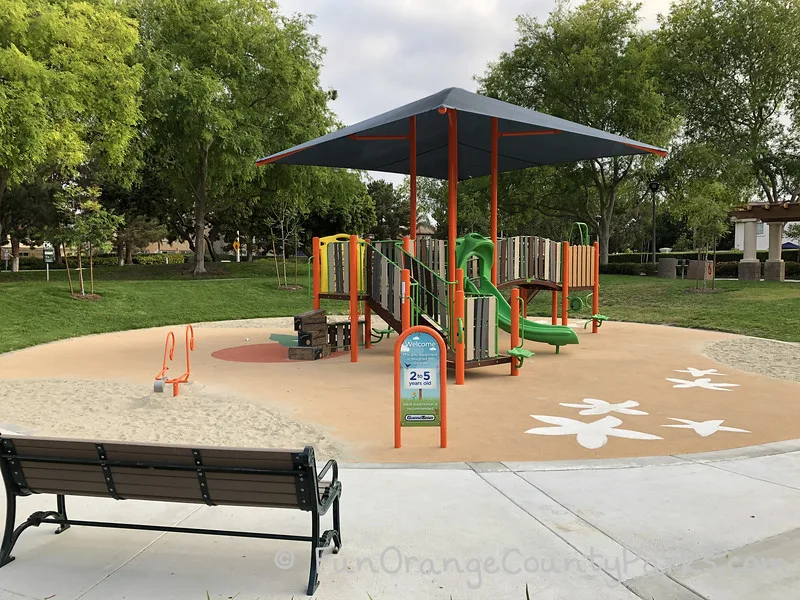 There are two benches by each of the play areas for easy viewing of kids. I can see parents might want to sit up on the slope on the grass, as well.
The orange crates/labels and farmer's market storefront is such a great feature for those kids who love the restaurant/shop pretend play games.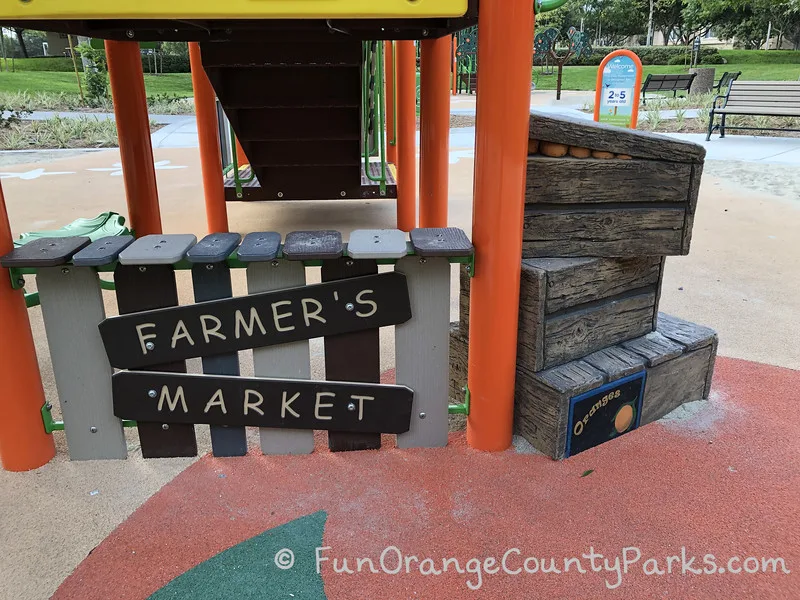 There is a really nice covered picnic area in between the parking lot and the park — which makes it really easy to set up a party or have a barbecue (because it's not far to the car).
There are also 2 charcoal grills at each end with a hot ash disposal bin.
There are even more picnic tables and grills set among the trees up on the hill closer to the restroom building.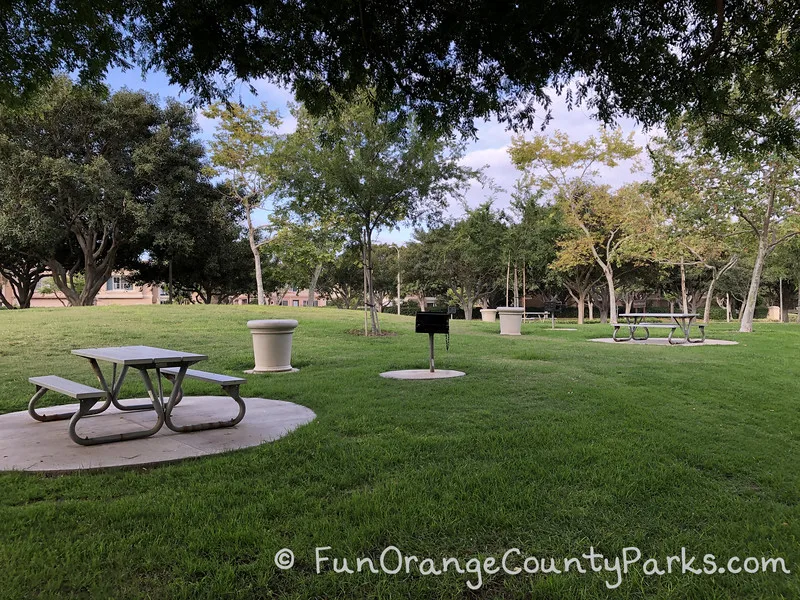 Lots of shade from all the trees surrounding the park. Smaller shade sails over the playground structures directly on the playground.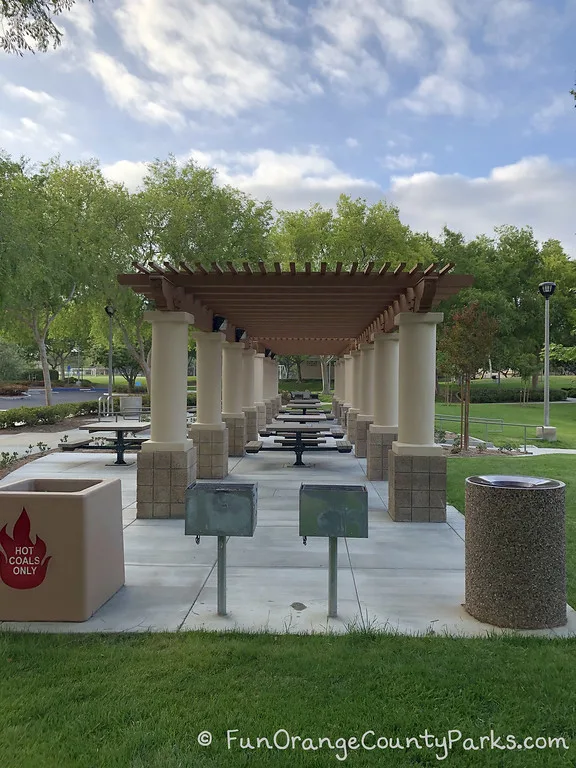 Finally, Warner feels like the halfway point along Culver Drive.
So for restaurants, you are close to the Crossroads shopping area on Barranca (Target, Peet's Coffee, Stonefire Grill, Chipotle, Tastetea) which also has a whole food court type set-up with Inchin's Bamboo Garden, Southern Spice, Paris Baguette, Capital Noodle Bar, Sagami, Flame Broiler, DonerG and probably more.
Near Islands Restaurant on the other side of Culver from Crossroads.
If you are coming from the direction of I-5, you have that whole restaurant area at Culver and I-405 or even Trader Joe's.
And, you also have the option of going to nearby The District at Tustin Legacy or the Mess Hall Market at FLIGHT which has really nice outdoor deck for dining.
Be Aware:
Plaza Vista School is nearby and impacts traffic in the area at school drop-off and pick-up times.
Parking could also be impacted by games or practices being held at the sports field beyond the restroom building
The climbers are awesome, but if you are nervous you may feel a little hesitant to let your kids get too high off the ground or attempt the different level of difficulty.
Warner is on one side of this park at a point where speeds are down because of stop signs and traffic lights. It's also pretty easy to keep a visual on the kids and the natural slope creates a barrier.
Sand on recycled rubber can be slippery
No baby swings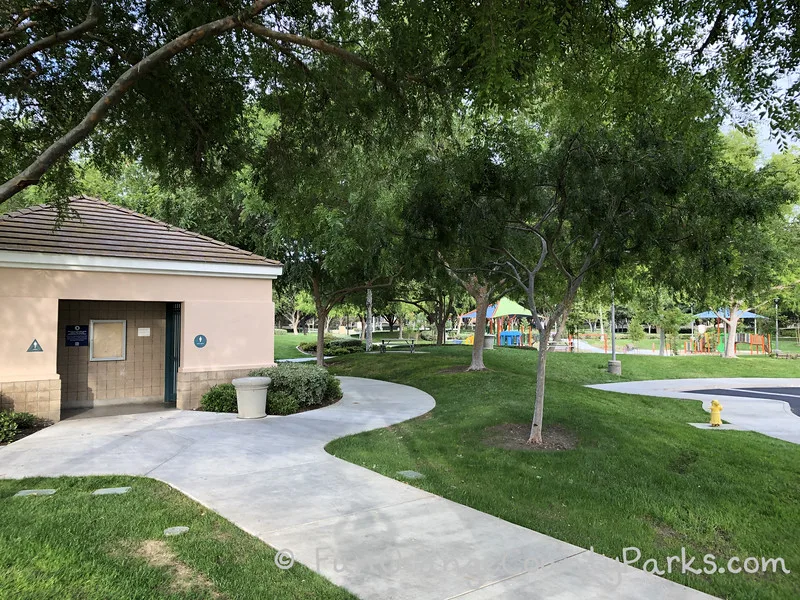 Checklist:
If you want to make this a Play Trip, check out my post on Things to Do Near Mess Hall Market in Tustin
Recycled rubber and sand play surfaces
Dedicated parking lot with quite a few spaces (lot closed to parking 10pm-6am)
Restrooms! Yes, restrooms. Sign says they are open from 9am to dusk and the good news is that they are close to the playground.
Covered picnic area which provides some shade for 4-8 person tables that have built-in benches
Also picnic tables and grills sprinkled along grassy hill near restroom building
2 benches at each play structure area for easy on-playground viewing
There's a big sports field beyond the restroom building
Nearest public library branch: Irvine Heritage Park
Find more parks in my Central Orange County Parks and Playgrounds Index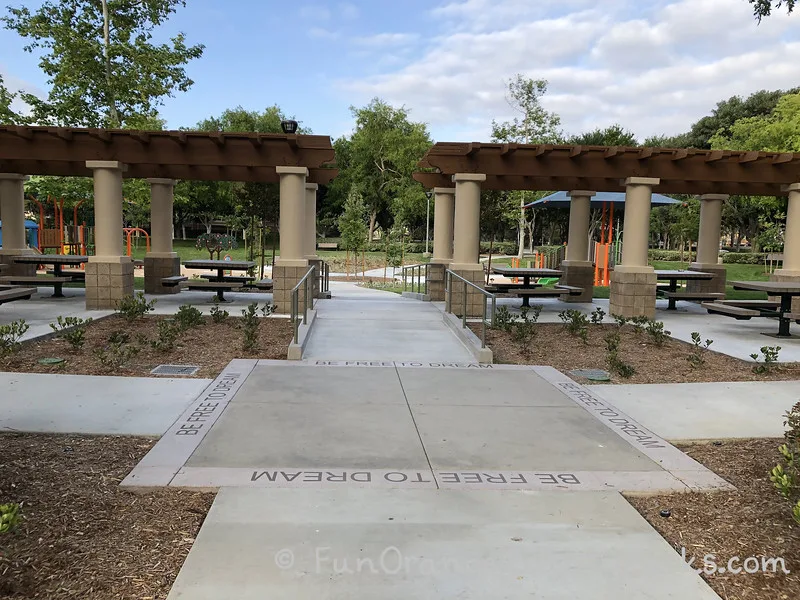 Parks Nearby Plaza Park in Irvine: