Belmont Park in Orange was one of those "Hey, let's look at a map and find a new park to check out!" finds that has been added into our normal park rotation.
It's up in the hills and provides some amazing views, making it a little more exciting than the average park.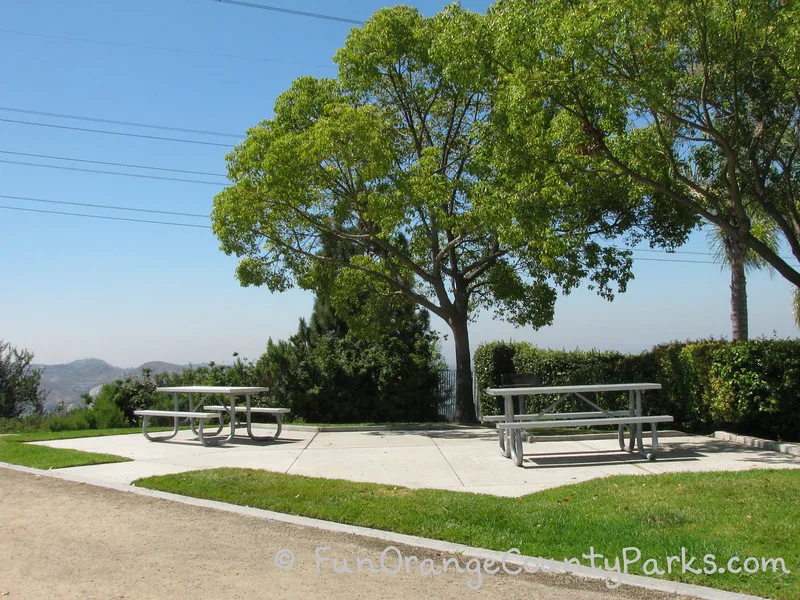 Picnic benches and large shade trees are sprinkled throughout the park, and a paved path winds in a wide circle around the playground and a large grassy field.
Thank you to volunteer park scouts and moms, Lisa (back in 2011) and then Erika (in 2022) for visiting Belmont Park and providing their reviews and photos for this post! All of the "Highlights" and "Be Aware" sections are from their perspectives!
How to Get to Belmont Park in Orange: Belmont Park is located in Orange at the intersection of Via Escola and E. Wickham Avenue, not far from where Imperial Highway becomes Canon. Exit the 91 Freeway at Imperial and head towards Anaheim Hills. Turn right at Via Escola, then left onto E. Wickham Avenue. (Address: 4536 E. Via Escola, Orange) MAP TO BELMONT PARK IN ORANGE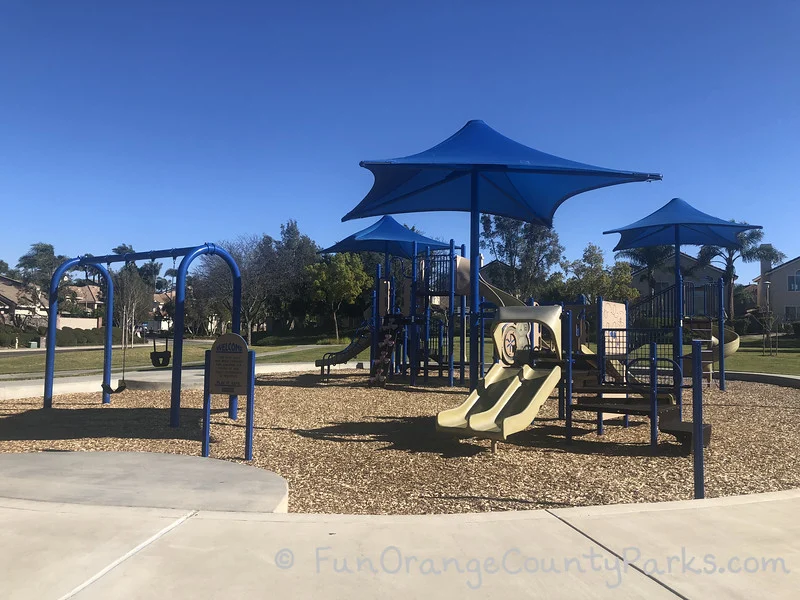 Highlights:
It's special for the large grassy field. We come here for that field especially – to try our new toys like flying things, kicking a ball, or just space for running! After Christmas other families had the same idea and it was sweet to see the kids trying out their new toys.
Two play structures, one for the toddlers and one for the bigger kids.
Fun, different monkey bars for the older kids.
1 bench swing and 1 baby swing.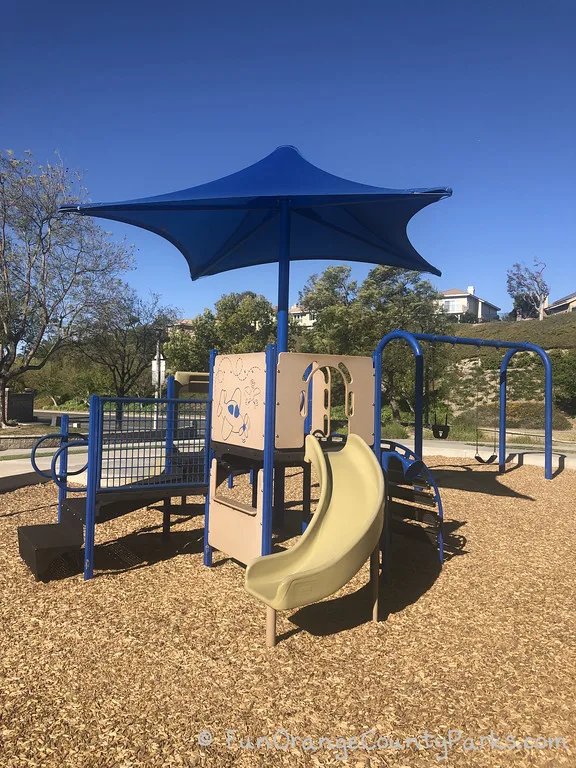 Picnic benches – some with views overlooking Orange County.
Shade trees that beckon for a picnic blanket to be spread underneath them. My three-year-old likes to run from tree to tree here, pretending he's a bird.
Long path that loops around the entire park, perfect to walk or ride around. (The scooter path is great, although a little steep so I'm usually running alongside my kids!)
My kids love balance walking along the small retaining wall.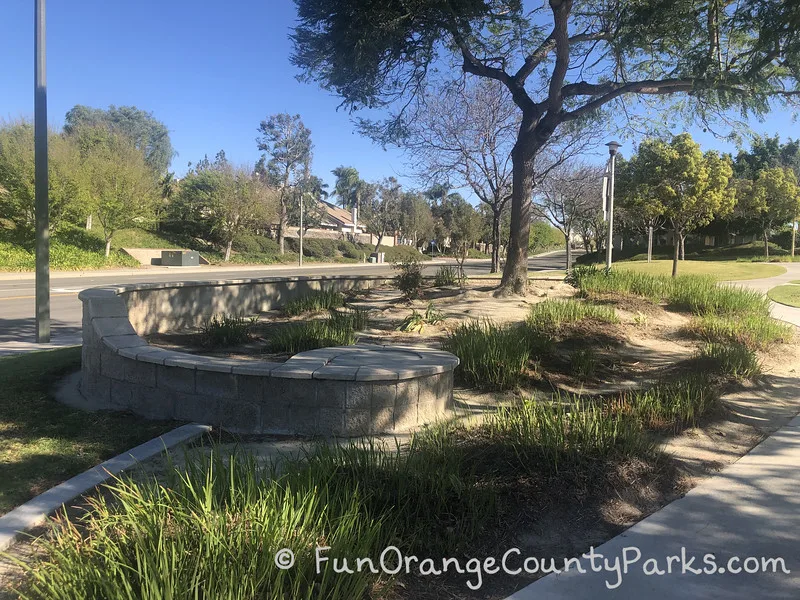 Be Aware:
NO restrooms.
NO dedicated parking.
Playground is fairly close to the street.
There is a bit of a drop-off at the far end of the park – be aware if you take the kids beyond the paved path to check out the amazing view.
This park is up on a hill near some natural areas – be aware of wildlife, particularly coyotes in the very early morning or evening hours.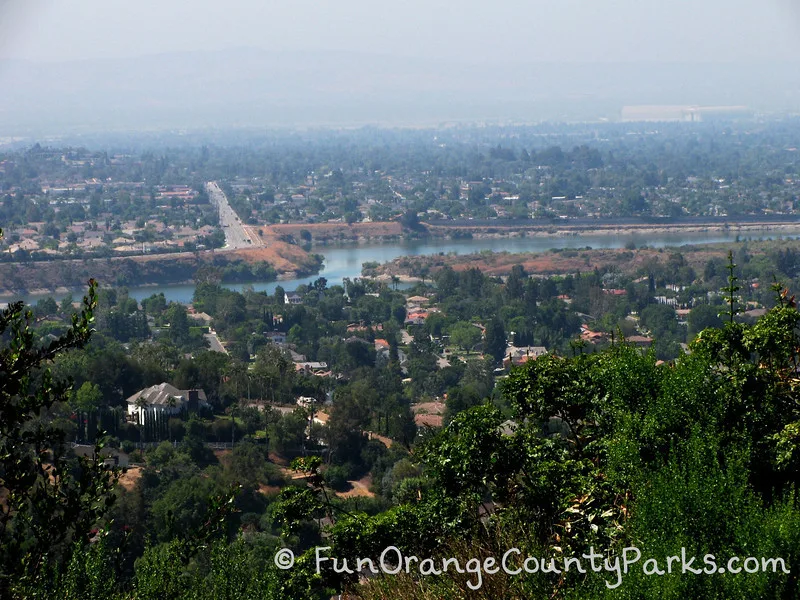 Checklist:
Street parking.
Bark play surface.
NO restrooms.
Some benches around the playground area to sit and watch the kids play.
No shade on the structure or benches – but there are some large, shady trees away from the playground.
Nearest public library branch: Canyon Hills Library is just down the hill, just east of Imperial at Scout Trail and Nohl Ranch Road. They have great story times and a nice children's section.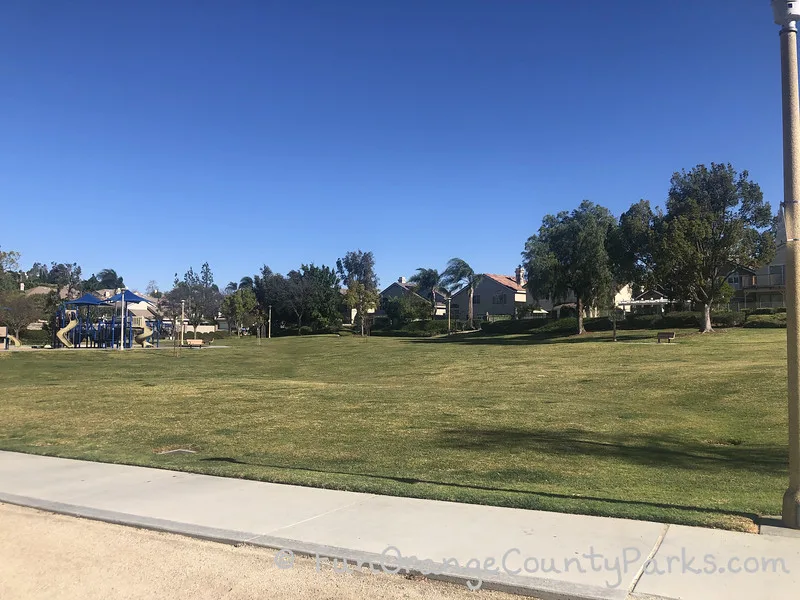 Parks Nearby Belmont Park in Orange:
Originally published in 2011.