Larwin Park in Buena Park came to my attention through an email from a longtime follower of the blog, Sunny.
She wrote me to say: "A park that has been updated in recent years on the border of Buena Park and Cypress is called Larwin Park. It has shade covering and two different parts of the playground. Parking isn't the best on weekends, but still worth a visit. Nice path to walk your pets too."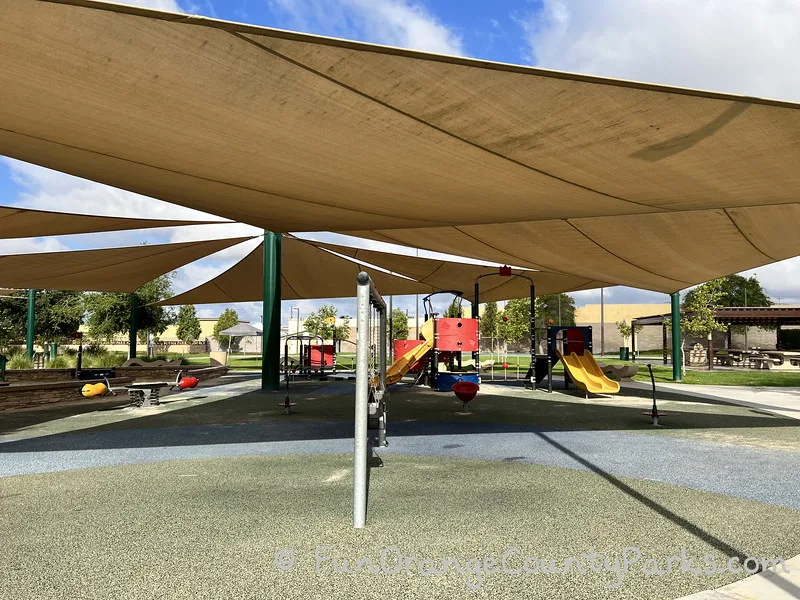 The shade covering drew me in and ever since I've heard a lot of "we love this park" from many of you. It took me more than one visit to grab all the photos, but it was worth it!
Directions to Larwin Park in Buena Park: This park is on Ball Road near Valley View between Beach Blvd (also known as the 39) and the 605 Freeway which makes it a pretty convenient stop. It's easiest to enter the parking lot on Ball Road if you are traveling from Cypress towards Stanton/Santa Ana. (Park address: 6150 Ball Road, Buena Park) MAP TO LARWIN PARK IN BUENA PARK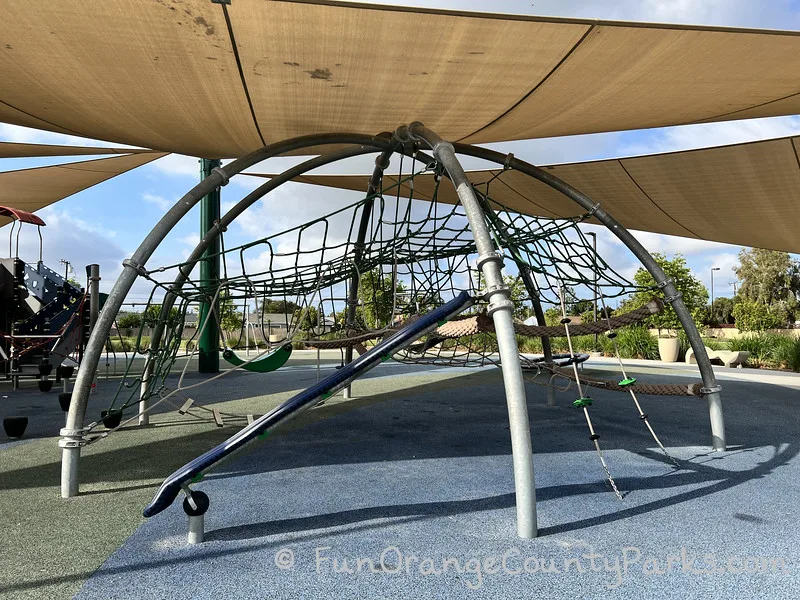 Highlights
The thing I love most about this park is that it is a community gathering area. I see people of all ages and stages at this park, whether to walk their dog, play basketball, celebrate an occasion, or play on the playground.
The shade covers are amazing and cover all the playgrounds.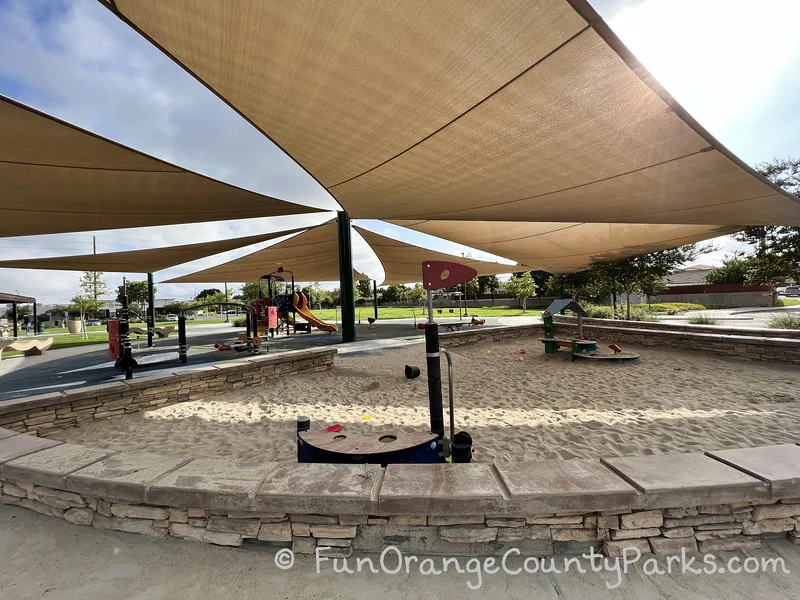 The play equipment is Kompan which some families love and some don't like. The kids know what to do with it, even when the parents don't.
The playground is rated for 5-12 year olds. Although, there is an area on one side of the sandbox that seems suited to younger kids and the other side has more challenging climbs and slides.
You will find the elements that work for your family. Hopefully, the pictures help!
This is the area that seems better for younger kids.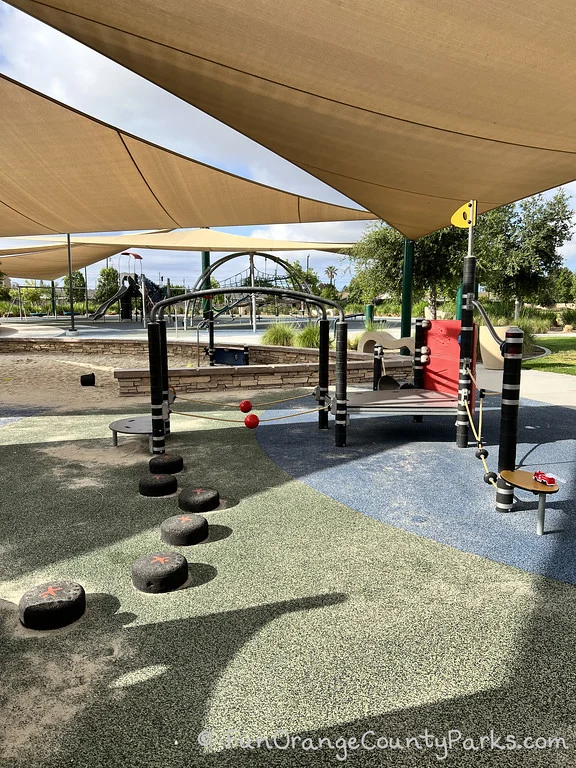 With the climber and this structure for older kids. What do you think? With the horizontal climbing ropes and play structure. See the spinner in the distance?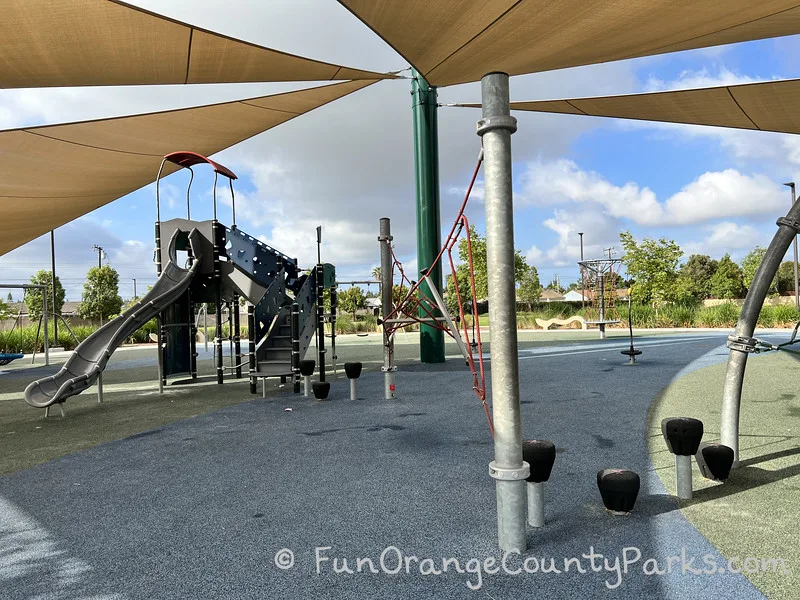 There are fun netted swings that are close to the ground.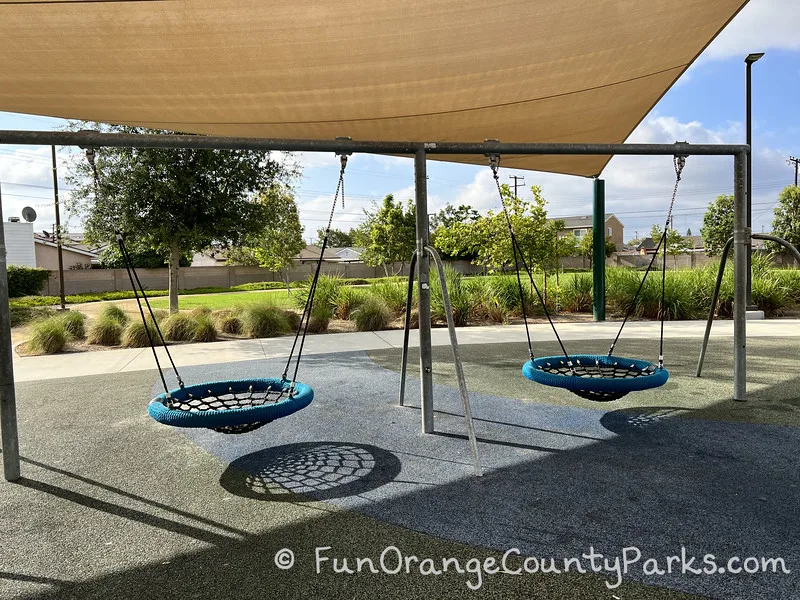 You will also find 4 traditional bench swings (back by the netted swings) and 2 baby swings (up in front of the sandbox).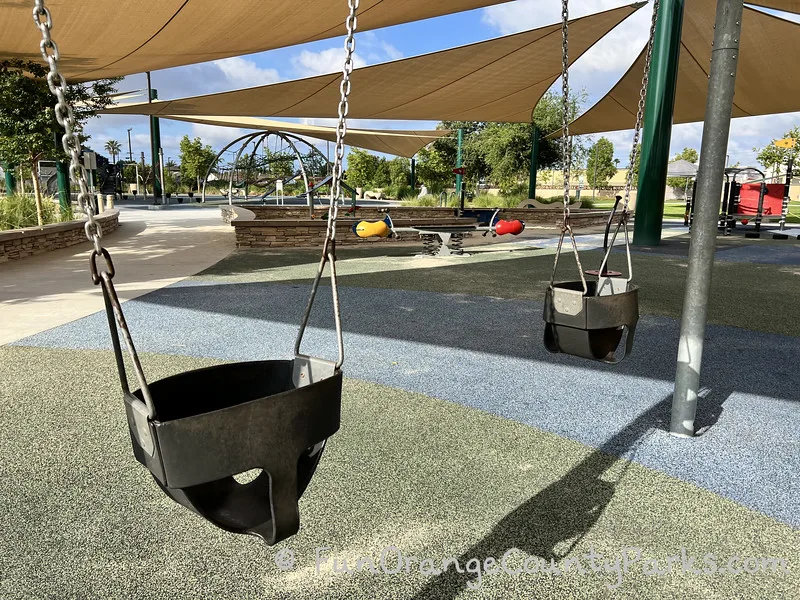 And tons of opportunities for spinning!
You'll see benches (wavy & whimsical) and ledges around the playground to sit and supervise play, but you may want to bring a camp chair or folding chair if you like to lean back against something or have some back support.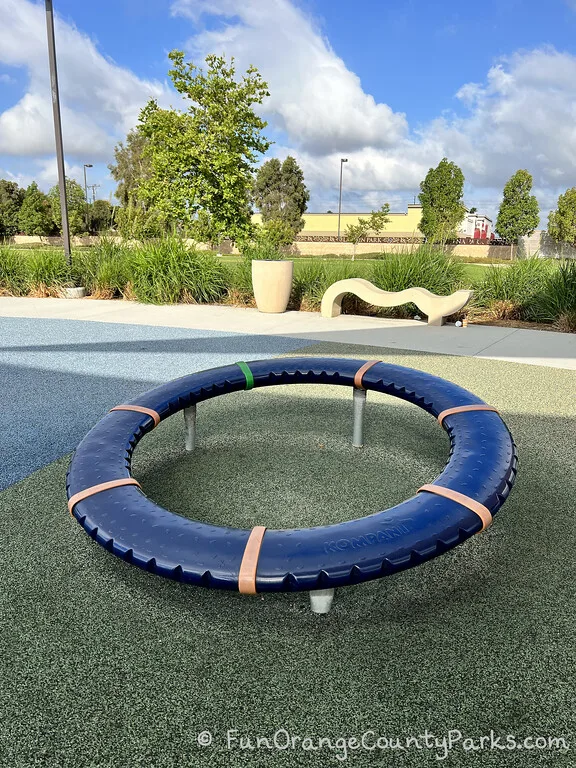 I love how compact it is, yet it is a welcome open space with lawns and greenery. It's easy to see the kids from any angle.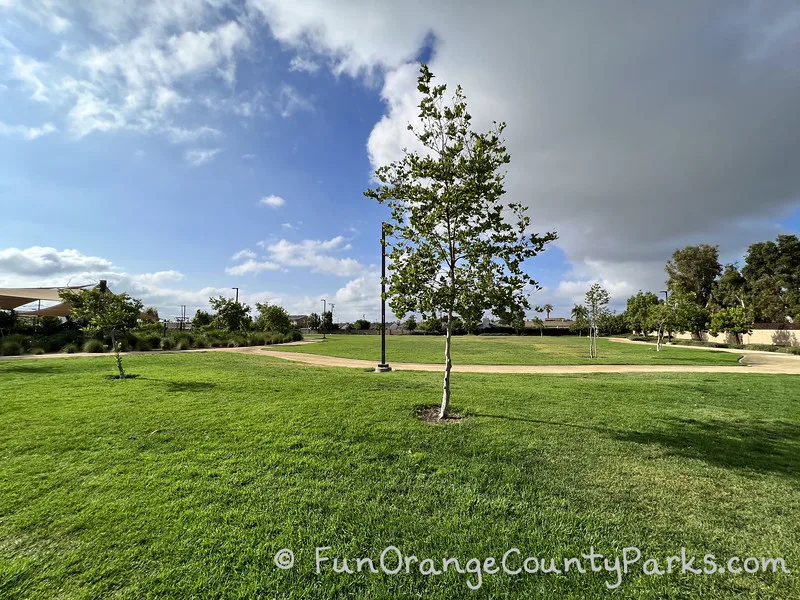 Be Aware
I scout playgrounds early in the morning. On our first visit there was a whole city crew cleaning up the park from landscaping, to trash pickup, to general maintenance. I don't know if this happens every day, but it was very impressive.
On both my visits to the park (again, very early in the morning) – there was at least one person experiencing homelessness present.
On one of the visits, there was also a city staff person present ready to help with check-in for a picnic shelter reservation.
Sunny – who recommended this park – did note that parking can be challenging on weekends. I can see why! It's a popular park. There are other parks nearby that you can use as a Plan B.
Anytime there is sand and recycled rubber, there's a potential for slipping. So just watch the running in the slippery parts.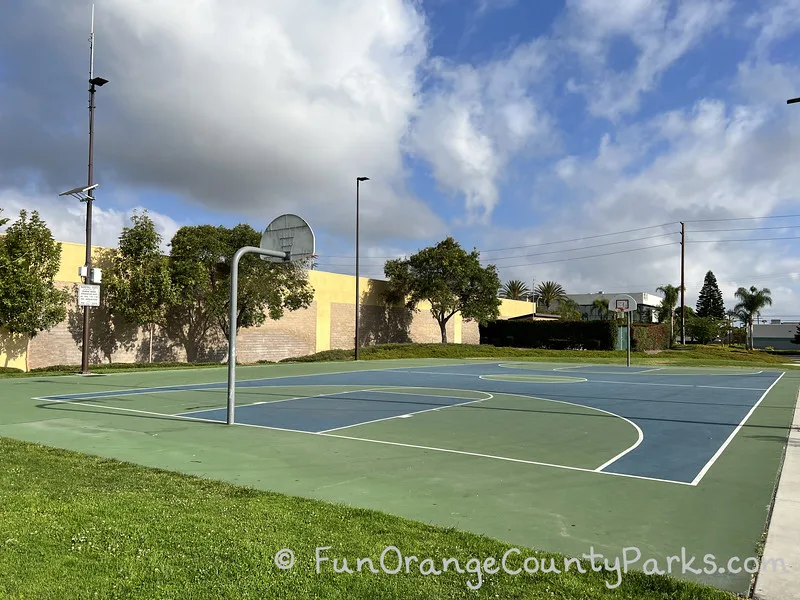 Checklist
2 dedicated parking lots – one off Ball Road and another in a cul-de-sac off the neighborhood by way of Brenda Drive
Play surface: Recycled rubber and a sandbox
Restroom building
Dirt walking path around the park that people use for dog walking and exercise
Very large covered picnic shelter available to reserve for parties
Nearby public library branch: Cypress Public Library or Stanton Library branches of OC Public Libraries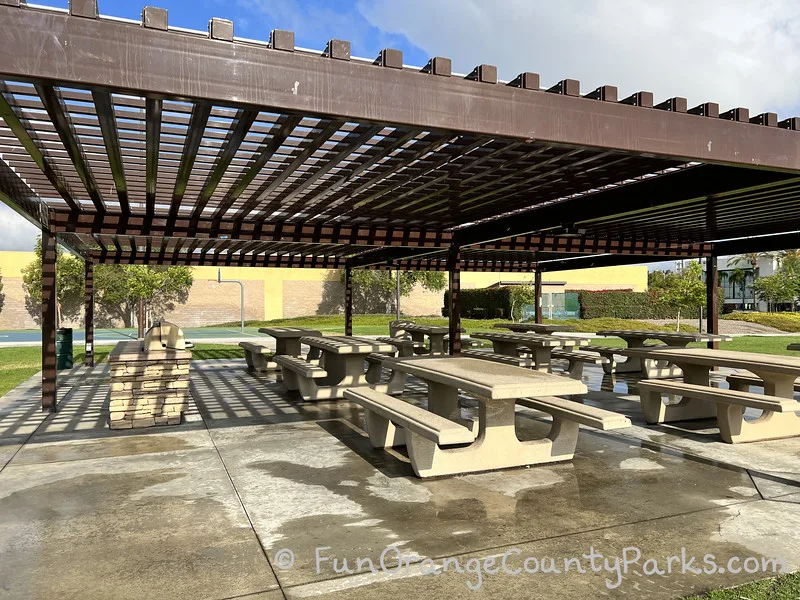 Parks Nearby Larwin Park in Buena Park