Harry M. Dotson Park in Stanton is a definite "find." A reader recommended it ages ago – but I was never in the area to take photos until recently. It's beautiful, enclosed, and fun for pirate pretend.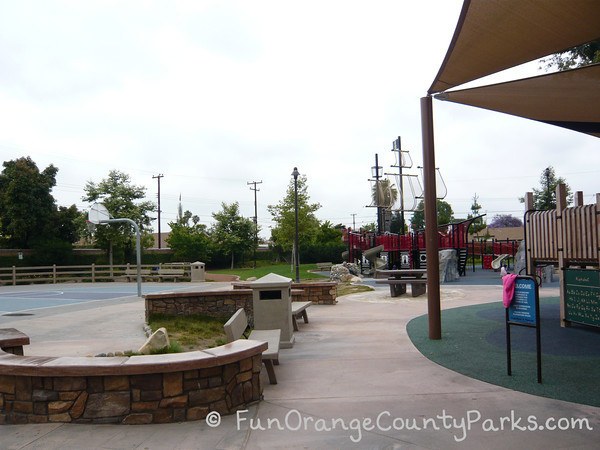 How to Get to Dotson Park in Stanton: The location was a little tricky. The maps I consulted didn't take me to the right place. The address is 10350 Fern in Stanton. Apparently there are two sections of Fern. The park is on the section north of Katella. We took Katella from Disneyland and turned right onto Beach Blvd, right onto Cerritos, and a left onto Fern (park is on the right). A more direct way, would be to take the 22 Garden Grove Freeway and exit at Beach Blvd. Then you can just travel towards Adventure City and take the right onto Cerritos and left onto Fern. (Address: 10350 Fern Avenue, Stanton) MAP TO HARRY M. DOTSON PARK IN STANTON
Recommended by: Tracy (her comments in italics)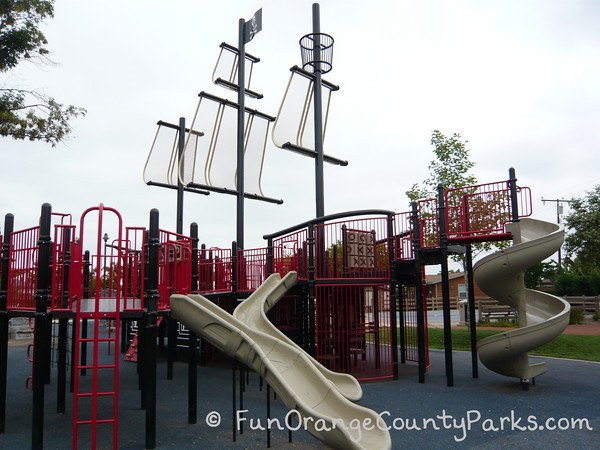 Highlights:
Pirate Ship Playground equipment!! SO NEAT!!
Water Park Area
Newer park in great shape, kept clean, and brand new play and picnic areas
They have a pirate ship playground, a water park type area, a treasure chest, bathrooms, picnic area. Small park with great amenities.
The pirate ship is mainly accessible for wheelchairs. There are a few steps at the very end of the ship, but the rest seems navigable.
The "Wet Saloon" is the water park component. It wasn't running when we were there. It's located next to shaded concrete picnic tables.
The main play equipment is the pirate ship, but there's also a smaller "fort" near the picnic tables. The little ones that were there on our visit would bounce between the fort and the ship. It was pretty easy to keep an eye on the kids here.
There are two large boulders to climb with hand holds.
The treasure chest doesn't open, but the kids will try.
Lots of interpretive learning boards on the structures and a chess board under the ship.
All the slides got high ratings from my kids.
I loved the little peaceful spot in the back with the lawn area and pathway.
Read the signs about Mr. Dotson and how, for him, "It's for the kids." I loved that quote and enjoyed reading about his community spirit.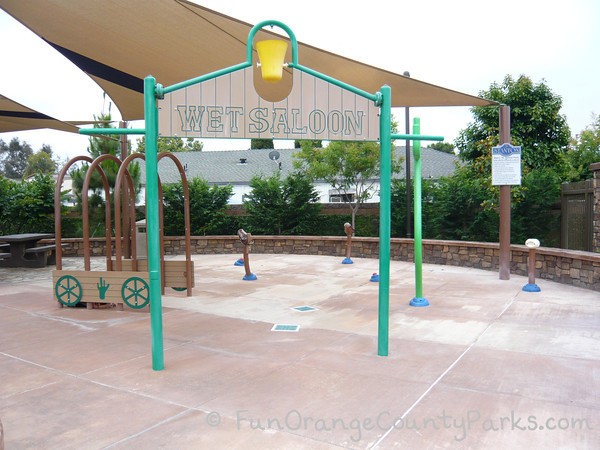 Be Aware:
It's in a little crowded neighborhood. Not the nicest area but the park itself is really great and really worth it in the day time.
There aren't any swings in this playground but everything else is great!
Just pay attention to the map and directions before you go. I have the marker set directly on the park so you can find it.

Water park hours 12pm-5pm Memorial Day through Labor Day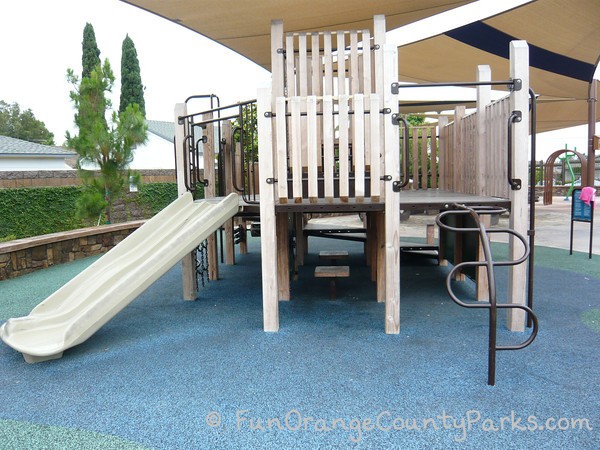 Checklist: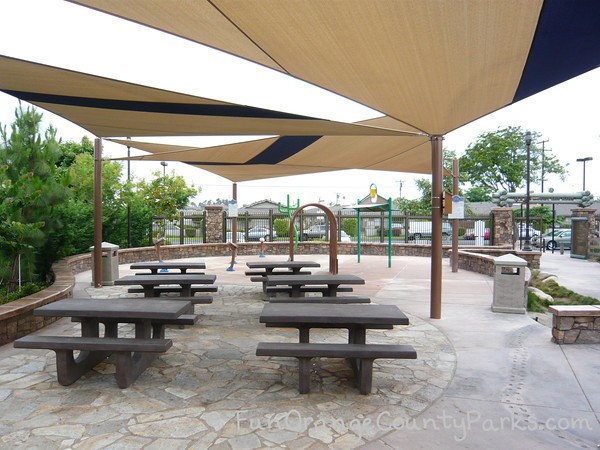 Originally posted in June 2011.