Concourse Park is in the Portola Hills neighborhood of Lake Forest. I never knew how to get to those "houses on the hill" on the way up El Toro Road near Santiago Canyon and O'Neill Regional Park.
You notice the homes up to the left and I always think about what a great view they must enjoy. The park is in a beautiful setting so close to Whiting Ranch and the Santa Ana Mountains.
Directions to Concourse Park in Portola Hills: Take El Toro Road waaaaayyyyyy up to just before Cook's Corner and the turn onto Live Oak Canyon Road. Turn left onto Ridgeline. Turn left on Saddleback Ranch Road. You'll pass the community pool and the playground is just ahead on the right. (Address: 18931 Saddleback Ranch Road, Lake Forest) MAP TO CONCOURSE PARK IN PORTOLA HILLS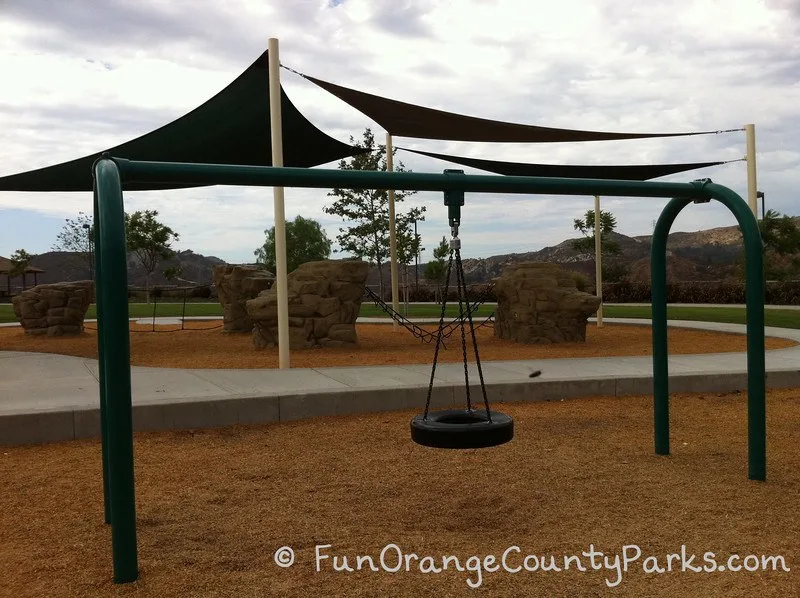 Highlights:
It feels like a great wide open space with lots of nearby nature from Whiting Ranch. I saw lots of birds on my visit.
There's a fire access trail near the park that takes you down the hill for a mini-nature walk before opening into the wide expanses of Whiting Ranch.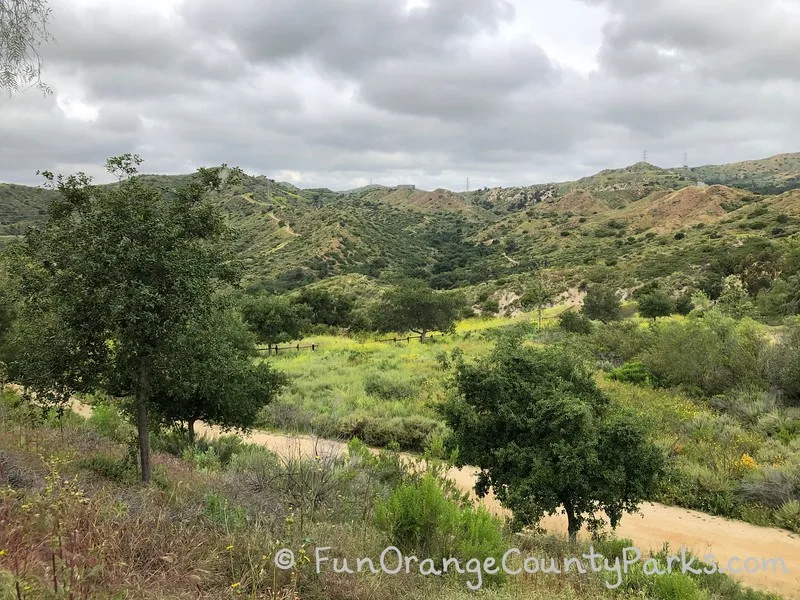 The playground is very near the parking lot with the toddler version in front and the bigger kid structure behind.
The toddler playground is just the right size for little ones. There are also 2 baby swings and ride-on spring toys here.
In between the playground areas, there are a bunch of planters for large sycamore trees for lots of shade when they mature.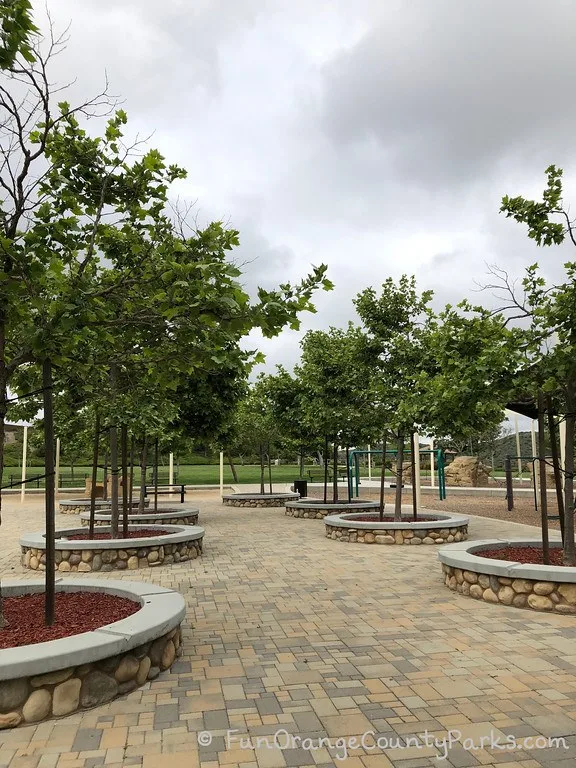 The big kid playground has more opportunities for climbing and monkey bars. There are 2 bench swings and one tire swing.
With the renovation comes an expanded climbing area and a dedicated sand play area with a water feature. The water play feature looks like a desert palace.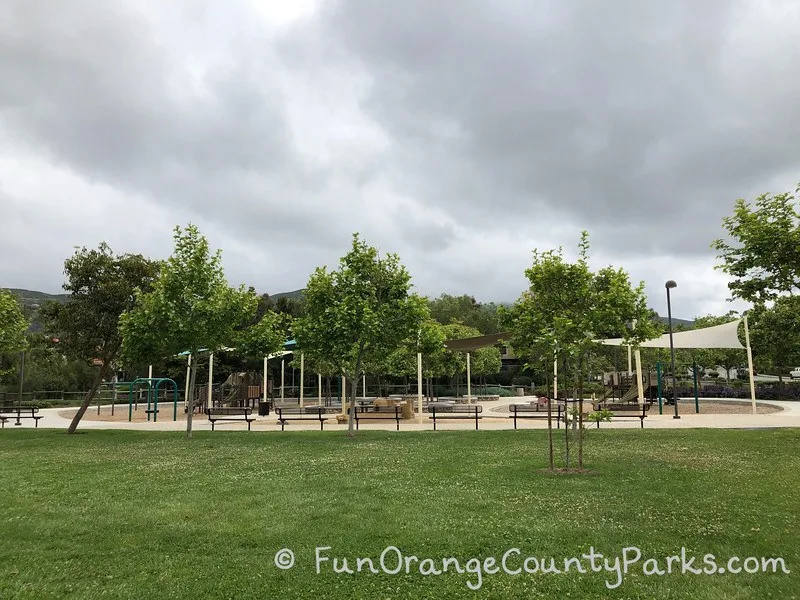 There is a restroom building VERY close to the playground.
There is one picnic shelter near the playground for shade cover during lunch. A second shelter sits with a view overlooking Whiting Ranch.
There's also half court basketball and a winding sidewalk with fitness equipment which people were using for their morning walks with/without kids.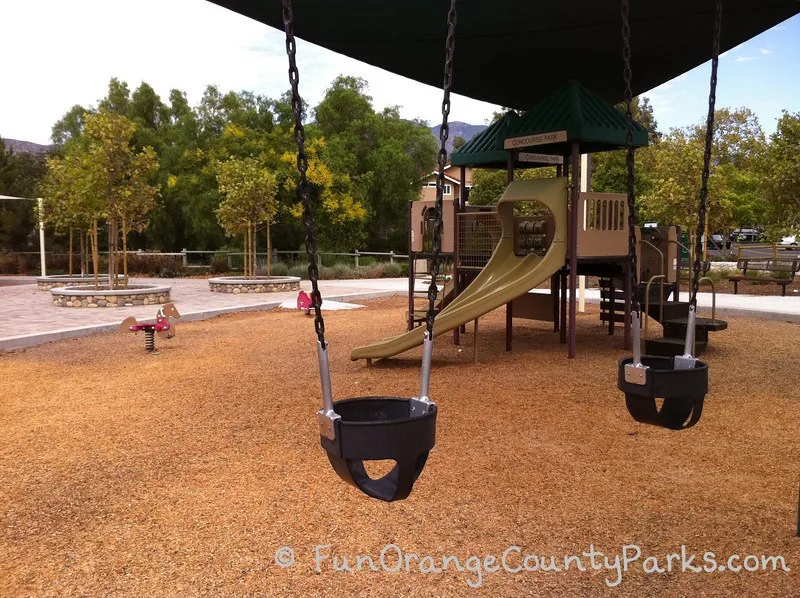 Be Aware:
This backs up to quite a bit of open space, so just be aware of your surroundings and watch for rattlesnakes. Mountain lions and coyotes are a concern if you have very small children, but just make sure you are nearby your child and not letting them run ahead. I spoke to the moms at the park and most had never had encounters with ANY of these animals. (I think there's too much action here during daylight hours.)
The playground can be hot during the summer, but the added shade covers give some relief.
Don't plan on the water feature working. Unfortunately, when kids (like kids do) block the water with sand or toys it can break the mechanism and the water won't work. My photo with the water working is from 2011 when I advised "Bring a change of clothes – and maybe a change of shoes! My daughter had a blast playing in the water and with the sand, but got filthy!"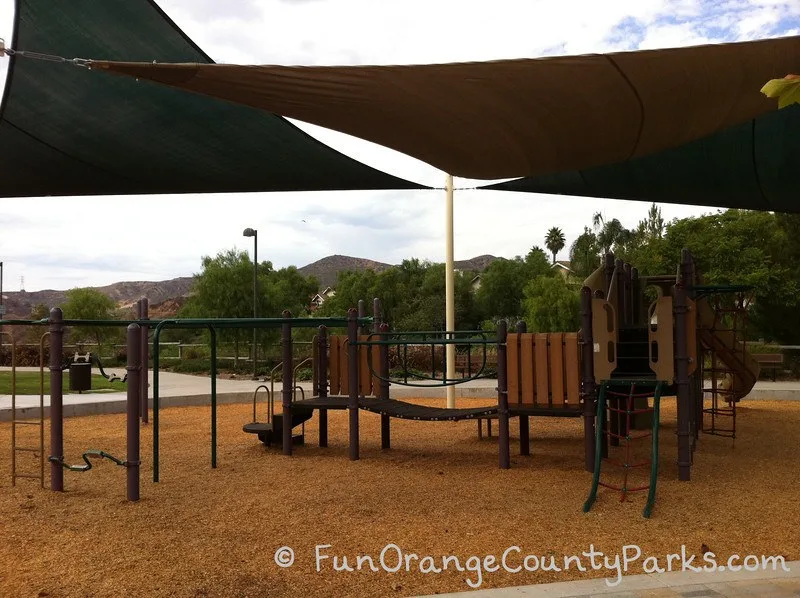 Checklist:
Dedicated parking lot
Bark play surface
Restrooom building right near playground
2 covered picnic areas with grills
Drinking fountain with water refill station near picnic shelter
Half court basketball
Walking path/sidewalk circuit winding through park with fitness stations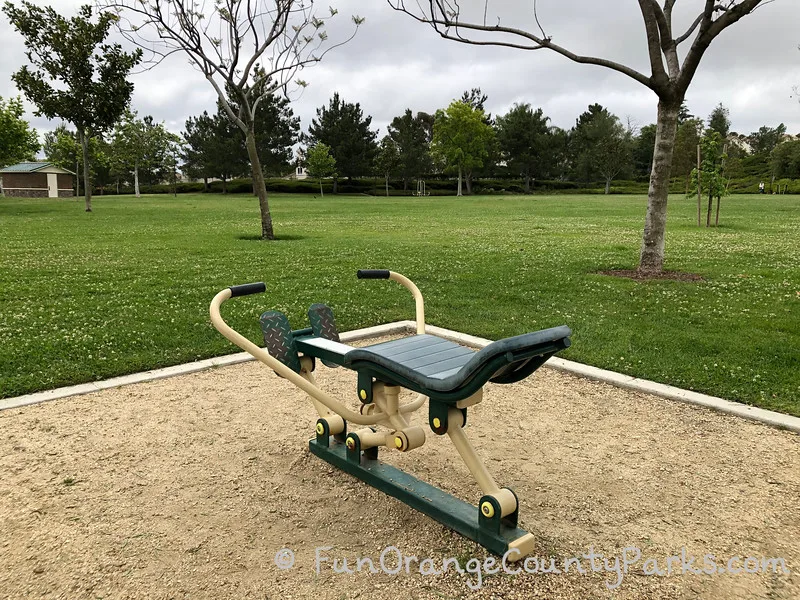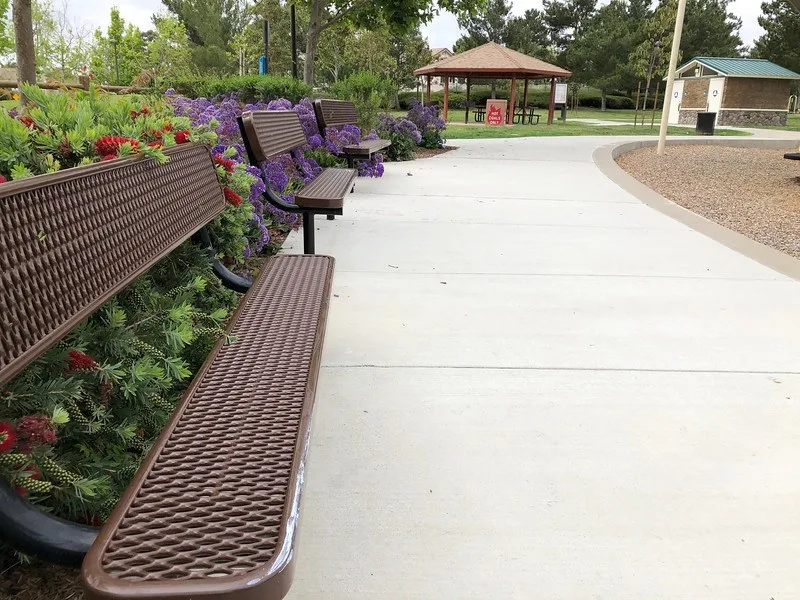 Parks nearby Concourse Park in Portola Hills
Originally published in September 2011.