Veterans Sports Park at Tustin Legacy is a massive park near The District and all of the new development going on at the former El Toro Marine Corps Air Station.
There is a memorial at the front of the park with veterans honored.
The playground is just one small corner of this park which is aptly named for the sports it supports with: pickleball courts, ball fields, tennis courts, basketball courts, soccer fields, and a skate park. There's even plenty of room for track sports and walking, too.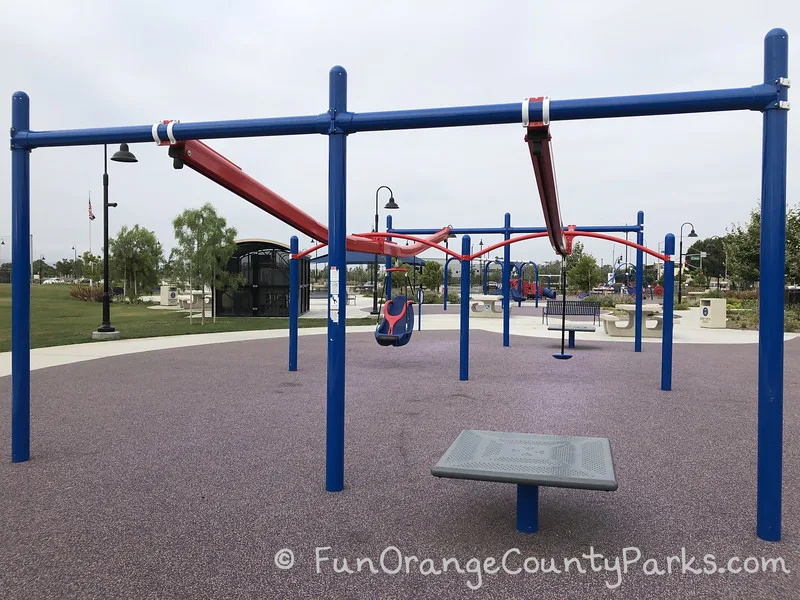 Directions to Veterans Sports Park at Tustin Legacy
If you are heading north on Interstate 5, your map will probably route you to get off at Tustin Ranch Road. This exit is a little tricky because it curves around and you might not be sure which lane to be in, but stay on the far right so you can turn right towards the new areas of Tustin.
From there, you'll continue past the main roads (Walnut and Endinger) to turn right onto Valencia Avenue. You'll pass the Columbus Square housing development and come upon what is obviously the sports park with tennis courts visible from the street. But DON'T turn yet. Wait until you get to the 2nd driveway since the playground is at the corner of Valencia and Lansdowne Road.
There's a big blue shade over the picnic area which makes it easy to spot. (Address: 1645 Valencia Avenue, Tustin)
If you're coming south on I-5, you'll probably get routed off at Red Hill and you'll simply turn left onto Valencia and the park will be right ahead of you on the left. MAP TO VETERANS SPORTS PARK IN TUSTIN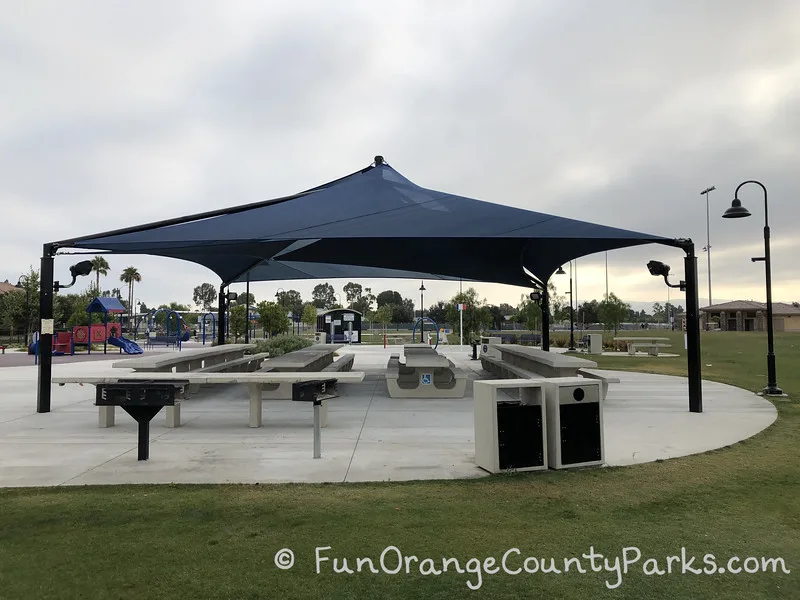 Highlights
If you don't like sand or bark play surface, then you'll love this playground. It's nice and flat with recycled rubber surface.
It's especially good for toddlers with it's 2-5 year old play area. Lots of different elements that are pretty close to the ground with a picnic table nearby so you can watch the action.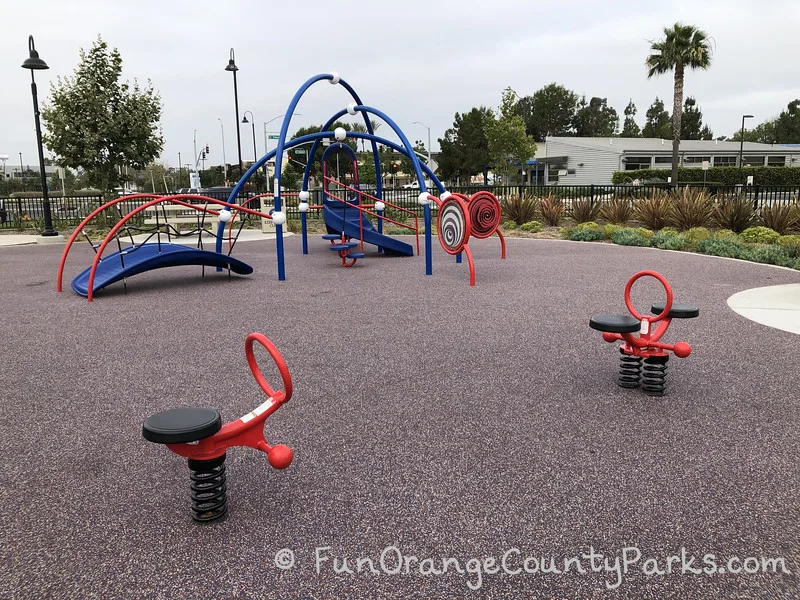 There is a small climbing area with bridges and interactive panels, plus the sweetest little spring riders with one being maybe the smallest teeter totter I've ever seen!
Baby swings in this preschooler area, as well. A small spinner and another play structure with a clubhouse and some fun slides.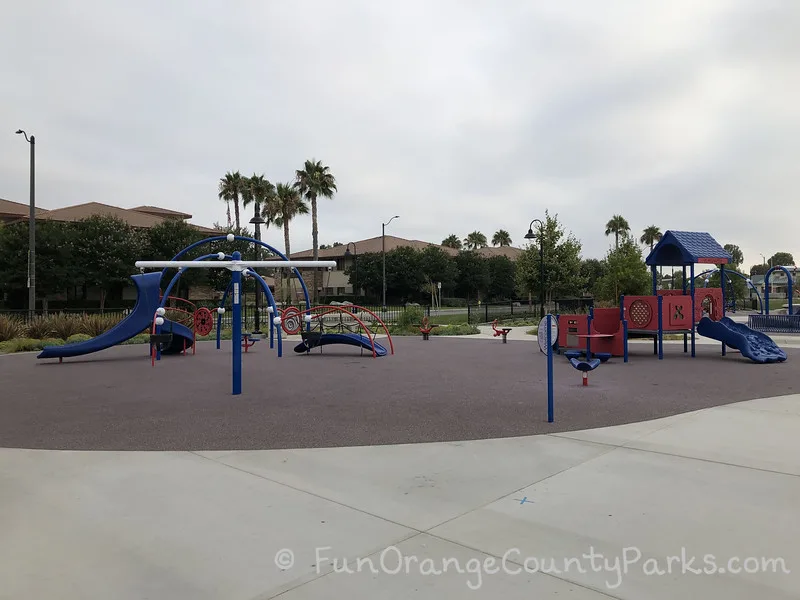 Normally, I'm used to progressing on to a big kid play structure for 5-12 year olds. However, this park is really spaced apart and instead of one play structure for the big kids, there are individual elements that older kids will find fun.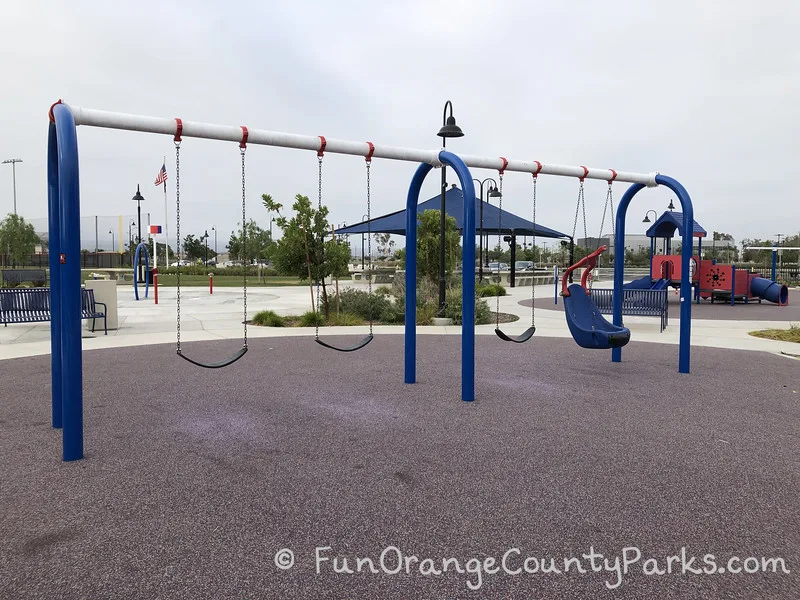 Of course, the splash pad will be the big draw here during summer. It's open every day through Labor Day from 11am-5pm.
There is a blue button to turn it on, so don't assume it's out of order if you drive up and it's not running.
There are instructions to use the restroom and shower at the outdoor shower before using the sprayground. The pump station is right next to the splash pad so it can be a little loud.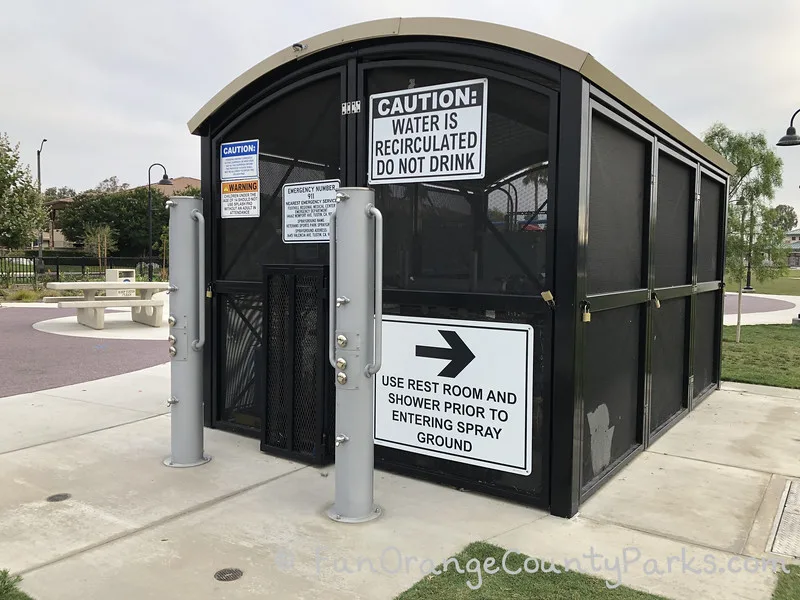 The water play area is pretty small and simple, but it will do the trick to cool off when it's hot out.
Plus there are plenty of benches surrounding the splash area for easy supervision of the kids.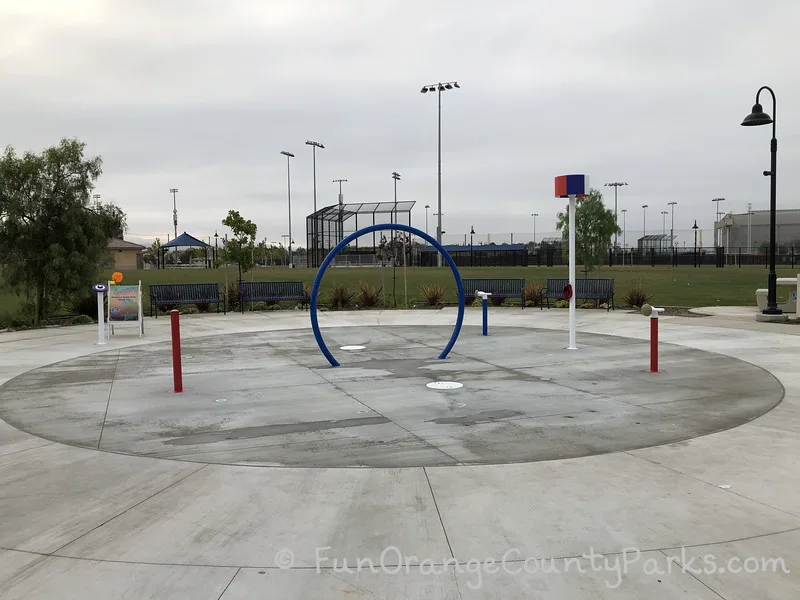 Back to the big kids! The first thing they'll come across past the splash pad and the swings is a huge climber.
This park is definitely getting added to my spiderweb parks list and my splash pads list.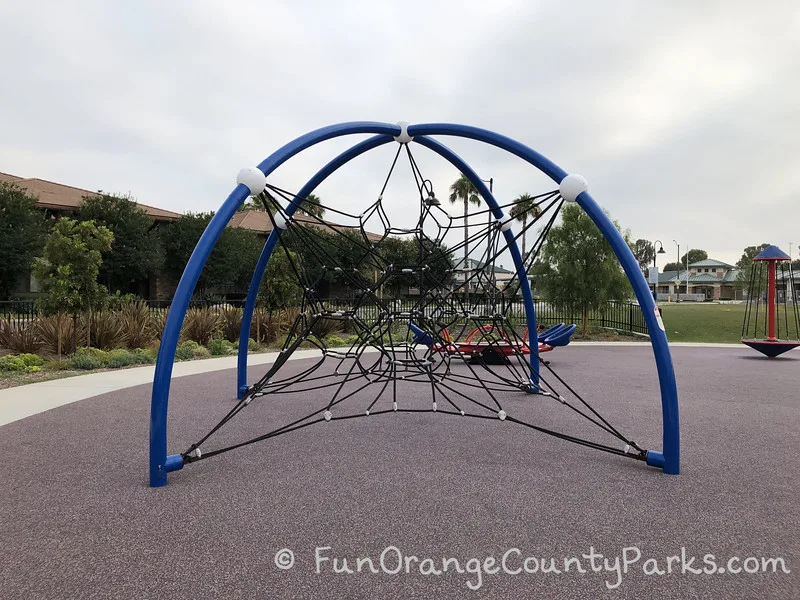 I already posted a photo of the zip tracks above. Super fun to have two kinds, one where your child can sit in a seat to travel the track. And how about that 4-person teeter-totter and spinner?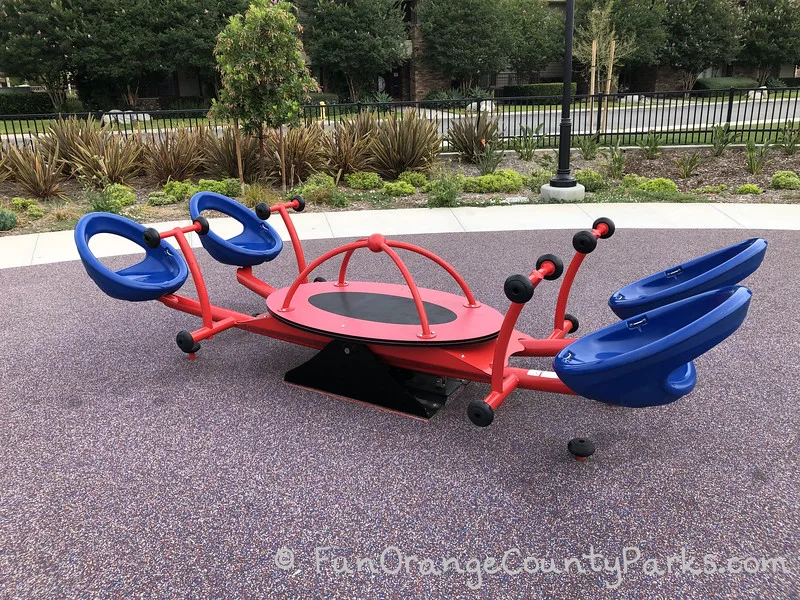 Finally, just a word about the picnic area. It is soooooo big! And I kind of liked how there is a serving table near the barbecue grills. Very practical and easy to serve a large group.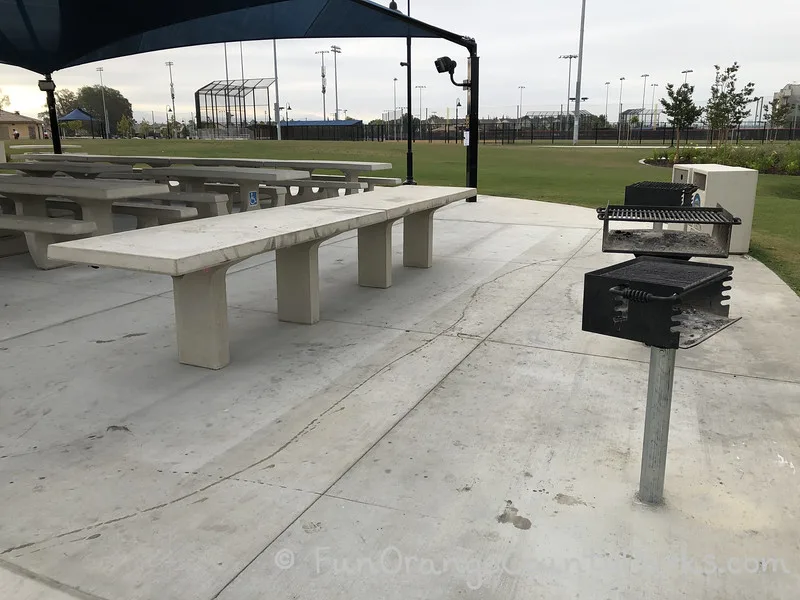 Be Aware
NO shade on the playground equipment – this will be super hot on hot days and the recycled rubber can heat up to burn bare feet (so make sure your kids keep shoes on when it's hot). Go early or at sunset to stay cool while you are playing!
Splash pad hours can change based on the season so please check official sources. I always link to the official park page in my Checklist section.
There is already a Tustin Sports Park in existence near Tustin Marketplace that has a huge beige shade cover. Just don't get the two sports parks confused. That one is called Tustin Sports Park. This one is Veterans Sports Park at Tustin Legacy. Both in Tustin – and pretty close to each other at that!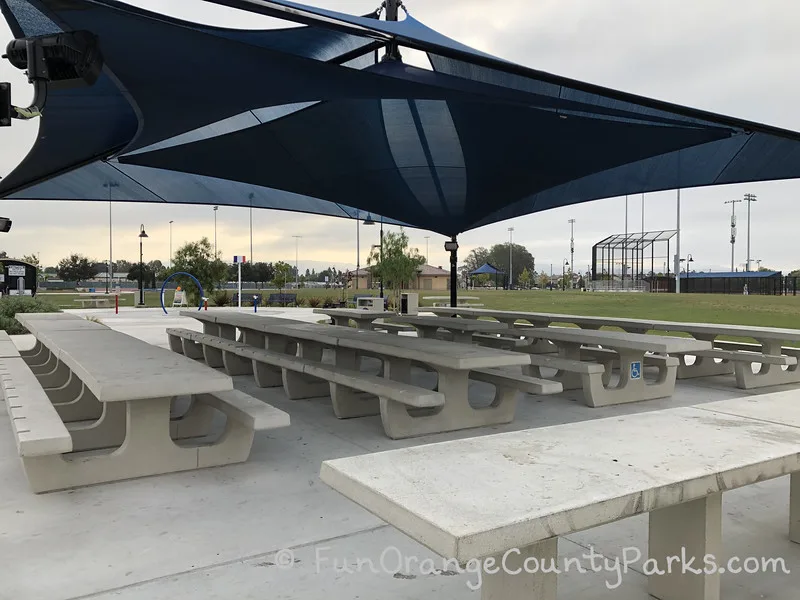 Checklist
If you want to make this a Play Trip, check out my post on Things to Do Near Mess Hall Market in Tustin
Recycled rubber play surface with concrete under the splash pad
Restrooms nearby playground
Drinking fountains on the playground
You may want to bring a ball or frisbee for playing on the lawn
Pickleball courts
Ball fields
Tennis courts
Basketball courts
Soccer fields
Huge shaded picnic area with concrete picnic tables
Skate park open and not fenced (signs encouraging respect and discouraging skating at the Veterans Memorial section — save it for the skate park)
Official City of Tustin information about Veterans Sports Park at Tustin Legacy including map, aerial views, and list of amenities. Also info about how to make reservations for parties or to play sports.