Spiderweb parks in Orange County! This is the master list you've always wanted! These rope or rubber-coated climbers are especially popular with older kids. Remember playing on those playground domes when we were kids? I think these provide our kids with a similar experience. In all my park visits, I've found all different shapes and sizes of spiderweb playground equipment in Orange County. Some are shaped like actual webs and oriented horizontal to the ground, some triangulate to a peak, and others defy reason with a ball of web inside a multi-sided dome.
Clipper Cove Park in Laguna Niguel (pictured above). This park got a spiderweb with a view of Santiago Peak – on a clear day. The whole park is ocean-themed with a pirate ship.
Ronald Reagan Park in Anaheim Hills
This is the newest of the spiderwebs that I've spotted around the county. Its spiderweb is similar to the one at Marina Park. A half circle spiderweb sunken into the playground.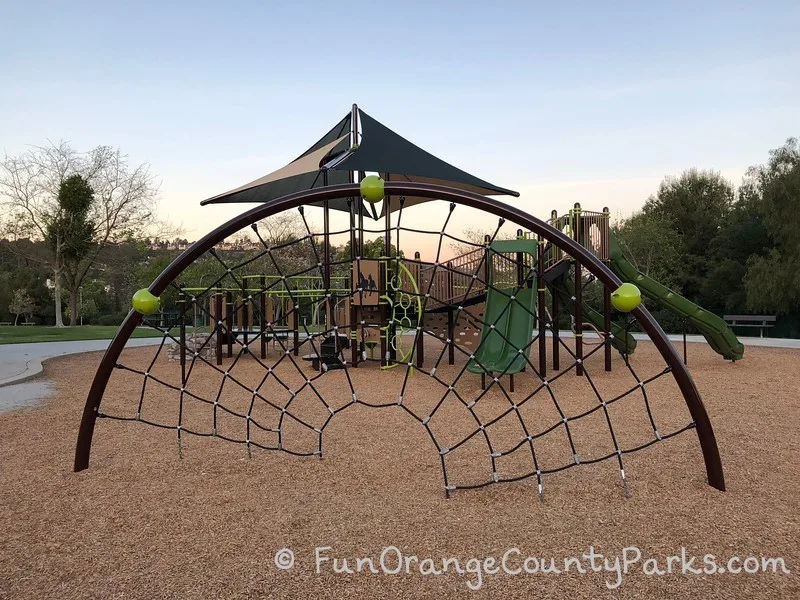 This spiderweb has a little seating area in the middle and I can imagine some Tie Fighter pilot training for pretend play inside this thing. One reader commented that this looks like a "death trap" — and that may be an age thing. This playground is posted as appropriate for 5-12 year olds.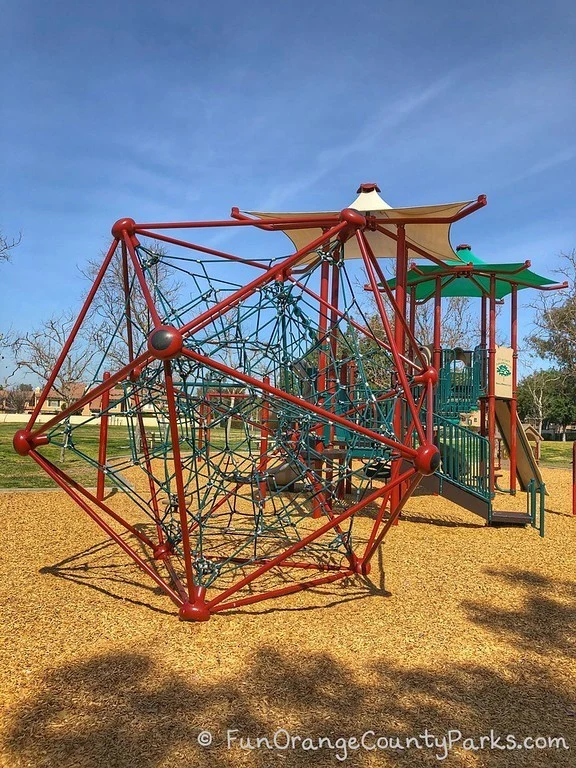 Eastside Park is already up in the hills with a good view of the surrounding area, but kids have an opportunity to get a better view from the playground. There's even a rock for climbing.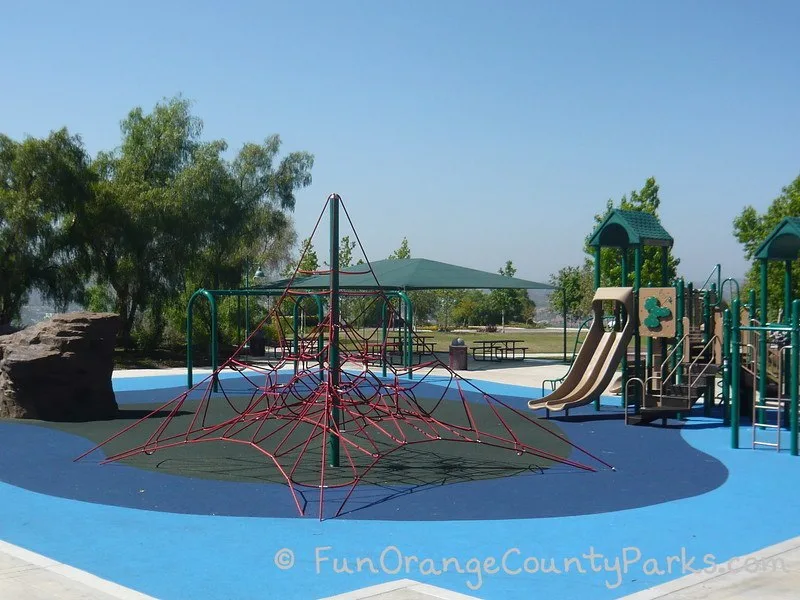 Springdale Park in Aliso Viejo
Families actually call this one "Spiderweb Park" — or I guess it's the kids that call it that. I like this one because the spiderweb is connected to the one next door so there is a chance for some lateral movement across the equipment.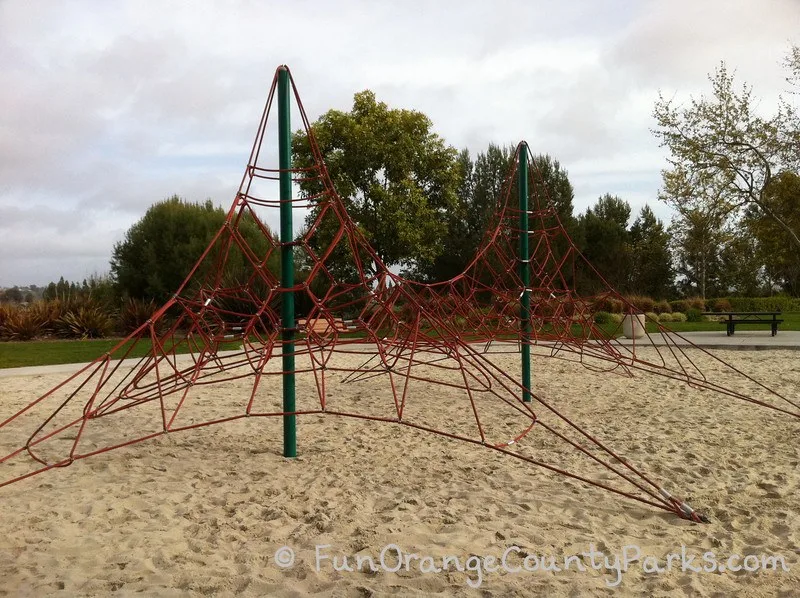 You'd think parks don't change much, but since 2008 when I started blogging – this park has certainly seen some changes. The concrete tunnel is no longer there and there are now concrete benches. A restroom building was added. And the play equipment changed from a wooden playground to this modern version.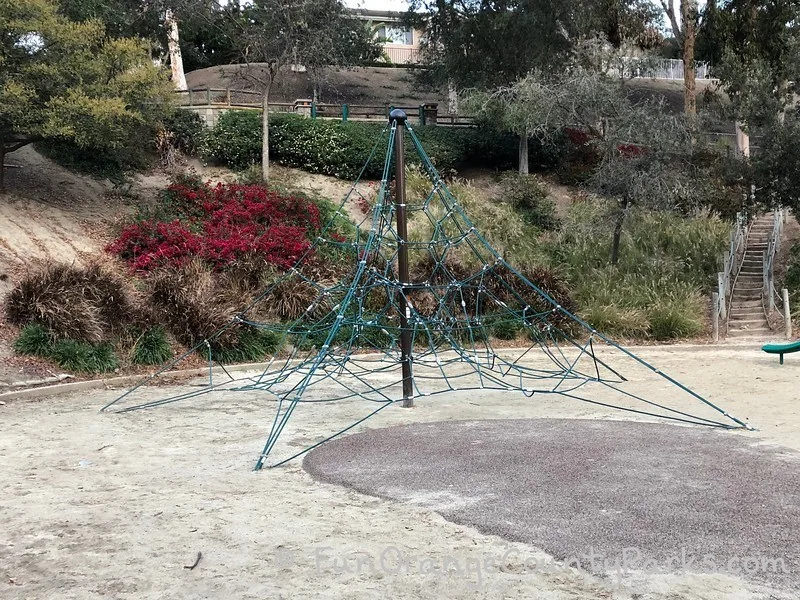 A new playground was installed in 2019 with dinosaur egg sculptures and a huge spiderweb orb similar to the one I first saw in Tustin at Laurel Glen Park.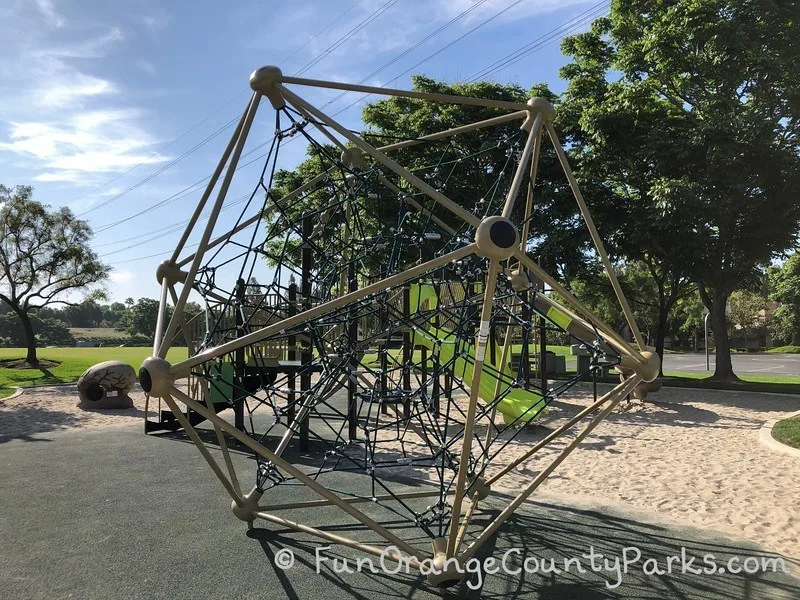 Coastal Peak Park in Newport Beach
This park has a nice big red spiderweb as a centerpiece of the playground with an easy view from the nearby covered picnic area.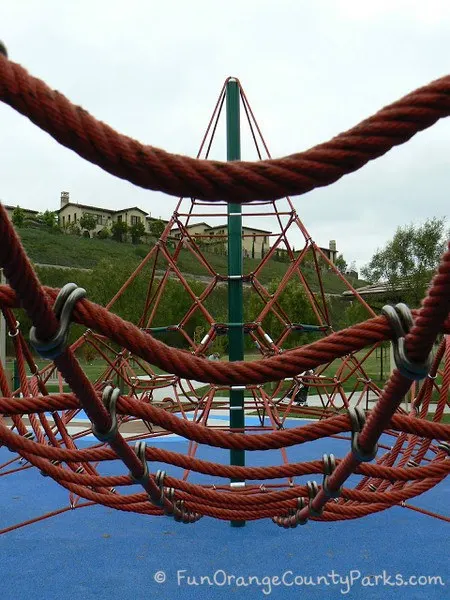 This whole park has a theme related to the nearby hangars from the old Marine Corps Air Station that was located here. I think this spiderweb park wins the bonus prize for MOST other climbing apparatus. There are more climbers in all shapes and sizes here.
Serrano Creek Park in Lake Forest
This particular climber was a big challenge for my little girl when she first attempted getting to the top. It's skinnier than most with separation zones between the 3 sides with nets. But sometimes a little more challenge is good!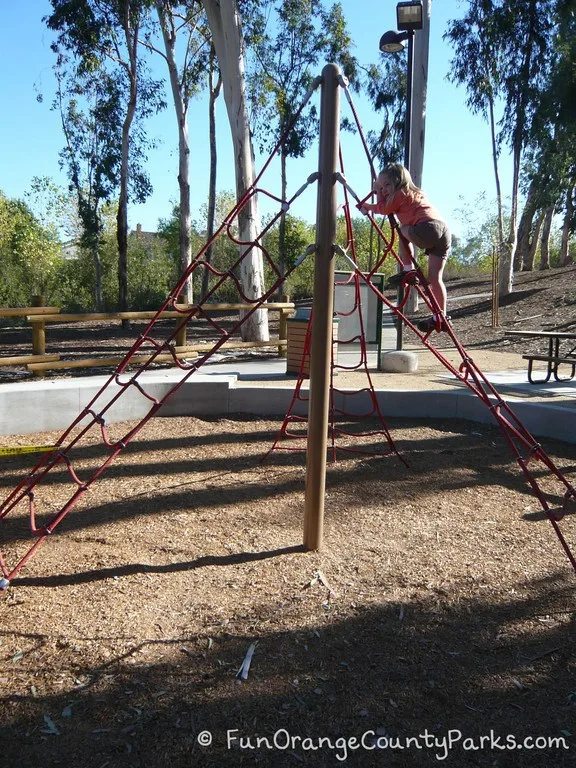 Marblehead Park in San Clemente
Marblehead has an unusual and new kind of spiderweb that seems to be in a bit of star shape attached under arches.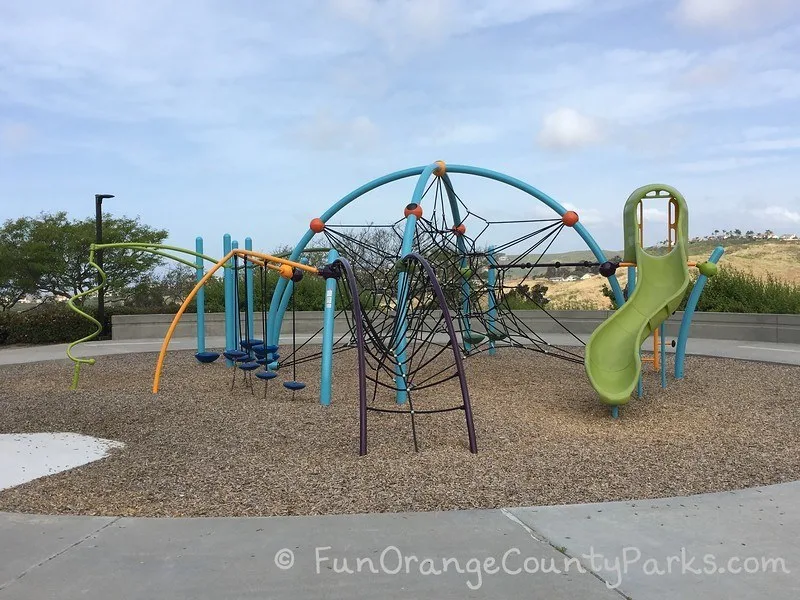 Central Park in Rancho Santa Margarita
This spiderweb park is always crawling with children at play. So it's extremely difficult to get a photo of this climber. This climber used to be on sand, but now it's on a recycled rubber play surface.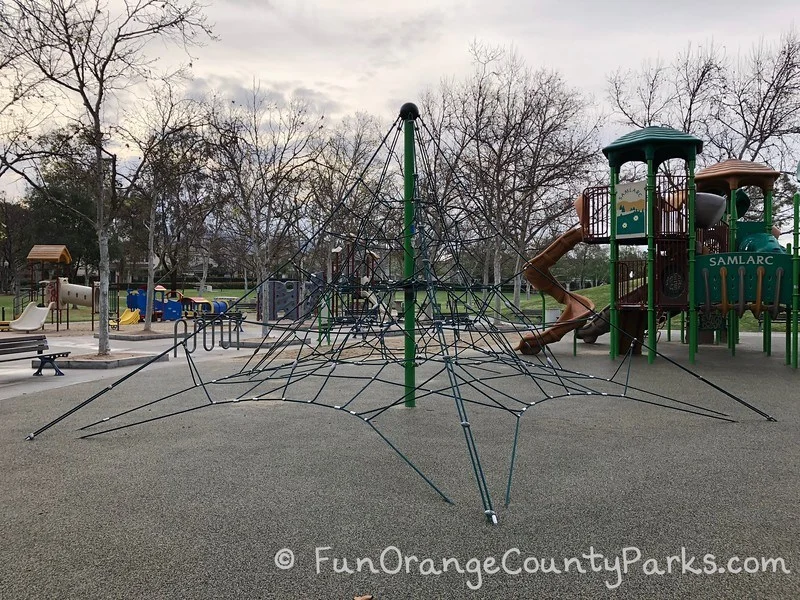 Marina Park is a super popular park on the Balboa Peninsula. You can see why this spiderweb close to the sand is popular!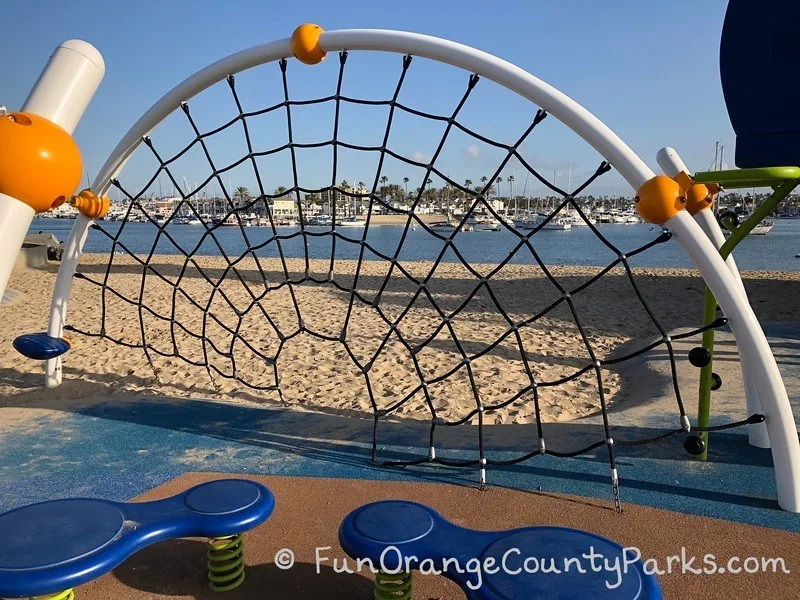 Balboa Pier playground used to have an awesome climber that would offer a view of the ocean if you get high enough. Now the climber is "newer, smaller, with much less web" — as one reader told me. It's also set back closer to the playground which makes ocean views a little harder.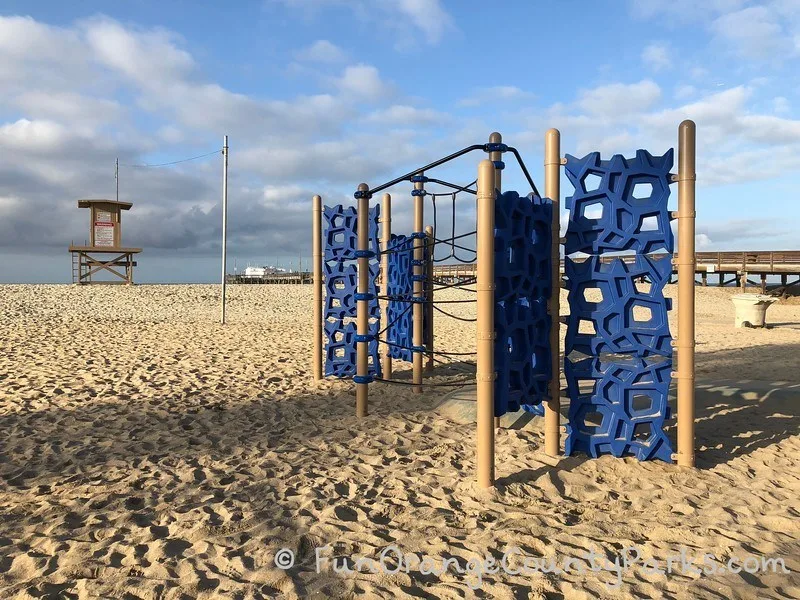 Bauer Park in Huntington Beach
Bauer Park in Huntington Beach has one of those big impressive spiderweb orbs.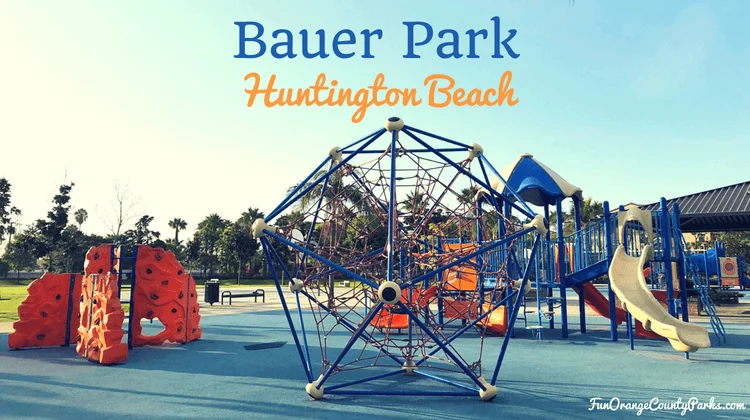 More spiderweb park suggestions from my awesome Facebook readers:
Colony Park in Fountain Valley (off Ward and Brookhurst)
Newland Park in Huntington Beach
Oak Knoll Park in Cypress
At Renaissance Faire – near Santa Fe Recreational Dam (cool web park, playground, and workout area)
Honorable Mentions
Hummingbird Park in Aliso Viejo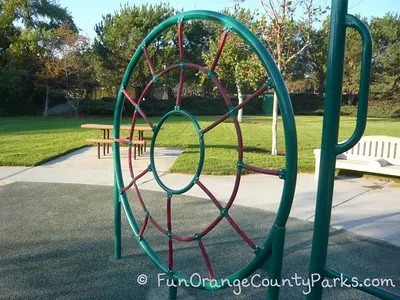 Little Cottonwood Park in Los Alamitos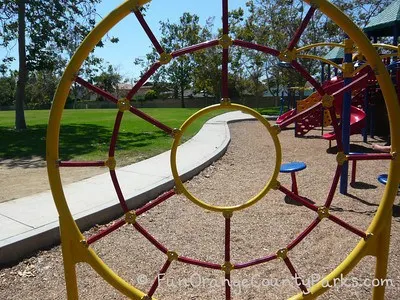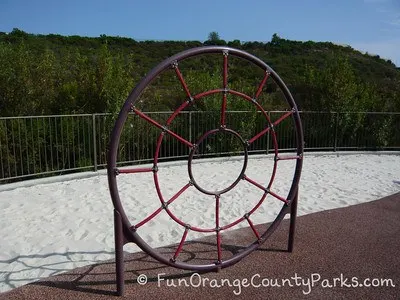 Lower Peters Canyon in Irvine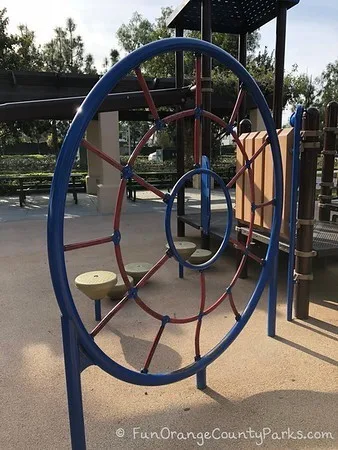 Bryant Ranch Park in Yorba Linda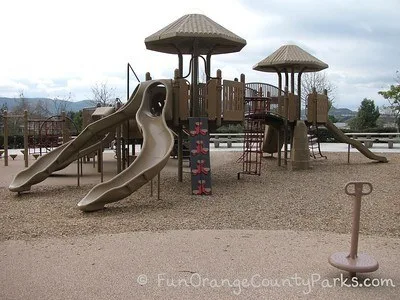 ***I also hear that parks in Ladera Ranch have these "honorable mention" type spiderwebs***
Please let me know in a comment if I missed one (or two)! Seems like there should be more . . .
Originally posted in November 2011.