Rancho Santa Margarita Central Park & Splash Pad just became a more summer-friendly location because of the splash pad. However, if you are just going to the park it can get rather hot.
I speak from experience – I think it was 95 degrees on the day I took photos and met my blogging friend, Kara-Noel.
I always get turned around when I head to Rancho Santa Margarita, but I'm starting to learn my way to the town's center.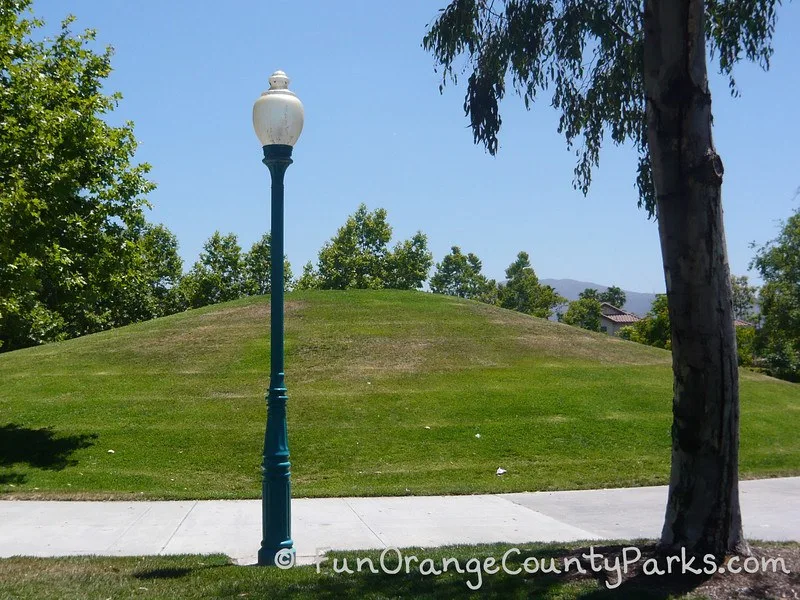 Directions to Central Park in Rancho Santa Margarita: I usually take Alicia to Santa Margarita Parkway. You will turn right onto El Paseo. You can either park in the shopping area between Kohl's and the library. Or you can turn left on La Miranda and pull into the Bell Tower parking lot. I parked on the street closer to the playground. (Address: 30842 La Miranda, Rancho Santa Margarita) MAP TO RANCHO SANTA MARGARITA CENTRAL PARK
Recommended by: #1 Robin and #2 Jenny: The first mom to recommend this park to me had a PLAN.
Robin told me to go to the park early, before it gets hot. When the kids are good and worn out you can check out books across the street at the Rancho Santa Margarita Library and head to a nearby restaurant for a treat.
Jenny pointed me in this direction so I could add it to my list of train parks. Thanks for the great tips!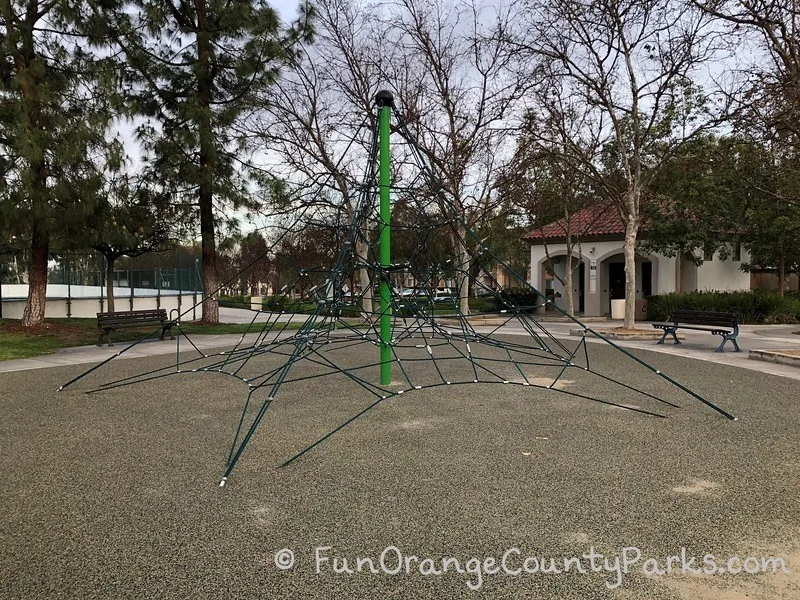 Highlights:
Big kid structure looks like it has lily pads growing above it. Lends itself to "bug" play. There is a cool crawling tunnel and a variety of slides.
The huge bank of swings (4 bench and 2 baby) sits near the big kid structure.
Train is a definite highlight with multiple boxcars.
Lots of options for younger kids with the train and structure for 2 -5 year olds.
Fun blue-netted spider web climber! I even like climbing these.
As always, my kids liked to play OFF the playground the best. There's a great hill for "adventuring" and the amphitheater is perfect for impromptu shows.
Nice shade from tall sycamore trees – unfortunately it's off the playground.
Picnic tables are mostly shaded. Lots of benches surrounding the park.
Visit the library (part of OCPL system) and even the Friends of the Library bookstore — just across the street.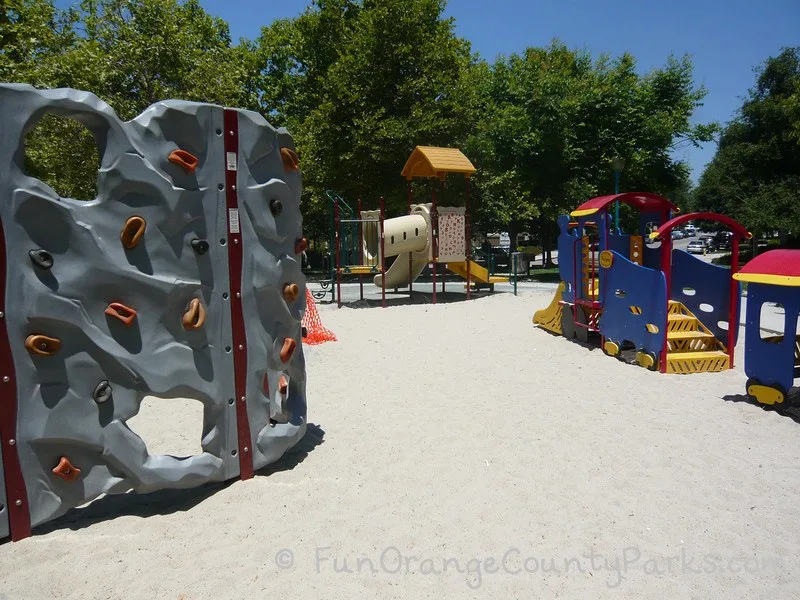 Rancho Santa Margarita Central Park Splash Pad – New as of April 2022
Rancho Santa Margarita Central Park is the latest park to get a splash pad which is open from 10am to 6pm daily. They started with a reservation system, but it is paused for now.
Check the Official Rancho Santa Margarita splash pad web page for up-to-date information. I don't know if this is true for RSM, but I can tell you that splash pads are not reliably ON during posted hours. They are sometimes closed for maintenance or other reasons.
This splash pad is described by the city as a:
"Zero-depth water park features custom sprayers, bubblers, dumping buckets, and misters. In addition to ample seating and shade canopies, amenities include a tempered shower and onsite restrooms.
A custom mountain facade screens the building and provides aesthetic continuity while reflecting the beauty of Saddleback mountain, the majestic backdrop of our beautiful City."
Be Aware:
All Rancho Santa Margarita parks are run by SAMLARC which, according to the city website, means: "While most of the parks are open to the general public, SAMLARC and the other HOAs (where applicable) may have specific restrictions on use or require keyed access of some amenities."
Slides and sand are HOT on hot days.
Lots of play choices, but I know if my kids were toddlers they'd be drawn to the tallest points with the steepest drops.
I call this a "run around" park. There's central seating area where you could probably see the kids everywhere – but it was full and I wanted to stick to the shade. If you like to have visual contact with your kids then it'd be a little tough here.
This park is a central community park and there are often scheduled community events here (concerts, festivals, etc.) – so just be aware there might be crowds when you are not expecting them.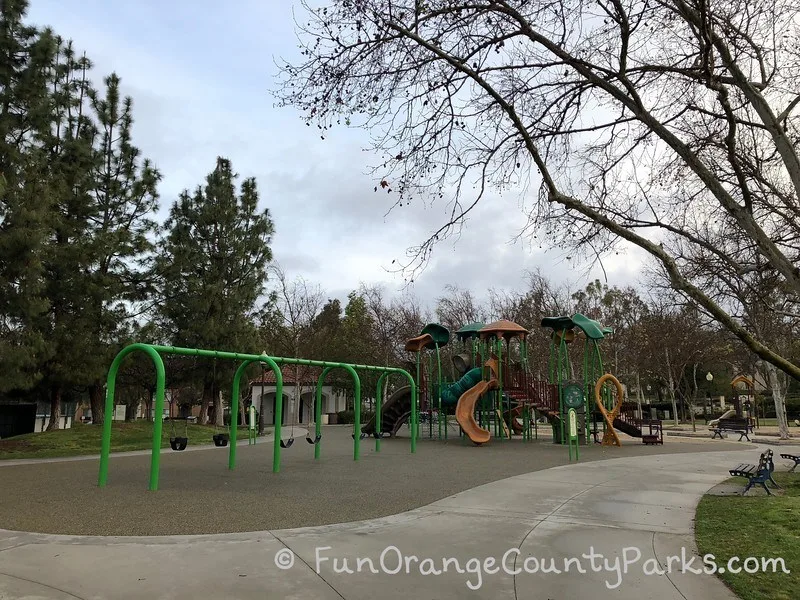 Checklist: