You'd miss Argonaut Park in Aliso Viejo if you were driving by on Cedarbrook. It's set very far back from the road which makes for an unusual set up and a secluded feeling.
I think this is a great picnic park and a nice spot to bring a basketball and shoot some hoops.
How to Get to Argonaut Park in Aliso Viejo: Aliso Viejo is a bit of a "Bermuda Triangle" for those not familiar. The easiest way to reach this park is to exit I-5 at El Toro Road and get to Paseo De Valencia (if you are coming from the north, El Toro turns into Paseo de Valencia / if you are coming from the south you'll have to turn towards the mall). Then head past the mall towards Laguna Hills High School. Turn right onto Laguna Hills Drive and then right onto Cedarbrook (past Moulton). The park is about a block in on your left. The park is not on Google Maps, so pay attention to where I placed the marker on my map. MAP TO ARGONAUT PARK IN ALISO VIEJO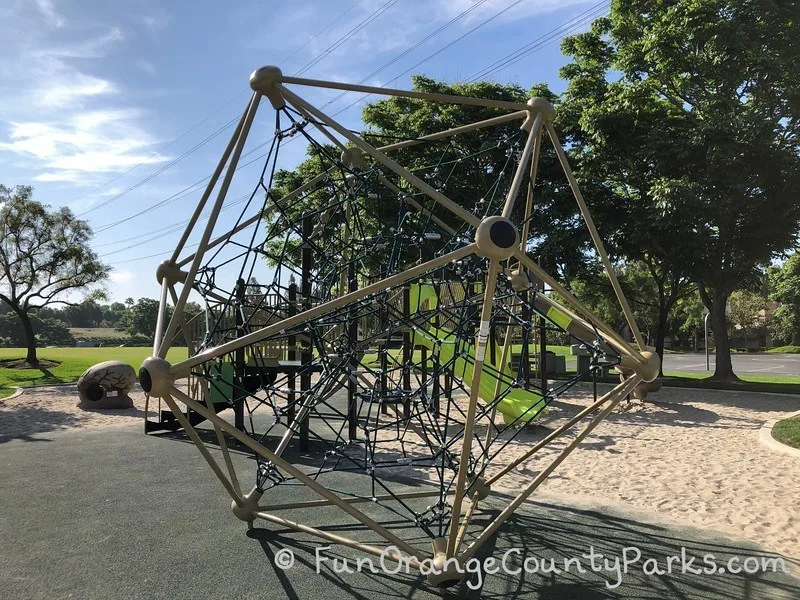 Highlights:
It's far off the street and away from traffic. I picture myself singing "The Hills Are Alive . . ." and spinning on the wide green lawn to reach the playground.
We walked across the lawn to get to the playground, but there is a sidewalk/path where you can bring your stroller to the playground.
1 baby swing, 2 bench swings right near the playground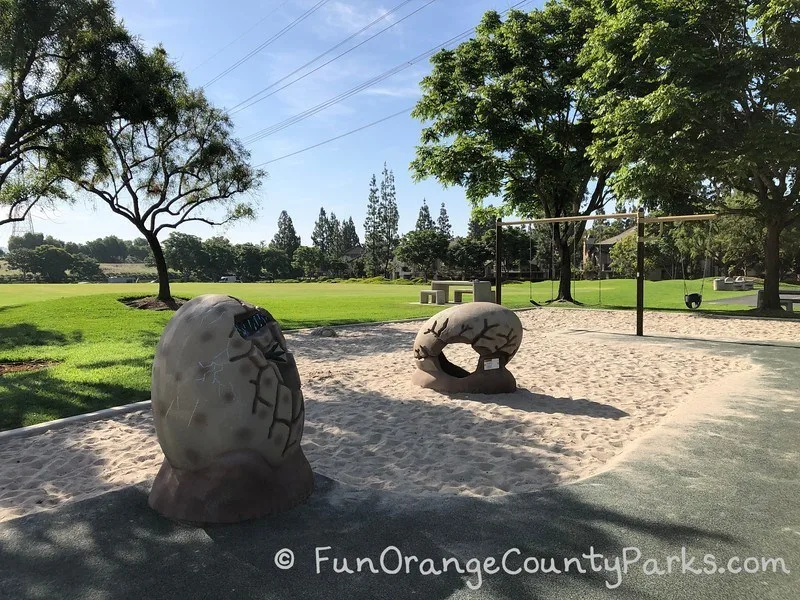 New play equipment has come challenging climbing elements for 5-12 year olds, including a BIG spiderweb
There's also a small scavenger hunt element for younger 2-5 year olds
Fossils to dig in the sand, as well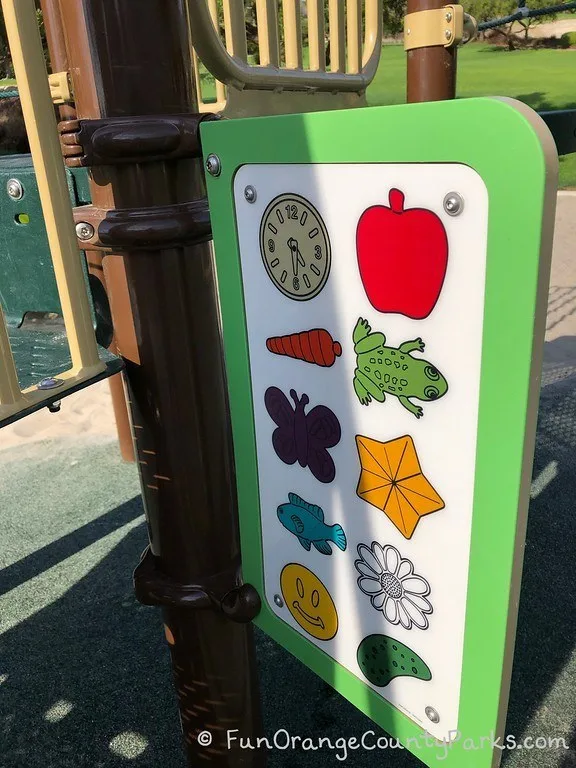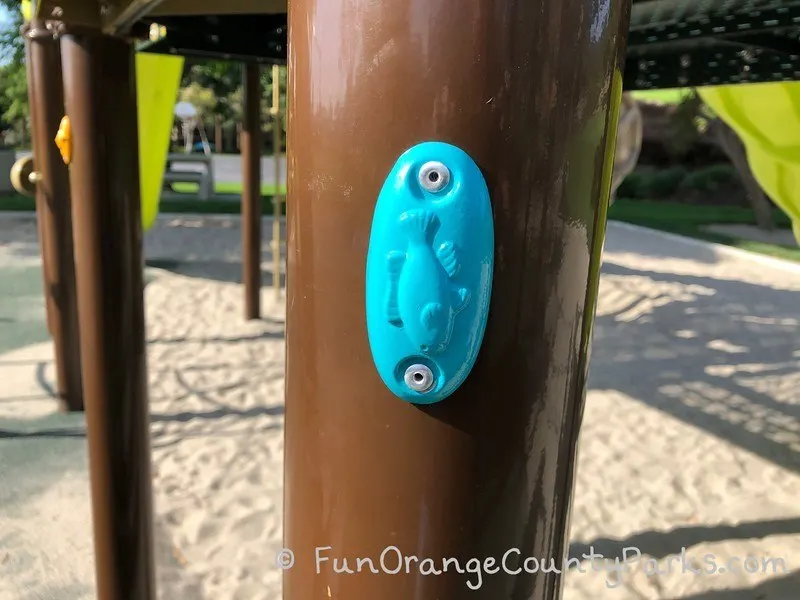 Picnic tables in the shade near the playground and basketball court.
It's a nice basketball court, but no shade.
Great hills for rolling down
Nature Connection:
We saw lots of little birds – sparrows and black phoebes – flitting around the grass and feeding.
This would be a great spot for a nature scavenger hunt since there are lots of edges and hillsides to explore.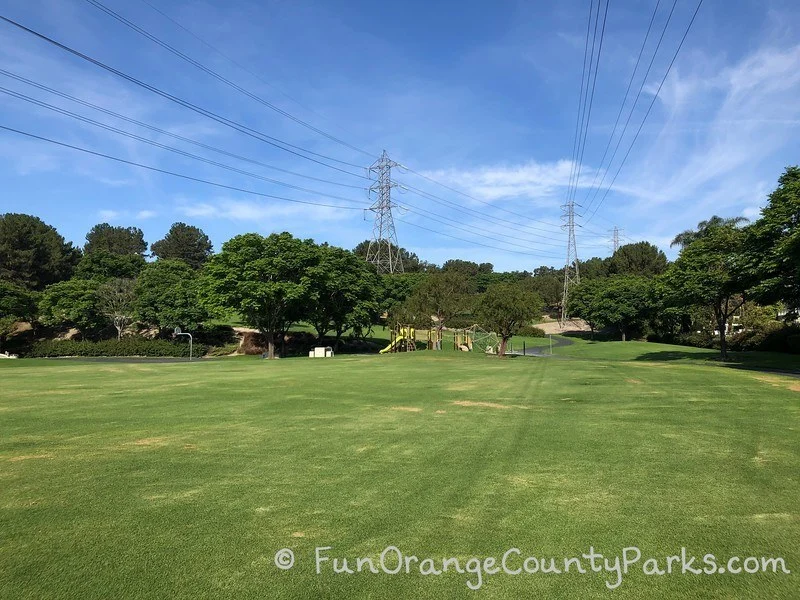 Be Aware:
NO restrooms, but there's a portable toilet by the top parking lot
Located far away from the car if you need to run back for snacks or diapers
Could feel isolated if you are here alone
No shade on the playground
Towers and electric lines overhead (didn't bother me, but some people get freaky about it)
Some of the rope bridges between equipment might be hard for toddlers to navigate on the big kid equipment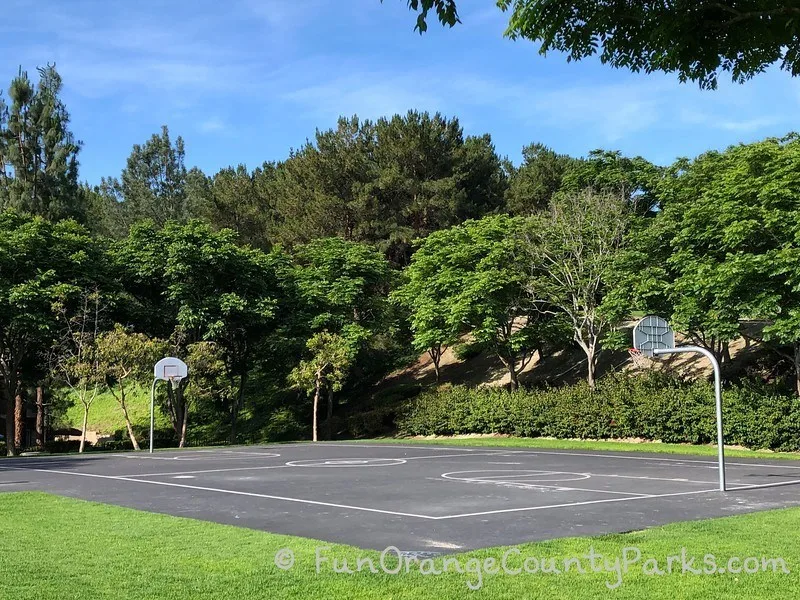 Checklist:
Parking on the street at Cedarbrook or . . .
Looks like you can also park off Aliso Creek Road in a dedicated lot and walk down a hill into the playground, but then you have to walk UP on the way out. However, one of my readers prefers parking up there because it's right off Aliso Creek! She says: The parking lot is small, but almost always empty so it's easy to find parking. It's right off of Aliso Creek Rd between Argonaut and Aliso Viejo Pkwy, but since the park is down the hill, it can be easy to miss.
There is a portable toilet located in that parking lot above the playground.
Sand and recycled rubber play surface
Drinking fountain
Basketball court
Aliso Viejo Community Association (AVCA) owns the parks and takes reservations for AVCA members on their park reservation form
Nearby public library: Aliso Viejo Public Library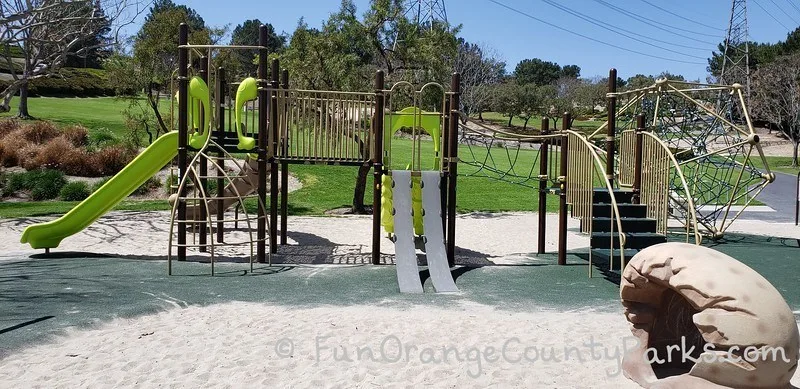 Looking for Parks Nearby Argonaut Park in Aliso Viejo?
Originally posted in July 2011.