Ronald Reagan Park in Anaheim Hills has a sports park feel to it and includes baseball diamonds, soccer fields, sand volleyball and basketball courts.
The park is officially in Anaheim, but it's across the 91 Freeway from Yorba Linda.
It was formerly called Toyon Park, but in 2011 the name was changed.
The play structures are much newer and there's lots of fun to be had on spinners, swings, and especially the zip track.
It's also the perfect picnic park with two covered gazebos and lots of picnic tables scattered throughout the park.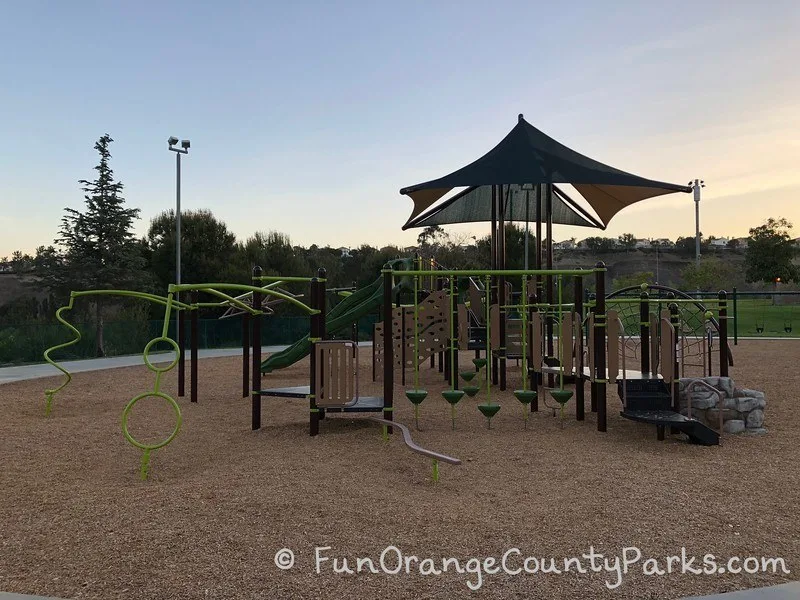 How to Get to Ronald Reagan Park in Anaheim Hills: Exit the 91 Freeway at Weir Canyon Road and follow it in the direction of the 241 Tollroad. The park is ahead on your right. (Address: 945 S. Weir Canyon Road). MAP TO RONALD REAGAN PARK IN ANAHEIM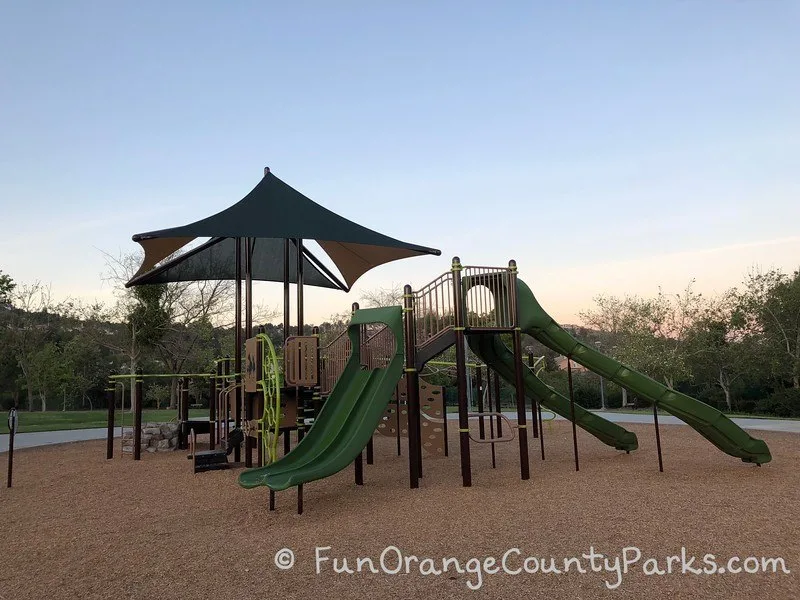 Highlights:
We visited the park just at sunrise and it was a beautiful place to be – sunken down in a small canyon while the hills around us lit up with golden sunlight.
The BEST zip track around! It's almost shaped in a shallow U – so that you start high, dip down, then it slows you down at the end. It has a small disk for sitting on it while you ride. Super fun!
Lots of climbing opportunities with climbing panels and ladders. There's even a small rock ledge with hidden fossils.
Huge open grassy area that's perfect for flying kites, picnicking or just plain running around.
Two baby swings, two bench swings AND two accessible swings!
Spinners galore! The shower-shaped monkey bars spin and there's lots of other pieces of equipment that spin.
Some tall slides with low sides and double slides on both the 2-5 year old structure and the 5-12 year old structure.
Ride-on spring horses for pretend play.
There's a fairly long path that goes around the entirety of the play structure and grassy area that's perfect for bikes and trikes.
Accessible via horse trail.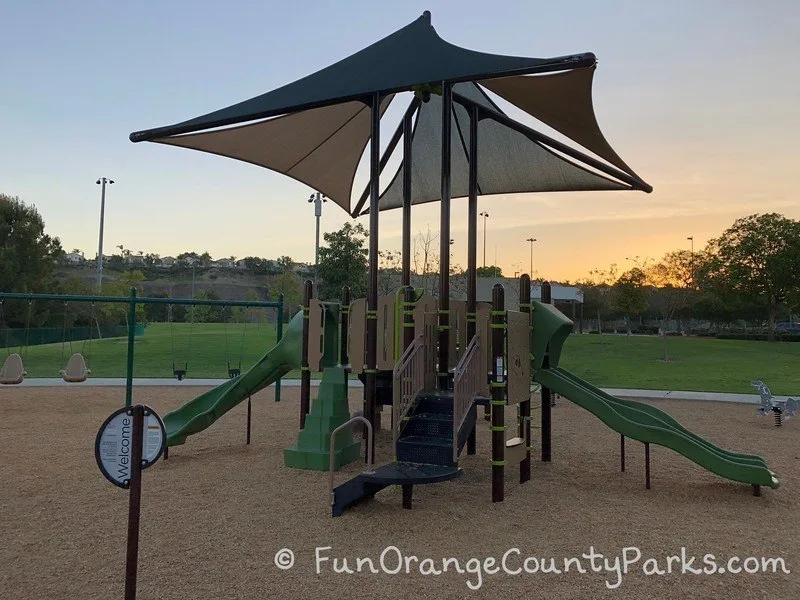 Be Aware:
Because of all the sports fields and courts it may get busy at times.
The slides on the bigger play structure leave you a bit high off the ground, so you may not want to send a little one down them without someone spotting at the bottom.
Up in the hills of Anaheim with limited shade on the play structures – definitely a sunscreen and hat park in the warmer months.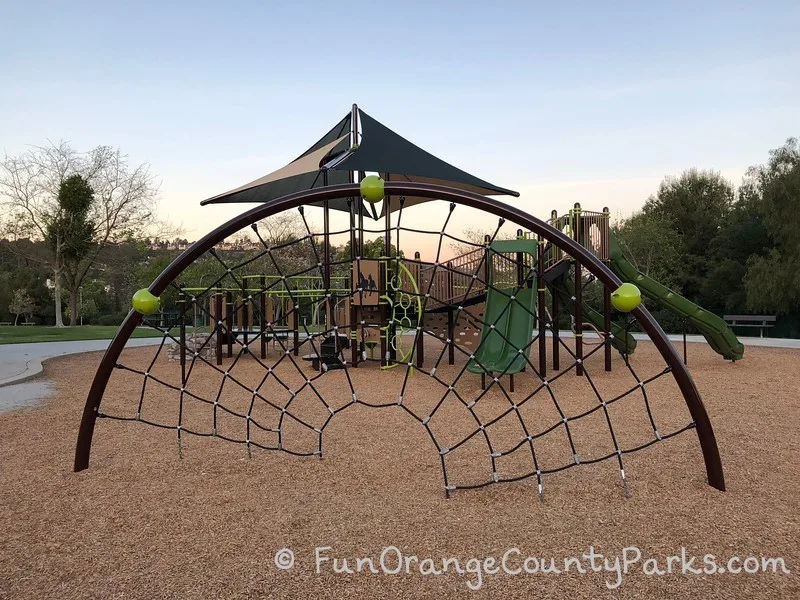 Checklist:
Dedicated parking lot
Bark play surface
Restrooms
One shaded picnic shelter near the playground and another across the lawn area.
More picnic tables with grills scattered around, but only trees for shade.
Lighted basketball court
Sand volleyball
Soccer fields
Baseball diamonds
This is on my Orange County Best Playground post for its zipline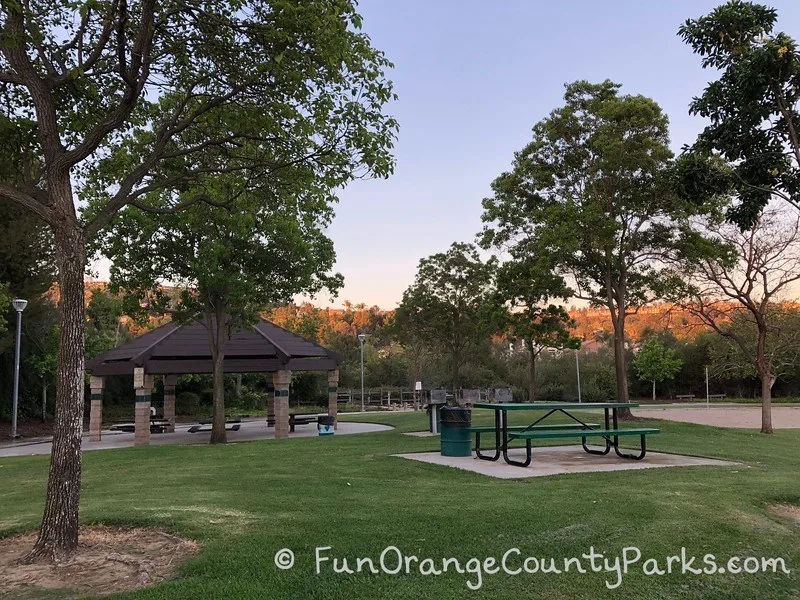 Parks Nearby Ronald Reagan Park in Anaheim Hills: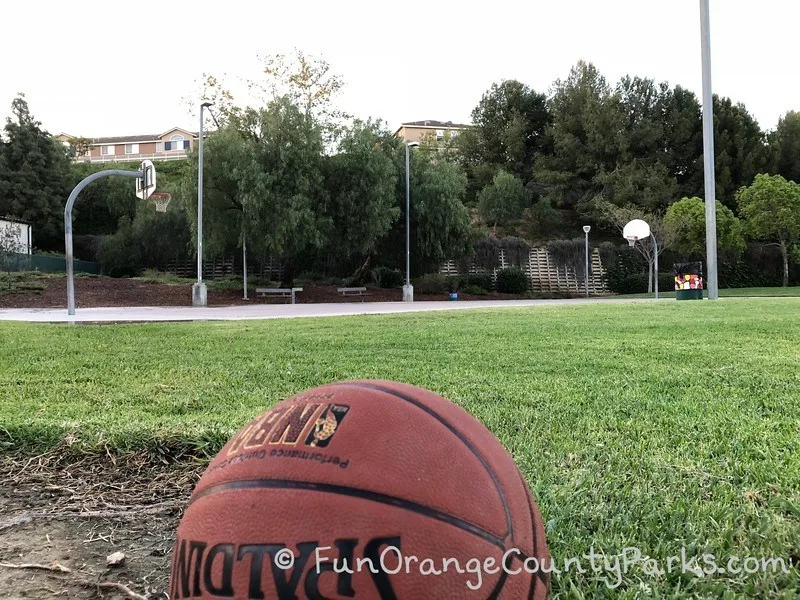 Thanks to volunteer, Lisa, for originally covering Toyon Park for us back in May 2011.