Eastside Park in Yorba Linda sits atop a hill with an amazing view of the valley below. It has super fun play structures with plenty of slides and fun play panels galore!
Directions to Eastside Park in Yorba Linda: Exit the 91 at Yorba Linda Blvd/S. Weir Canyon and drive toward Yorba Linda Blvd. Make a right on New River Road. The train tracks will be in front of you at the stop sign. Turn left onto Esperanza Road and make your first left onto Eastside Circle. Drive up the hill past the Catholic school and you will reach the parking lot for Eastside Park. (It shows up on some maps as "Jean Woodward Park," but the signs at the entrance and signs on the playground equipment say "Eastside Park." (The address of the Catholic school just down the hill from the park is 5330 Eastside Circle, Yorba Linda). MAP TO EASTSIDE PARK IN YORBA LINDA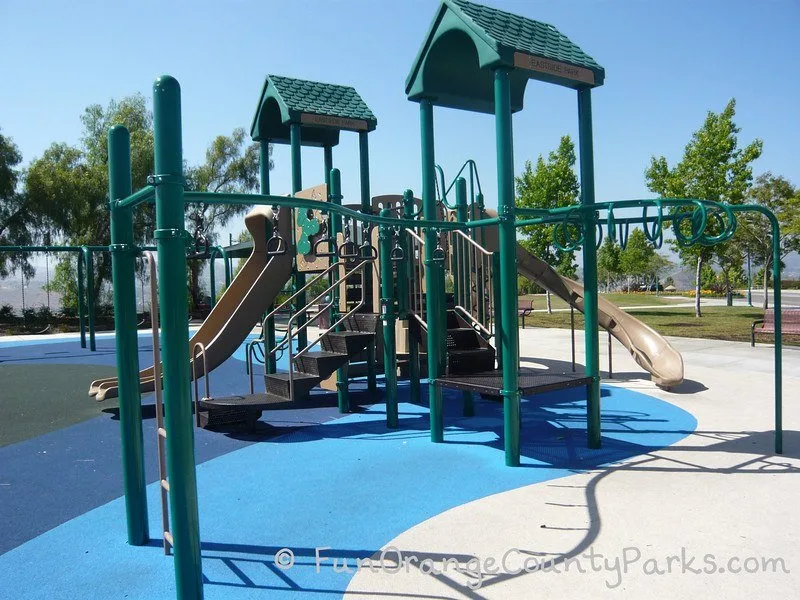 Highlights:
The larger structure has dueling slides that curve out and away from each other, and I had a blast racing my toddler down them.
The smaller toddler structure is just perfect – not very high off the ground but still plenty of fun. I didn't feel like I needed to be "right there" the whole time to make sure my son was okay.
Fun little play house with a table and benches. My son spent some time in there while enjoying a snack, and he loved it.
Silly little seats that appear to just exist to sit on and spin in a circle. We had a lot of fun with these.
Grassy areas on either side of the playground area for free play.
The recycled rubber play surface (a.k.a., squishy ground area) is very large. There were kids taking advantage of this and riding their bikes and trikes all around.
There is a concrete path that goes off around a large grassy area and some baseball diamonds that looked great for bikes and trikes as well.
Fun looking spider web type climbing structure, as well as, a rock structure for climbing.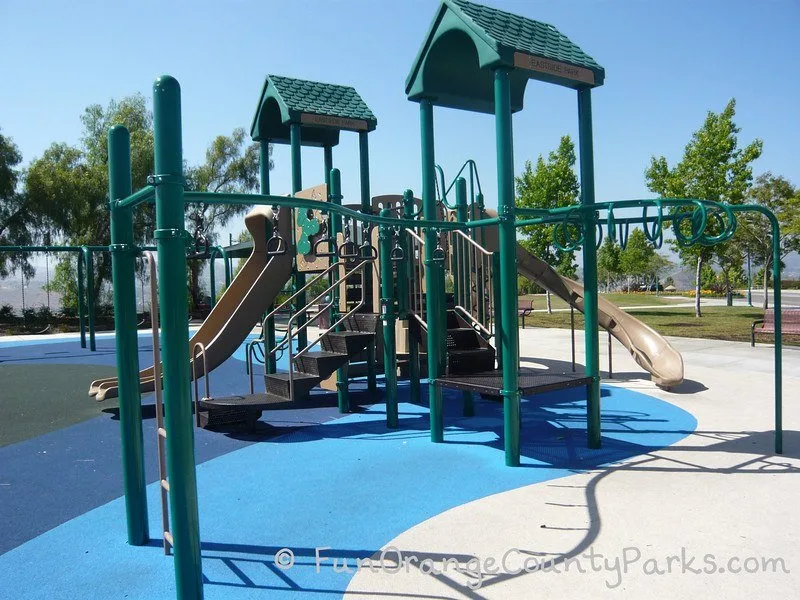 Be Aware:
Another Yorba Linda park where you're up high on a hill completely exposed to the sun. Not the place to be on a hot day. No shade over the play structures, but there is a shaded picnic area for some relief from the sun.
There are baseball diamonds and a snack stand which makes me think this could be a very, very busy place to be on youth sport days.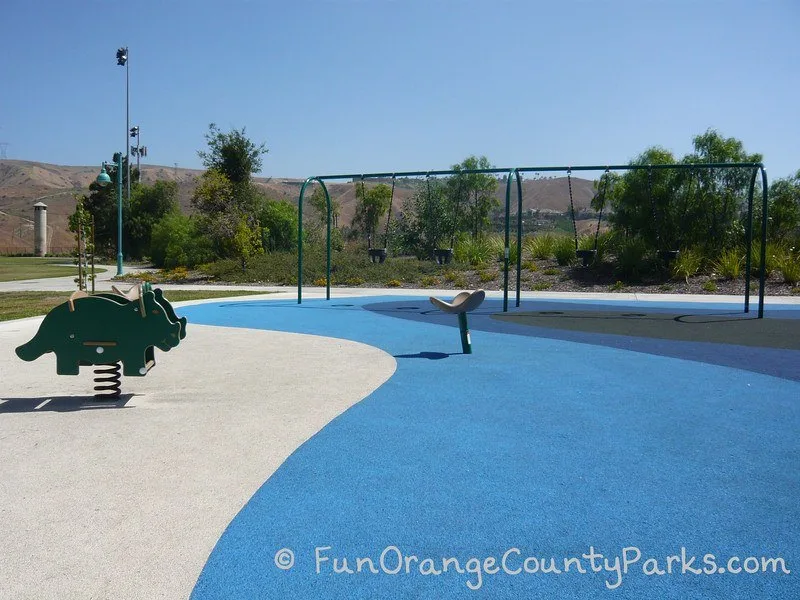 Checklist:
Ample parking in dedicated lot.
Play surface is completely recycled rubber – no sand or bark.
Baseball diamonds abound.
Picnic tables and grills right near the playground
Restrooms in the white building with green/blue doors.
Drinking fountain near the playground.
Big shaded picnic shelter for larger groups.
Nearby public library branch: Yorba Linda Public Library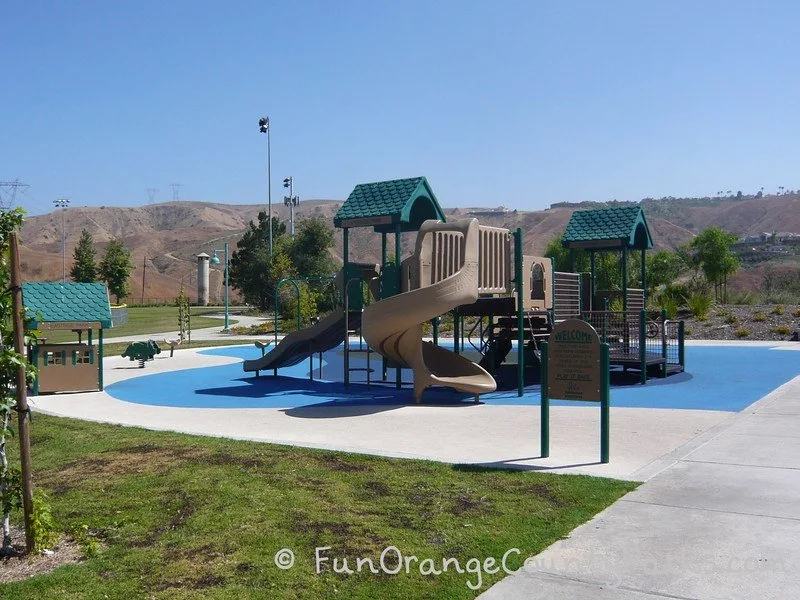 Nearby parks:
Originally posted in July 2010.