Box Canyon Park in Yorba Linda was destroyed in the fires of 2008. It wowed me from the first time I drove by to check out the new construction. They definitely went above and beyond with the new play structures and surrounding area.
It has stood the test of time!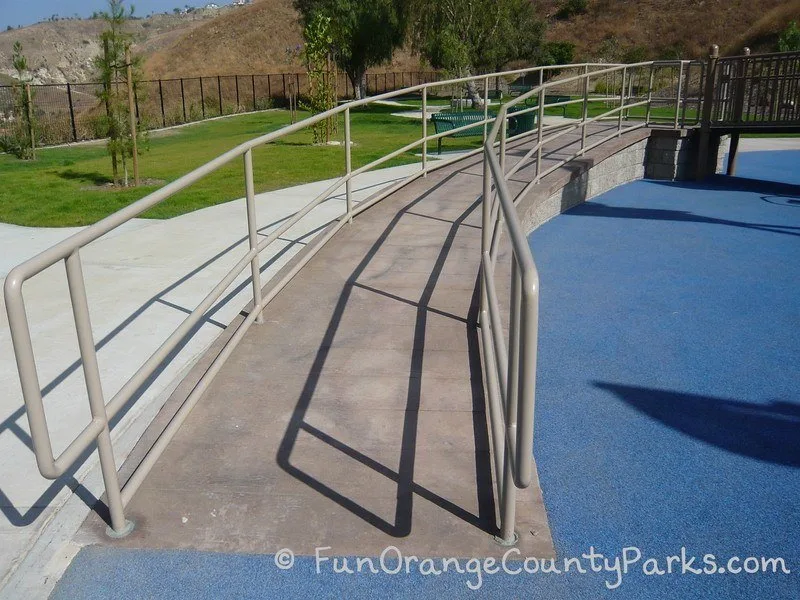 I could see the ship's mast in the distance, and the flags on top of the castle towers. I couldn't wait for it to open. It's Pirate Ship vs. Castle!! Prepare for a mighty battle!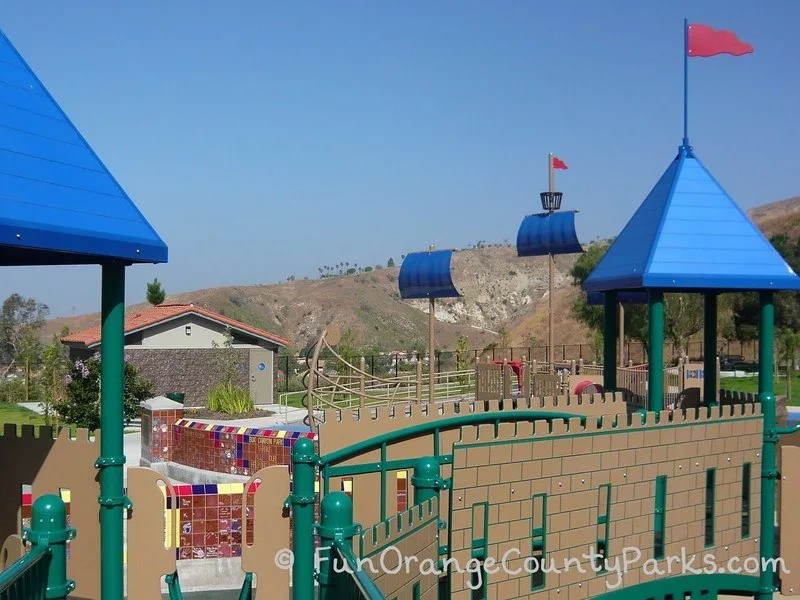 Directions to Box Canyon Park in Yorba Linda: Off the 91 Freeway in Yorba Linda. Exit at Weir Canyon Road/Yorba Linda Blvd where you see the SAVI Ranch shopping area. You'll turn right onto La Palma from the freeway. You'll turn left onto Via Lomas de Yorba W (it turns into Via Lomas de Yorba E). The park is on your left when you cross Foxtail Drive. I turned left onto Foxtail and parked on the hill. (Address: 23400 Foxtail Drive, Yorba Linda) MAP TO BOX CANYON PARK IN YORBA LINDA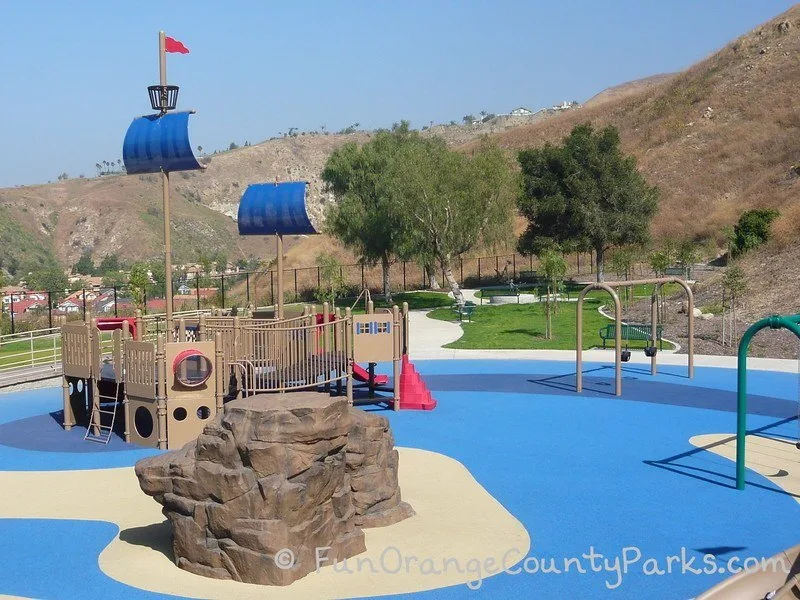 Highlights:
This has to be one of the most exciting playgrounds I've seen. My imagination was sparked by all the play possibilities here. My toddler thought it was amazing too, and was squealing and giggling and full of glee as he ran all around for an hour trying to experience everything. He was asking to go back after he woke up from his nap today, and I can tell it made a huge impression.
The ship is meant for 2-5 year olds, and the castle is meant for 6-12 year olds – but there are ramps on both that make it easily accessible for everyone. There were many younger kids that were just getting the hang of walking enjoying the larger castle structure with help from their moms.
Many interactive panels are built into the play structures, including music chimes (one of my personal favorites), drums, and gears to spin.
Plenty of wildlife! We saw numerous bunnies and lizards, and hawks were soaring high above us.
4 bench swings and 2 baby swings.
This is THE most accessible playground I've visited. Not only are there ramps up to the play structures, a kid-sized wheelchair can actually navigate around the structures with big loops to make around the walkways (no backing up). There are even bridges to cross!*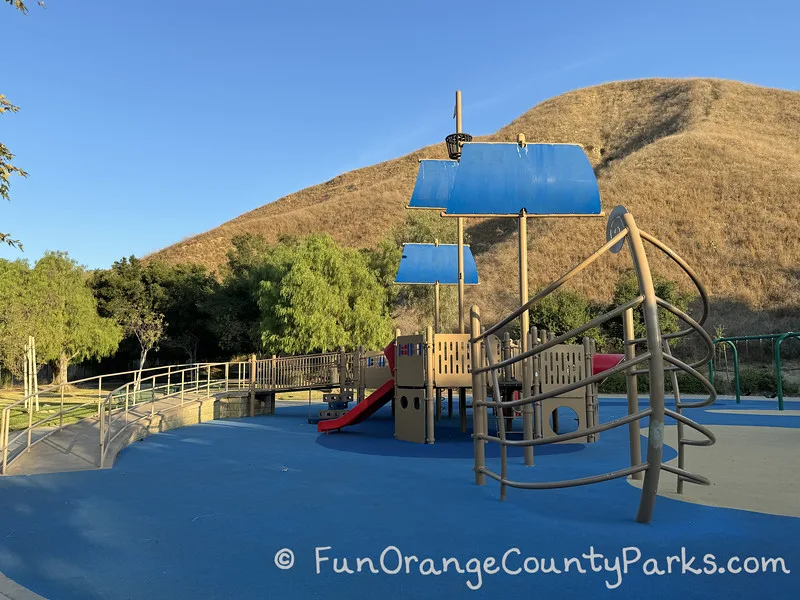 Be Aware:
NO SHADE over the play structures. The playground is up high on the side of a hill in Yorba Linda, and is not somewhere I'd want to be in the afternoon on a hot summer day. We were there in the mid-morning, and the temperature wasn't too high yet – but I still felt like we were being baked by the sun. There is a shaded picnic structure, and a couple of the benches around the playground have some shade provided by young trees.
No parking lot. The only available parking is on the street, so use your parallel parking zen. If there are a lot of visitors at the park when you go, you may end up parking near the bottom of a fairly steep street, in which case you'll be in for a bit of an uphill hike (which is not ideal if you are pushing a wheelchair).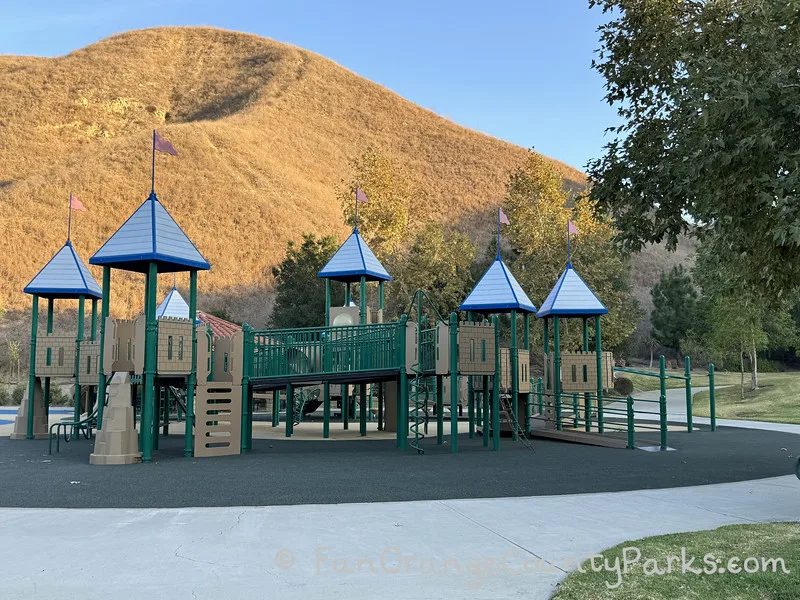 All of the awesome ramps and bridges are great for toddlers to run all over, but can be hard to navigate from the ground if you're trying to keep your eyes on your kid and make sure they don't get too close to any gaps. There were numerous times when my son was having a blast and running at full speed, and I was ducking under bridges and going around obstacles to try and stay near him. It was easier much of the time to just be up on the equipment with him, chasing him down the slides and everything. I ended up getting a great workout though!
Wildlife warning: They've posted about rattlesnakes and all sorts of other critters. Just be aware and still have fun.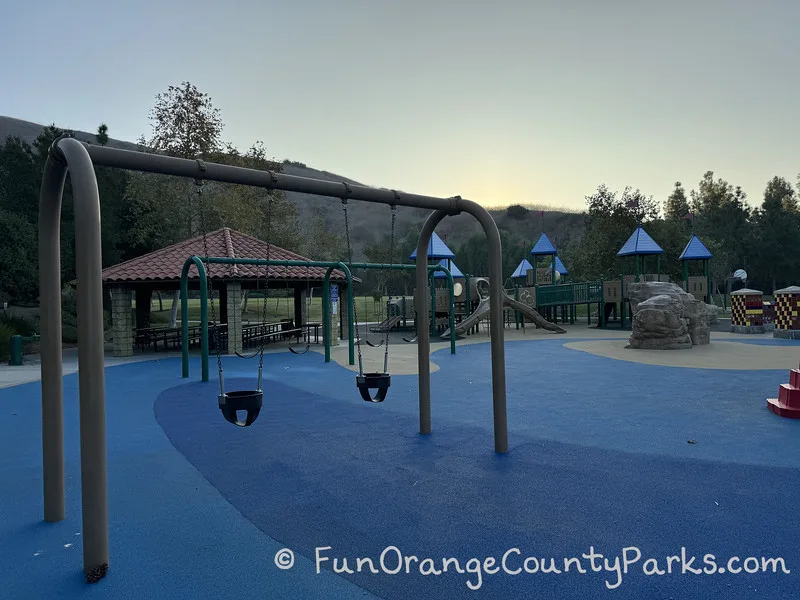 Checklist:
Parking on the street
Entirely recycled rubber play surface
Nice restroom with fancy hand dryers
Full basketball court (no lighting)
Pickleball nets to transform the basketball court into a pickleball court
Sidewalk loop for a stroll or exercise around the grassy area of the park
Picnic tables scattered throughout – one main covered picnic shelter
Drinking fountain by the picnic shelter
Nice views on clear days
Visit my list of 15 Pirate Parks in Orange County for more pretend play opportunities!
Find more Accessible Playgrounds in Orange County on my list
*Michele added the parts with italics and asterisks.
Nearby Parks:
Originally published in June 2010.