I found Brush Canyon Park in Yorba Linda one day by looking at Google maps and seeing just how darn close it is to the BNSF train tracks.
I knew it was worth a visit just to see how close it really was. The train tracks are RIGHT THERE – just on the other side of a fence that you can see right through (see the BNSF below?).
A dream playground for any train loving kiddo!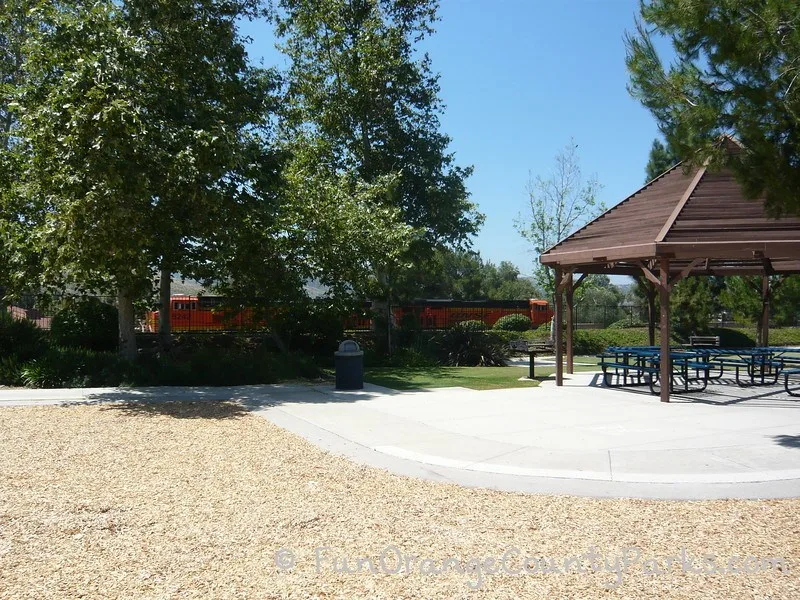 Directions to Brush Canyon Park in Yorba Linda: The 241 Tollroad dumps out right near Gypsum Canyon Road. Or if you are on the 91 Freeway, exit at Gypsum Canyon Road. Drive across the bridge and turn right on La Palma Avenue. It will wind around to your left and you will cross UNDER the train tracks at River Bend Drive. Brush Canyon is the first right after River Bend Drive. Drive slowly along Brush Canyon, looking to your right. You'll first come up on a large picnic shelter, basketball court, tennis courts, and sports field before you reach the playground and parking lot. (Park Address: 28282 Brush Canyon, Yorba Linda) MAP TO BRUSH CANYON PARK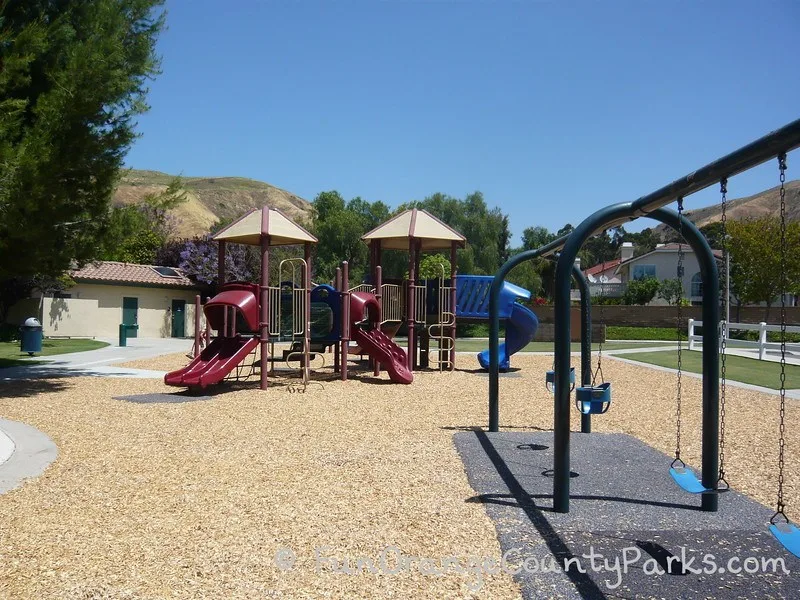 Highlights:
Beautiful scenery – you really get the feel of being in a canyon with the hills rising up right in front of you.
Even though you're in a neighborhood park, it really feels like you're close to nature. We've seen many butterflies and bluebirds hanging out here.
If you were stuck in traffic on the 91 heading in or out of Orange County, this might be a good place to let the kids stretch their legs for a while.
Even though the sign says the playground is recommended for 5-12 year olds, I thought it was ideal for younger kids.*
We saw a grasshopper and climbed a tree on our visit.*
Standing swings seemed to the highlight on the playground — and I can't say I've seen them at very many playgrounds.*
2 bench swings, 2 baby swings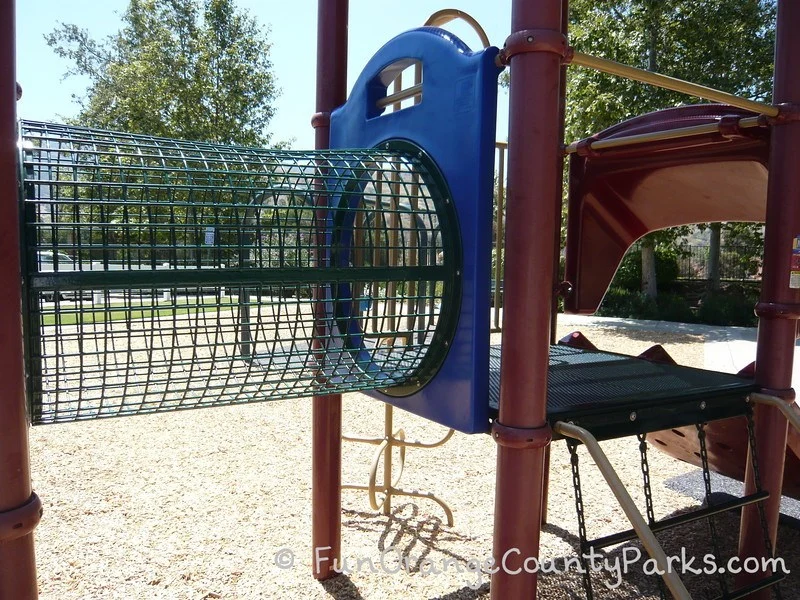 Be Aware:
There is a field for sports right next to the playground, and we have encountered youth sports on the weekends – but the playground area wasn't very crowded while the kids were busy with their game.
I imagine this one's hot in the summer time with no shade on the playground. Nice and shaded for picnics, though.
Checklist:
Dedicated parking lot
Bark play surface
Benches near the playground to view the kids.
Restrooms also right near the playground.
2 large shaded picnic shelters, basketball court, tennis courts, sports field, and playground.
Shaded picnic shelters available for reservation and permit through Yorba Linda Parks & Rec, 4845 Casa Loma Avenue, 714-961-7160.
*Random input from Michele.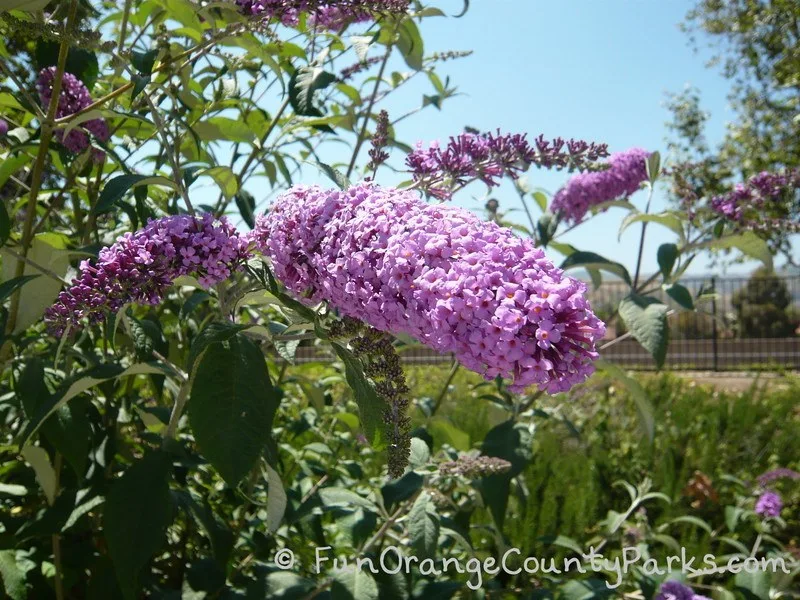 Parks Nearby Brush Canyon Park
Originally posted in May 2010.