Yorba Regional Park in Anaheim is massive, just like most OC regional parks.
I was completely surprised to learn this park is in Anaheim. It felt like I was in Yorba Linda.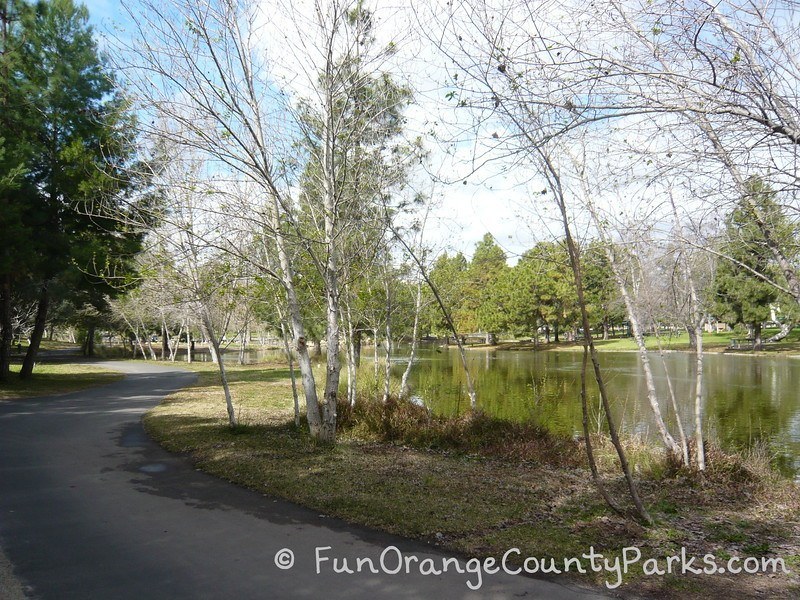 PLAY AREAS NEAR PARKING LOT 3
How to Get to Yorba Regional Park: Turns out Anaheim/Yorba Linda isn't so far from Irvine when you take the 241 Tollroad shortcut. It only took us 15 minutes to hit the 91. Go back toward the ocean (west/left) and take one of the first exits onto Yorba Linda Blvd. Turn right from the off-ramp. Get in the left lane, because the left on La Palma comes up quick. Turn left on La Palma. Turn left into the parking lot where you see the Park Ranger kiosk. MAP to Yorba Regional Park in Anaheim
Recommended by: Lisa (her comments in italics)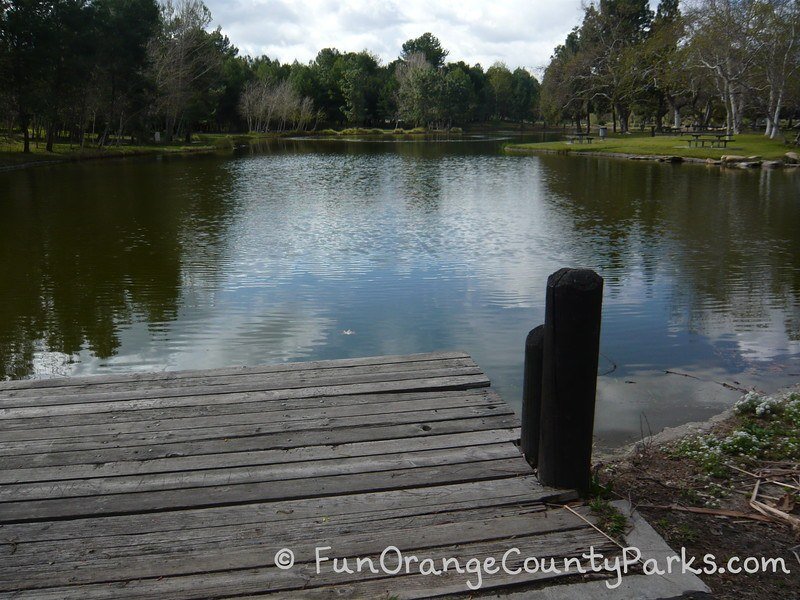 Highlights:
The BEST park I've seen for family bike rides. It's flat and it's BIG. Plus it connects up with a larger trail system which leads to the ocean.You can download the bikeways map available for free from OCTA here.
Striking beauty of lakes connected by a series of bridges — many have short fishing piers stretching out over the water. Multiple ponds and a few larger lakes interconnected by streams full of fish and ducks and geese. Plenty of bridges going over the streams and a large one that bisects the largest lake. My toddler loves running across the bridges over and over.
Forested areas for pretend adventures and nature play. Back in the southwest corner of the park there are lots of large trees fairly close together – it really feels like you're in the middle of the forest (except for the hum of the 91 freeway in the background).
Paved paths for bikes, fitness walks, and leisurely strolls. The park is over a mile long, so you can spend a good morning or afternoon with a toddler strolling all around and exploring all the playgrounds (there are six different ones!) There's a sign/map for "Yorba Regional Park 5K Trail" back near the bike path, natural garden and ball park.
Don't forget the fishing! There were lots of people fishing at the park. State fishing license required if you're over 16.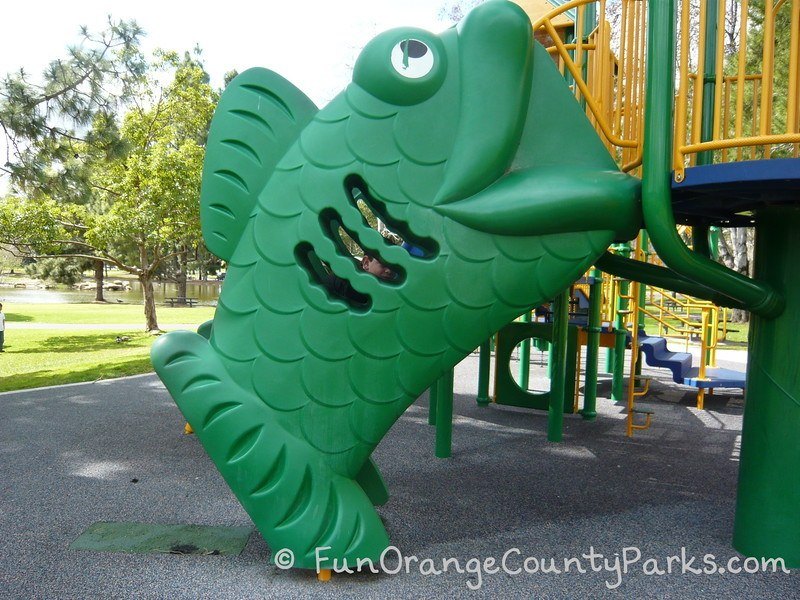 Playground nearest to Parking Lot 3: Best for toddlers, only a few areas where they can fall. My tall 8yo kept hitting his head on the equipment.
Playground past the volleyball court: For bigger kids, since there's more to do here. Loved the fish-shaped ladder. Picnic area right off playground.
Be Aware:
This park can be very busy on holiday weekends.
I've noticed that in the afternoons on the weekends, there tend to be larger, rowdier kids playing on the equipment. I tend to either try and steer my toddler away from the larger play areas, or I just follow him up to the higher slides at these times.
The Santa Ana River runs the length of the south side of the park. It's pretty far removed from most of the paths and the playgrounds, but it is there. If you end up at the back of the park past the horseback riding and biking trails, there isn't really anything keeping you from going right up to the edge.
Pretty sure I saw a few small spots of poison oak in some of the off-path areas (just like everywhere in Southern California). Just keep your eyes out.
Obviously, lots of water. So make sure you have your eyes on little non-swimmers in case they toddle off.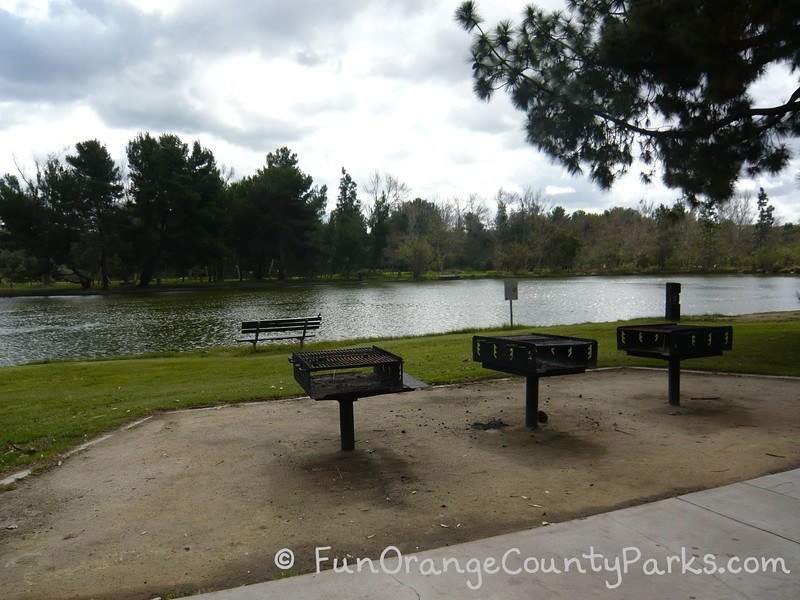 Checklist:
Dedicated parking lot, but you must pay the OCParks fee of $3 weekdays, $5 weekends, and $7-$10 on major holidays. Or I'd highly recommend getting an Annual Pass ($80 for the year).
The two playgrounds near Parking 3 both have recycled rubber play surfaces (no bark, no sand). Lots of lawn and paved paths.
Lots of alcoves with benches for relaxing and watching the sights.
Nice bathrooms all over the place.
A snack shop and bike rental vendor located at the parking lot right before Parking Lot 3.
Tons of picnic tables with grills and picnic shelters available by reservation. OCParks.com has a great online reservation system with photos. Here's the picnic shelter link for Yorba Regional Park.
Find more nearby parks in my North OC Parks Index
More Orange County Regional Parks:
Originally posted in March 2010.