What is there to do at Mile Square Park? There are fishing lakes, 3 playgrounds, an archery range, picnic areas, birdwatching, a nature area, walking paths, a fitness trail, and even a Farmers Market. So many things to do at Mile Square Park in Fountain Valley for kids and families!
Ride a Swan Boat or Surrey Bike
Take a Walk
Shop at the Farmer's Market
DON'T Feed the Ducks
Swing on a Tandem Swing or Play at a Playground
Fish in a Lake
Attend a Special Event (Concert, Movie, Festival)
Try a FREE Beginning Archery Class at the Archery Range
Picnic
Visit the 15-Acre Nature Area
I've been to Mile Square Regional Park in Fountain Valley many times over the past decade and I always do something different while there. On my most recent trip, we walked the whole park.
Why do they call it Mile Square Park?
When looking at a map, the entire block is a "mile square" between Edinger and Warner on the top/bottom + Brookhurst and Euclid on the left/right. So you can walk the exterior sidewalks and get in a 4-mile walk. There is an explanation of the history of Mile Square Park on the OCParks.com website.
I saw a post on All Trails that call this a 4-mile loop a Mile Square Regional Park Kids Nature Trail. It's pretty much an urban sidewalk along busy streets. A good walk, but I would rather bring the kids inside the nature area and walk some of the inside sidewalks of the park away from traffic.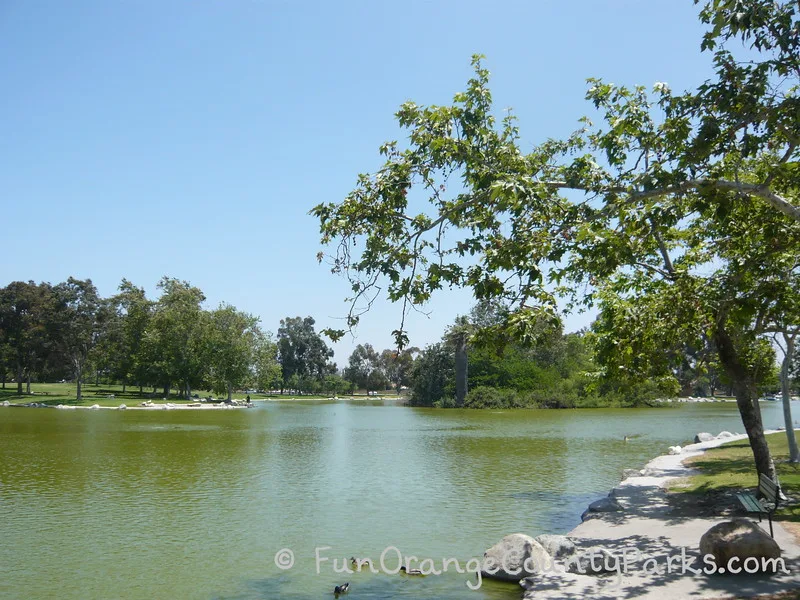 How much does it cost to park at Mile Square Park?
I always recommend paying park entrance fees, because it's a way for parks to pay for maintaining the park and for them to get a count of how many people are using the park (is demand high? how can we serve X number of people?). You can enter the regional park portions of the park from the Euclid side or the Edinger side.
There are staffed kiosks where you can either pay by cash/credit card for a day use fee ($3 weekdays, $5 weekends, sometimes more for special events) or show your annual pass. There are parking lots throughout labeled Parking Lot A through Parking Lot I.
This is one park where it is fairly easy, if there is space available, to park along Euclid outside of the park and walk in. However, if you are a parent — it will be worth it to you to pay the $3-$5 to have your car close by the playgrounds.
List of Things to Do at Mile Square Park
Ride a Swan Boat
Wheel Fun Rentals (Edinger) is open year-round. This Paddle Boat and Bike Rental stand is near Freedom Lake and Playground 3. You can research the swan boat cost and hours of operation by visiting their website. You can even rent kayaks!
Wheel Fun Rentals (Warner) is open seasonally February through October. It doesn't have any water options, but you can rent surrey bikes and other bicycles there.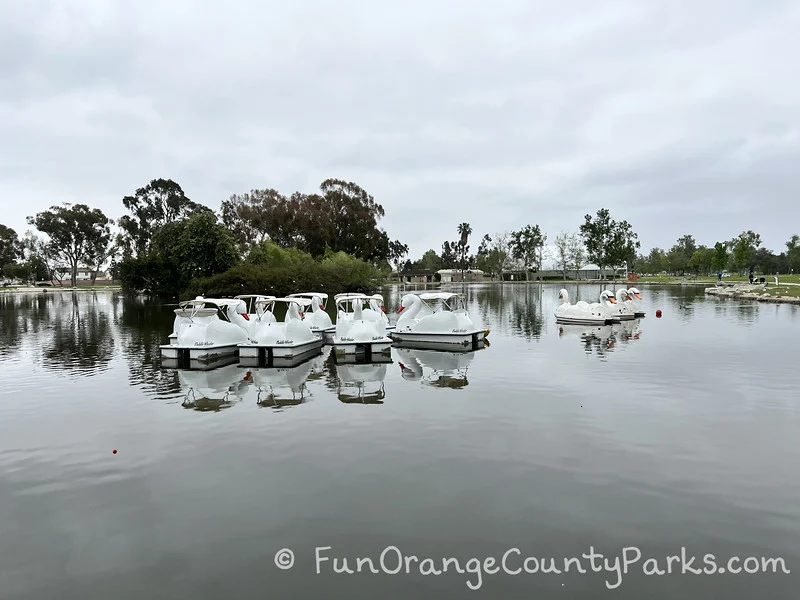 Take a Walk
I already talked about the 4-mile trek on the perimeter sidewalk of the block. It was way more fun to meander on the sidewalks all throughout the park. We had no map and no idea of where we were going (except from one playground to another) — and we were able to walk through the park without ever really repeating a route.
Take a look at the map from OCParks.com before you go to see where the paths are and then have fun exploring!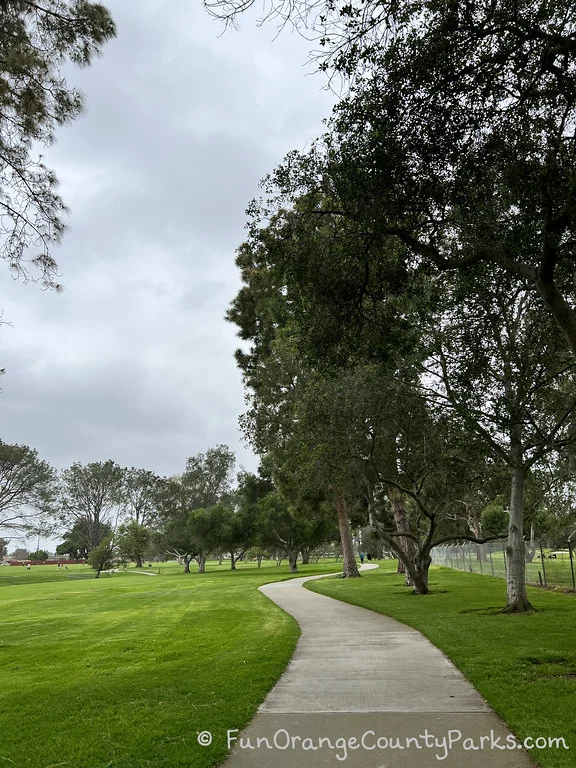 Our Route: We started up near Edinger at Playground 3 and Palm Island. We walked around the lake and headed towards Playground 2 and finally Playground 1 near the corner of Euclid and Warner. (I talk about each playground a little further down this list). When we walked back, we took the sidewalk that hugs the fence near the golf course and got a different view of the park from behind the soccer fields and the sports fields.
Great spot to observe birds! I even spotted a Vermillion Flycatcher (small red bird) while watching for birds! It was pretty cool and unexpected to see so many different birds in this urban nature oasis.
Lots of people were walking their dogs on leash.
If you are into fitness, then there is also a Fitness Par Course that is 1.5 miles long. You can find it and the fitness stations on the map.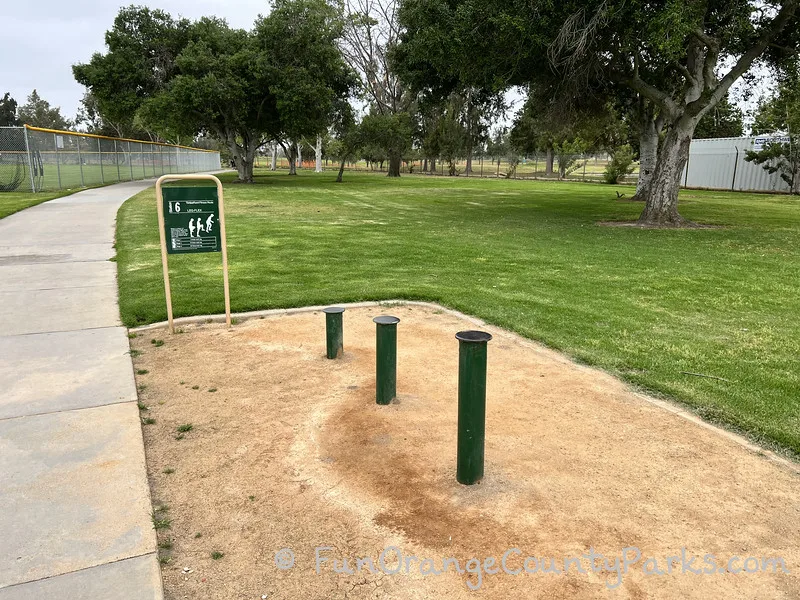 Shop at the Farmers Market
Just like the sign says . . . there's a Farmer's Market on Fridays from 9am-1pm.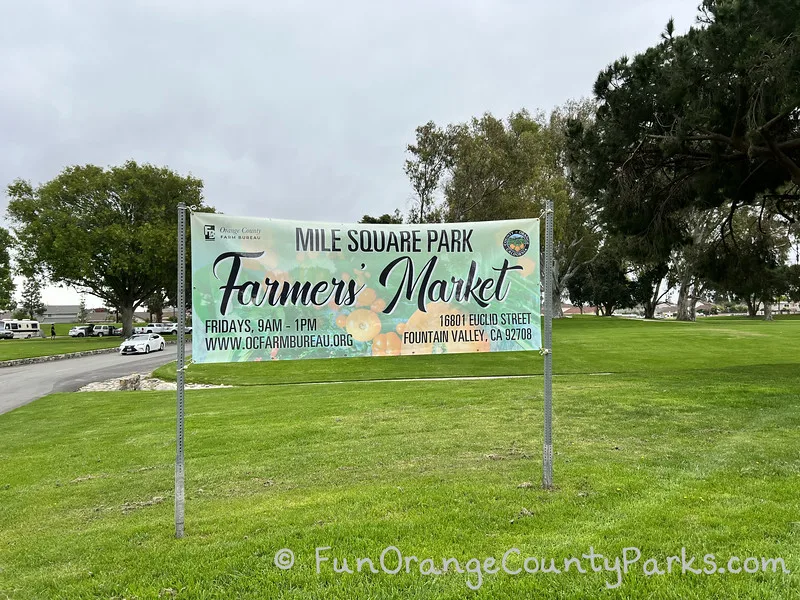 DON'T Feed the Ducks
Please DO enjoy looking at the ducks and all the birds, but resist the urge to feed them!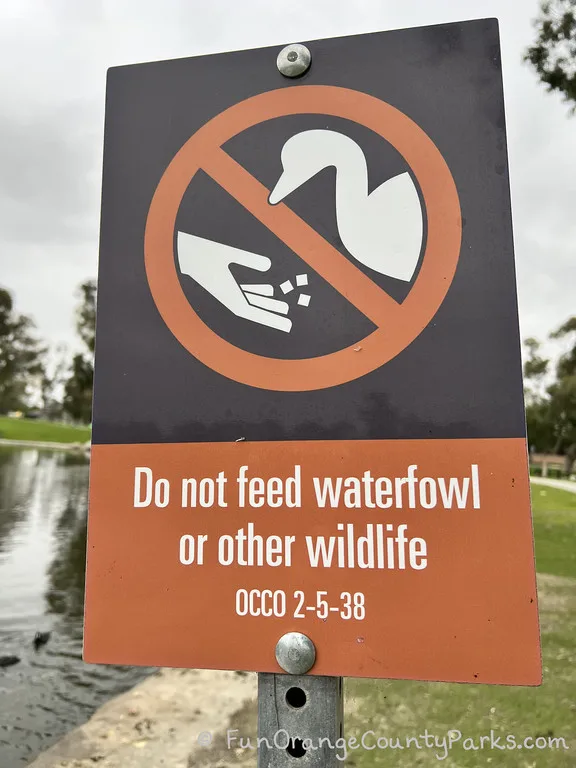 There's even a very detailed sign posted about the park's waterfowl management program. Just like any wild animal, it's best to leave them alone and observe from a distance.
The sign pretty much lays out all the reasons why feeding them harms waterfowl:
Non-migration
Overpopulation
Avian Diseases
Interbreeding
Physical Damage
Water Quality
Public Health Risks
You can get close enough without drawing the birds in with food. I love the time of year when there are little ducklings!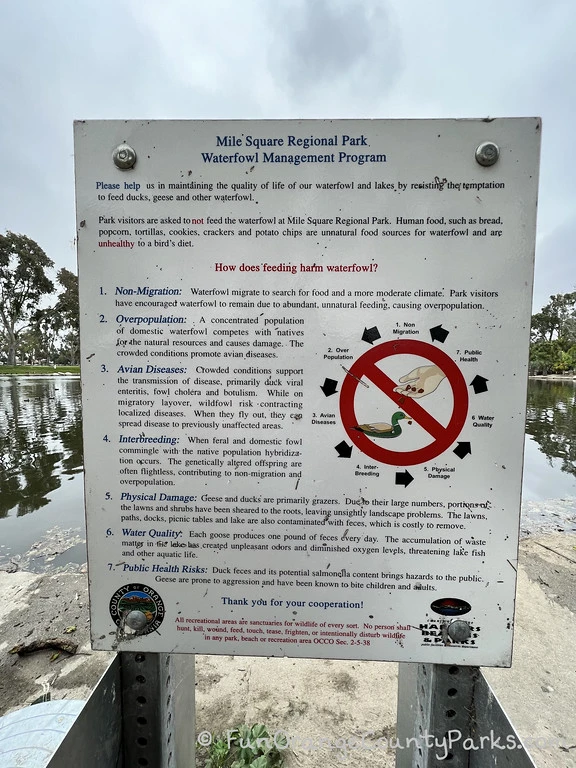 Swing on a Tandem Swing and Play at a Playground
Playground 1 is right near the Euclid entrance and parking is right next to the playground. That's where you'll find these fun tandem swings and a big rock for climbing. If you like these swings, I have a whole list of where you can find "swing-with-me" swings around Orange County. This is a pretty popular spot for birthday parties on the weekends.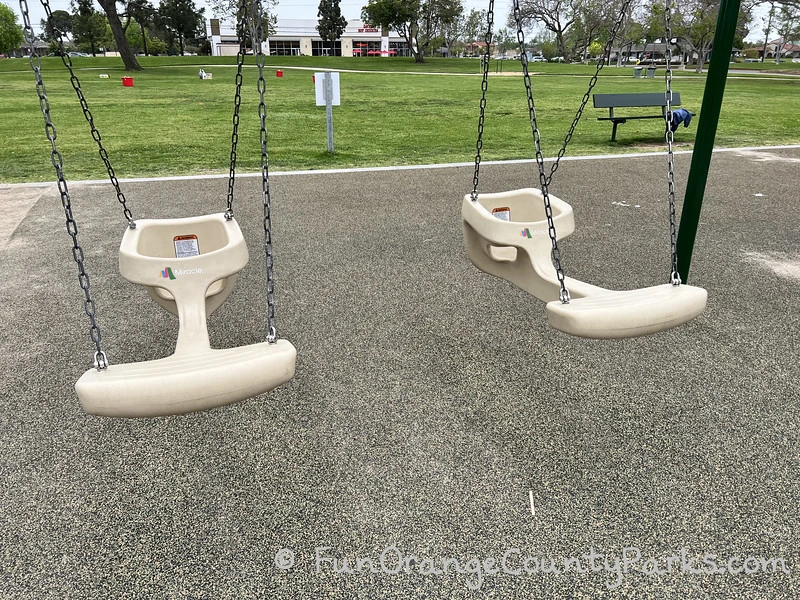 Playground 2 is past the first lake and it's on your left as you head into the park. When we walked by on a Saturday morning, the parking lot was pretty full from the softball games happening nearby. But the playground was almost empty!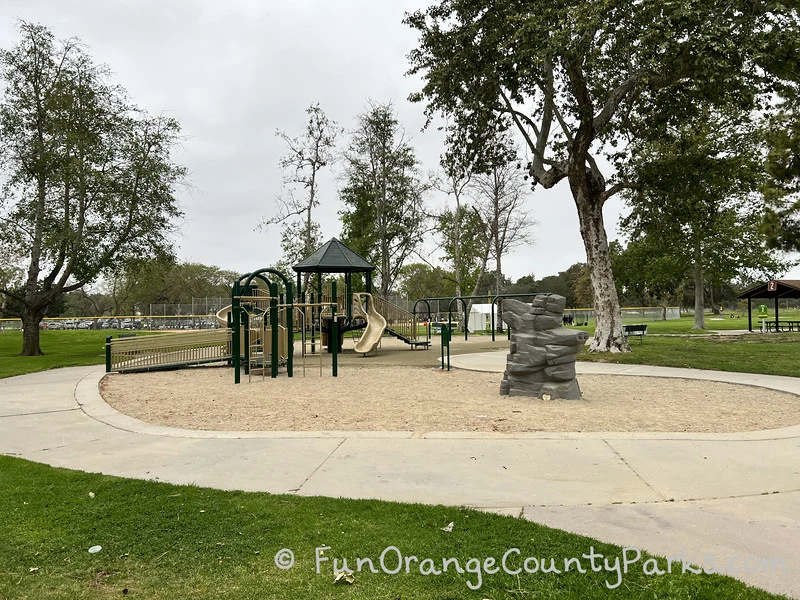 The playground closest to the Edinger entrance is Playground 3. You will have to walk a bit from your car to get to this one, but you'll also have the lake and Palm Island to explore. This is always a great spot to see ducks at the lake.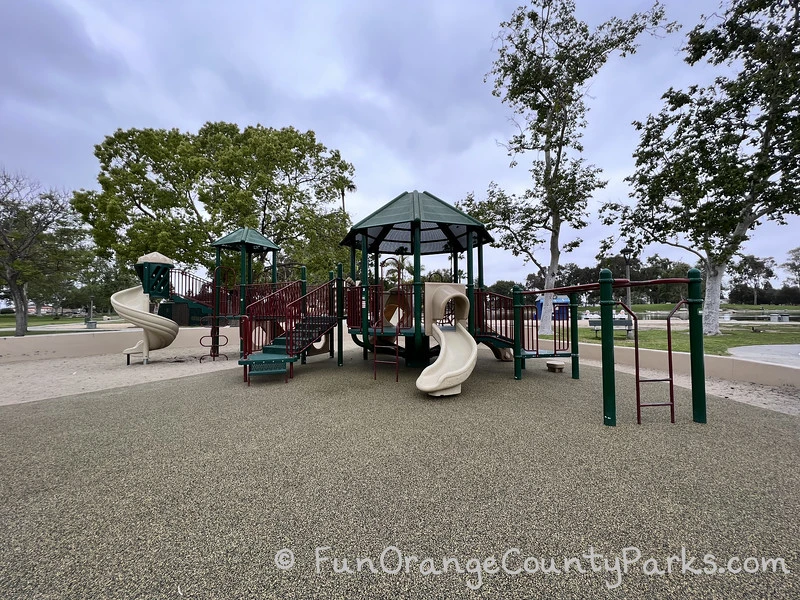 This playground has a small wall around it and it also has swings and a simple splash pad nearby. I've never seen the splash pad running, but it's a basic fountain on a concrete pad.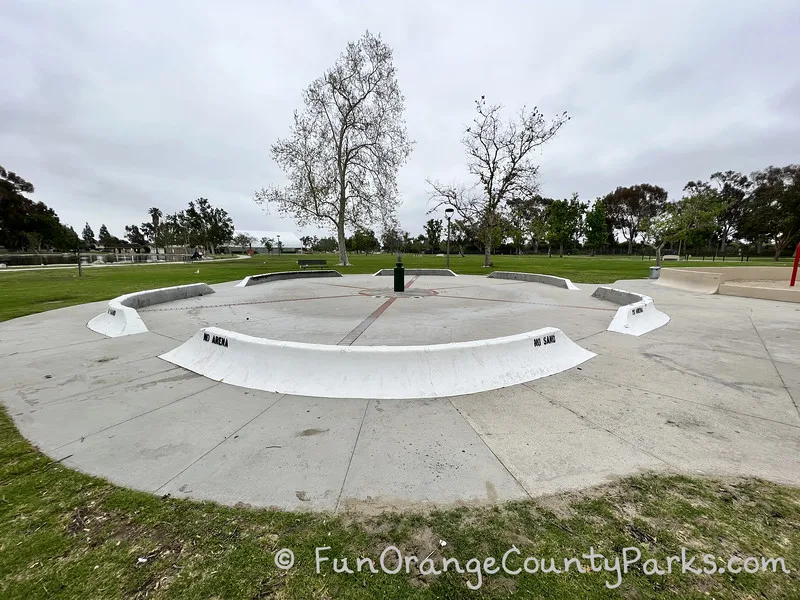 Fish in a Lake
As is the case at all OC Parks: "A fishing license is required for persons 16 years and older. All State Fish & Game Department Rules and Regulations apply at this facility."
Keep your eye out for Fishing Derby dates. Sometimes OC Parks runs fishing derby's for kids ages 6 to 15 since they don't need a license.
You'll want to ask at the kiosk about what fish are stocked in the lake at the time of your visit. The Department of Fish & Game has a schedule of their fish planting schedule. It pretty much looks like trout in the winter and catfish in the summer.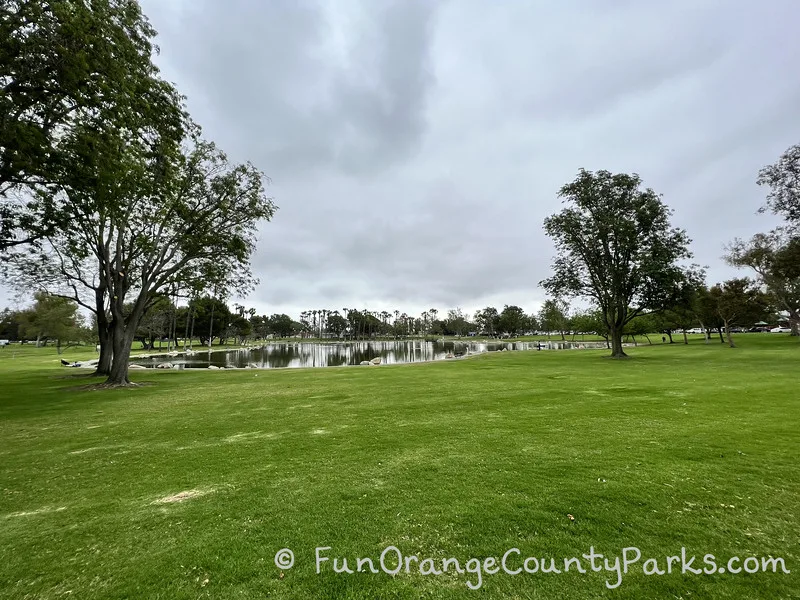 Attend a Special Event
OCParks.com hosts Summer Concerts at this park. Admission and parking are free for these events and you can enter the park after 5pm without having to pay.
For 2022, the concert will be Big Bad Voodoo Daddy on August 4th. Another concert the following week: Sweet & Tender Hooligans on August 11th.
Annual festivals are also held here, like the Tet Lunar New Year Festival.
This park is just a very popular place for people to gather for celebrations. You can help by making sure all trash is picked up to keep this park clean.
Try a FREE Beginning Archery Class at the Archery Range
OCParks.com offers free beginning archery classes on Saturday mornings for beginners. Go to the official parks page and scroll to the bottom to see upcoming events and then register for the class of your choice.
All equipment is included and you'll get a safety training, as well.
Picnic
Mile Square Park in Fountain Valley is the ultimate picnic park! It's in an urban setting which makes it so easy to pick something up from a nearby restaurant. There are picnic tables scattered throughout. Or bring a picnic blanket and set up your picnic on the lawn.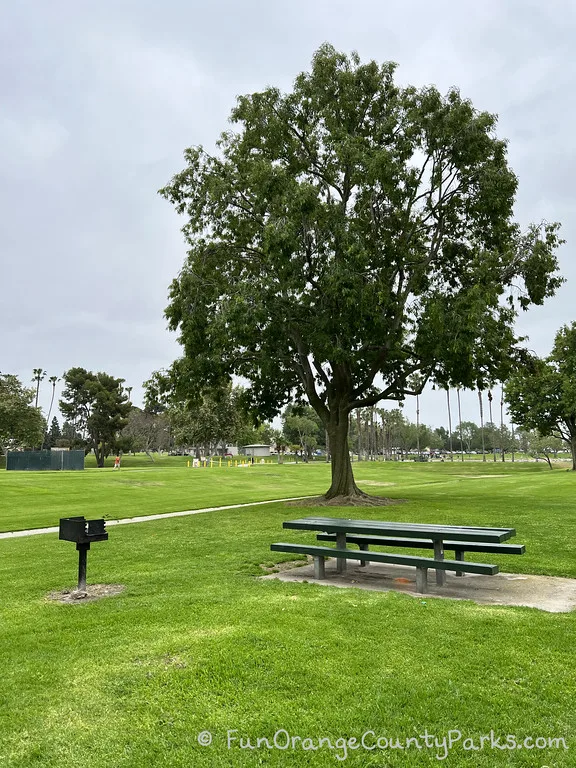 Visit the 15-acre Nature Area
I wrote an entirely separate post about the Nature Area at Mile Square Park. It is only open limited hours, but it's a hidden treasure. If you can't decide between all the options above, I recommend going to the nature area and Playground 3 on your first visit.
There is a group campground here that can be used by youth groups to introduce camping to children: "Mile Square Regional Park now has a One-Night Stay Overnight Camping Facility available to reserve for organized Youth Groups. Camp Sycamore is designed as a "First Camping Experience" for children between the ages of 6 yrs. old to 12 yrs. old only." Read all about it on the official website under Camping-Youth Groups.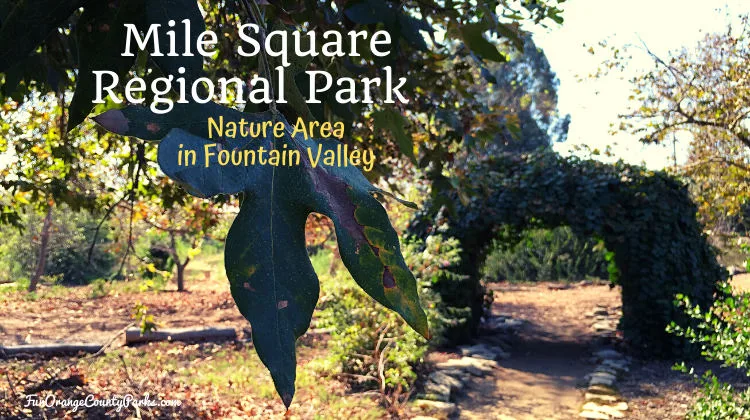 Bonus: Fountain Valley Sports Park
This park is on the same "mile square" block, but not reachable from inside Mile Square Regional Park. Fountain Valley Sports Park is a fun one with some height to it and a good twisty slide. You'll just need to drive around to the Brookhurst side of the block to enter the parking lot for the recreation center and sports park. The City of Fountain Valley also holds a lot of their citywide events, festivals, and even a summer campout at this location.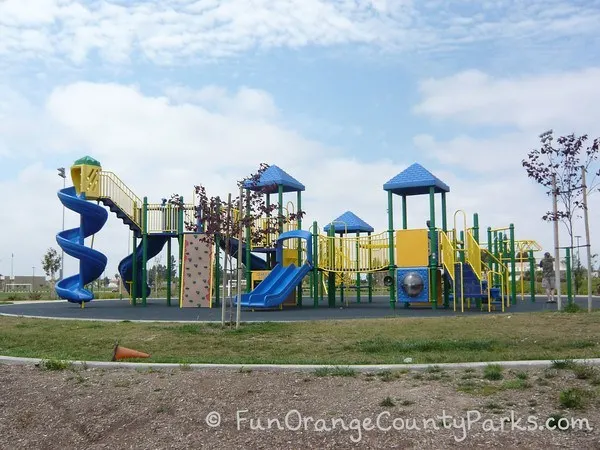 Need to Know
Nice restroom buildings in 5 places throughout the park and next to each playground and the nature area.
There is a fee for parking inside the park ($3-$5 or more for special events) since it is a regional park managed by OC Parks. I wrote a post about getting an OC Parks Pass if you want information with links to where to purchase.
Park opens at 7am year-round. It closes at 6pm during the winter and 9pm during the summer.
If you would like to make a reservation at a park shelter, you need to go to the OC Parks reservation page.