O'Neill Regional Park in Trabuco Canyon has a distinctly wilderness feel with options for hiking and camping.
I camped there with my husband when we were college students long ago.
The nature center at O'Neill Regional Park is on my list of 17+ Family-Friendly Nature Centers in Orange County.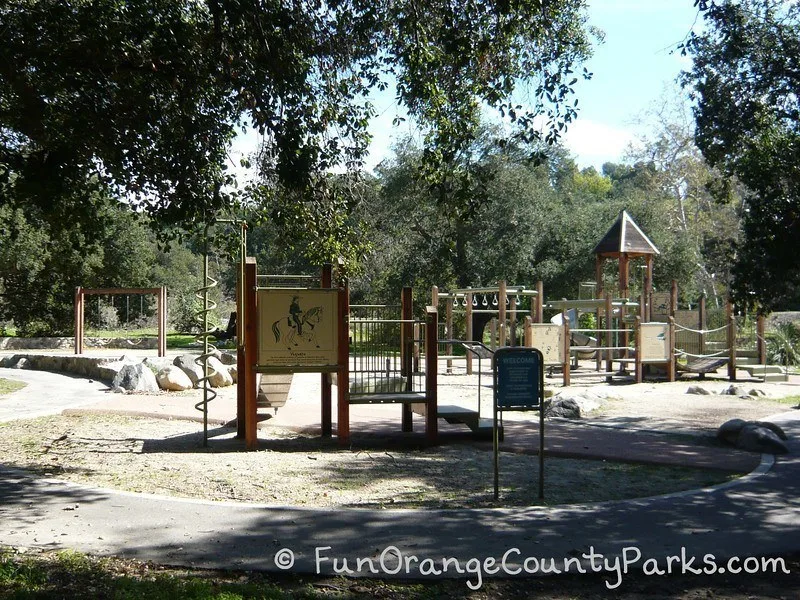 Rancho Santa Margarita sure cozied up next to it, huh? It's nestled back up in the foothills at the intersection of Live Oak and Trabuco Canyon roads.
Spring is a beautiful time of year to go with the green hills and blue skies.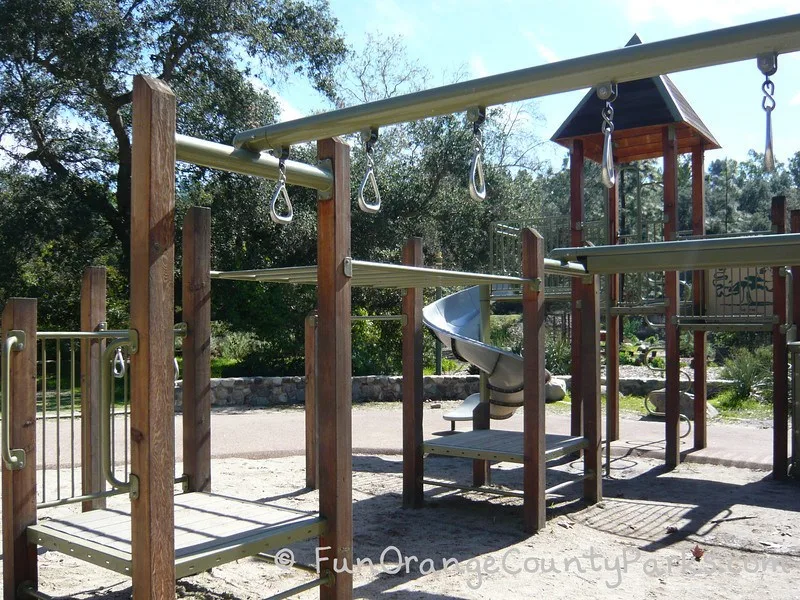 Directions to O'Neill Regional Park
Option #1: Drive up El Toro Road and take a right before Cook's Corner (the oldest roadhouse in Orange County) onto Live Oak Canyon. O'Neill is three miles up on the right. If you hit downtown Trabuco Canyon near the elementary school, then you've gone too far.
Option #2: Take Santa Margarita Parkway turning left when it dead ends into Plano Trabuco Road. Plano Trabuco Road turns into Trabuco Canyon Road. Turn left into park entrance.
You have a couple of options for parking once you pass the entrance kiosk.
You can park almost right away after you bear the right — on your left is the restroom building and you can walk to the playground from there.
Or you can follow the road around in a big meandering U-turn where you can park directly in front of the playground. This would be the closest option.
Park Address: 30892 Trabuco Canyon Road, Trabuco Canyon. MAP to O'Neill Regional Park in Trabuco Canyon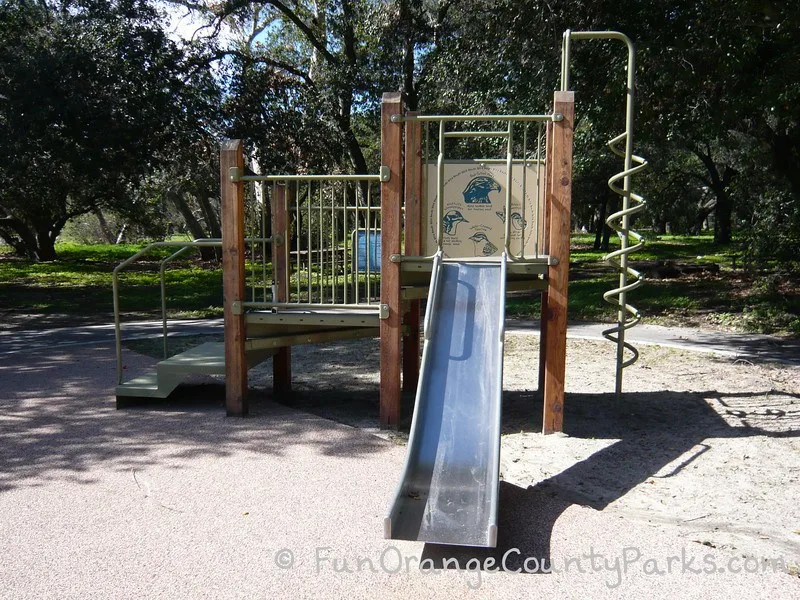 Recommended by: Sharlene of Trekaroo.com
O'Neill Regional Park Highlights
Sharlene says: "It had a cute playground, but makes you feel you were someplace far away. The tot trail is short but fun."
I loved the original educational panels teaching California natural history (rattlesnakes, hawks, Vaqueros, map of Orange County ranches).
Great zip track like the one at Pioneer Park.
Bench swings
Nature Center open on weekends.
Outdoor amphitheater, complete with campfire pit, behind Nature Center.
Freedom to roam and explore a wilderness area. Complete calm and peace only found in natural areas like this one.
This park normally offers Saturday guided "Walk with Naturalist" hikes. Check their event calendar for availability and registration.
Also mark your calendars for their early October Acorn Days annual event. Always TONS of fun.
Hiking and O'Neill Regional Park Story Walk
On my 2020 trip to the park, I drove on the road through the creek (which wasn't running at the time) to enter the Featherly Day Use Area (NO relation to Featherly Regional Park in Anaheim – just the name of the day use area here).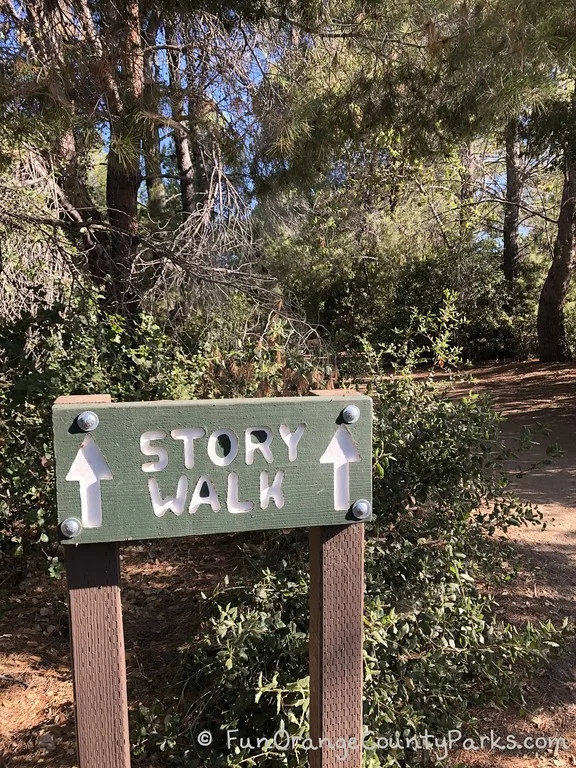 I never knew this part of the park existed! If you drive up the hill, you will find parking all along the Mesa Trail for some FLAT hiking with great views.
Mesa Trail is also home to the Story Walk. Every month the story is changed out at all of 20 stations along the trail.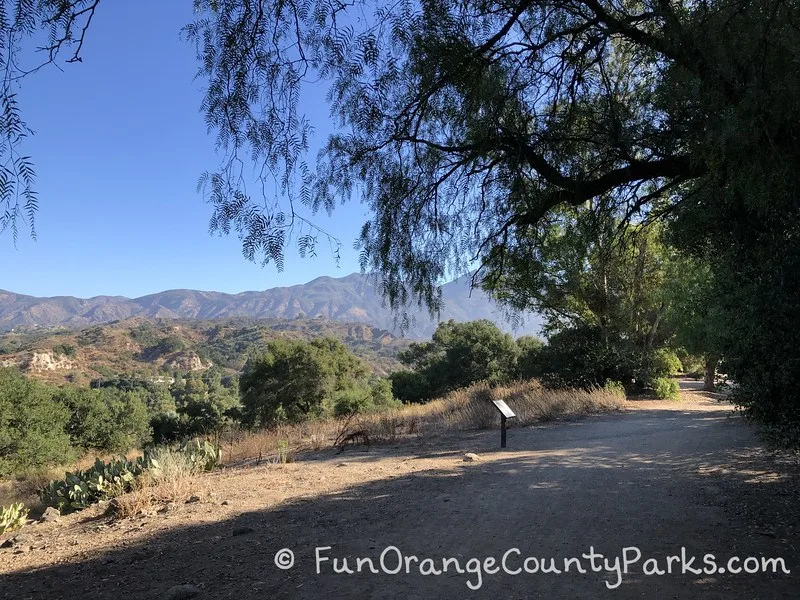 The main O'Neill Regional Park website has downloadable Park Brochure and Park Map links. That's the best way to find the hiking trail.
There are many other hiking trails in the park.
I always advocate for paying fees to enter the parks, but in this case the official OCParks.com also directs visitors to free parking off El Camino Montana in Rancho Santa Margarita. The gate into the park is open near the intersection of El Camino Montana and Danta.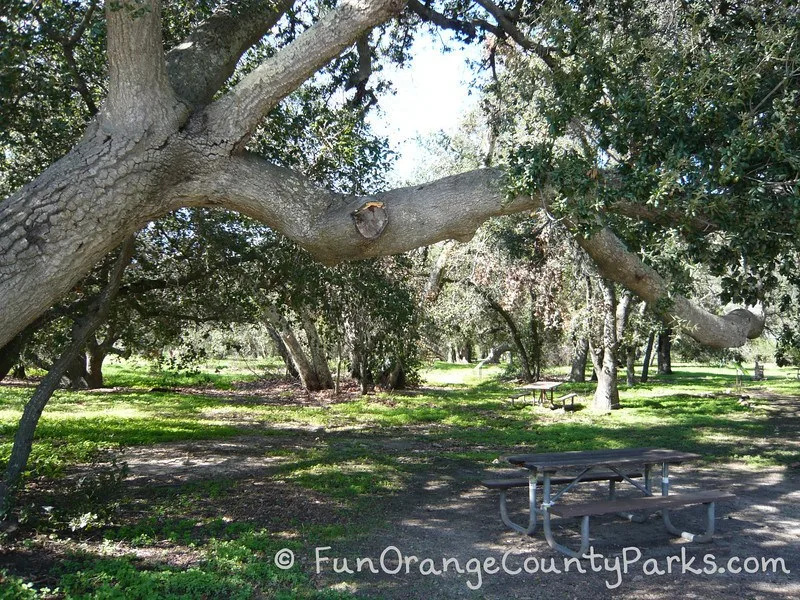 Be Aware
Sharlene says: "I'm sure there were critters around." And I would definitely agree. Talk to the park rangers at the entrance before heading out to play. However, the playground is very near the busiest part of the park.
No baby swings
Play area more suited to older children (not just one connected structure – gaps and monkey bars)
Must pay for parking. I recommend getting an annual parking pass.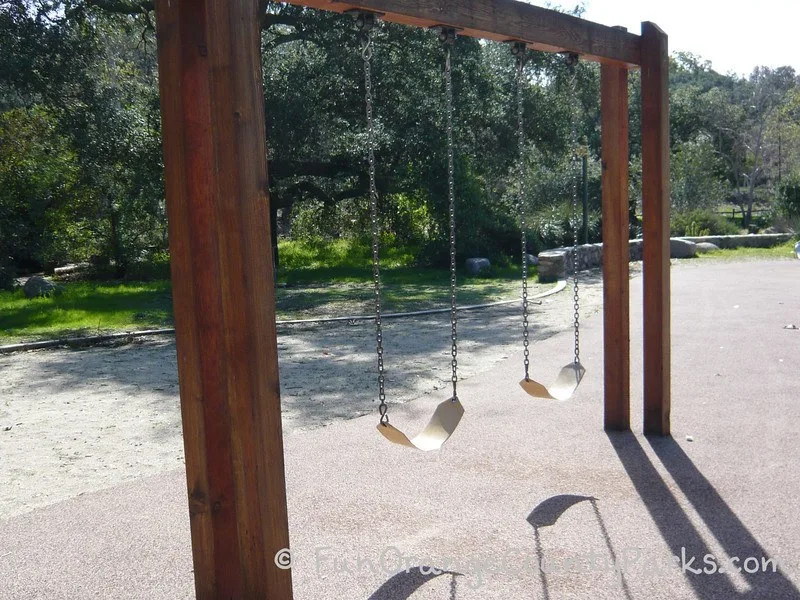 Checklist
Fee for parking inside the park
Sand play surface and recycled rubber under swings
Restroom building near the nature center in their own building off the main road
Drinking fountains near restrooms and near play area
Shade from gorgeous oaks surrounding play area
Easy to view kids as they play
Parks Nearby O'Neill Regional Park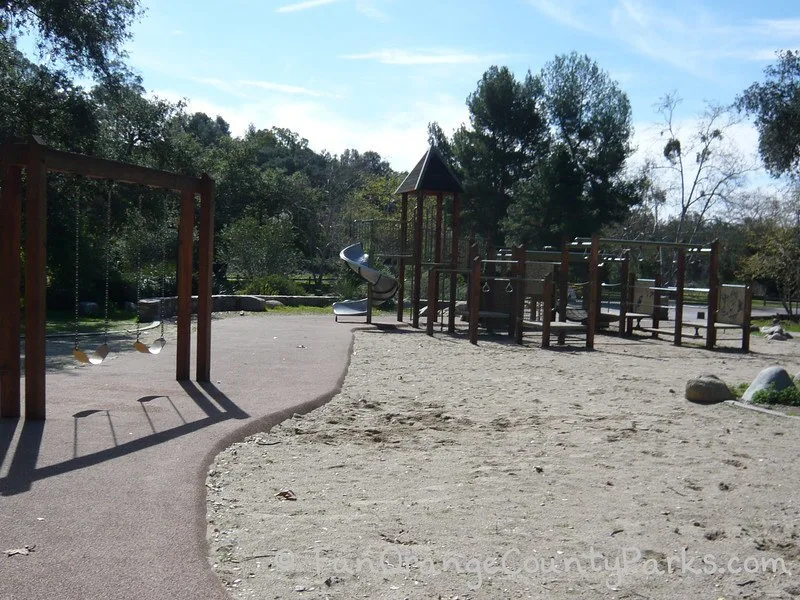 Originally published in June 2009.