Laurel Glen Park in Tustin is RIGHT around the corner from REI in Tustin. I can't believe I didn't discover it on my own. It took a reader suggesting it as a park with outdoor fitness equipment to put it on my radar. And even then, I didn't realize that it's such a gem in such a convenient spot. We visited around lunchtime — grabbing burritos from Miguel Jrs. — and made a picnic out of it. The park is well-used by people seeking a place to exercise, dog walkers, and of course, families with children. This park also ticks the checkmarks for my posts on Spiderweb Parks in Orange County and Orange County Workout Parks with Outdoor Fitness Equipment.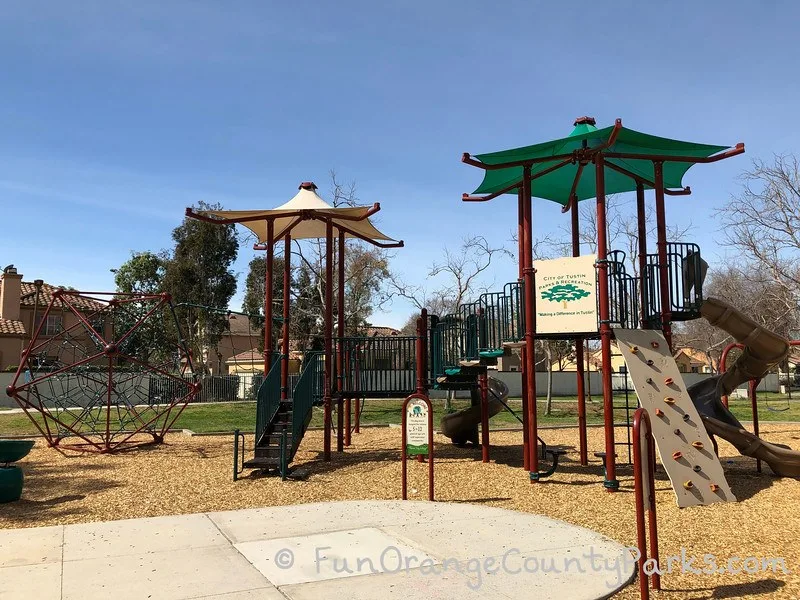 Location of Laurel Glen Park in Tustin: If you are driving from REI, take El Camino Real towards the car dealerships and turn right onto Myford. You'll cross Bryan Avenue and the park is at the corner of Heritage and Myford. (Address: 13301 Myford Road, Tustin, CA) MAP TO LAUREL GLEN PARK IN TUSTIN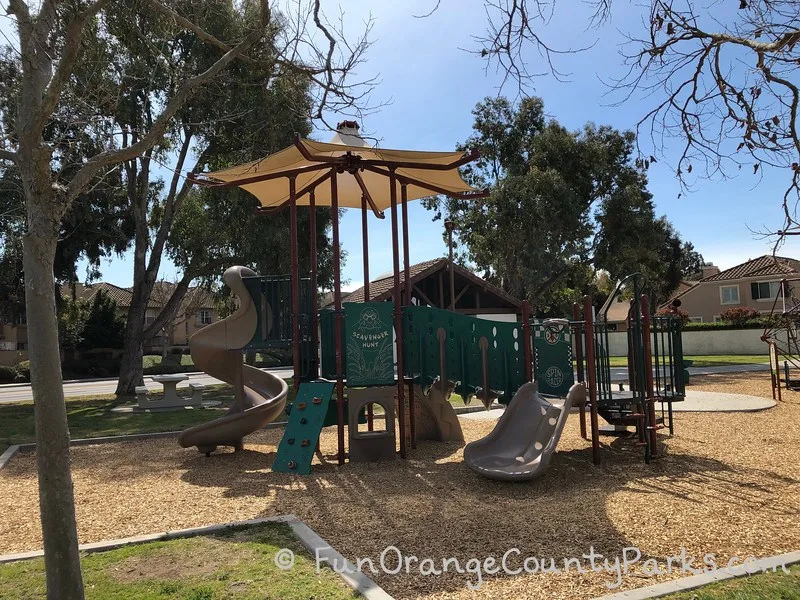 Highlights:
I think the "spiderweb" part of this play equipment is super-intriguing and fun for kids who like to climb. I haven't quite seen anything like this at other parks.
A couple of standing and sitting spinners
Climbing boards with grips (one on each piece of play equipment)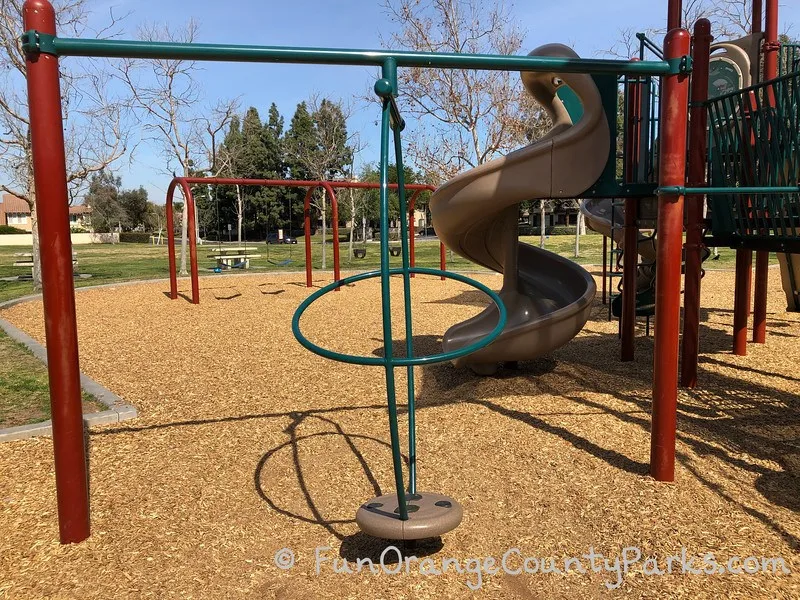 Mostly a park for climbers, but the swirly slides are fun
Great big grassy area for running around and many of the kids we saw on our visit were on scooters
Small clubhouse for pretend play
2 bench swings, 2 baby swings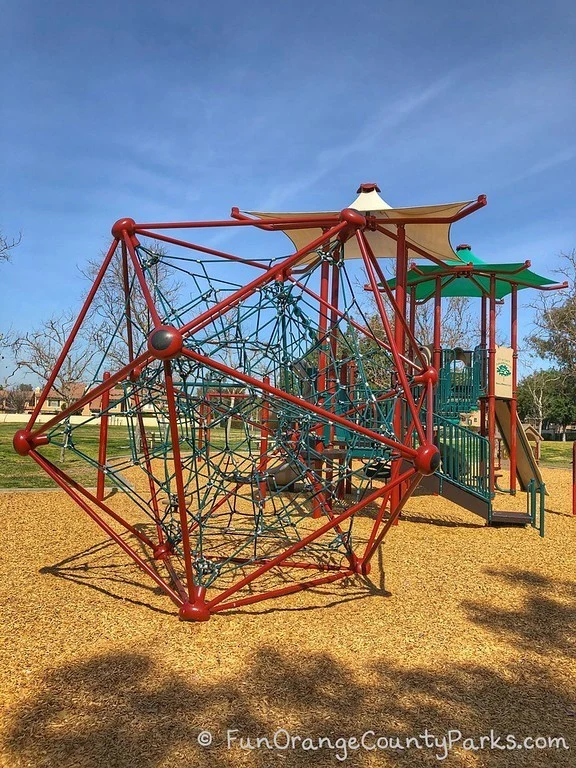 We became huge fans of Miguel Jrs. drive-thru when we attended a media event to promote their opening in Huntington Beach (Disclosure: free food at that event for the purpose of trying it, but we LOVE this place). Their food is no joke. We eat there every time we're in the area. Oh, their El Potato burritos are SO good! Anyways, so Miguels is nearby and also In 'N Out and so many other good restaurants like Islands and Snooze A.M. Eatery.
Be Aware:
It's a square park and two sides of the square border relatively busy streets. The playground is very close to Myford which does have cars speeding by. So if you have a child who is a runner, this might not be the best park for you.
The equipment is rated for 5-12 year olds, which seemed fitting. Not the ideal toddler playground.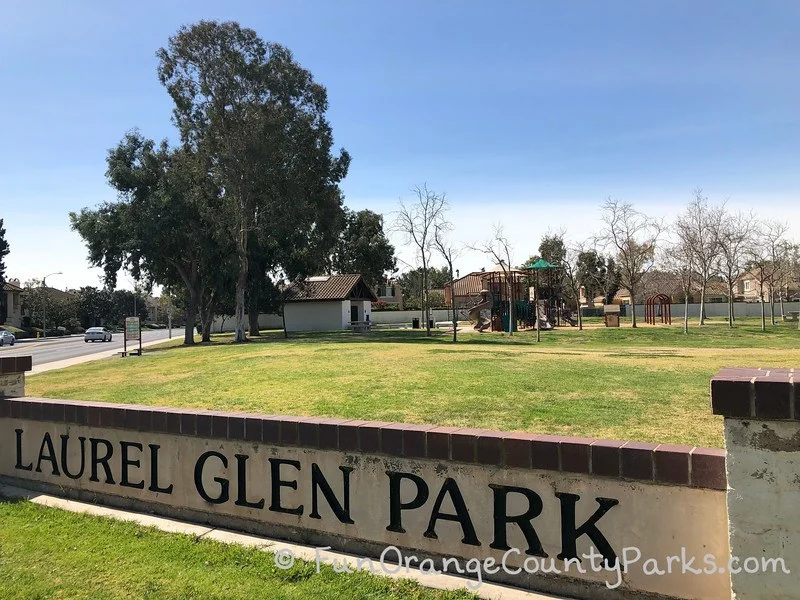 Checklist:
Only a few parking spots for this park along Heritage (most park visitors either walk or live nearby)
Restrooms
Play surface: Bark
One picnic table in shade near restroom building, plus more on the other side of the playground
Grassy field
Outdoor fitness equipment stations
Lots of restaurants nearby in Tustin and Irvine Marketplaces for dining options
Nearest public library branch: Irvine Katie Wheeler Library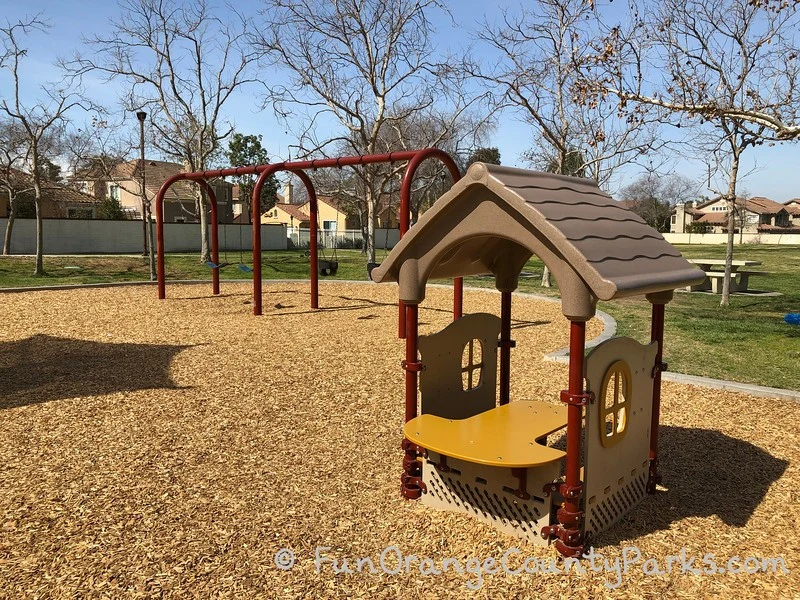 Parks Near Laurel Glenn Park in Tustin:
Originally published in March 2018.