Heritage Park in Tustin is easy to miss because its quiet shaded playground is nestled back away from the street. It's so pretty with its wide expanse of green lawn and sycamore trees.
How to Get to Heritage Park in Tustin: Located on Tustin Ranch Road between Bryan Ave and Irvine Blvd. From the 5 freeway exit at Tustin Ranch Road. Follow Tustin Ranch Road past the Auto Center and the park will be on your right. (Address: 2350 Kinsman Circle, Tustin). MAP TO HERITAGE PARK IN TUSTIN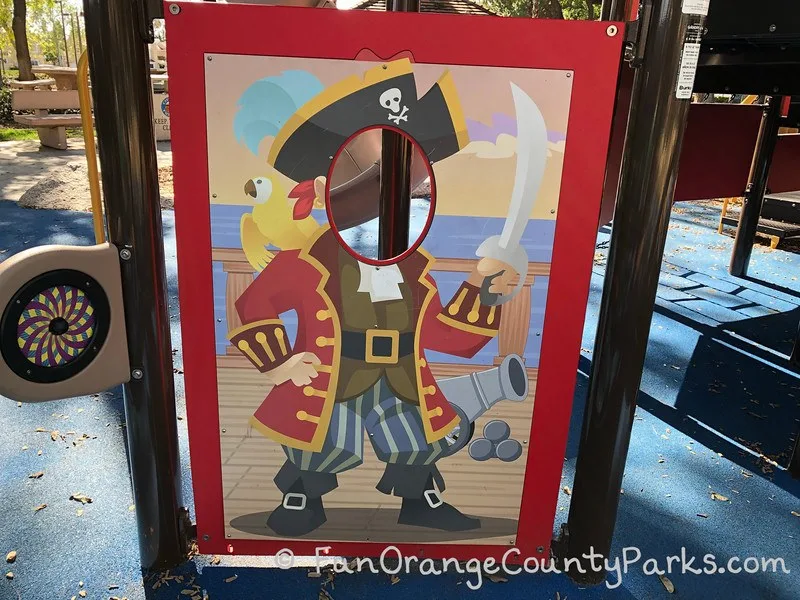 Recommended by: Wendy — "I have a two year old son and I'm a huge fan of your blog. Thank you for creating such a wonderful resource for families in Orange County. From three months old onward my son has been happiest outside in nature, so your park recommendations have been invaluable to me as I plan our days. I would like to become a park scout for you to pay forward all of the wonderful resources I have received from your blog."
Highlights:
Covered in sycamore and pine trees, it's the perfect place to pretend you're playing in your own back yard.
It's compact too; we love it because it's a short walk from the parking lot to the many picnic tables, the playground, and the restroom.
This park is only one street down from the Tustin Marketplace so we like to go to this park when we have some shopping to do.
The Katie Wheeler Library is just down the road off of Irvine Blvd, too.
The playground is easy for toddlers to navigate, but still fun for older kids.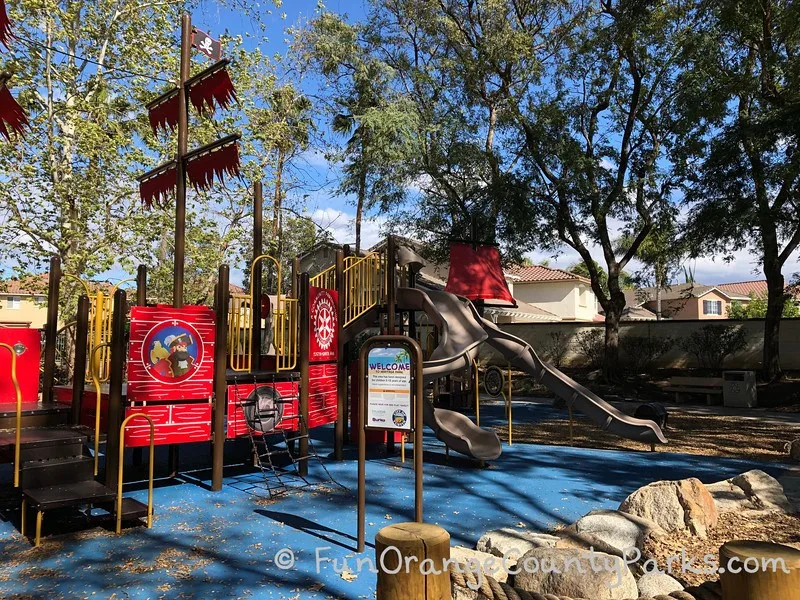 The play area is circular with benches at regular intervals around the edge. We like to come here with grandparents or relatives who aren't up for running around a huge park because it's easy to see the kids anywhere on the playground from those benches.
Pirate themed play equipment with a boat and treasure chest encourages dramatic play
Two baby swings, two bench swings
Partially shaded playground because of the trees and concrete picnic tables, perfect for a small gathering or birthday party.
Older kids like to eat lunch at the tables, while moms with toddlers often spread out a blanket on the grass near the playground for a picnic.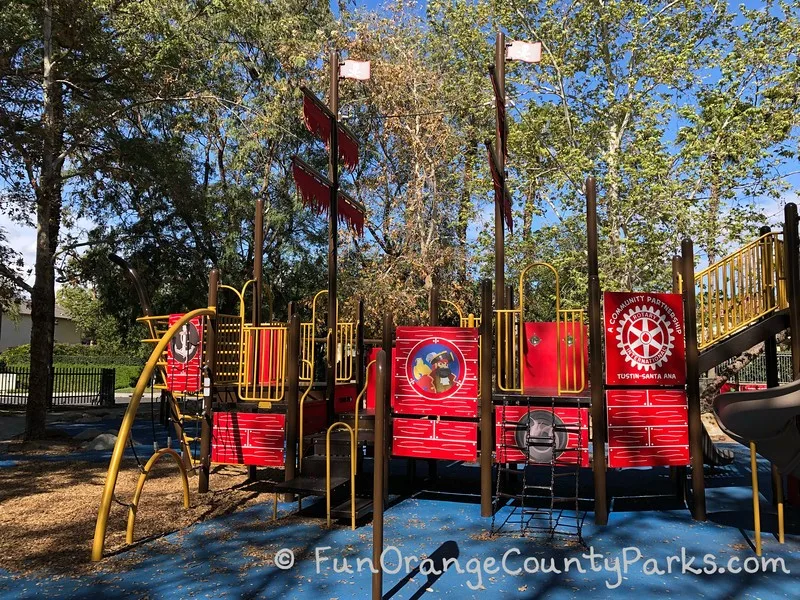 Be Aware:
The shaded playground can get very cold so bring a jacket on cooler days.
Only 3 parking spots along the street on Heritage Way, but larger parking lot off Kinsman near the playground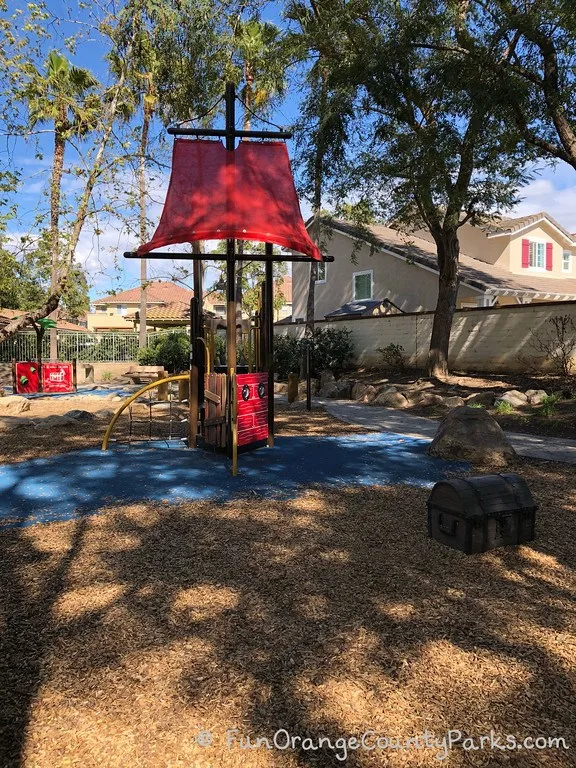 Checklist:
Dedicated parking lot
Restroom with changing table
Play surface: Bark and sand
Picnic tables (no reservation required)
Grassy field
Basketball court (2 half courts and one full – 4 baskets total)
Roller hockey court
Nearest public library branch: Irvine Katie Wheeler Library
Visit my list of 15 Pirate Parks in Orange County for more pretend play opportunities!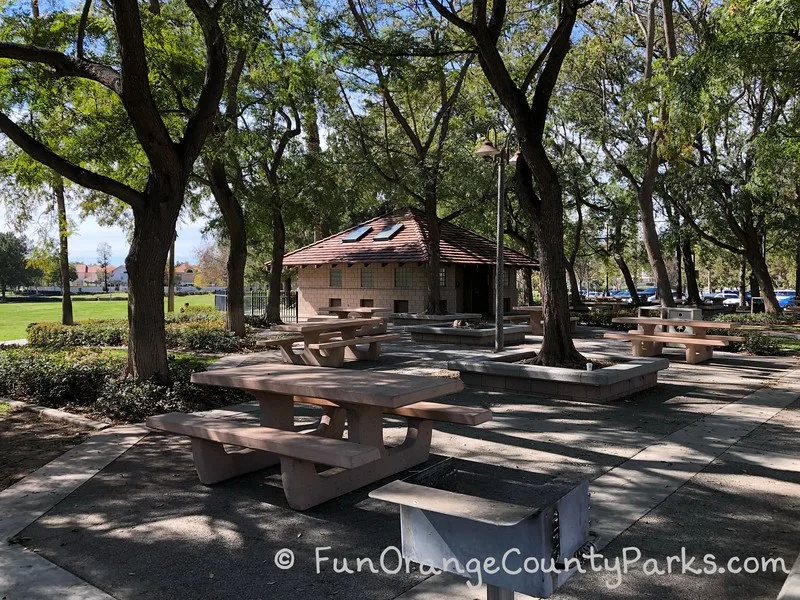 Nearby parks:
Photo credit: Wendy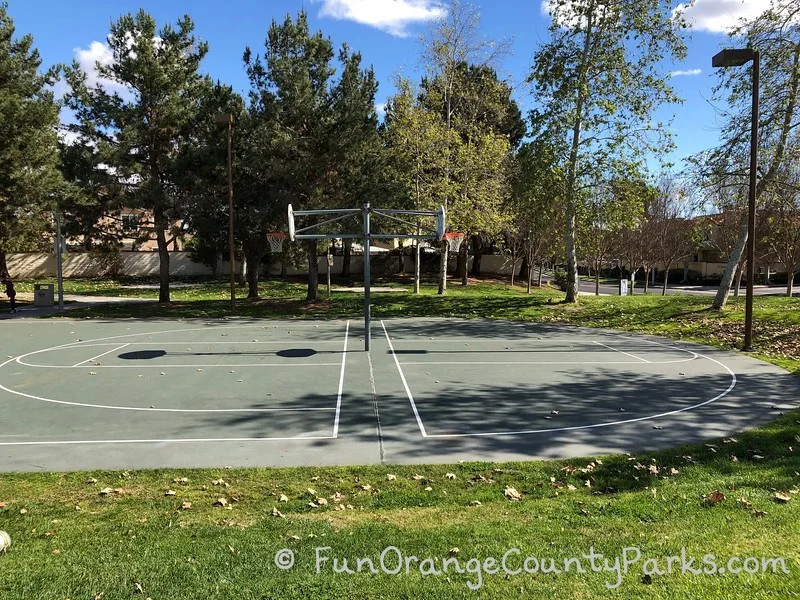 Originally posted in March 2013.