Coastal Peak Park in Newport Beach offers more than just stunning views.
It's located high up in the Newport Coast hills and right next to the trails of Laguna Coast Wilderness Park. This park was constructed in 2009 and is filled with play equipment that sparks creative play.
My children wobbled across circular platforms in order to avoid a lava monster. They sat on spinning seats they called "rockets" and blasted off into space.
My son even spent a few minutes as Spiderman climbing a rope structure.
Even my husband walked away saying this was "one of the coolest parks" he has visited.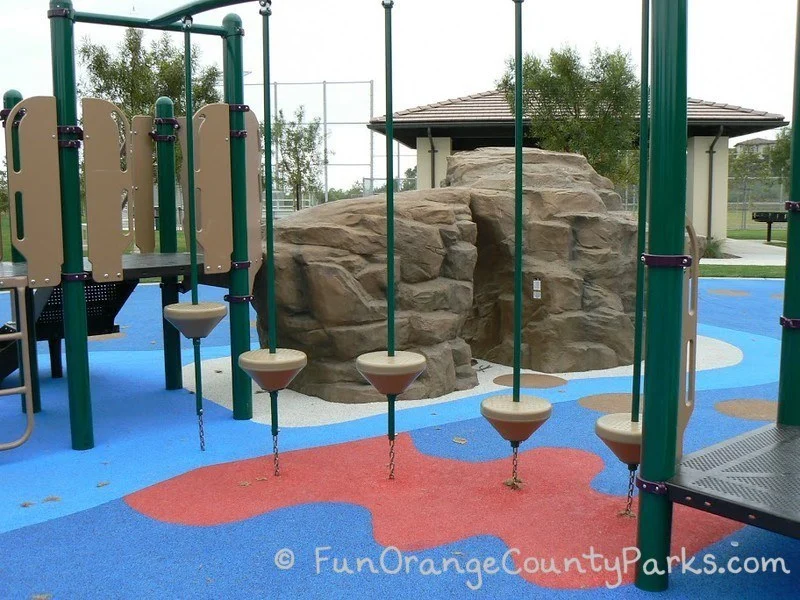 Directions to Coastal Peak Park in Newport Beach: Coastal Peak Park is at the corner of Ridge Park Road and East Coastal Peak. Taking the 73 toll road exit Newport Coast Drive making a left until you hit Ridge Park Road. Turn left on Ridge Park Road and follow it up the long hill until you reach East Coastal Peak. If you don't want to take the toll road you can access Newport Coast Drive from E. Coast Highway or Bonita Canyon Road. MAP to Coastal Peak Park in Newport Beach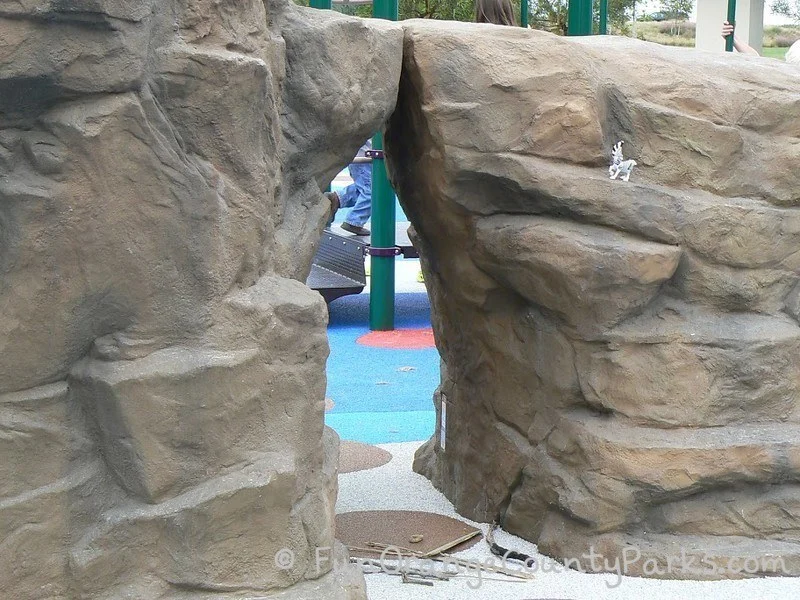 Recommended by: Jennifer at Tiny Oranges (comments in italics)
Highlights:
New equipment, separate sandbox, huge grassy fields, climbing rock, spinning chairs, nice view
Dedicated in September, 2009, everything in this park is new and clean!
The climbing mountain rock is a great place for kids to play with animal figurines, action figures or even Barbie dolls.
Unique play equipment. For example, a large metal steering wheel allows kids to hang on and swing around in a circle. Bucket shaped seats use gravitational pull to spin kids fast.
Interactive knobs and dials are found in the smaller kids play area. There is even a little periscope your children can to get a closer look at the surrounding play area.
Spacious grassy area next to playground would be nice for soccer games, tag or even Frisbee.
There is a sidewalk circling the play area which is great for scooters and tricycles.
Pacific Ridge Trailhead is directly across from the park. This is one of the access points to Laguna Coast Wilderness Park. We saw many people heading out for hikes and bike rides. Nice scenic trail across the street, would be a good place for some exercise then play time at the park.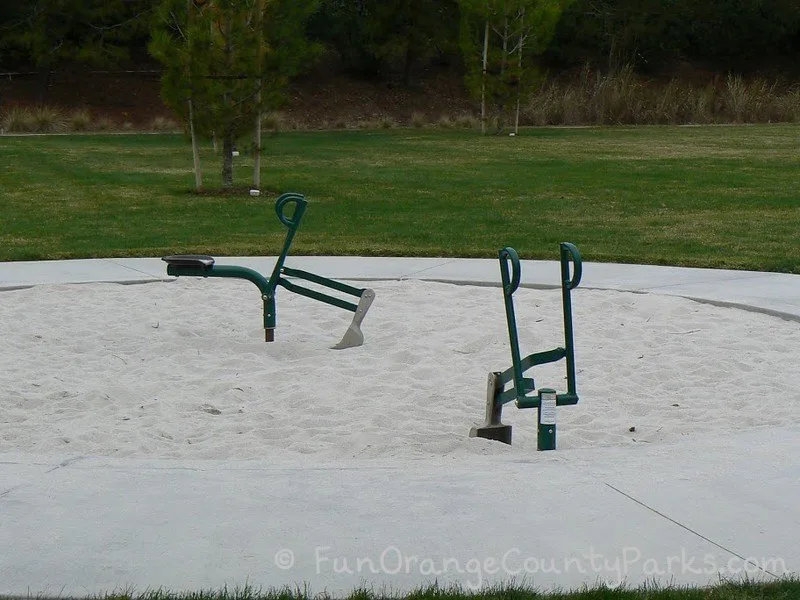 Be Aware:
Only shade is over picnic tables, trees are not mature enough yet.
Stay close to your children while they ride the spinning seats. They go FAST and if they can't touch the ground before the spinning starts, they won't be able to stop themselves once they get going.
The climbing mountain rock is connected to the playground equipment so children can easily walk on to the top of the rock. We had to pull my 2 year old from the top many times so he wouldn't jump off.
No hand soap in the bathrooms.
The park may be crowded on days when baseball games are being played.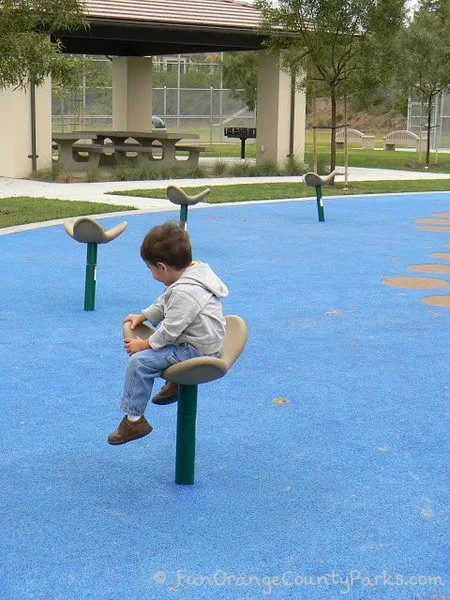 Checklist:
Recycled rubber under play equipment with a separate area set aside for sand play.
New clean restrooms
Drinking fountain
Two separate picnic areas with barbeque grills
Two baseball diamonds, two batting cages and a basketball court.
A dedicated parking lot in front of park.
Nearest public library: Newport Beach Public Library – Central Branch near Fashion Island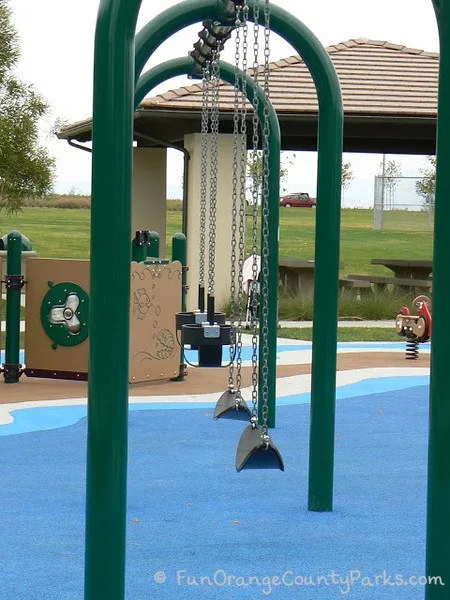 Parks Nearby Coastal Peak Park in Newport Beach: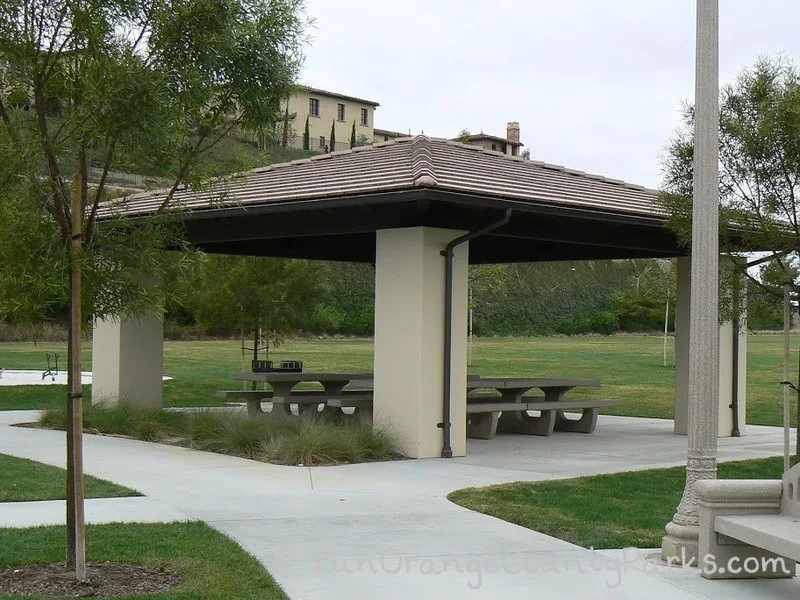 Originally published October 2009.