Heritage Park in Irvine comes highly recommended by a Fun Orange County Parks visitor because of its beautiful lake, community center, Fine Arts Center and Irvine Heritage Library. It's a great place for strolls and picnics.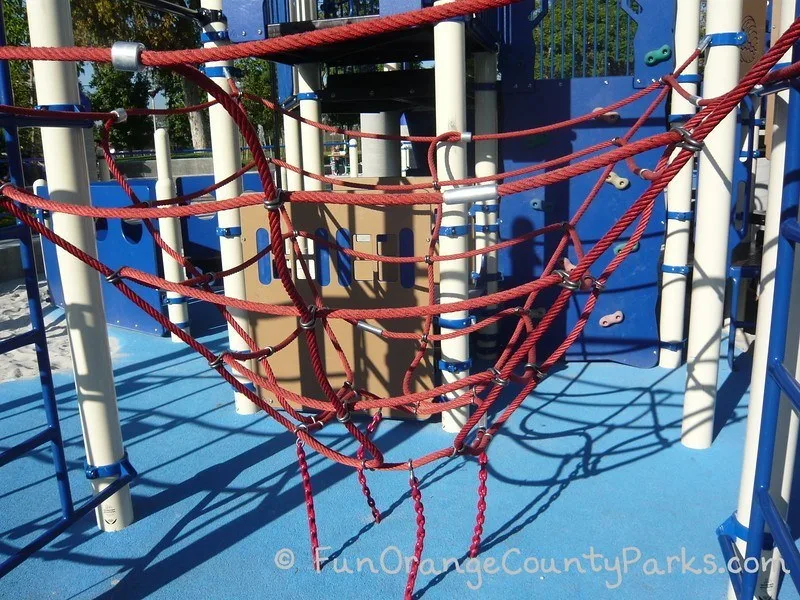 How to Get to Heritage Park in Irvine: From Interstate 5, take the Jeffrey Road off-ramp and turn towards the west. Turn right on Walnut and turn right into Heritage Park Circle near the library. Drive to the back of the lot for the playground and lake. MAP to Heritage Park in Irvine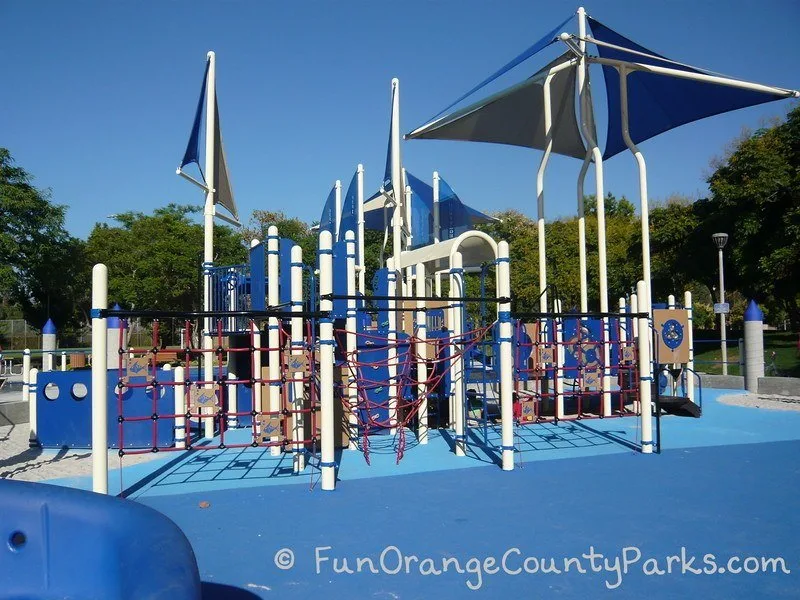 Highlights:
WATER PLAY! My kids went crazy with the fountain and it's especially nice on these hot fall days. I didn't see even see any slipping when we were there.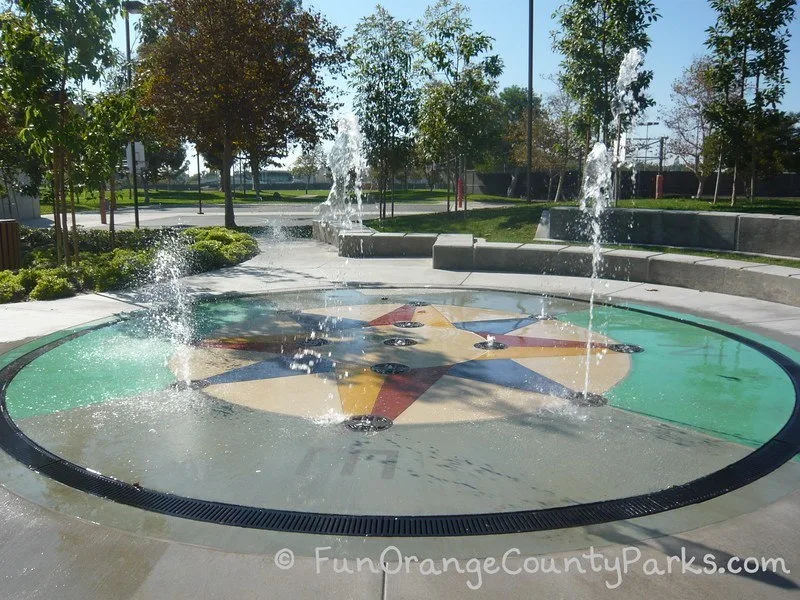 KID SIZE BASKETBALL! There's a lower to the ground basketball hoop right off the playground, separated from the adult courts by a handball wall.
I loved the "shower head" play equipment (see below) where kids stand on the rotating bottom pedestal and hang from the top which also rotates. I've seen these at other parks, but my kids can never reach the top and stand on the bottom. This one is smaller than most!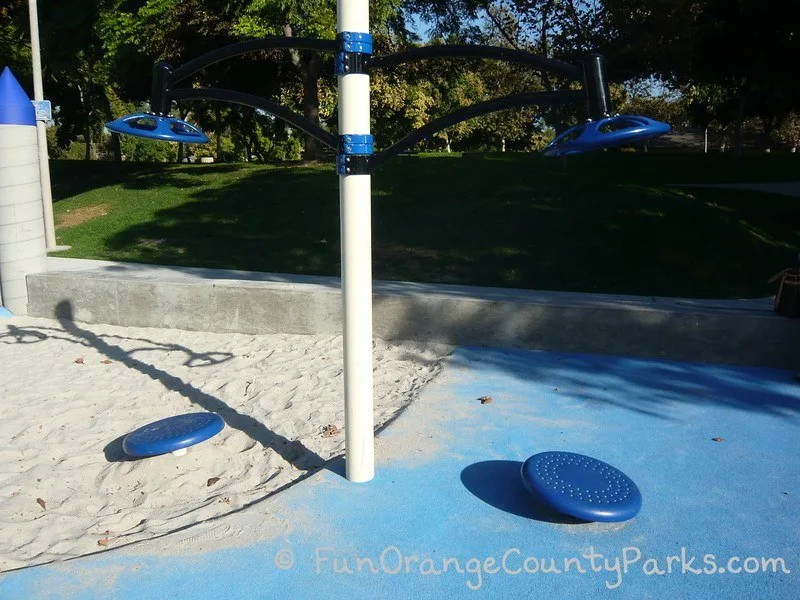 Fun teeter-totter and ride on dolphin. Set up for pretend play revolving around an ocean theme with a bait & tackle shop and equipment that looks like ships and boats.
I also liked the "climbing funnel" made out of net material. The kids loved it.
Easy to see the kids from most points in the park
There's also an accessible "boat" – like the one at TeWinkle Park. There's a ramp and it fits a wheelchair. The best way to make it rock is for an adult to stand in the middle and almost do lunges back-and-forth.
Big lake with ducks and geese
Fine Arts Center, Irvine Heritage Library, Community Center all in the same area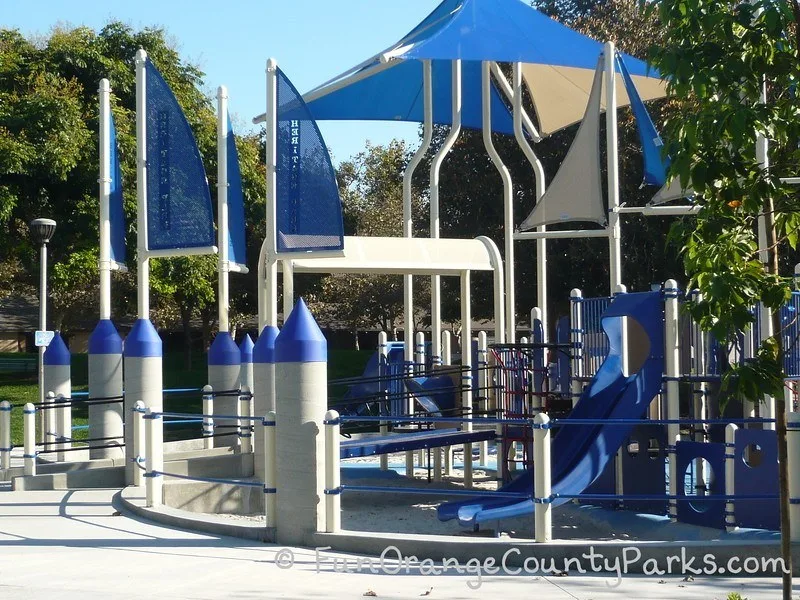 Be Aware:
Kids will be drawn to the water play, so make sure you bring a towel and a change of clothes
Watch for goose poop! Wasn't on the playground, but the sidewalks and some of the grass surrounding the park.
I wouldn't think this is the best park for really little kids, although I asked a few parents how they liked it and they weren't complaining. They just took a more active role in the playing by getting on the equipment with the kids.
Popular with school groups and moms clubs
Some parents worry about their kids near the lake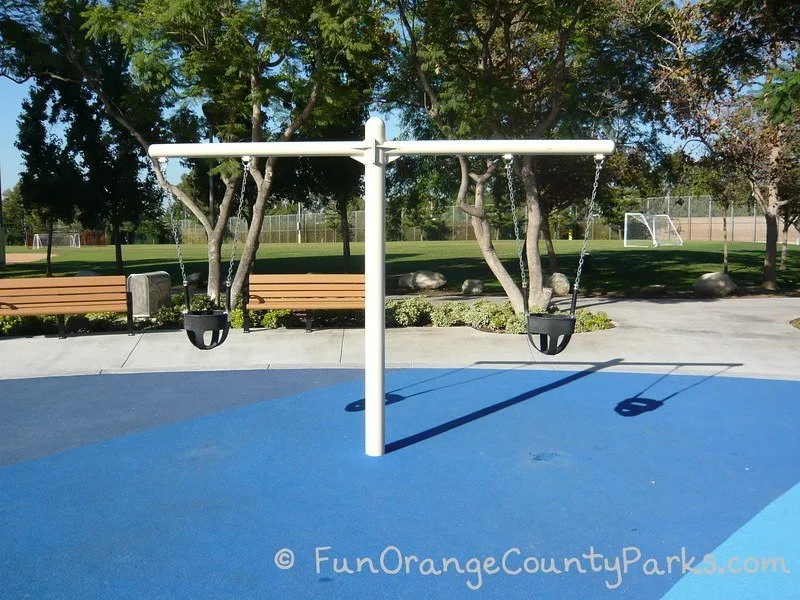 Checklist:
Large parking lot
Restrooms beyond the basketball courts; accessible restrooms in the youth center
Recycled rubber and sand play surface
Swimming pools, soccer fields, tennis courts, basketball courts, volleyball, baseball diamonds
Plentiful barbecues and picnic tables
Shady trees cover many of the seating areas
According to the City of Irvine, the fountains run from 10am-6pm daily
Official City of Irvine website for info on party reservations
Nearest public library branch: Irvine Heritage Park
Find more Pirate Ship Parks in Orange County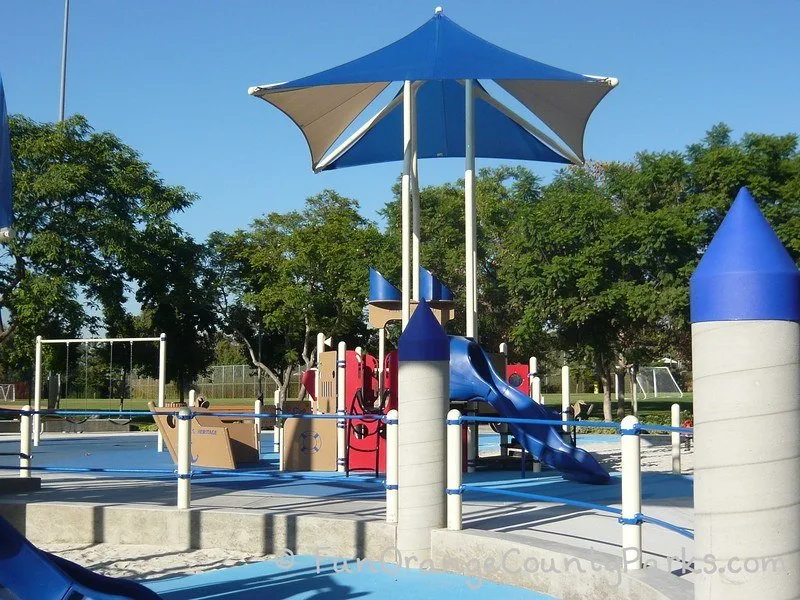 Nearby parks:
Originally posted in October 2010.