How about an all-inclusive Huntington Beach playground in the sand north of the Huntington Beach Pier? Yes, please.
In the works for a LONG time, this beach playground is partially the result of "a local mom who saw a need, asked a question and went with the flow" according to her "Huntington Beach Playground in the Sand" page on Facebook.
Yay, mom! It's real. It's open.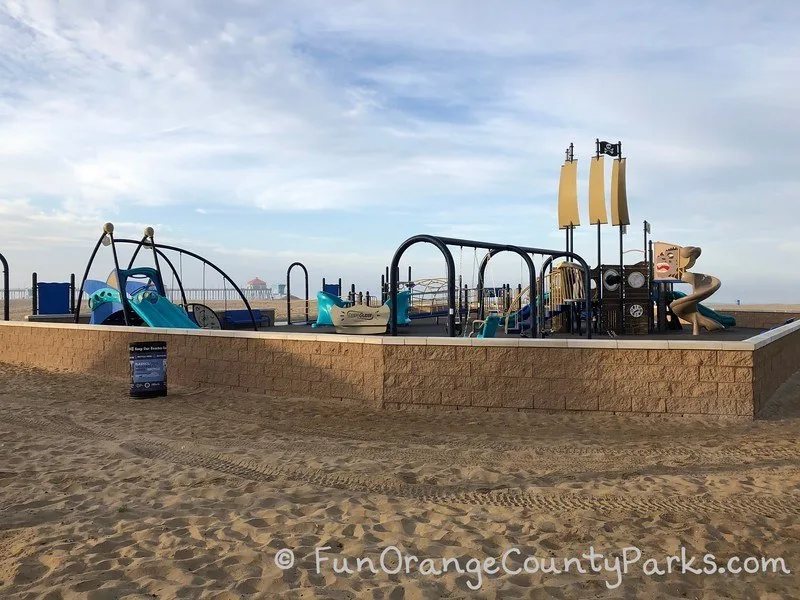 The sign outside the low wall around the play equipment says: "The playground was established by the City of Huntington Beach with the cooperation of California State Parks, and in part through a community fundraising effort."
The fundraising was achieved by the Huntington Beach Kiwanis Club leading an effort with the Kiwanis Foundation, in addition to generous donations from the Rotary Club of Huntington Beach and and an anonymous community donor.
Yay, fundraisers and donors!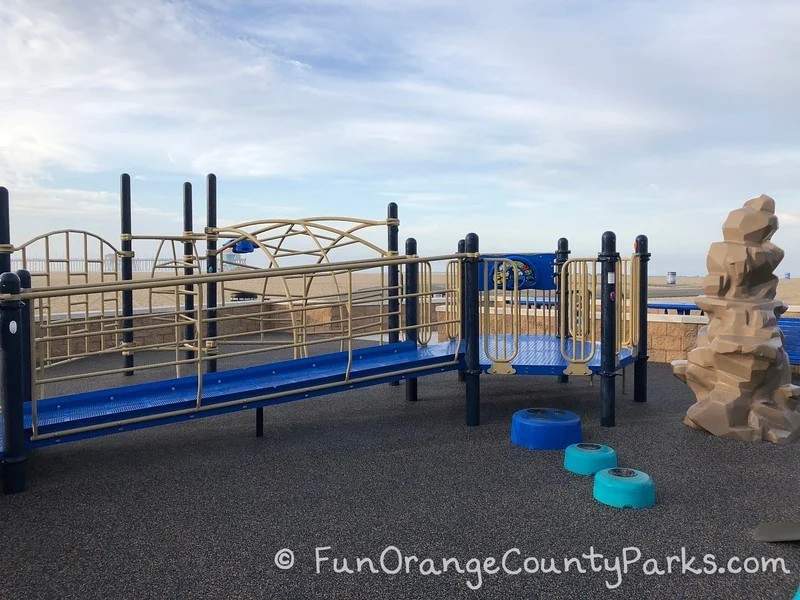 How to Get to the All Inclusive Huntington Beach Playground: It's north of the Huntington Beach Pier at 9th Street and PCH. Your best bet is to approach from the north so you can park on the beach side of the street. We came from Goldenwest Street which is a bit north of 20th and drove down PCH. At that early time of the morning, there were more spots open just past 9th. MAP TO ALL INCLUSIVE HUNTINGTON BEACH PLAYGROUND
Highlights
Who doesn't love a playground to pair with the beach? It's a dream set up for every California kid. The beach? PLUS a playground? Wow!
Kids will like the pirate ship theme and the adults will like the view of the pier + the surf & sand.
Lots of space for pretend play.
It's all-inclusive which means the playground is built with flat surfacing for access by wheelchairs and other mobility aids. One of the play structures has ramps that lead to interpretive panels and a glider.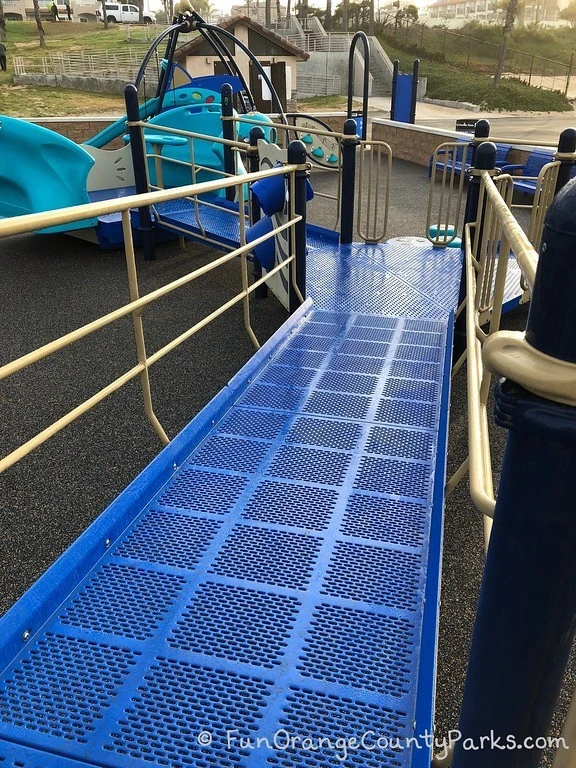 Let's talk about that GLIDER for a second. This is always so popular by children of all ability levels. It glides by parents or friends standing on the ground outside and pushing it back and forth.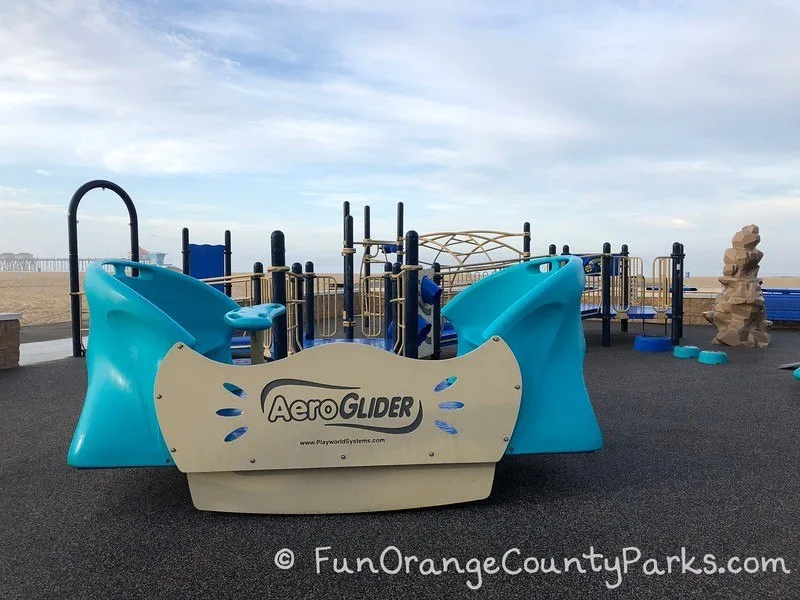 There are 4 swings – 2 bench, 1 baby, and 1 accessible.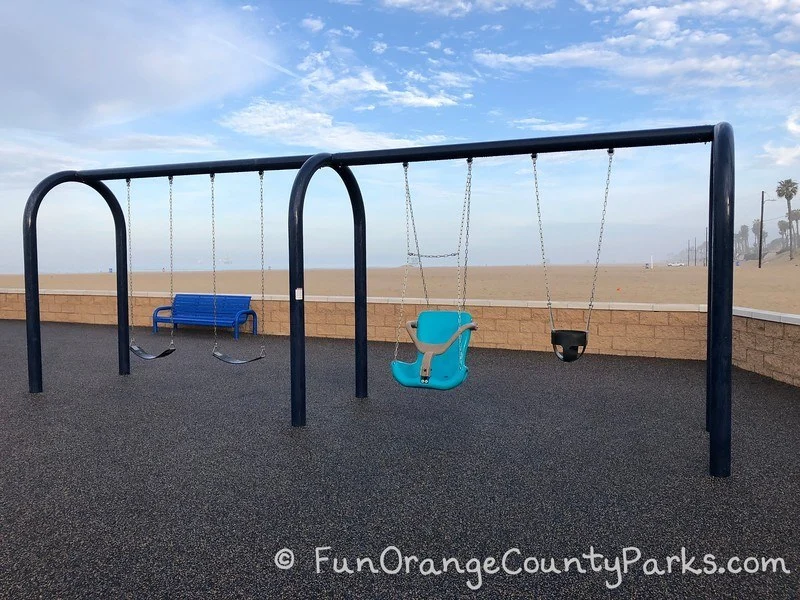 The playground has monkey bars and a spinner for hanging and spinning.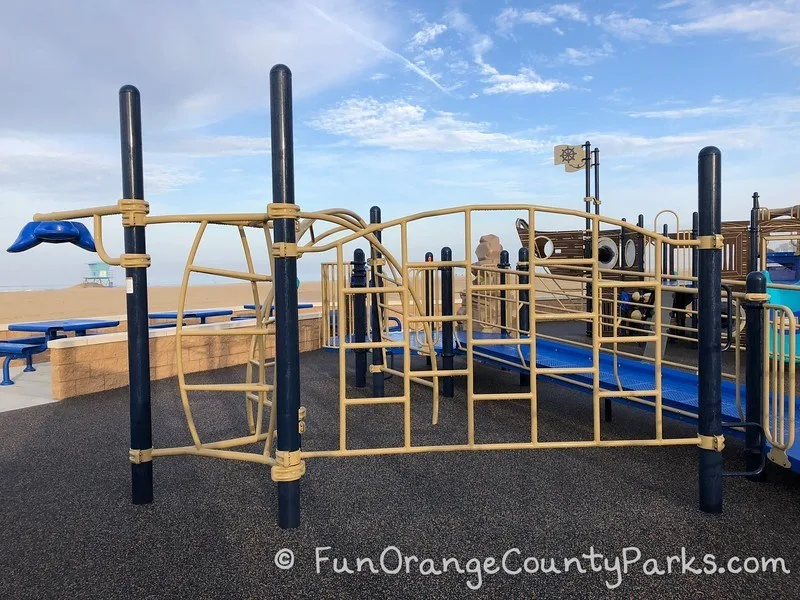 There is a small picnic area with 3 tables on the beach side of the playground. There are also benches lining the inside wall of the park.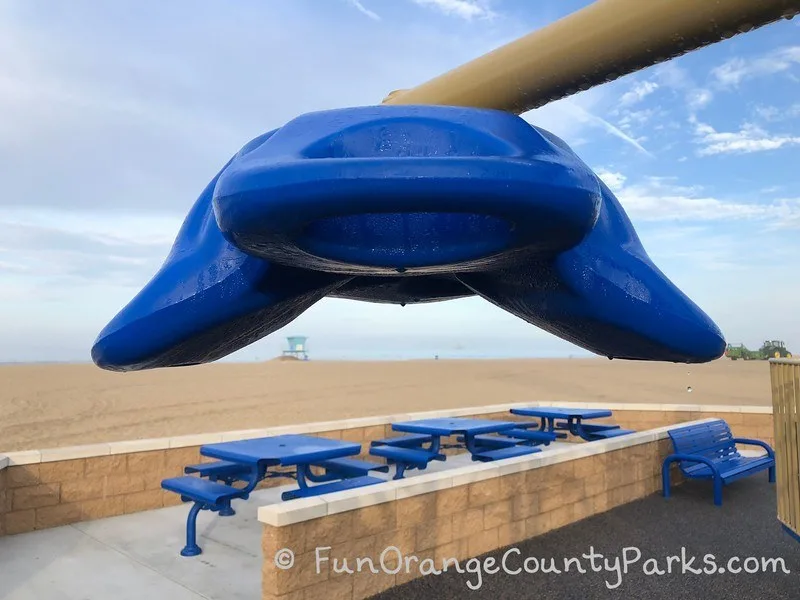 I counted 5 slides – a twisty slide, a curved slide, a straight slide, a double slide.
The play equipment when you enter the playground is intriguing because of it's interactive music and gear panel and a small ball which I imagine is for sitting inside?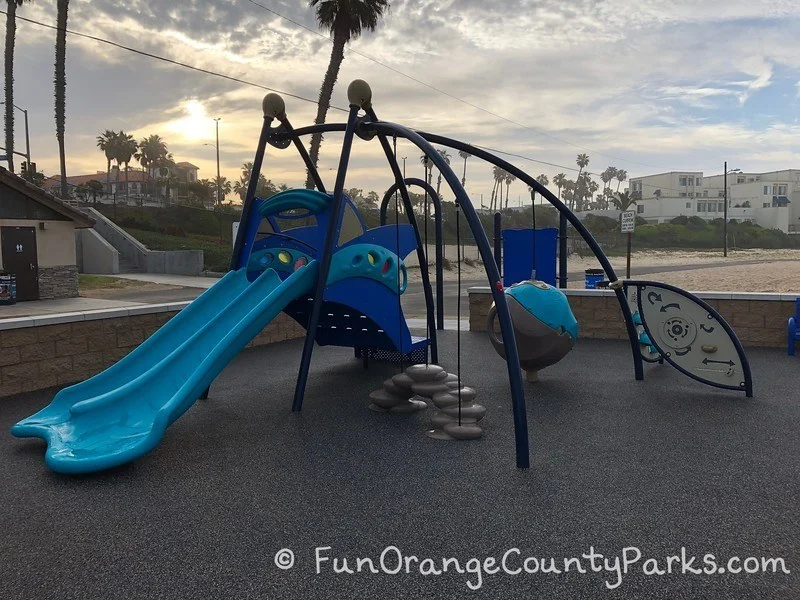 I liked the balancing and coordination features that connected two of the play structures.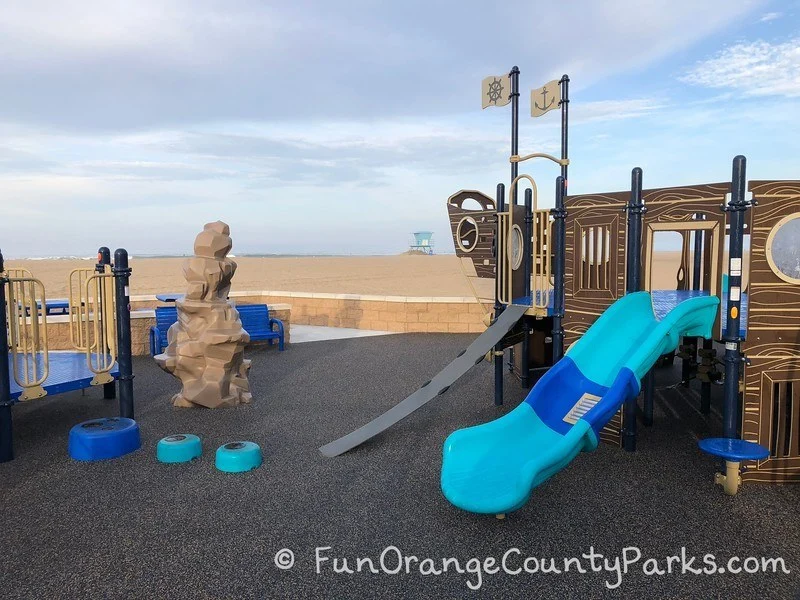 You could pair this playground with a bike ride along the bike path, beach trip, or walk to the Pier (just south of 5th Street at Main Street).
Lots of restaurants around the Pier and Main Street, plus a little further south at Pacific City.
Be Aware
Designed for 2-5 year olds, please be considerate and make sure these younger children don't get trampled by the older kids.
Be especially aware that the it's necessary to cross a bike path to get to the playground, there are homemade signs instructing visitors to look both ways and for bikes to slow down. Ultimately, it's up to you to make sure you cross this safely. Don't let the kids run ahead until you maneuver past the bike path.
High traffic area at all times of day and a very big tourist destination. This means parking will be a challenge and so will all the things that make a spot like this popular (litter, big events that bring in crowds, competition for space, and perhaps overnight visitors?). So be aware of your surroundings and bring your patience. Have a Plan B in case things look too busy or you can't find parking.
No shade.
Park curfew 10pm – 5am – no lights at night.
If you come early in the morning or on a foggy day, you'll want to bring a towel to dry the equipment.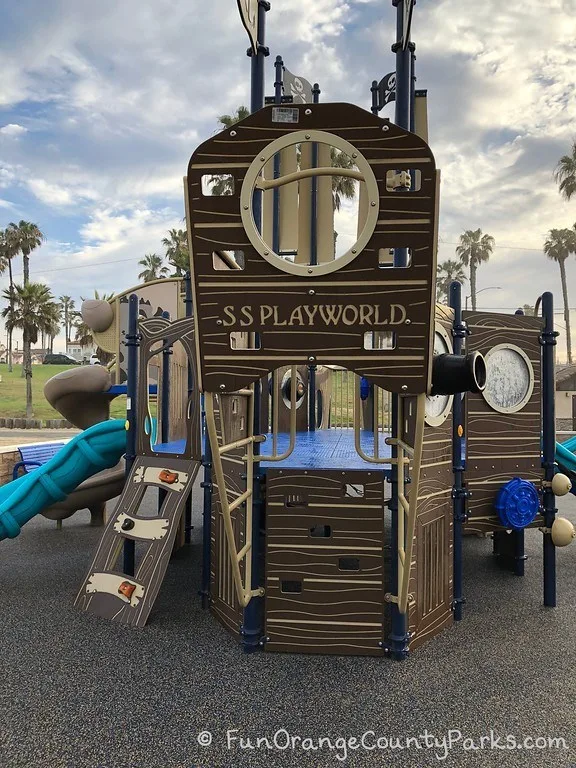 Checklist
Metered street parking along Pacific Coast Highway
There is a stairway and ramp leading directly from 9th Street down to the playground.
Recycled rubber play surface
There is a restroom building directly adjacent to the playground, but I'm not sure if it is equipped to be accessible. We were there in the early morning hours and I forgot to check!
Visit my list of 15 Pirate Parks in Orange County for more pretend play opportunities!
Would you like to play at other beach playgrounds in Orange County?
Originally published in April 2018.