Pavion Park in Mission Viejo existed for a long time before it opened with a completely new playground in December 2014 — designed to be a universally accessible playground and one of the most progressive playgrounds I've ever seen.
When I first visited this park back in 2010, it was our "mystery destination" on a walk up the Oso Creek Trail through the Jeronimo Open Space from Oso Viejo Park near the Norman P. Murray Senior Center. I had my two kids and two nephews with me (ages 4-8) and embarked toward Pavion thinking it would be a quick jaunt, but it turns out it's a 1.8 mile hike uphill on a paved trail.
Directions to Pavion Park in Mission Viejo: Pavion is near the corner of Jeronimo and Olympiad. There are multiple directions to approach this park. From Interstate 5, it may be easiest to exit Alicia Parkway and travel east towards the foothills. Drive quite a ways up the hill and turn right onto Jeronimo. Drive all the way up Jeronimo until it almost hits Olympiad. Turn right at Pavion. Park along the street. [Address: 24051 Pavion, Mission Viejo] MAP TO PAVION PARK IN MISSION VIEJO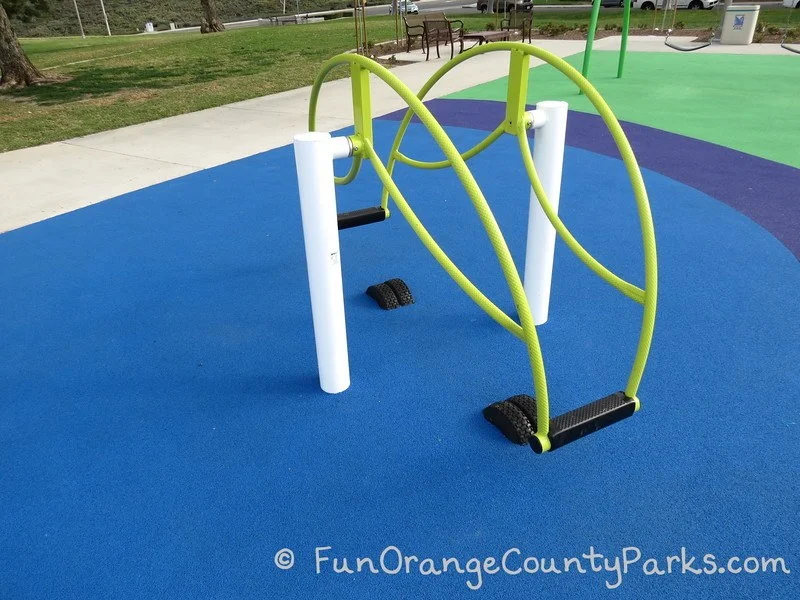 Highlights:
It's universally accessible!
They integrated a little natural history with interpretive signs about animals that are (or were once) native to the area.
Colorful adirondack chairs grouped for socializing.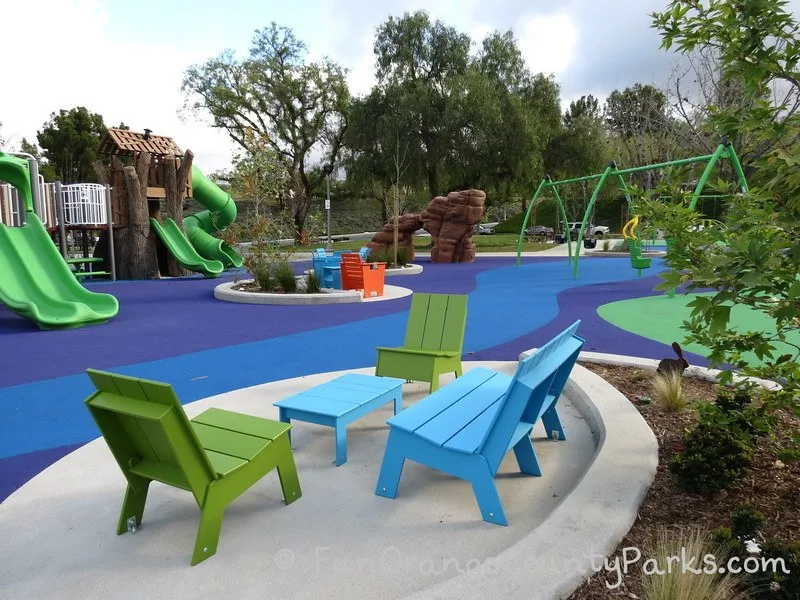 There's a path just past the Oso Creek Trail leading between this park and Oso Viejo Park which cuts through the Jeronimo Open Space. It was a beautiful walk. (Uphill from Oso Viejo to here / Downhill from here to Oso Viejo).
Two bench swings, two baby swings, two "swing with me" swings where you can swing face-to-face in tandem with your baby or toddler. If you like these, I have a whole list of parks with Mommy and Me baby swings.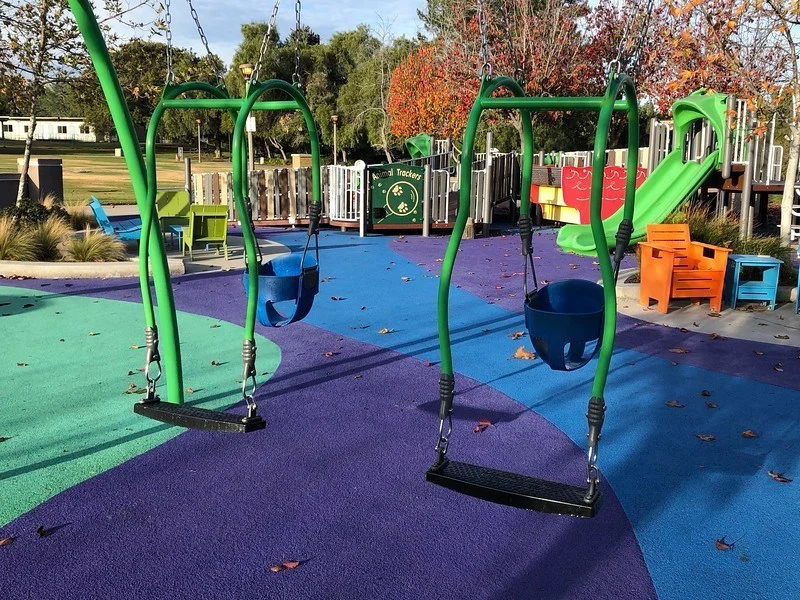 Fun dance game that gets kids really active.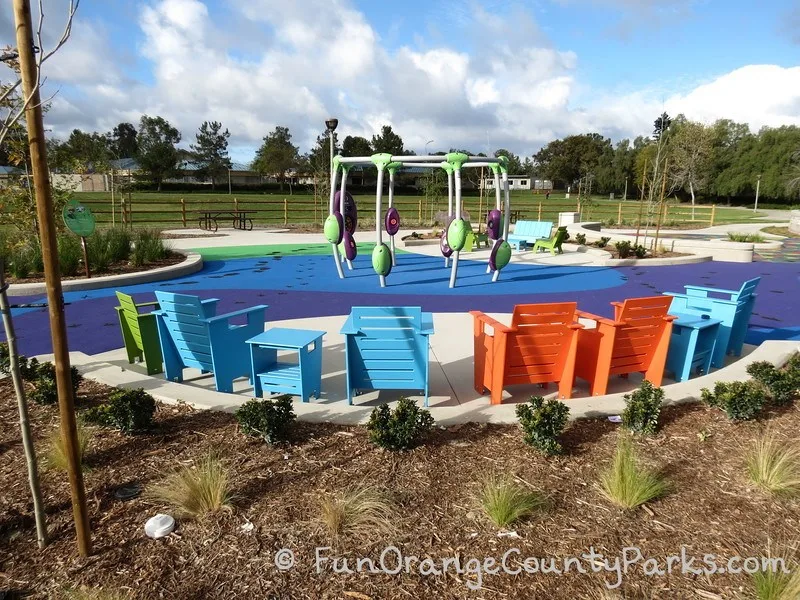 I counted 15 spinners — all different kinds! Usually kids are waiting to take turns, but you can have tons of kids all spinning away at the same time.
New and different zip line! Have you ever seen a zip line swing like this?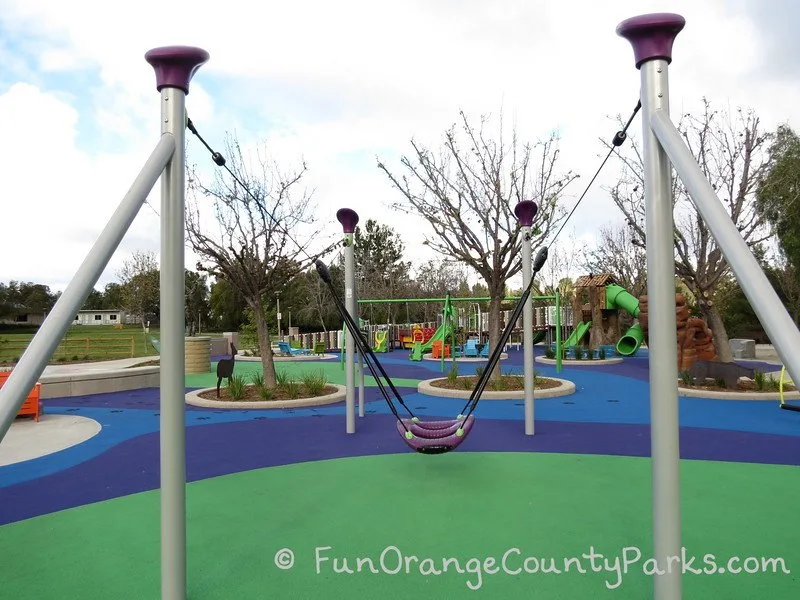 A big colorful maze on the ground with game instructions (or make up your own).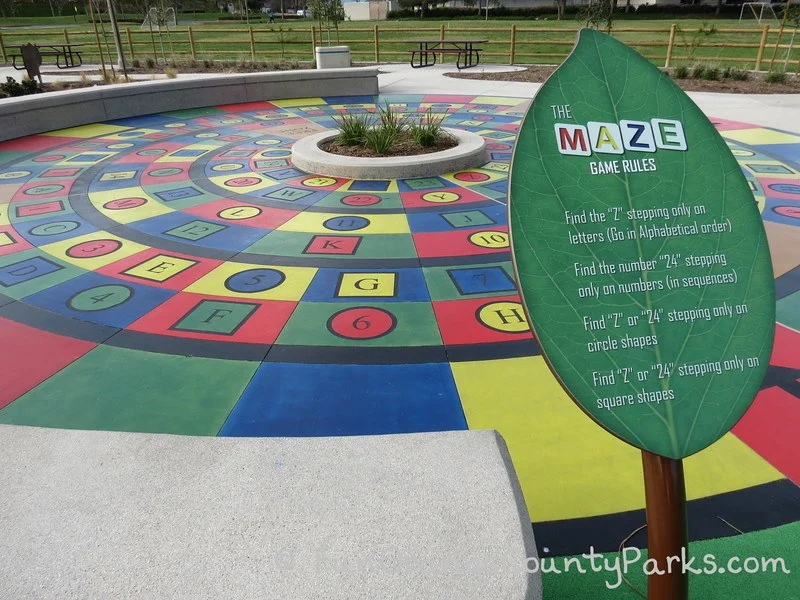 It's a super large playground with multiple play areas laid out on a flat surface.
Shade trees surrounding the playground on the lawn area.
The main playground is completely accessible with ramps and interactive boards – and a tree house slide that some can reach by climbing leaf ladders.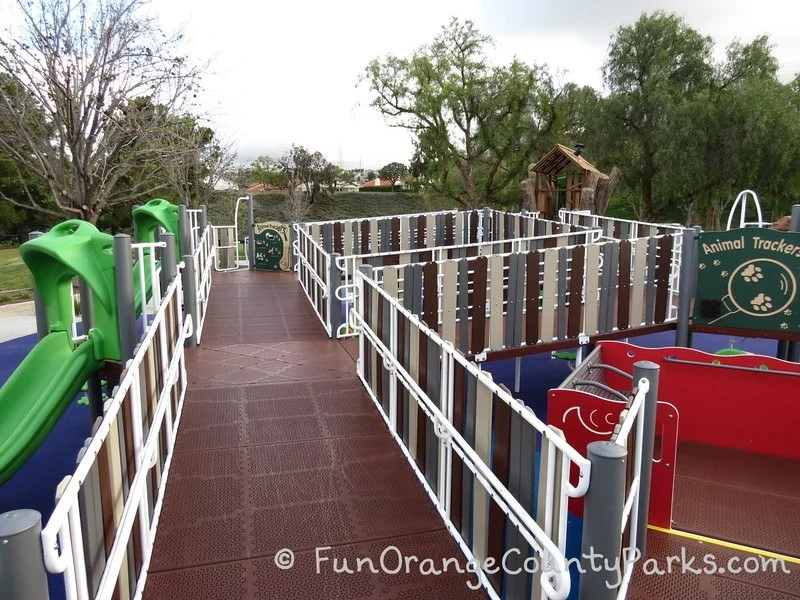 Only a small sand area for the diggers.
It has a rocking boat that fits a wheelchair.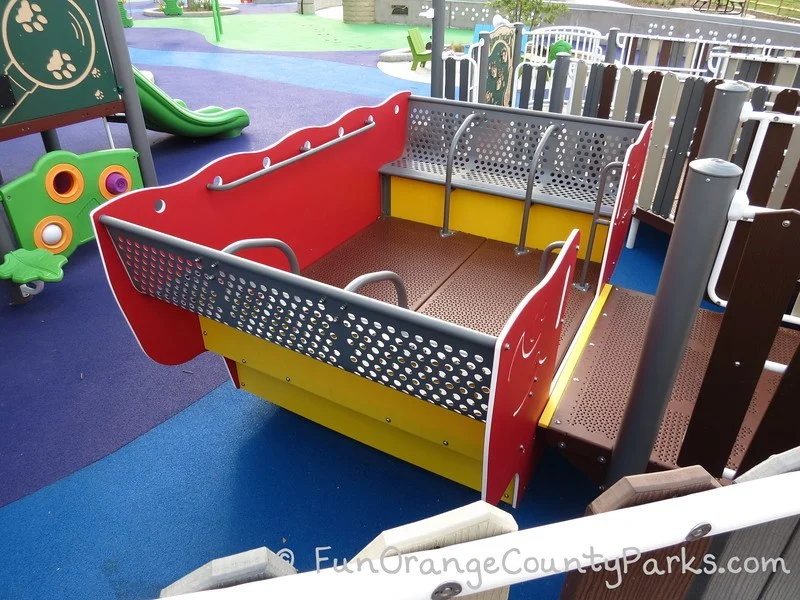 Be Aware:
There is an elementary school nearby so traffic and parking could be bad at school drop-off and pick up.
It's a popular park on weekends.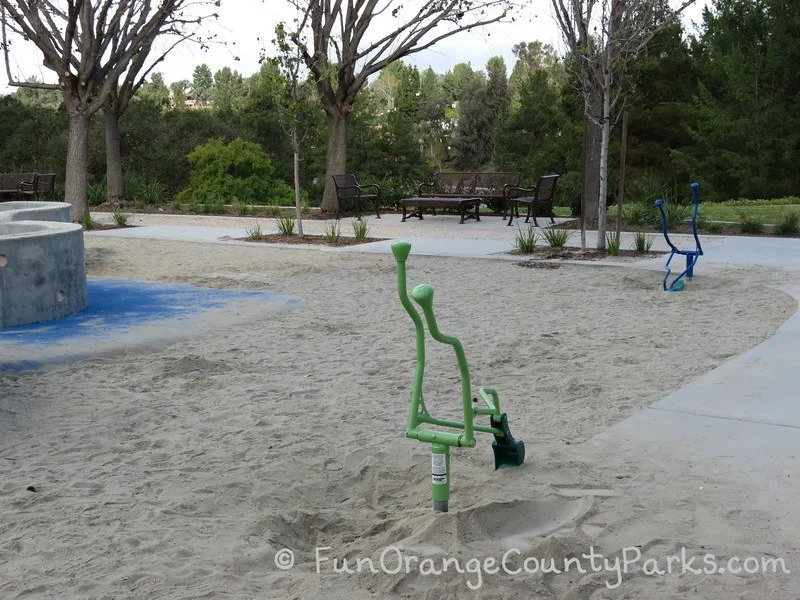 Checklist:
Parking along the street
Recycled rubber play surface with a small sand area
Restroom building installed just steps away from the playground in Summer 2016
Drinking fountain
Lots of mesh metal picnic tables and seating areas surrounding the playground
Shade trees for picnics on the lawn
For reservations and information – consult the City of Mission Viejo's Picnic Shelter page
Nearest public library: Mission Viejo Library (not part of OCPL)
Visit my South Orange County Parks index to find more playgrounds
Pre-2014 Photo Archive of Pavion Park!
It used to look A LOT different!
Originally posted in August 2010.