I wanted to go beyond a list that includes ONLY petting zoos and animal playgrounds in Orange County. Because the kids who want to go to petting zoos are probably animal lovers! Where can you have animal encounters or find places to visit for your child who loves animals BEYOND just petting zoos?
Those animal loving kids are probably happy at regular zoos and even nature centers with animal exhibits. Expanding the list to ALL the fun places to bring animal lovers in OC gives you so many more options!
Thanks to the mom who asked me for a list of petting zoos, because I can think of so much more for your little animal lover!
This post explores:
Petting Zoos & Animal Visits
Zoos in Orange County
OC Nature Centers with Live Animals
OC Playgrounds and Parks with Animals
You Might Also Like Farms & Gardens, Aquariums, Carousels, & Splash Pads
I am focusing on spots that are either FREE or low cost! I expect this list to grow over time! Especially with your suggestions so please send them my way.
You'll also find some of the more expensive spots you may have heard about at the end of this post. It's always a work in progress and I'm open to your suggestions!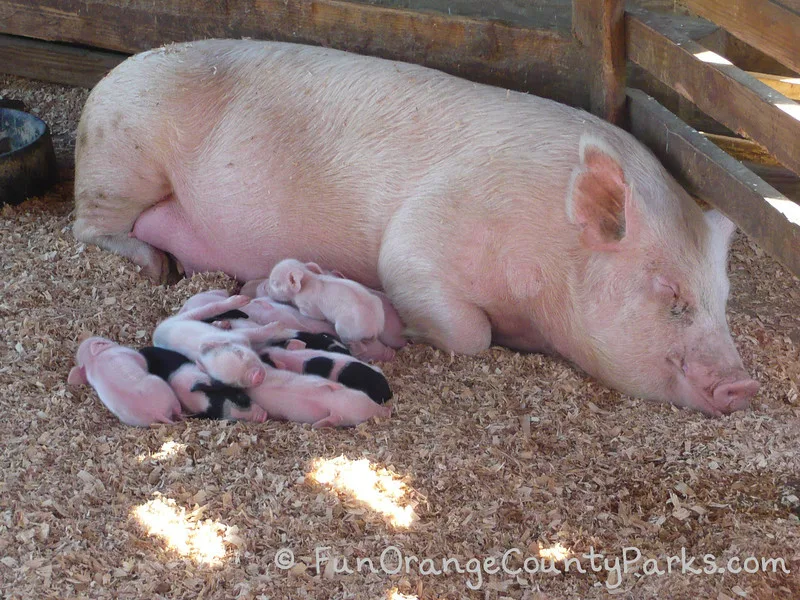 Petting Zoos & Animal Visits
Irvine Regional Park is usually recognized for its train ride, but it also has peacocks which wander the grounds and also tons of woodpeckers and other bird life. The OC Zoo inside the park has what I consider to be the most inexpensive and best petting zoo type experience in OC. Cost: $3-$5 to get into the park. The zoo admission is $2 for age 3 and over, free for 2 and under.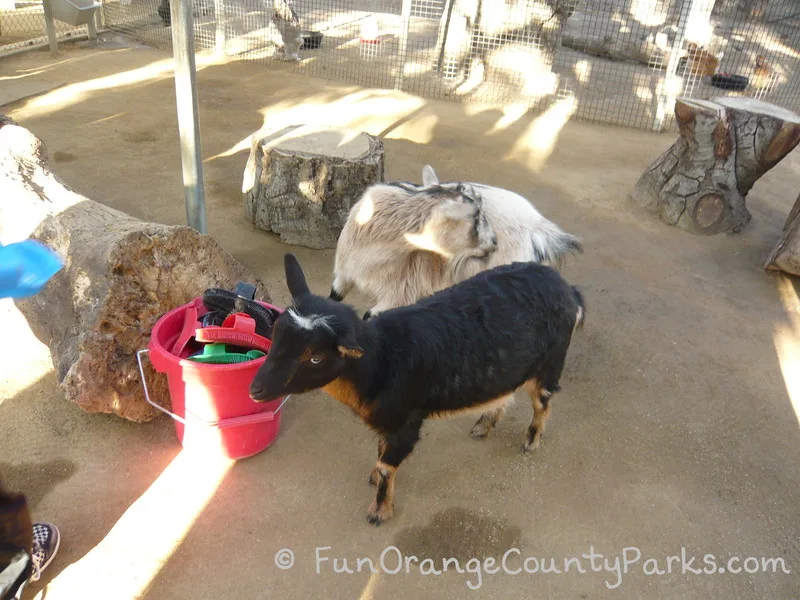 Pony Rides at Irvine Regional Park can be combined with the park I mentioned above, plus the OC Zoo, too. Cost: $8 per child (cash only).
Centennial Farm in Costa Mesa is a working farm with barnyard animals to be viewed, but not as a petting zoo. There are interactive displays and it's worth an hour or more of your time. The only caveat is that you won't want to go during the OC Fair (unless you are already going to the OC Fair!). At other times of the year it isn't crowded at all and you'll get a great experience.
The Crean Family Farm inside the Santa Ana Zoo is so family-friendly for viewing the farm animals and you'll actually feel like you are on a farm. No petting zoo option here, but your animal lover will get the whole experience without the direct interaction. Cost: Included with zoo admission ($13 for adults and $10 for kids and seniors, free for 3 and under). Parking is free. Also no-admission fee days once a month for Santa Ana residents.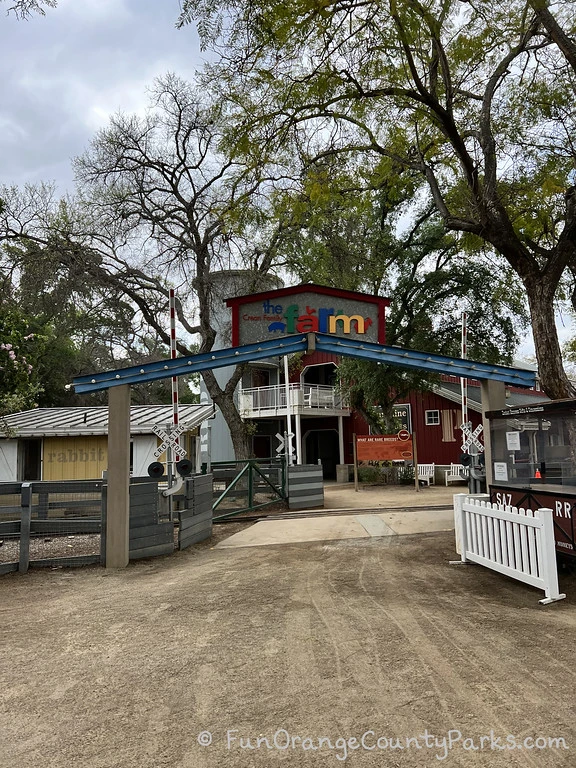 Pacific Marine Mammal Center is on Laguna Canyon Road and can accommodate individuals visiting but you need to make reservations if your group is 10 or more. It's very small and can be a little sad for kids because the animals here are unwell and being treated, but also uplifting because the goal is to release them back to the wild. It can close due to an overwhelming number of patients or other reasons so check their website or social media before you go. Cost: Free, donations appreciated.
Koi Pond at Fashion Island in Newport Beach is extra fun because you can get up close to the koi (PLEASE don't touch!) as they swim around in the pond that has stepping stones across it. It was first installed back in 1969! I've been enjoying it since my college days at UCI back in the 1990s. See historic photos on the Fashion Island timeline. Cost: Free.
Tanaka Farms in Irvine has a Barnyard Educational Exhibit included in its $5 admission. When you register for Storytime for 1-5 year olds on Tuesdays and Fridays (included in that $5 admission) then your $ will go to Helping Farms Feed Families (501c3). This is another spot where there is no actual petting of the animals, but you will learn a lot at your visit and can support the farm by shopping for produce before you head home!
Goods and Goats Market in San Juan Capistrano has a 6 days a week Playtime (at least for July) where you get to interact with animals at your leisure and have other free play opportunities in a 3 hour block from 9am to Noon. You don't have to pay for extras here. COST: $15 ages 2 and up.
The wall size tropical aquarium at Cerritos Library (LA County, but OC close) greets you as you walk in the doors and see the Children's Library at your left. The website has a PDF of current fish in the aquarium. COST: Free.
Your nearest pet store or animal shelter!
Zoos in Orange County
The OC Zoo (Orange County Zoo) is inside Irvine Regional Park. It houses so many local animals, even black bears and mountain lions, that cannot be released out into the wild. The latest new exhibit is the Large Mammal Exhibit. As mentioned above, there is a petting zoo but you will feel close to the animals even if you don't go to the barnyard area.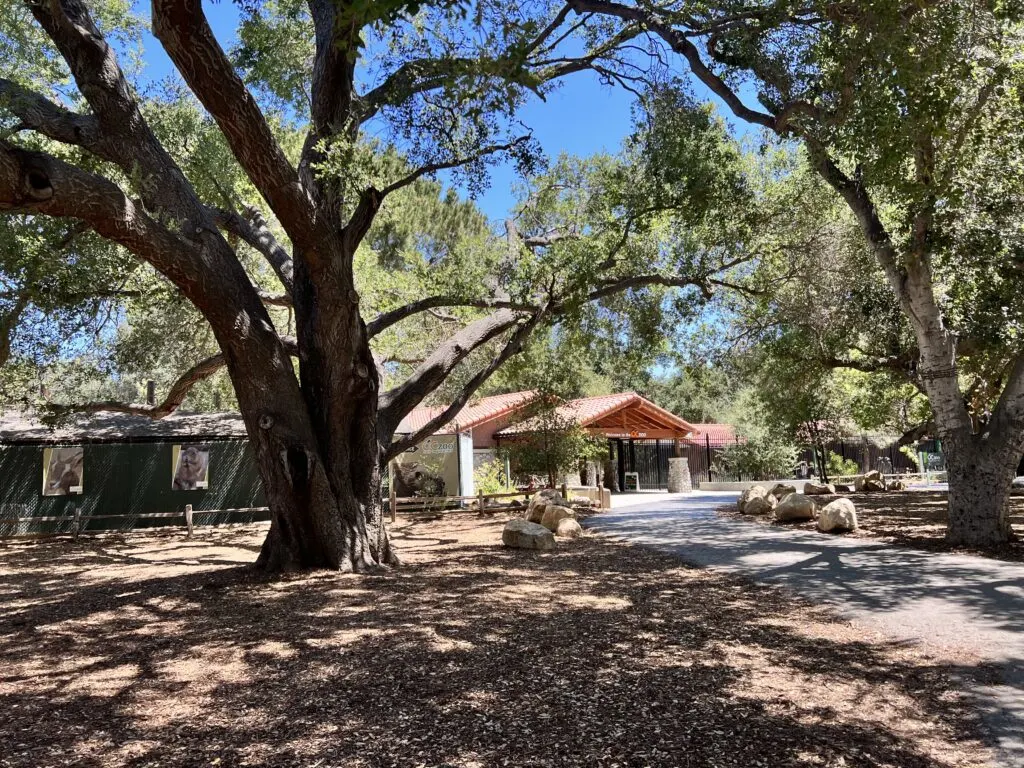 The Santa Ana Zoo at Prentice Park is so much more than a zoo! It's a beloved community hub with so many local events, an admission free day for Santa Ana residents each month, and they even bring the zoo on the road with ECO neighborhood visits. Paying for the animal-themed rides at the zoo goes towards the non-profit which supports the zoo. I recommend a membership if you think you'll go often!
OC Nature Centers with Live Animals
Pick any nature center in Orange County and you will find either educational exhibits, artwork, or taxidermy featuring animals. I do have a post about all 17+ Nature Centers in OC if you'd like to explore the full list. I wanted to talk about which ones have opportunities to see live animals. COST: Free, but appreciate donations.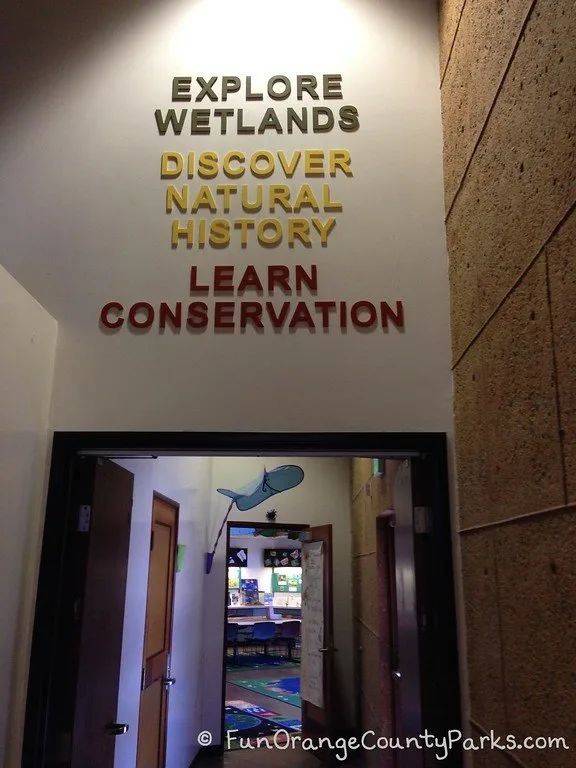 OC Playgrounds and Parks with Animals
OC Playgrounds and Parks with Animals
I came up with this idea back when all the kids were loving Encanto and wanting to pretend they were Antonio Madrigal who could talk to animals or Luisa holding up all those donkeys! So I started a list and it's grown to so many spots!
I might not even tell you about ALL the animals, because there is some fun to be had in finding them for yourself!
I also got recommendations of parks that aren't on my blog yet or ones with ride-on toys like the bumblebees (but in the shape of bears, squirrels, etc.). Here is what you said:
Craig Regional Park (single horse/pony riding toy or four-way horse/pony riding toy)
Hillcrest Park in Fullerton has a bear ride-on toy – I have this park on the blog, just not a good bear photo.
City Hall Park in Brea has a lion tunnel.
Parks with lakes are also good spots to find many species of birds and sometimes turtles! So you can look for those spots, too. I have a post of 15+ Stroller-Friendly Walks Around Lakes.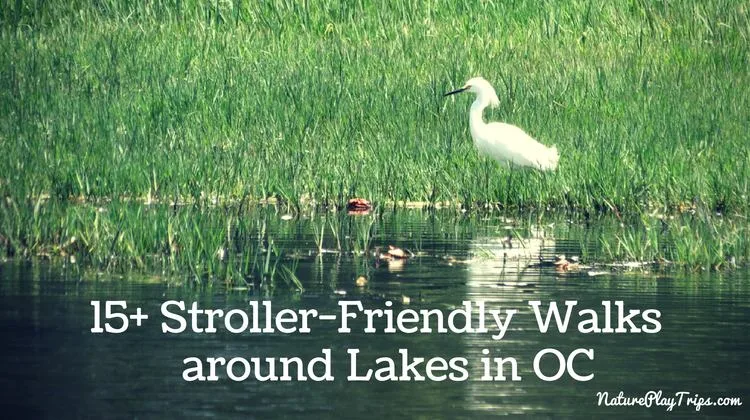 You Might Also Like Farms & Gardens, Aquariums, and Carousels
Go to my Kid-Friendly Farm & Garden Outings post . . .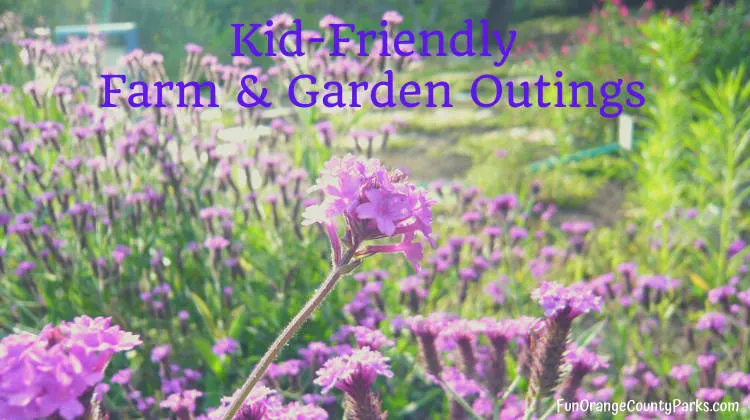 Go to my Southern California Aquarium Trips and Touch Tanks post . . .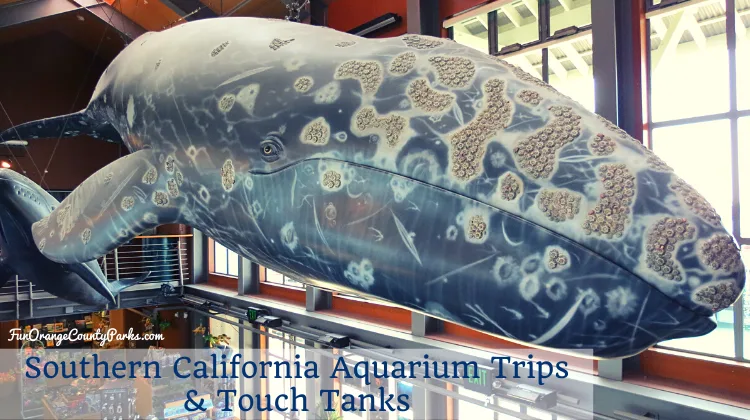 Remember that carousels and merry-go-rounds also feature animals (real & imaginary!). Read my post about the 9 Carousels & Merry-Go-Rounds in Orange County . . .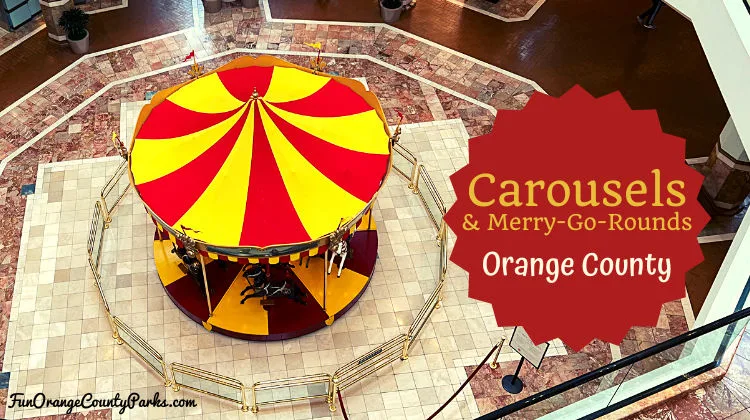 And, finally, there are splash pads featuring animals! The ones I can think of are: Crown Valley Park Splash Pad, Rancho Santa Margarita Splash Pad, and Stanton Central Park Splash Pad. Brio Splash Pad in La Habra has a butterfly and there are some whimsical creatures at Sigler Park in Westminster. You can read my post on all the Splash Parks and Water Play in Orange County.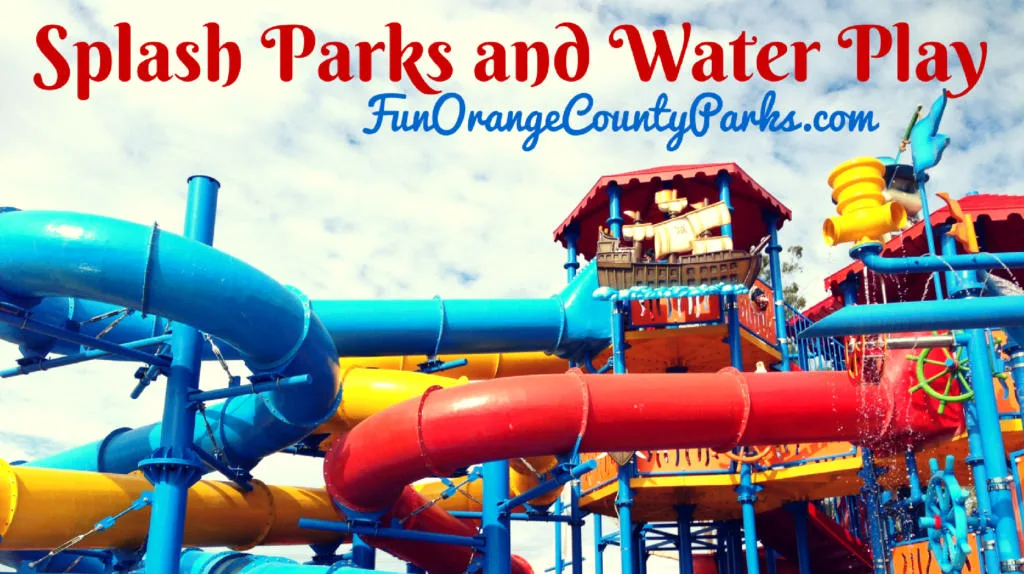 And don't forget all the tidepool animals you can find!
---

Just like this supporter . . .

I appreciate each and every kind gesture to support this work and will personally respond to your notes.
---
More Expensive Animal Encounter Options
Zoomars in San Juan Capistrano – admission is more than The Santa Ana Zoo which is $15 adults, $12 seniors & children (ages 19 months to 12 years old). However, this is NOT a zoo on the same scale. It only includes a guinea pigs (and they are often off exhibit due to temperature), the goat & sheep pen, and a playground. It's a relatively small spot with some rides & attractions. COST: So to get in the door for a family of four with a 4 year old and 2 year old it would cost $54 (in comparison the SA Zoo would be $36)! And I encourage you to check the cost of extras because feed baskets, pony rides, tractor rides, train rides, excavator rides, and mining all cost extra.
---
This list was created in the spirit of providing some awe & wonder + nature connections, especially for families with animal loving kids under 5 years old. I understand some people object to animals in captivity. Many of the animals featured here were injured and unable to be released back into the wild. I consider them as serving as ambassadors for wildlife and truly building connections with children who will work to protect them as they grow. Barnyard animals have always been part of working farms. I also included lots of options where the animals are depicted on playgrounds or in artwork and no actual living (or once living animals) are involved in the visit. I hope there is something for everyone here.