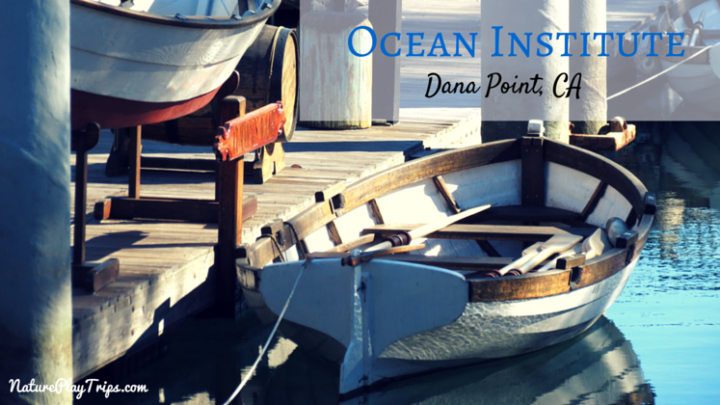 I'm a total ocean and beach kid, so I feel a true connection to Ocean Institute in Dana Point. Even more so, since the creation of The Maddie James Foundation and their involvement in the Seaside Learning Center. My ocean-loving, blond daughter's birthday is only a month after Maddie's. They were born in the same year. Even though I don't know Maddie's parents, our families have common friends. The loss is so great, yet Maddie's contribution to bettering our world is even greater. I always think of her when we visit. I feel her in every sparkle of sunshine on the water and take comfort watching the birds soar over the waves.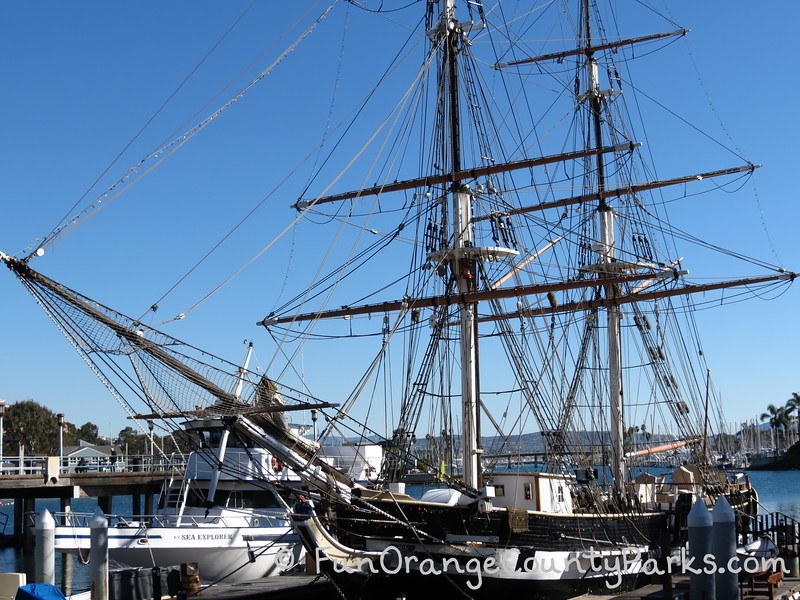 Location: I get to Dana Point Harbor from all sorts of directions (Moulton to Golden Lantern, Crown Valley Parkway to Pacific Coast Highway (PCH), I-5 to PCH. Look at the map to see what makes the most sense for you. Taking the "Beach Cities" exit off Interstate 5 takes you right to the pedestrian bridge over PCH. Turn left onto Dana Point Harbor Drive and wind past Doheny Beach and the main shops at the Harbor. Keep driving past Golden Lantern and you'll dead-end into the Ocean Institute parking area. MAP TO OCEAN INSTITUTE IN DANA POINT HARBOR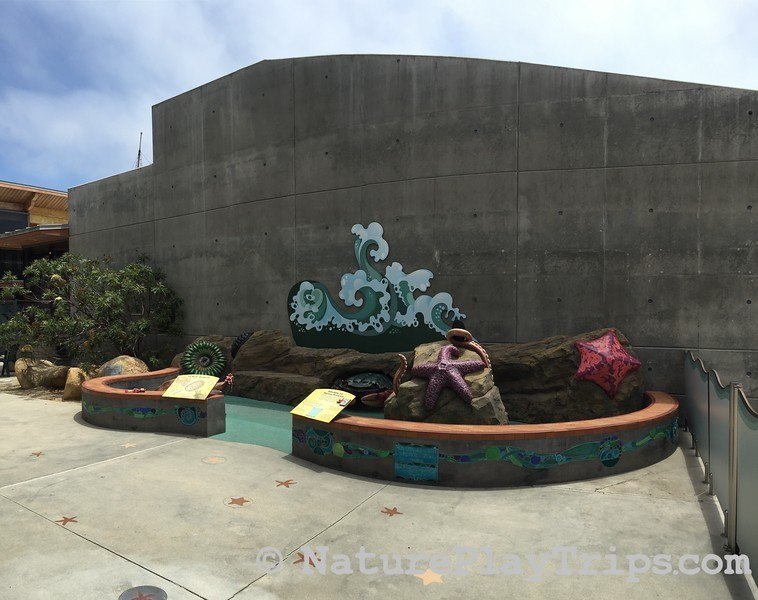 Highlights:
The tidepool playscape and Headlands and Beyond exhibits are new offerings for the public as of 2015.
A new Maddie James Seaside Learning Center was constructed thanks to Maddie James Foundation. The building at the top of the dock is a wonderland of nautical history and hands-on exhibits. When we visited, a staff member presented a program to families with young kids who were really engaged with her talk. The red buildings down the dock house research from high school interns and other citizen science projects. Summer camps and school field trips also make use of the space for education purposes.
Inside the lobby is the Headlands and Beyond: A Hands-On Science Experience which is all about interacting with the exhibit. There are always plenty of dedicated volunteers to help you figure out what you're supposed to do. So don't be shy about interacting!
On the weekends, when the whole place is open you'll find that the Ocean Institute is mostly outside – so you wander in between research/display rooms while feeling the ocean breeze.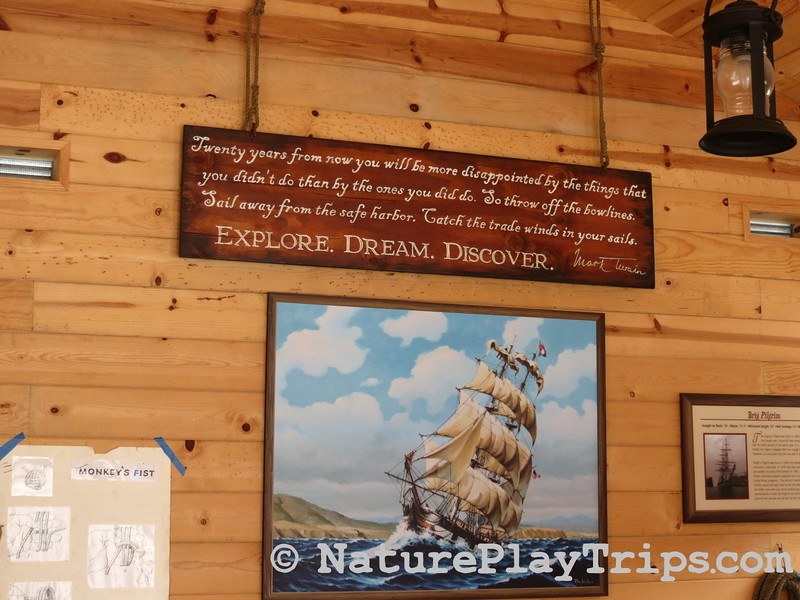 My kids like the touch tank, watching the rays, and exploring all the sea creatures on display. My favorite spot is the outdoor tidepool. I always say "hi" to a special resident (see if you can find him in the crowd). Sometimes they run dissections which can be a big draw for little scientists.
The location is unbeatable nestled in a corner of Dana Point Harbor near Baby Beach with a view into the Harbor and out into the Pacific.
Excellent Laurena G. Chambers Gallery Book and Gift Store with nautical books, decor, and toys. Proceeds benefit the Institute and the shop is open during the week (7 days from 9am-5pm) — even when the Institute is closed. (Hint: I like to get unique birthday gifts here.)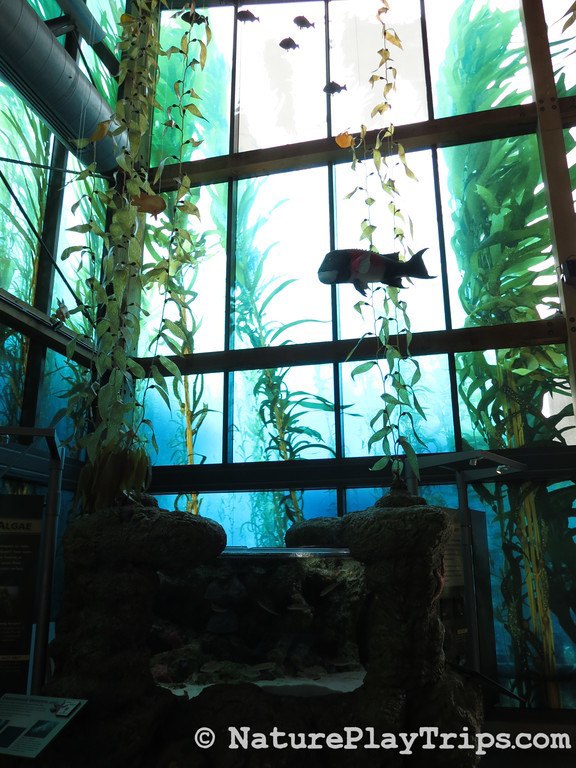 Membership is reasonable and there are a lot of added benefits like: discounts at Coffee Importers, the gift shop, admission to special events, reduced summer camp fees.
See the Tall Ship Pilgrim (Sundays), sign up for an adventure on the Spirit of Dana Point, or go for a tour or whale watching on the R/V Sea Explorer. My daughter saw blue whales on her summer camp R/V Explorer trip. I don't think she'll ever forget that experience.
My kids attended Ocean Institute Summer Camps in 2011, 2012 and 2014. I love their programs and the kids can't wait to spend a week of their summer with the amazing instructors and staff. Start saving your pennies now!
Spend some time outdoors just looking into the water and admiring the Pilgrim and Spirit.
Before the Seaside Learning Center: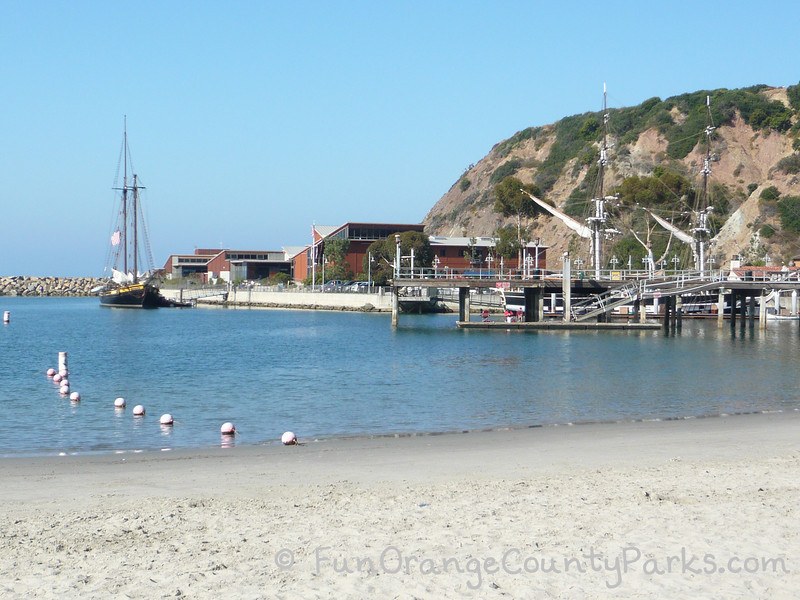 During Construction (Winter 2013):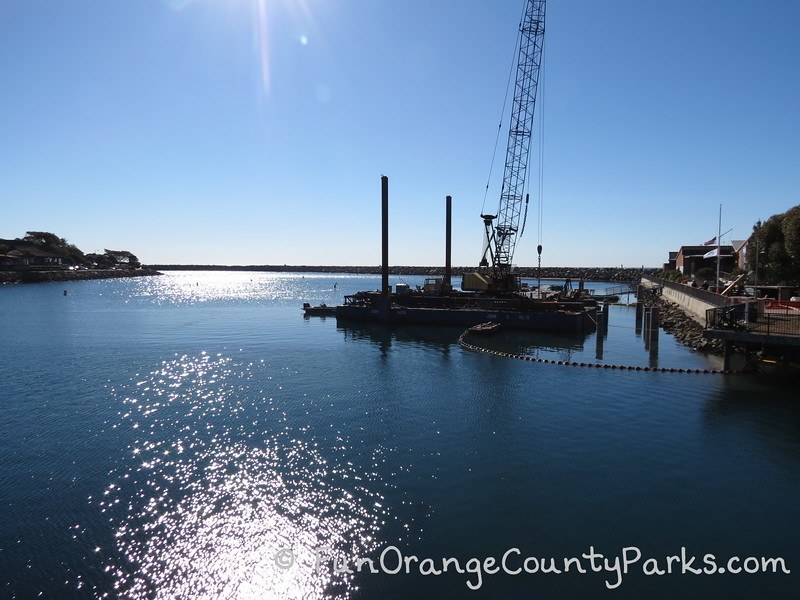 After (2015) with even more red buildings on the dock – not pictured: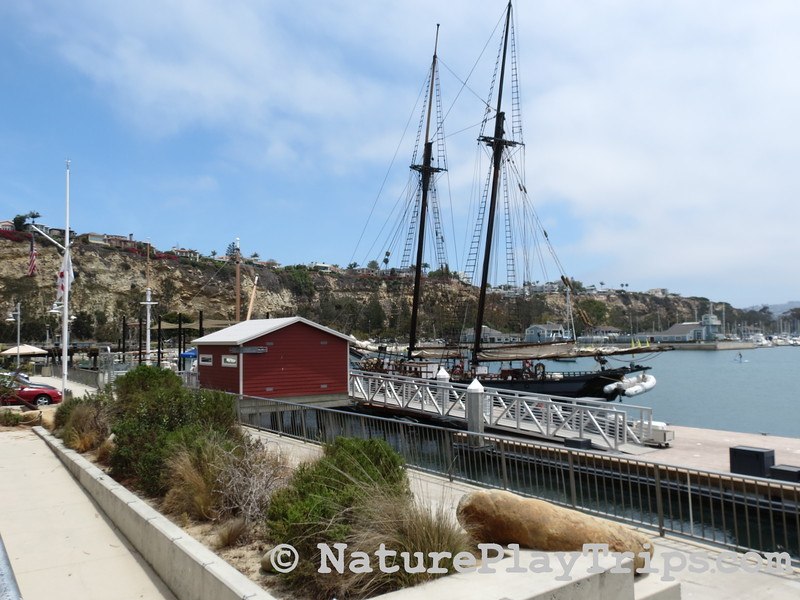 Be Aware:
Weekdays = ONLY access to Headlands and Beyond exhibit, the playscape, and the Maddie James Seaside Learning Center tours.
Weekends = They open the campus to visitors.
It's primarily a research institute so don't expect a theme park.
Limited hours. Always check their website for special events which might influence public access. I never promise anything to the kids before we go – warning them that any or all of it may be closed when we get there. Always have a Plan B!
Going through the Institute only takes an hour — so don't rush through. Take your time at each little station. (Hint: Combine this with some of the nearby outings below to make a full day of it.)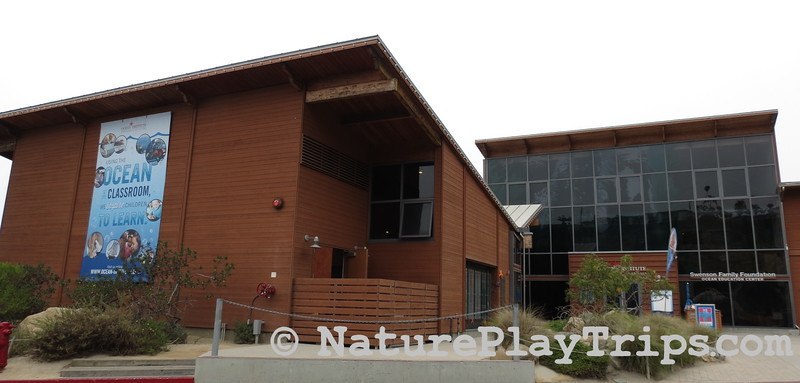 Checklist:
The Ocean Institute exhibit called Headlands and Beyond: A Hands-On Experience, along with tours of the Maddie James Seaside Learning Center, and the tidepool playscape is now open on weekdays during public hours from 10am to 4pm. $5 per person and kids under 2 years old are free. Admission is more on weekends when the hours switch to 10am to 3pm and it costs $10 – but you have access to more of the campus.
Consult the Ocean Institute website for visitor information and info on summer camps, visitor programs, membership, location, and ways to get involved.
Take a stroller-friendly walk around the harbor. The Institute is also stroller-friendly.
Parking is free, but can be impacted in the summer or during special events.
Restrooms inside the facility and also out near the outer parking lot (in front of the Pilgrim).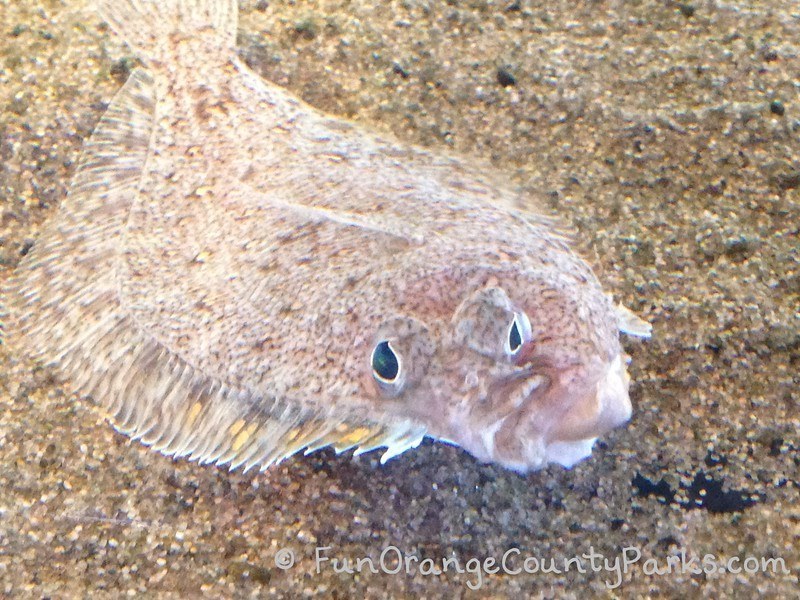 Nearby outings: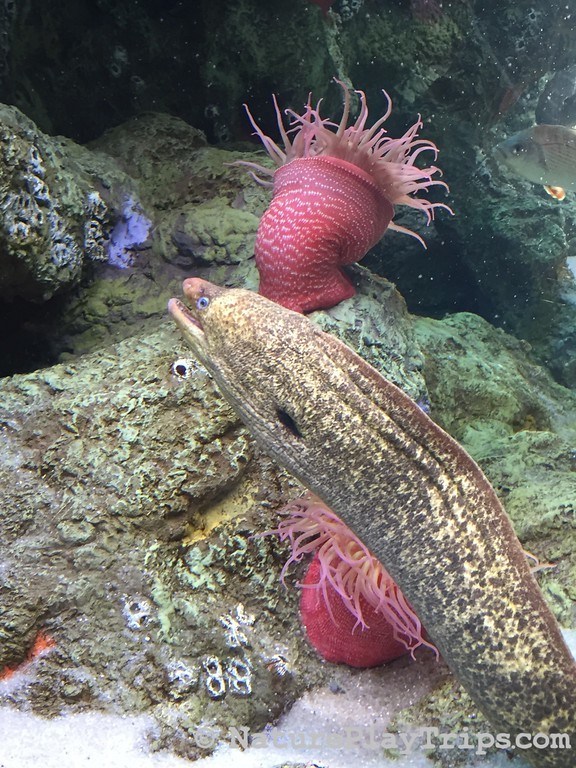 Nearby breakfast:
Coffee Importers is a huge favorite of ours over by the main Harbor (under El Torito) — on the "deli side" I like to get the sourdough bagel with avocado and lemon pepper or the incredible Greek Bagel on a spinach bagel. My coffee of choice at the cafe is an English Toffee Mocha (but only get if you like SWEET!).
Originally posted in January 2013.