Uptown Newport Park in Newport Beach is the park and playground outside the Uptown Newport apartment complex. It is a public park.
However, it feels like a private park because it is tucked behind the One Uptown Newport apartment complex.
I predict some kids will call this Dolphin Park or Shipwreck Park for the pretend play that can happen.
In fact, in case you like these park themes . . . check out my posts on: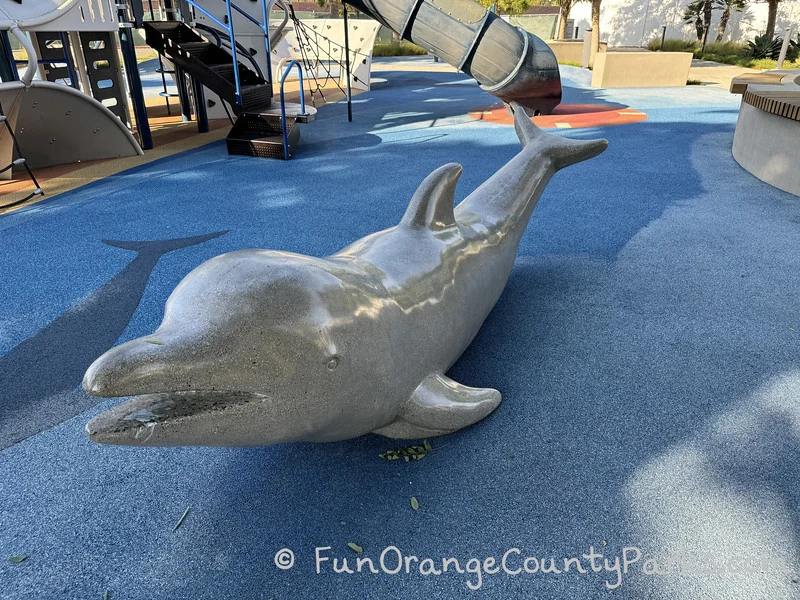 Directions to Uptown Newport Park in Newport Beach: It's right across from the Google building on Jamboree Road in Newport Beach. Super easy to reach if you are heading towards the ocean on Jamboree Road. Just go past Campus Drive and turn right onto Uptown Newport Drive. You'll notice that the parking spaces are not lined up for entering here — so just drive up to the roundabout and turn around so you are facing the correct direction for these spaces. MAP TO UPTOWN NEWPORT PARK IN NEWPORT BEACH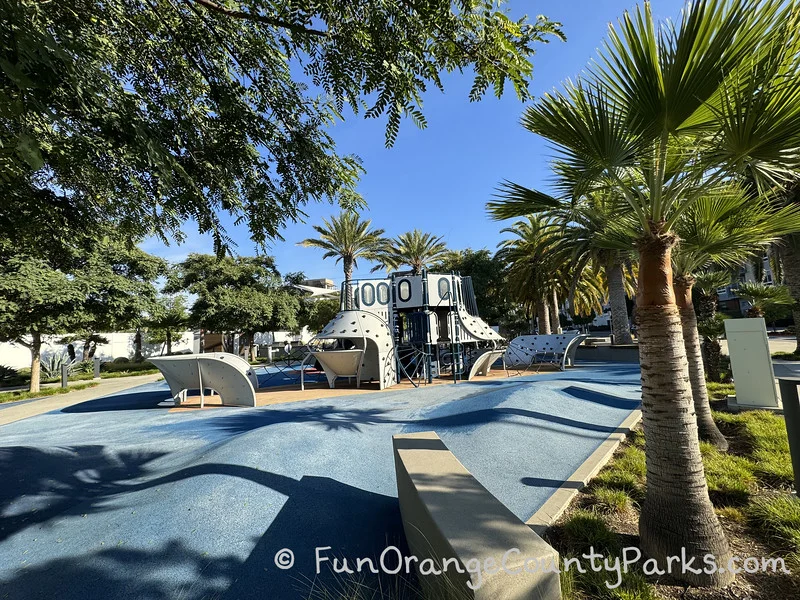 Highlights:
It's located on the way to/from lots of destinations in the area from UCI to John Wayne Airport. For instance, if you're waiting to pick up someone from the airport with your little one in the car this would be a fun place to hang out until your traveler is ready for a pick-up.
Really nice & newer amenities like barbecues and a restroom building.
The playground is compact, but there are a lot of climbing elements. You know those parts of the playground you normally have to warn are NOT for climbing? Well, you can climb them here and they've even put climbing grips on the surfaces.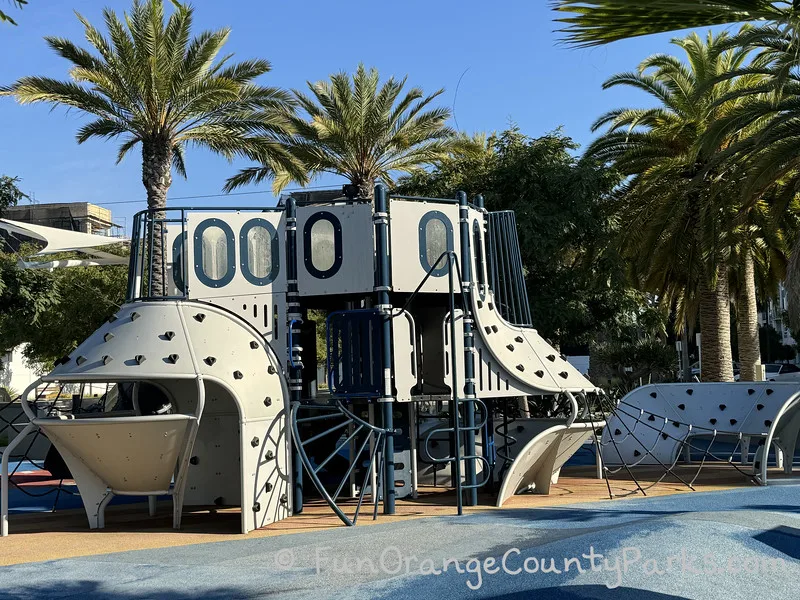 There are interior ladders to reach the level with the one tunnel slide.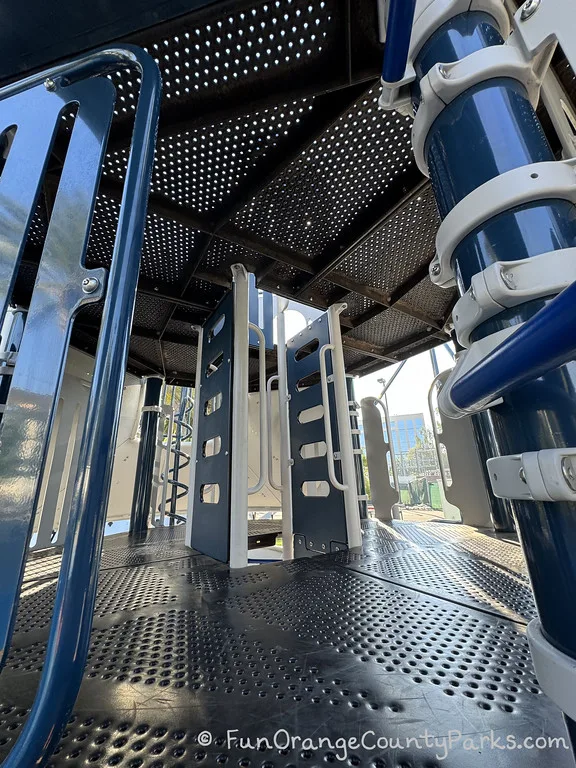 I like the bumpy hills on the recycled rubber surface.
There is a swinging balance mat a little bit away from the main playground. I imagine smaller kids would use this as a pseudo-hammock.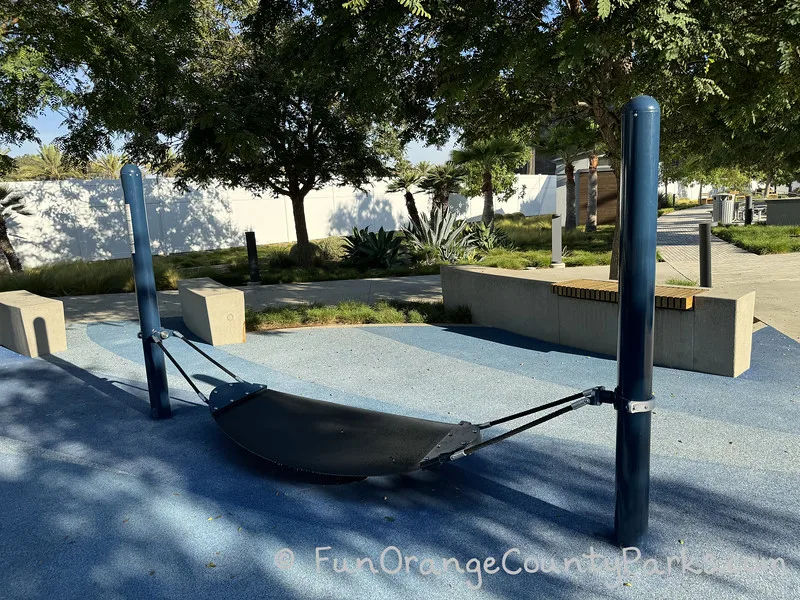 The shade cover over the picnic area is nice. If you go early in the day the playground is almost shaded by the building.
There is a sunken lawn area and benches surrounding the park.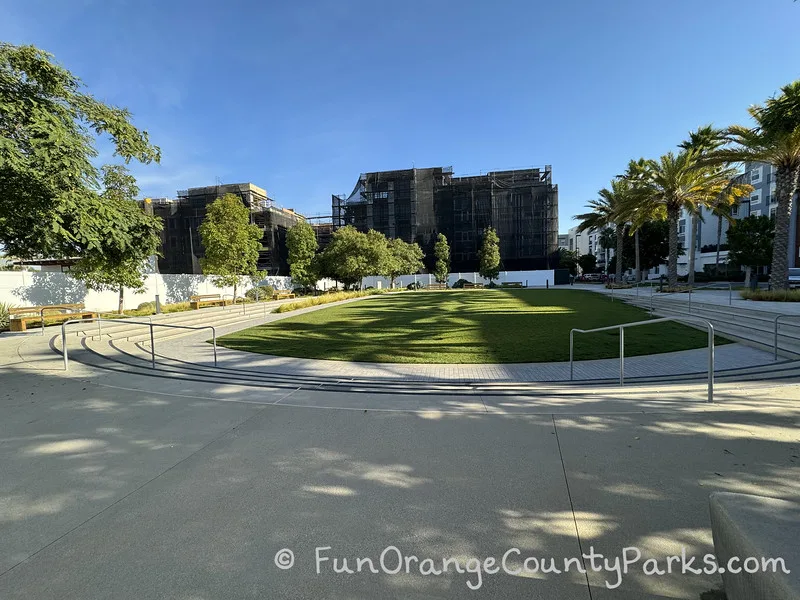 Be Aware:
It is right behind and in view of ALL the apartments. It is the only grassy area around, so residents with pets definitely bring their dogs out here to the sunken lawn area.
The parking area and main entrance is fairly close to the playground, but it doesn't seem heavily trafficked on the weekend. I can see there being more cars at times in the morning and evening on weekdays when residents are leaving for or returning to work.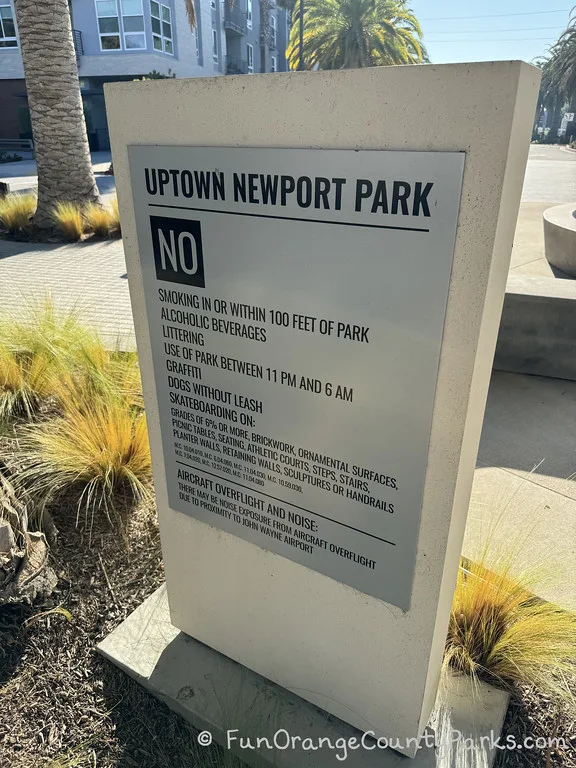 You can see on the rules list that it says: "AIRCRAFT OVERFLIGHT AND NOISE: There may be noise exposure from aircraft overflight due to proximity to John Wayne Airport." That will be a negative for some and others might like the views of the aircraft. I can't say I saw planes, but I did hear them!
The playground is rated for 5-12 year olds. One mom shared a story with me about the interior ladder being a bit dicey because it's easy to slip on this particular ladder surface and hard to be there crouched down as an adult to spot your child. There's only a very small space for an adult to squeeze in between the ground and the first level, and then what feels like an even smaller space as the kids get up towards the second level (with a much further distance to fall inside this tight ladder space). You know your child's abilities best and you can set an expectation for them to take it slow.
No swings.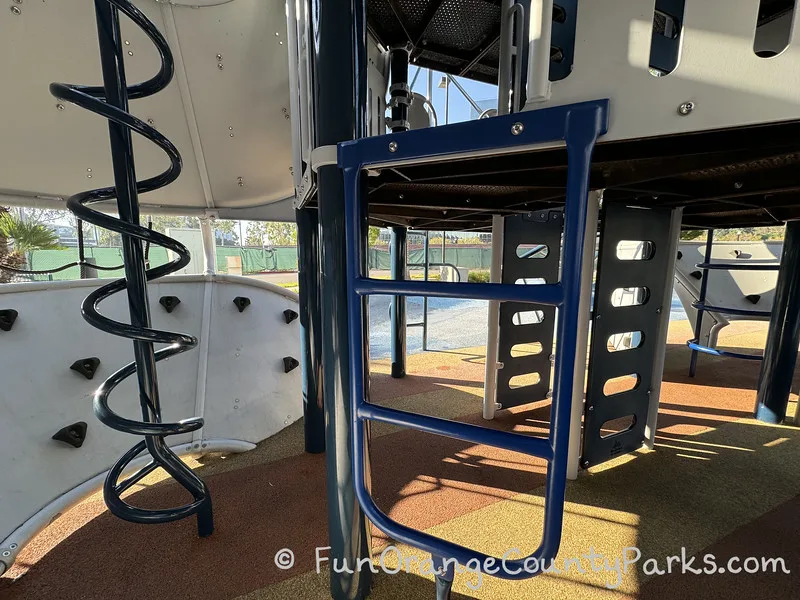 Checklist: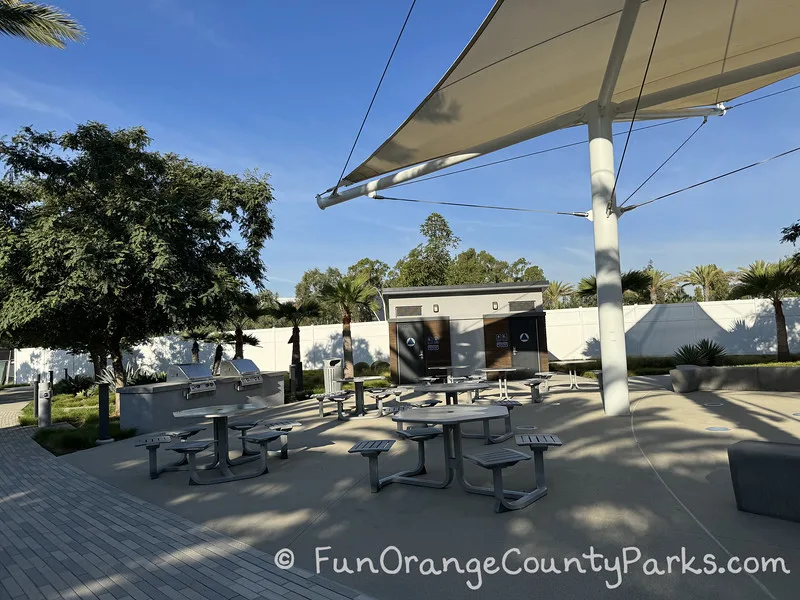 Nearby parks: