The Quail Hill Community Center playground in Irvine is open to the public during community center hours.
There's already an existing Quail Hill Trailhead and Quail Hill Community Park, but the playground came after the Community Center opened in March 2017.
I think it was worth the wait to have a playground featuring rocks and ropes that blends into the surrounding nature preserve.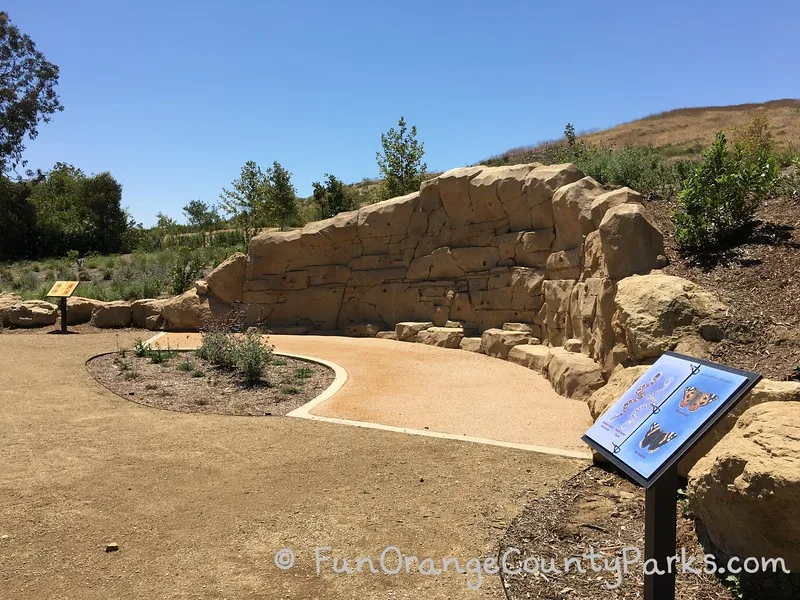 How to Get to the Quail Hill Community Center playground in Irvine: Exit I-405 at Sand Canyon and head towards the open space on the Albertson's side of the freeway. Go through the roundabout and take the turn that leads you up the hill to Shady Canyon Drive. Pass the Quail Hill Trailhead on your right. Turn left into the Quail Hill Community Center parking lot. The playground is to the left of the community center as you stand facing it. (Address: Quail Hill Community Park, 35 Shady Canyon Drive, Irvine) MAP TO QUAIL HILL COMMUNITY CENTER, PARK, AND PLAYGROUND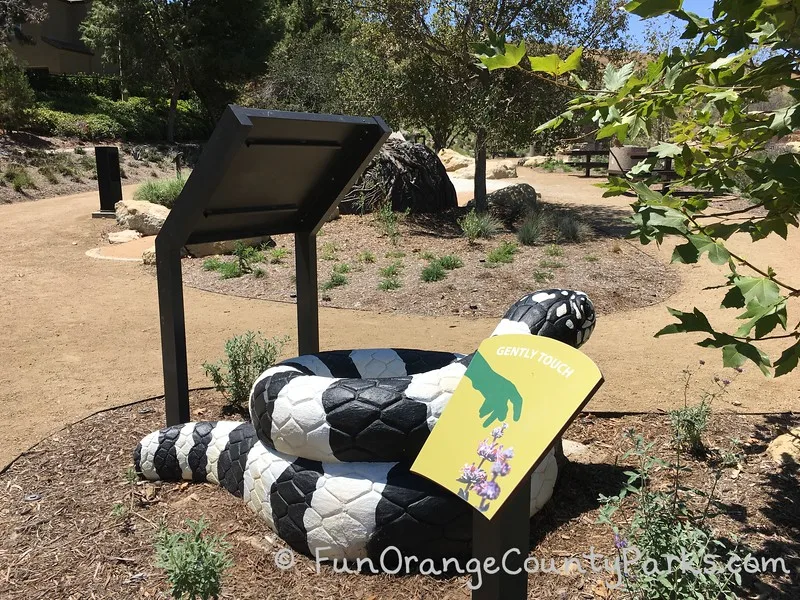 Highlights:
Of course, I love the nature theme and the rock wall without plastic handholds is intriguing
I can see lots of pretend play happening surrounding the nests, bigger-than-life snake sculpture, and small playhouse
Climbing heaven with rocks, logs, and the rock wall, plus ropes
It's laid out more in a skinny linear orientation to encourage movement through the playground allowing kids and families to spread out
A winding path for kids to adventure to the tree in the planter on the hill and take in the breeze and the view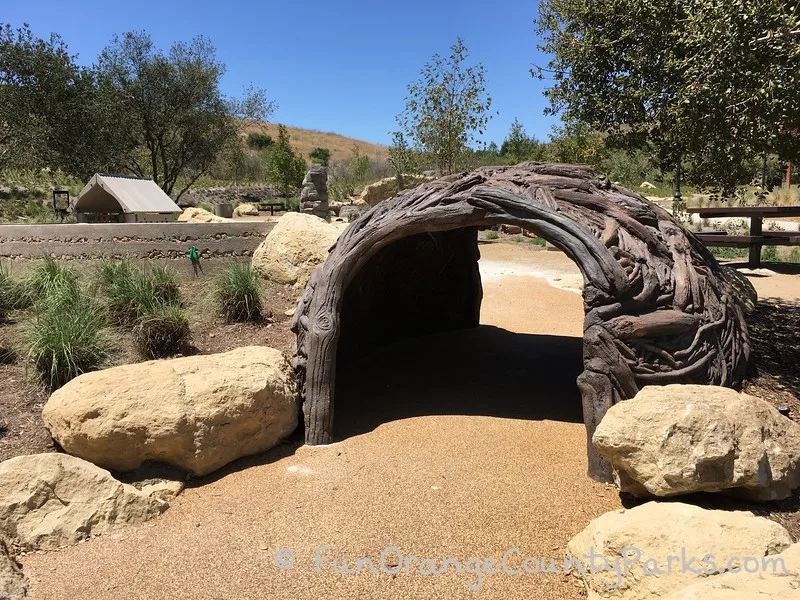 I'm a sucker for bridges, so I loved its spot amidst the playful outdoor area
Interpretive signs about the area's wildlife displayed on fun signs which frame the view for kids
Picnic table seating for parents
A community gathering place that's open late so kids can play with parents in the cool of a summer evening (until 9pm M-F and 10pm on Sat!)
Access to Quail Hill Preserve trails – I need to come back on a cooler day and take photos of where they lead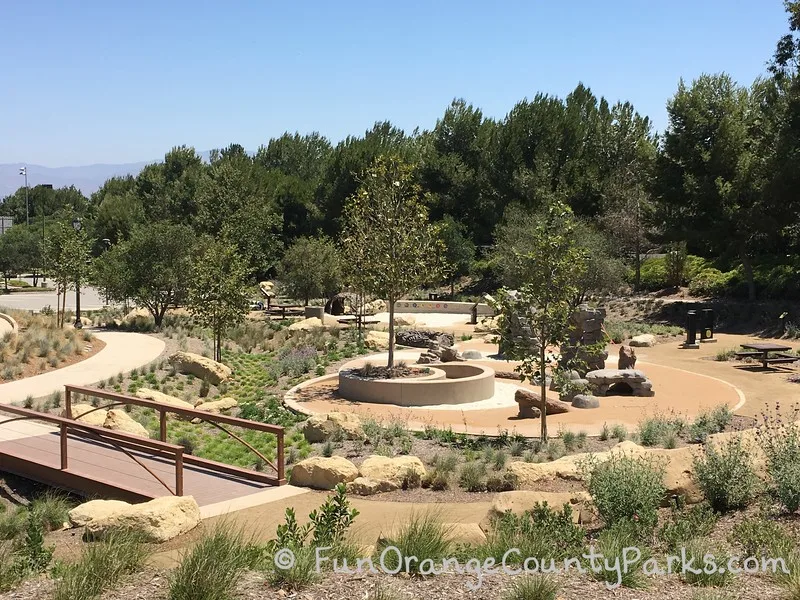 Be Aware:
Playground open 9am-9pm Monday through Friday, 9am-10pm on Saturdays, and noon-6pm on Sunday
Trails only open from 7am to sunset
No shade cover until the trees grow in – so go on cool days or early/late in the day
It backs right up to an open space preserve, so keep an eye out for snakes and other wildlife
No swings or slides – a bit different than your traditional playground (more linear)
A popular bike path nearby the community center – so keep your eye out for riders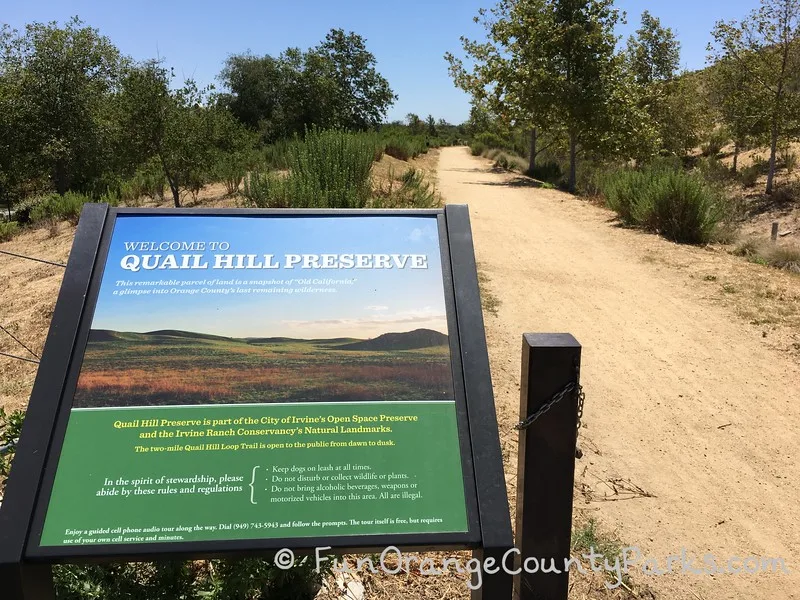 Checklist:
Restrooms inside the Quail Hill Community Center (not always open, though)
Play surface: sand, recycled rubber, and decomposed granite or concrete paths
Drinking fountains
Baseball fields and basketball courts at community park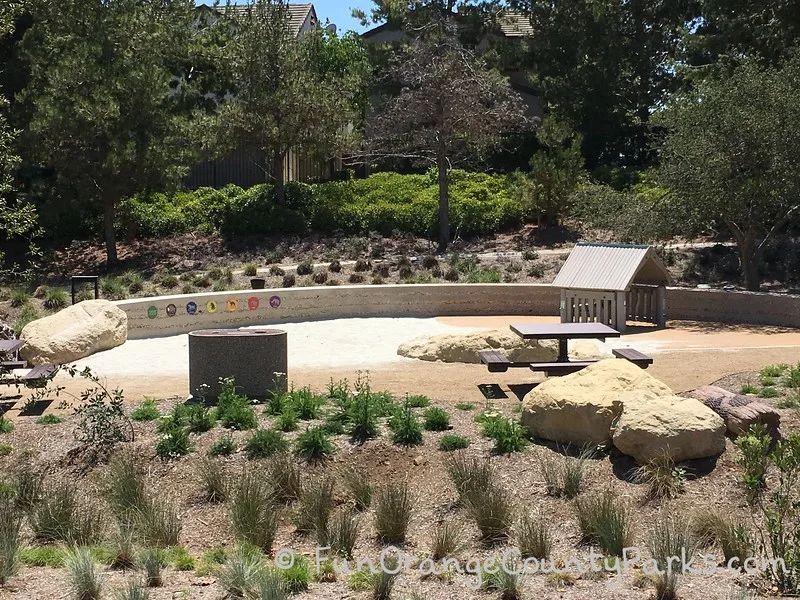 Disclosure: The City of Irvine supports this blog by sponsoring this post. I sincerely appreciate the support. As always, all opinions are my own. Read my full disclosure policy.
Originally published in June 2017.