Centennial Farm is a great excursion located at the Orange County Fairgrounds in Costa Mesa. I first took the kids on a lazy afternoon in 2011 and there were way more animal residents than people visiting. Plus, we had the added enjoyment of seeing a lot of little baby farm animals. I was overwhelmed by the cuteness factor of the baby pigs, chicks, goats, and sheep. I can't guarantee there will be babies on your visit, but it's still a fun trip. When we re-visited in April of 2018 — there were baby goats and baby chicks, but no piglets (yet!).
Location of Centennial Farm at the OC Fair Event Center: At the Orange County Fairgrounds off the 55 Freeway at Fair Drive. I'll defer to their map and directions. I'll still put it on our playground map, though. MAP TO CENTENNIAL FARM AT THE ORANGE COUNTY FAIRGROUNDS IN COSTA MESA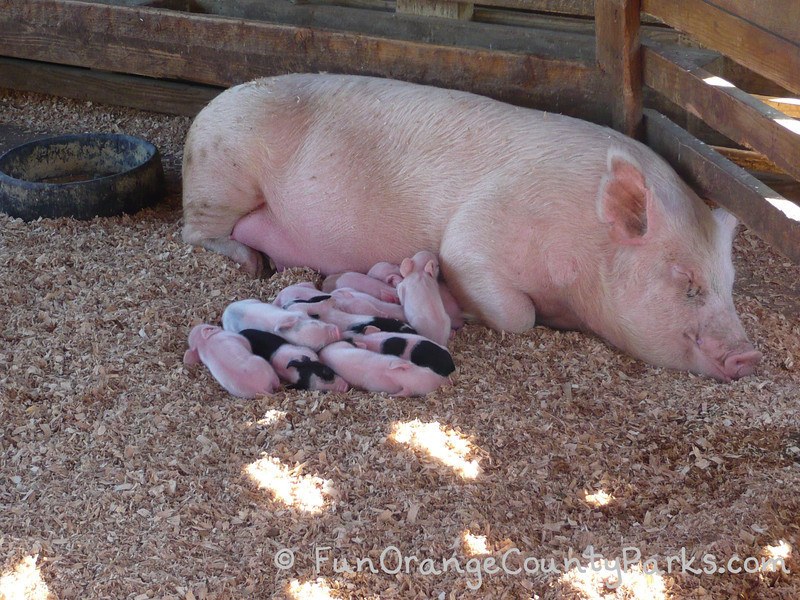 Highlights:
Many Orange County Kindergartners get to take field trips here. You can preview with your toddlers or preschoolers.
Great for teaching kids where our food comes from — and for helping them identify animals by: the sounds they make, their English names, and their Spanish names.
The gardens have interpretive signs about the edibles growing there.
Download FREE activity sheets from the Centennial Farm website to complete before your visit.
Don't miss the bee hive at the back corner of the education building.
If you remember the old wooden silo at the corner of Bison and McArthur in Newport Beach – you'll recognize it at its new home near the entrance to the farm.
Video from April 2011
Be Aware:
Very busy when the OC Fair is going on. I'd suggest planning a visit outside of the OC Fair dates which occurs July and August.
No picking up or feeding the animals. My daughter wanted to hold a chick so badly, but this isn't really the place unless you're will a school group.
Check the OC Fair event calendar to see if there are any special events which might cause the farm to close to the public.
The hours are a little funky M-F (from 1pm-4pm) and Sat-Sun (9am-4pm).
Some might complain "there's nothing to do here" — but I loved it because we could explore on our own and read all the signs. We learned a lot on our visit.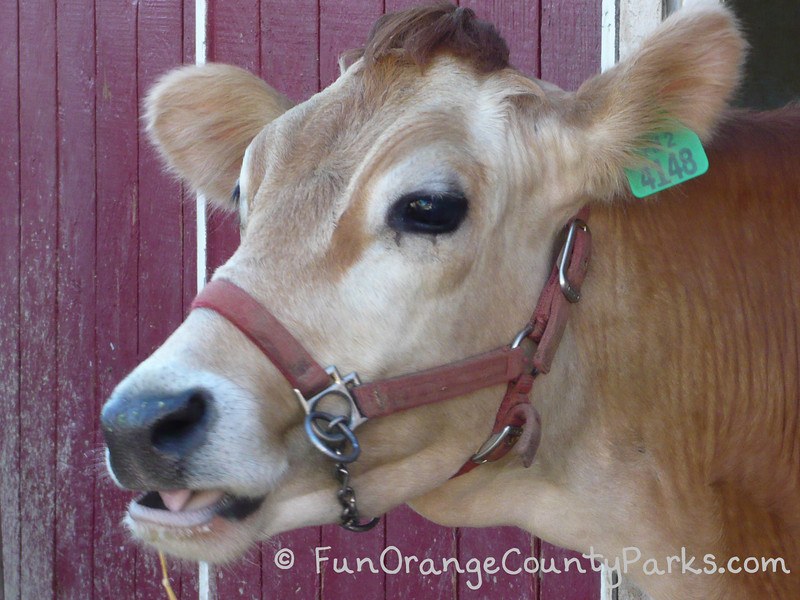 Checklist:
Free parking at the fairgrounds – even on a Sunday during OC Market Place, we were able to go to a further entrance and walk (free parking)
Restrooms and handwashing station
The trip took us about an hour – taking our time and strolling.
Find more parks in the area using my Central OC Park Index
Originally published in April 2011.