Oso Viejo Community Park is part of the Norman P. Murray Community Senior Center in Mission Viejo. The Senior Center is gorgeous with a fantastic patio garden and nice walkable trail. It's an all-around great outdoor experience.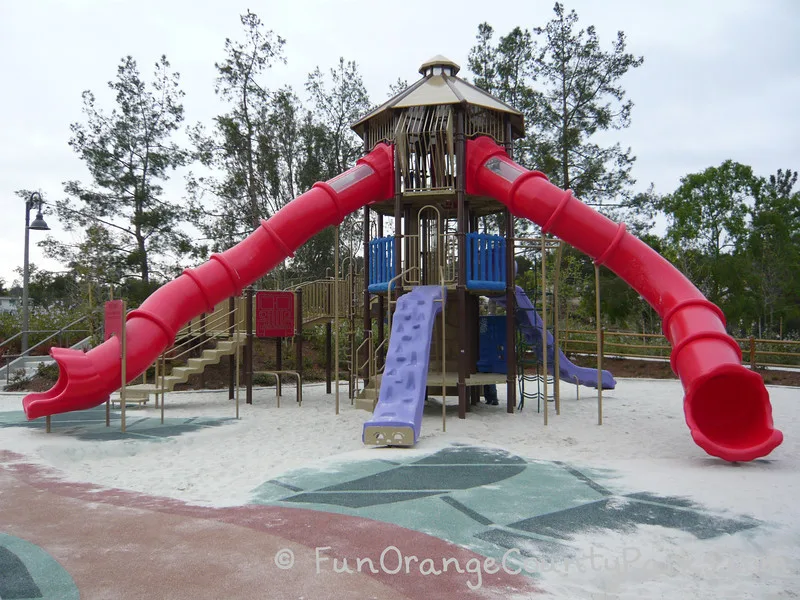 How to Get to Oso Viejo Community Park in Mission Viejo: From the 5 Freeway, take the La Paz exit and head east past Marguerite Parkway. Make a left on Veterans Way. (Address: 24932 Veterans Way, Mission Viejo) MAP to Oso Viejo Community Park at the Norman P. Murray Community Center in Mission Viejo

Recommended by: Danielle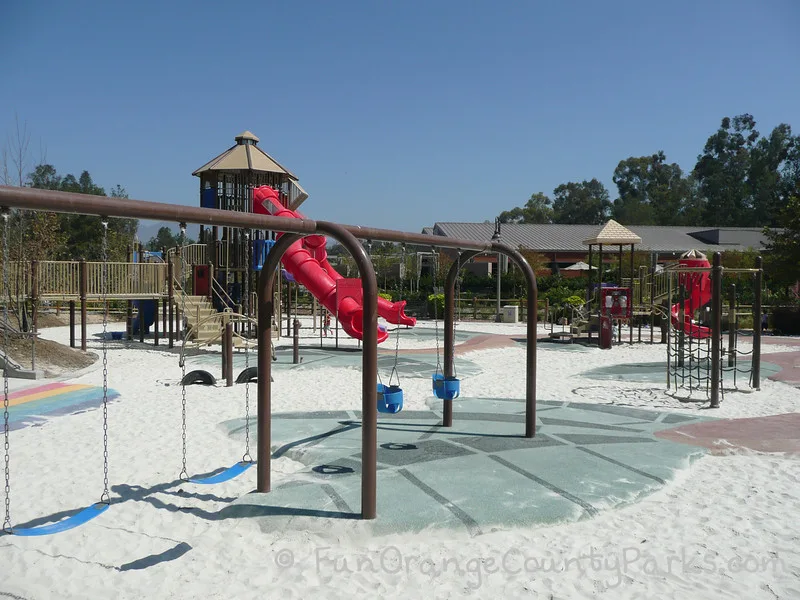 Highlights:
Two AMAZING three-story tunnel slides!
Swings, chain netting to climb, multiple slides on two separate structures
Beautiful surroundings: copper bear and statues of children at play, waterfalls, chess tables, new bocci ball courts, and flagstone hardscape
Picnic tables surrounding the playground
There's even a Oso Creek Trail for a nature walk behind the playground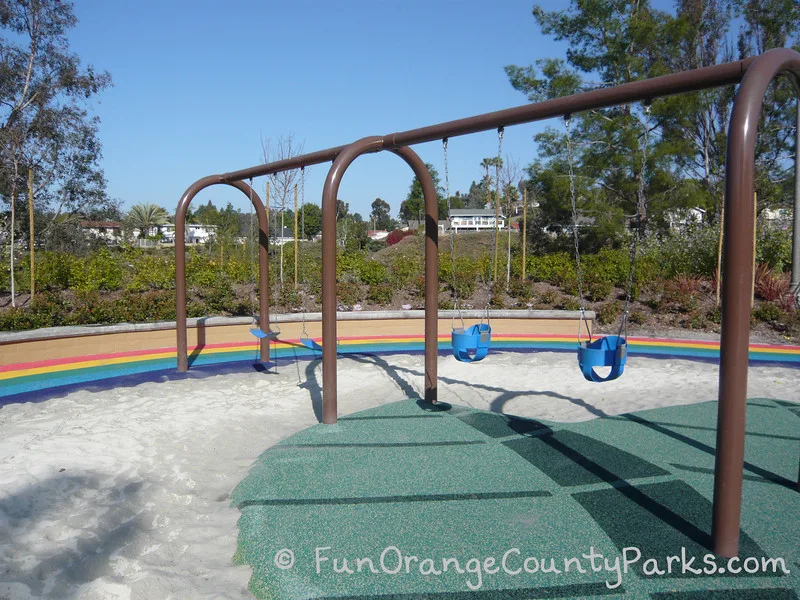 Be Aware:
The big kid structure is definitely BIG with ladders! More hands on for the little ones.
As you are facing the two large tunnel slides. The one on the left (without the curve) is the fastest. Some moms clocked ME one day (3.4 seconds for the slide on the left, 3.7 for the one on the right)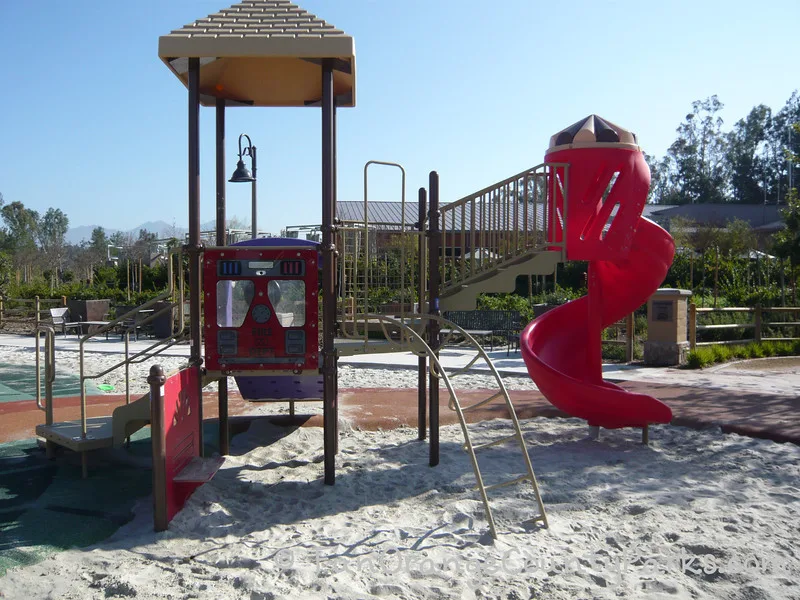 Checklist:
Shared parking lot with Senior Center. As you come into the driveway, you can park on the left or right.
Sand and recycled rubber play surface
Bathrooms about 50 yards away from play area in a separate building from the Senior Center
Drinking fountains and a vending machine for snacks
Outdoor fitness equipment is down the sidewalk towards the soccer fields
Shade inside the big play structure. A few trees around, but can be hot during summer months.
Four or five picnic tables with bench seating
Make sure you take a walk on the Oso Creek Trail behind the park – just always walk with another adult to use the buddy system on this peaceful trail (especially considering unfortunate news of attempted rape reported on this trail in May 2016)
Official City of Mission Viejo website interactive parks map not functioning at the moment
Nearest public library: Mission Viejo Public Library (separate from OC Public Libraries)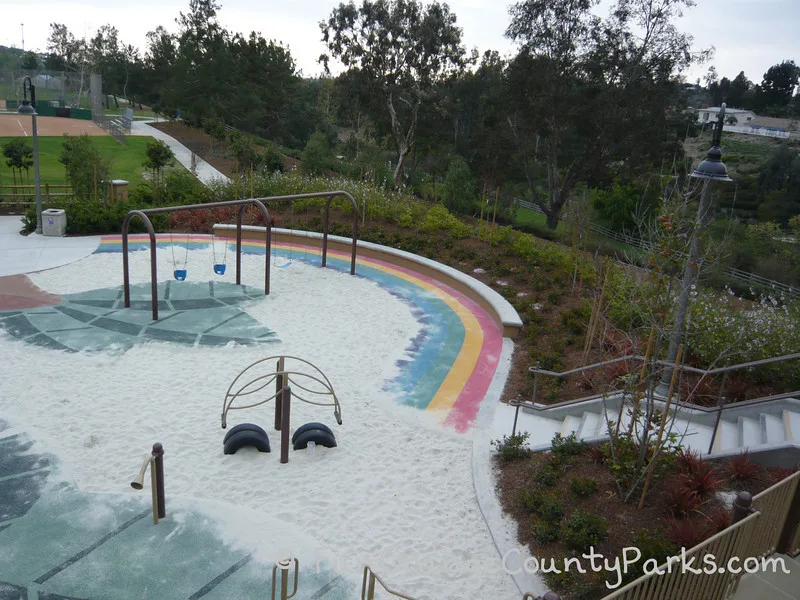 Nearby parks: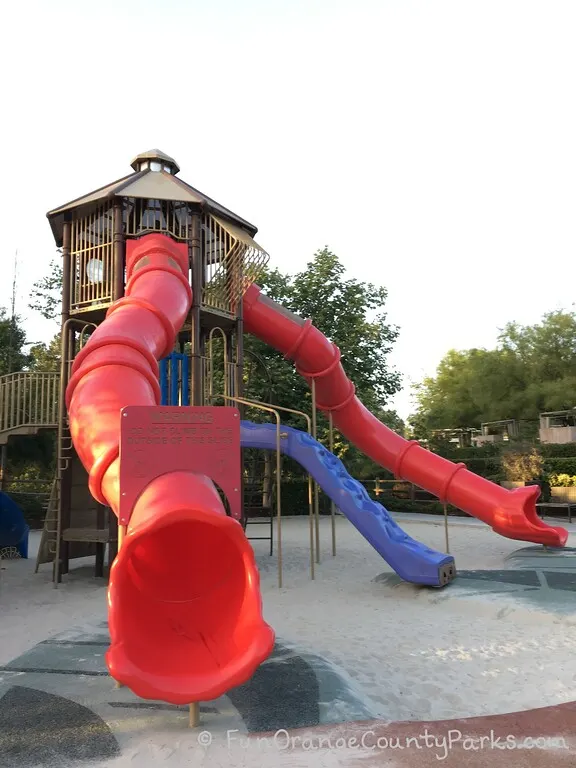 Comment from my original 2009 post:
"You definitely want to keep the little kids off the 3 story slides – they can go down them extremely quickly and land on their back as they pop out at the bottom. My daughter, who should not have been using the slide, got a scrape on her back from her one time experience with it. There is a smaller kid area that should satisfy everyone. Kids can also get high up in the 3 story gym and it can be interesting trying to get them back down the ladder again when they realize they don't want to use the slide. But overall this is a great park. Lots of sand when so many are choosing woodchips nowadays – we LOVE sand. Also the trails in the back are great for a stroll. Beautiful." -Heather
Originally published in 2009.